I sent Jordan Johnson, spokesperson for the William J. Clinton Foundation, a question about the dedication and opening dates of the Rock Island  Clinton Presidential Park Bridge. His response was, "The bridge will have a dedication on Sept 30 and a public opening on Oct 2."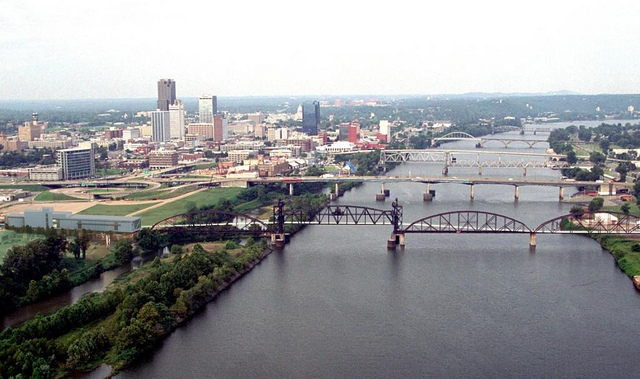 Looks like the final pedestrian/cycling bridge over the Arkansas River will be open for fall riding, 5 years to the day after the Big Dam Bridge opened. This has been a long time coming and has been highly anticipated by the cycling community in general. Let's hope that the City of Little Rock can get their act together soon to complete the loop connecting the Medical Mile to the Junior Deputy Ballpark area at least.
Oh, and we aren't really done with bridges. With design work starting on a replacement for the Broadway Bridge, I'm sure discussions will heat up concerning pedestrian and cycling access.
For a slideshow of the bridge project check out this Flickr page.
UPDATE (08/29/11):
Info from the Arkansas Democrat-Gazette (subscription required)
The Dedication for the Clinton Library Bridge and the Bill Clark Wetland Park will be at 11:00 am Sept. 30th. Former President Bill Clinton is expected to be in attendance.
UPDATE (10/01/11):
Check out the FIRST RIDE!