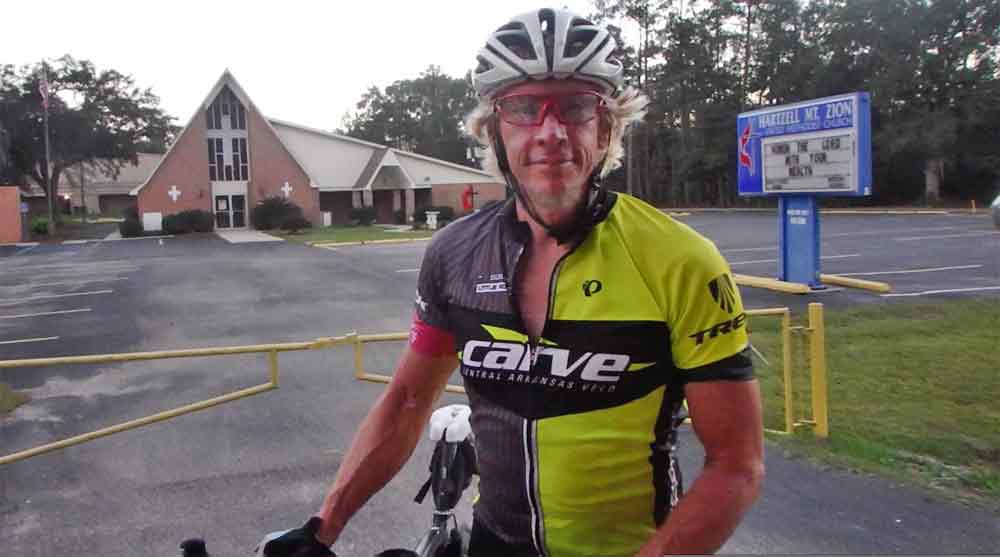 75,065 miles = More than 3 times around the earth, at the equator.
75,065 miles = Almost a third of the way to the Moon.
75,065 miles = The distance from Little Rock to Rogers, AR every day for a year.
1,609,132 feet = Climbing to the top of Mount Everest more than 55 times, from sea level.(as of 12/21/15)
75,065 miles = the record for riding a bike in 365 consecutive days. That record is about to be broken. As of December 21, 2015, Kurt Searvogel has ridden a total of 72,249 miles and he has until January 9, 2016 to break the record. At his current average of 208.81 miles per day, it is estimated that he will not only reach the record in time but will beat it by over 1000 miles. Along the way he has enjoyed the assistance of the woman who started this adventure as his girlfriend and is now wife, Alicia. She has followed Kurt around the country as he searched out the best riding, taking care of food, bikes, laundry, social media and keeping his spirits up. We asked Alicia and Kurt a few questions as they close in on the record to see how things are going. For those who don't know, Kurt is a local boy hailing from Sheridan, Arkansas, an ultra cyclist for many years, a triathlete, mountain biker, trail runner and adventure racer. I feel lucky to have been buried by him in several races over the years.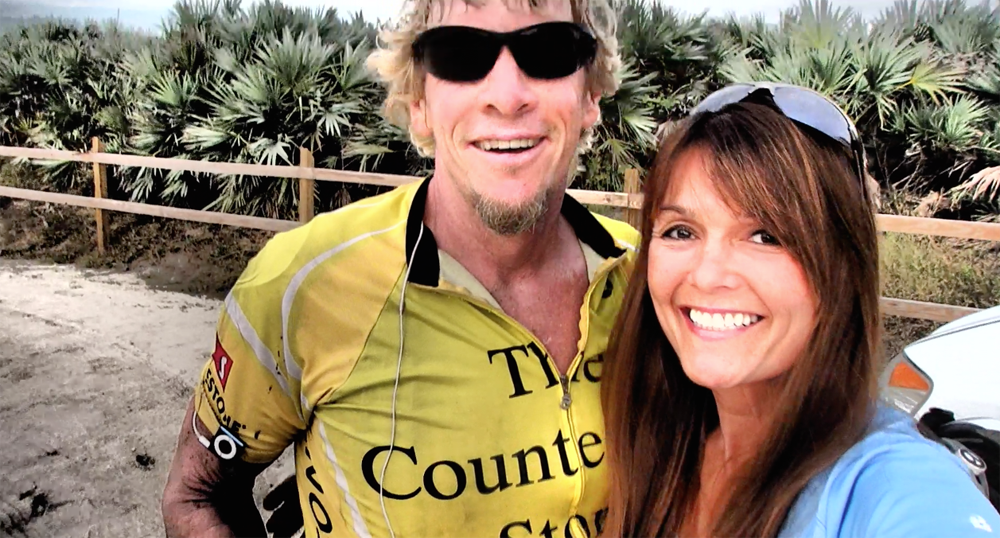 Arkansas Outside – Kurt has put in a lot of mileage across the country this year, are there areas that you and Kurt found to be a surprise? Better riding than you realized? Helpful, friendly people? You know, pleasant surprises.
Kurt and Alicia – There were some really great places to ride in Wisconsin with beautiful views around Lake Winnebago, up in Door County, Point Beach State Park along Lake Michigan in Two Rivers. Lakeshore Drive north of Sheboygan ran along the coast with cool breezes on hot summer days. A friend of Alicia's generously let us use his home while he was gone as our base in Wisconsin – that was a surprise!
We enjoyed going back to the Natchez Trace Parkway in Mississippi where we met the Mayor of Ridgeland, MS and some great people who cheered us on. The quiet beach town of Waveland, MS along the Gulf of Mexico became one of our favorites.
A nice surprise was riding along Pensacola Beach in Florida. In Florida, the Withlacoochee Trail, Flatwood Park and the Suncoast trail are where we are spending most of our time now.
We must say though, in Little Rock, Arkansas we were surprised at all the support we got from the cycling community, especially a handful of cyclists who really stepped up and rode with Kurt to helped him get his miles in.
AO –What has been the worst weather you've had to deal with?
Kurt & Alicia –There were too many sudden thunderstorms storms to mention, except for the one in Wisconsin when Kurt had to take shelter at a Holiday Inn while I was hunkered down in a basement. The scariest was in Little Rock when we were almost caught in a tornado. Cold rain was the hardest for Kurt. He almost quit after a few days of riding in the rain because it was wearing him down being wet and feeling like he was freezing.
AO –Do you have any kind of agreement that when Kurt isn't feeling it, you kick him out the door?
Kurt & Alicia –No, I just do. Actually, Kurt is very disciplined about riding. Sometimes I do have to motivate him and it doesn't take much, so that has been very easy.
AO –Is there something that Kurt tells himself on tough days to get himself going?
Kurt & Alicia –To keep himself going he knows he has to keep moving. Every pedal stroke brings him closer to the goal.
AO –Do you have a plan for where you will break the record? Will you be in Florida or will you try to make it back to Arkansas?
Kurt & Alicia – He is planning on breaking the record here in Flatwood Park in New Tampa, FL. We wish we could be in Arkansas, but the weather is not favorable right now.
AO –Any idea on the date the record will be broken?
Kurt & Alicia – Around January 6th
AO –What do you two plan to do the first day off the bike?
Kurt & Alicia – Sleep, get a massage, but other than that we don't know yet.
If you'd like to follow Kurt and Alicia through the end of their journey, go to
UltraCycling.com
to see their daily progress and that of two others working on the record known as the HAM'R (
Highest Annual Mileage Record
) The record is currently held by Tommy Goodwin and was made in 1939.