As the early hours just before dawn delivered the forecast of cold precipitation, 315 runners braved the elements to run the Jacob Wells 3 Bridges Marathon. I was not at the start line this year, instead I was miles away at an aide station, but in my imagination the line was a flurry of the usual butterflies, nervousness, anticipation, mixed with a little sadness, a lot of emotion and probably a few tears. I imagine that as the starting gun fired, the sound of hundreds of high-fives also rang out.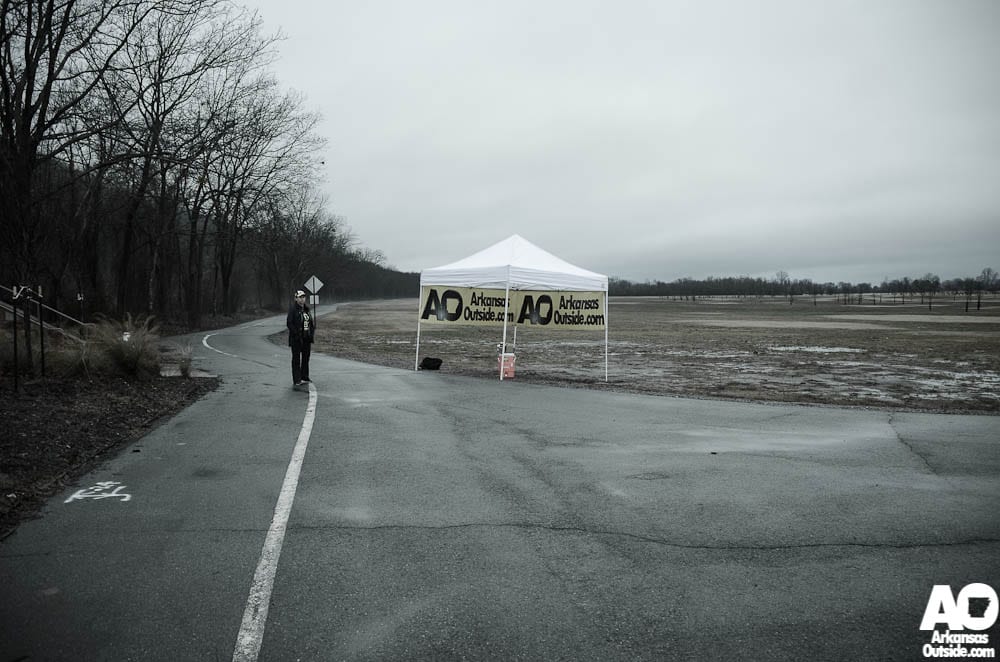 Weeks ago, Jacob, Jaynie and I were chatting after a yoga class when Jacob asked if Arkansas Outside would be interested in captaining an aid station at the 3 Bridges Marathon. We had recently captained a station at the Big Dam Bridge 100 that was so much fun, I jumped at his offer to let us play a part. Too soon after that conversation, we learned that our commitment to serve would take on a new dimension- we would be honoring Jacob's memory. Jacob Wells left a legacy of generous and devoted service to the running community in Arkansas. We can only hope that our small contributions continue that legacy.
Our station was in the fatigue zone at mile 22.5 in Two Rivers Park. Front runners and back of the pack runners alike are in need of cheering by this point. Anyone who participates in endurance events knows that at long mileage, the biggest boost can be a friendly face. Of course the boost runners really need might be a little sugar, a little salt, or a little liquid carb load. We were prepared with all those things thanks to our other volunteers. Lisa Grove, mom of 10th place overall and first place 30-34 age group winner Jeff, arrived early and stayed long after Jeff came through and stopped just long enough to hug his mom and take a Gatorade hand-up. Patre Williams brought donuts for runners and volunteers who needed a sugar boost. John Kelly, Greg Eason, John Krillenbach and Ben Walters came out to cheer friends and strangers alike. ArkRRCA President David Meroney and wife/expert hand-up artist Christine left an aide station located early in the race to volunteer with us. Some runners questioned their magical ability to be in multiple locations and some may have been truly concerned that they were hallucinating.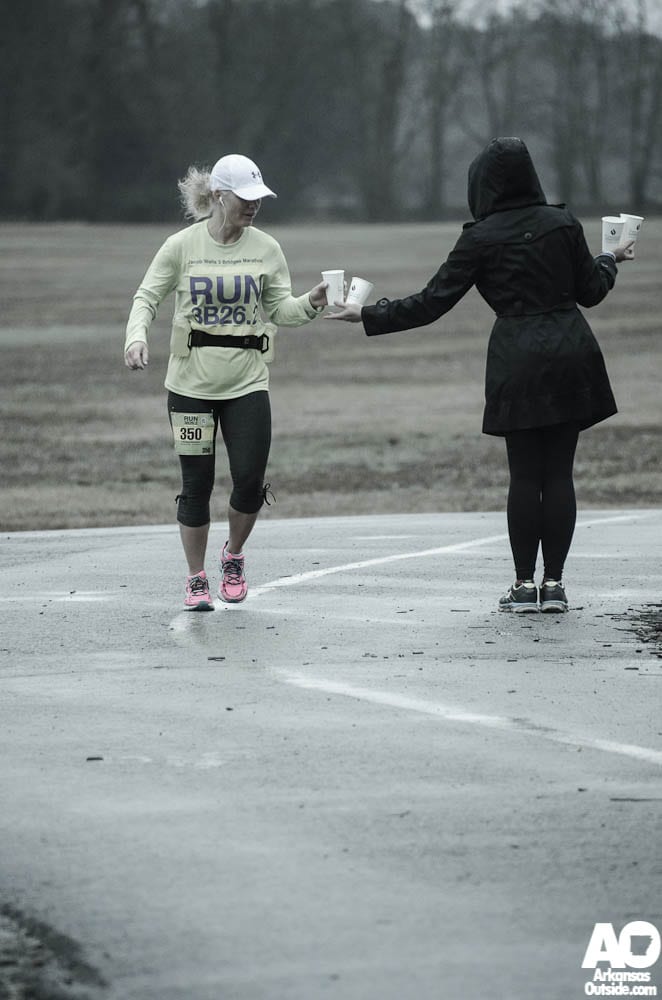 I got to pose with my friend Jodi Coffee, cheer for first timers Tara Caudle and Stephanie Maricle, cheer on Pikes Peak qualifiers Leisa Wamsley and Melissa Henshaw, pull out a few very poorly executed split jumps and herky jumps for friends and we all distributed cheers, hugs and high fives to everyone. Every type of goal, from PR to just finishing was represented. I hope the podium age group finishes of PT and PoDog were spurred on by my jumps and it was nice to see 1st place age group winner and 9th overall runner Scott Stanger, even though he was passing me like I was standing still, as usual. Last year Emily Hartman was cheering me on during this section of the race, it was an honor to return that favor this year. There were a few short renditions of the Happy Birthday song, laughter, jokes and a few "is this over yet?" dreams. Thank you runners for letting us be part of your big day, whether it was your first or your sixty-first marathon, kudos.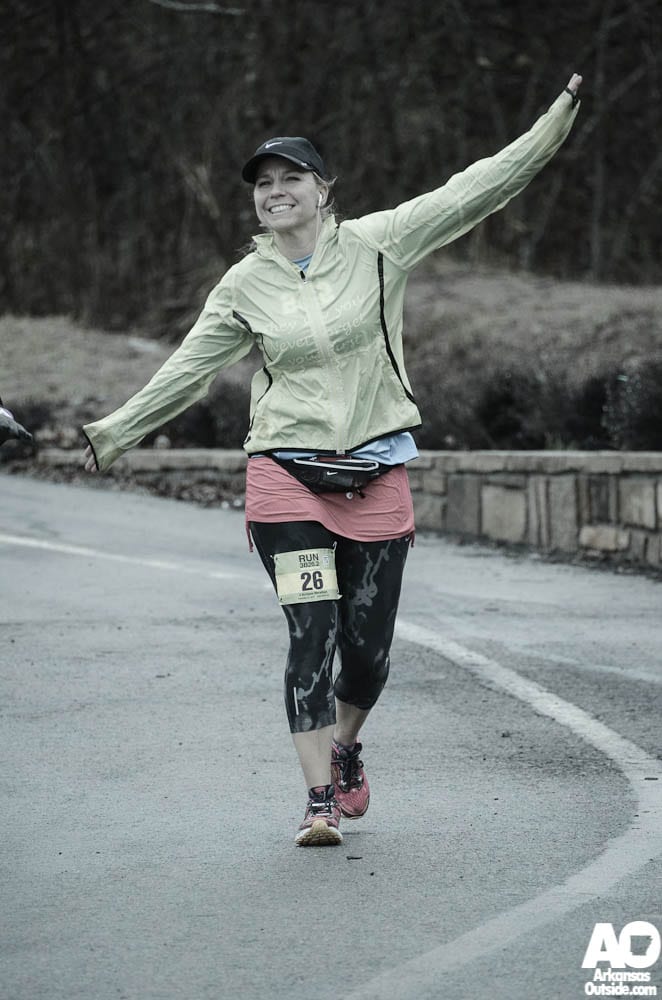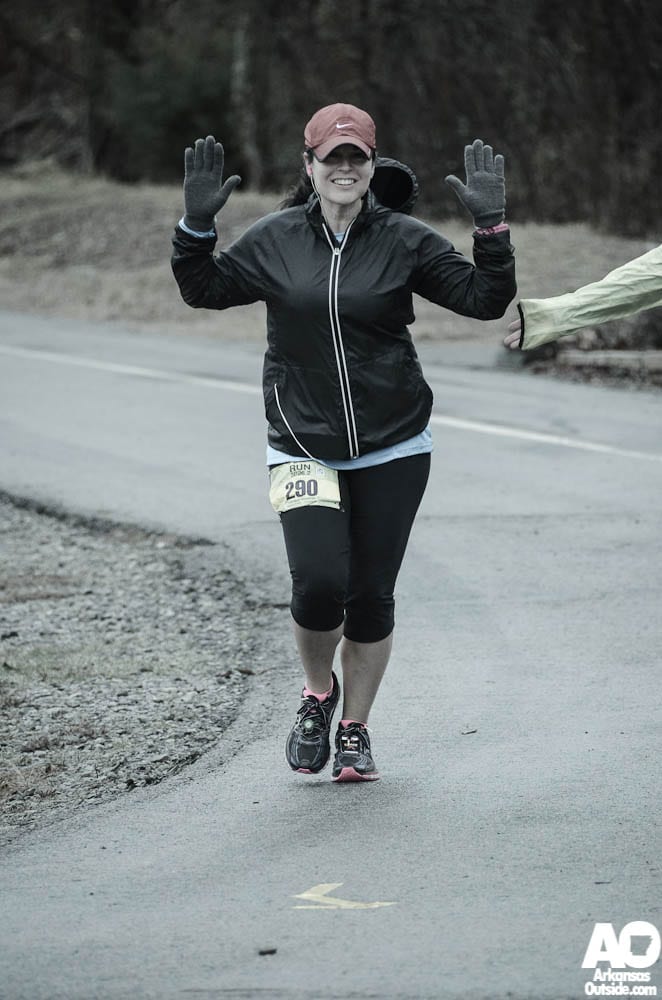 Thank you to the volunteers at all the stations including ours. We all know these events are impossible but for the generosity of volunteers and their commitment to service. We hope that our cheers and encouragement give you strength to push on. Congratulations to all the finishers, results are posted.
High five, Jacob. It was a great day. Many more photos will be posted later today on the Arkansas Outside Facebook Page.