I am currently trying to get myself back in shape, or some form of it.  My Couch to 5k program is in full swing, and I am entering week 5 of 8.  Sunday while doing my run/walk program I had a lot of time to think.  I also got so hot and winded by the end of my 30 minute program that I thought I was going to puke.  It was pretty hot and humid, but not quite as bad as the conditions of the past Saturday in Arkadelphia, the time and place to which my mind kept returning.
Saturday morning my husband and I were up bright and early to go to Arkadelphia for the TriArkansas Festival.  I have been able to go to a few of his triathlons and I find them amazing.  We left Benton and got to Arkadelphia about 5:15am.  You have to get there early, right?!  Packet pickup, get your chip, and get your bike setup in the transition area.  Well, we weren't the first, there was an out of state vehicle with a participant who camped out by the transition area for the night.  He ,of course, was first in, Scott was second.  But it was great, we lay back under the stars in the bed of the truck, wishing we had brought pillows. If we'd had pillows I think we would have crashed.
Usually I do not know very many people, but with time I am meeting many of the athletes my husband Scott trains with  so this time it was different.  A friend, Kaycee Asher, was there watching her husband Gregg race and Kaycee and I hung out during the race following our guys' progress. Emily Hartman was there and I was able to cheer her on, everybody needs a cheerleader or two out there.  Also racing in the Super Sprint Triathlon was Vanessa Gilliam, we go to church together and I was able to cheer her on in her very first Triathlon.  Her husband David was racing as well and they were  fun to watch.  David and Vanessa's daughter Whitney was racing her first Olympic Tri as well, it was a fit family event.  Whitney is so young and fresh, her enthusiasm was radiating!  It was refreshing to see this family racing together and cheering each other on.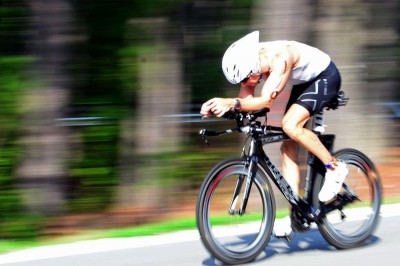 In the end, I found out I am the proud wife of the 1st place winner of the Master's Classification, I didn't know he was that old yet!  I also saw a variety of ages, body sizes and shapes racing.  Some were racing for the first time, and others were seasoned athletes.  But I realize they all started somewhere. Maybe their start was training for a 5k, some were road cyclists who have transitioned over to multi-sport events, and others may have been swimmers.  I am sure sometimes they feel like puking, or passing out, but they keep going.  Women like Emily, Vanessa, and Whitney encourage me to keep going.  I know the discomfort is temporary and that with time I'll accomplish my goals as well.   Men and women like my husband, training for full Ironman triathlons inspire me to keep going and know that it does take a little pain and discomfort to get better and improve.  I am so grateful to be inspired, even from the sidelines.