For the last two years, participants at the Cross Winds Classic Road Race have had perfect race weather. Despite the name, the wind was rather calm. The mid-30's cold can be a factor for the early categories but as the temperature rose and the racers exertion level rose with it, conditions became ideal for the racers.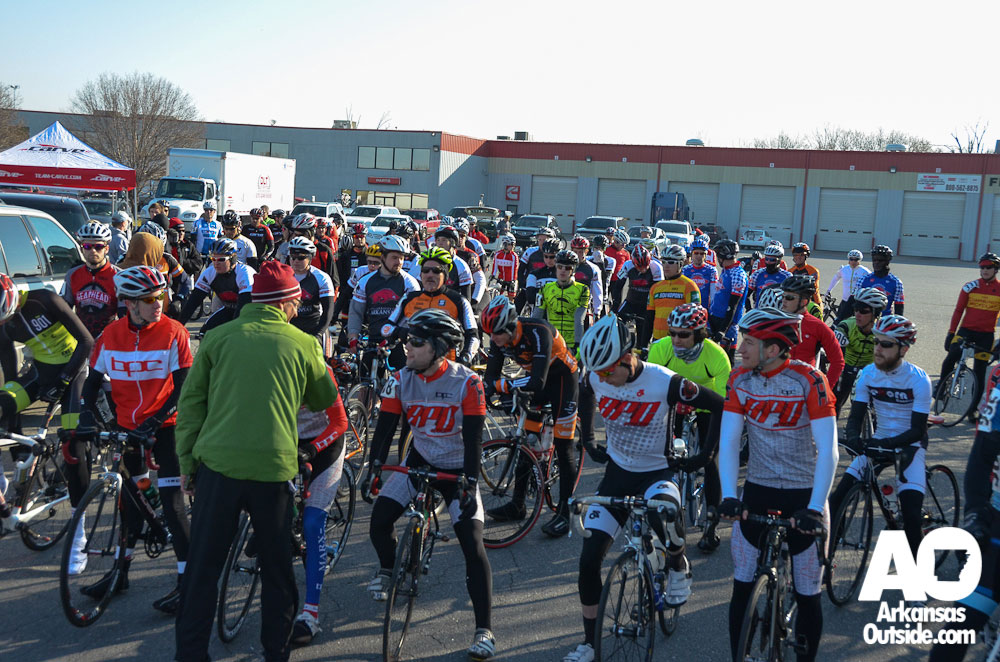 The race begins with a rolling start from a truck stop just south of Interstate 40 at the Gwatney exit (161) east of North Little Rock. The combination of all the large 18-wheelers moving around the lot with the ultra-light road bikes fueled by high-end nutrition plans adds a sense of absurdity to the event. The location being right along the East/West corridor of Interstate 40 also makes attendance by riders from outside Central Arkansas much easier.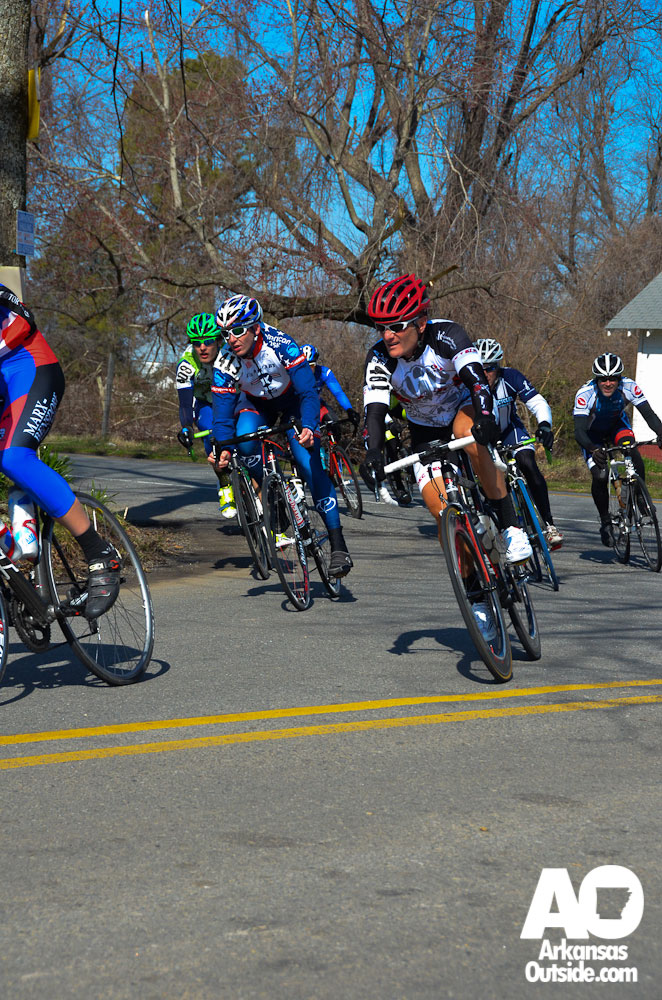 Racers roll out on County Road 79 south then turning left on Highway 70 heading east past Hills Lake, one of three ox-bow lakes of the Arkansas River they pass on the course. They then turn right on North Walkers Corner Road and head south. Riding past large open fields which are notorious for windy rides (races these past two years have been missing the breezes), racers eventually come to Old Hwy 30 and turn West. They are soon out on the busiest road of the course, Old England Highway. Luckily it has great shoulders for riding and race staff helps keep it quite safe. A sharp right turn sends racers North on State Dairy Road past a new housing development, the Stonelinks Golf Course and shortly after it turns into Valentine Road, the finish line. For Cat 5 Men, Cat 4 Women and Junior Men and Women it would be two laps of this, for Junior Men 15-18 and Cat 1-2-3 Women it would be three laps, Cat 4 and Masters Men it would be four laps and finally for Mens Cat 1-2-3 and Pro it would be 5 laps. One lap is about 13 miles making it 26, 39, 52 and 65 miles respectively.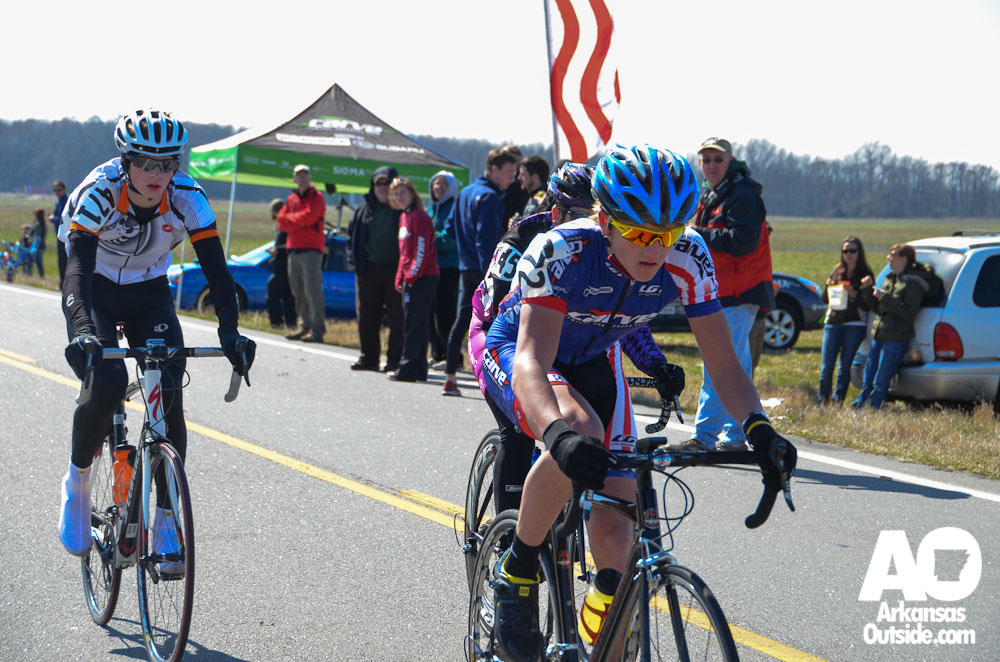 The finish is along a straight stretch of highway, perfect for a large pack sprint. Team CARVE and USA Cycling officials manned the finish complete with video judging.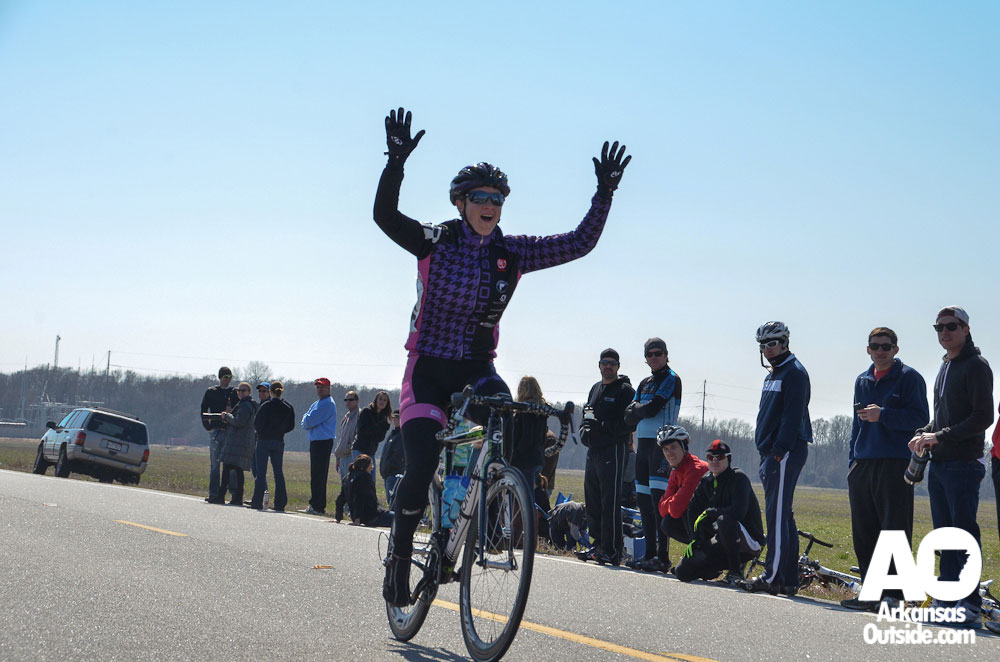 This is a impressive race that brought in 267 competitors, over half from out-of-state. A very large contingency from Tennessee was on hand. I was surprised that no one from Texas showed up since many Arkansas racers have been in the Lone Star State racing lately.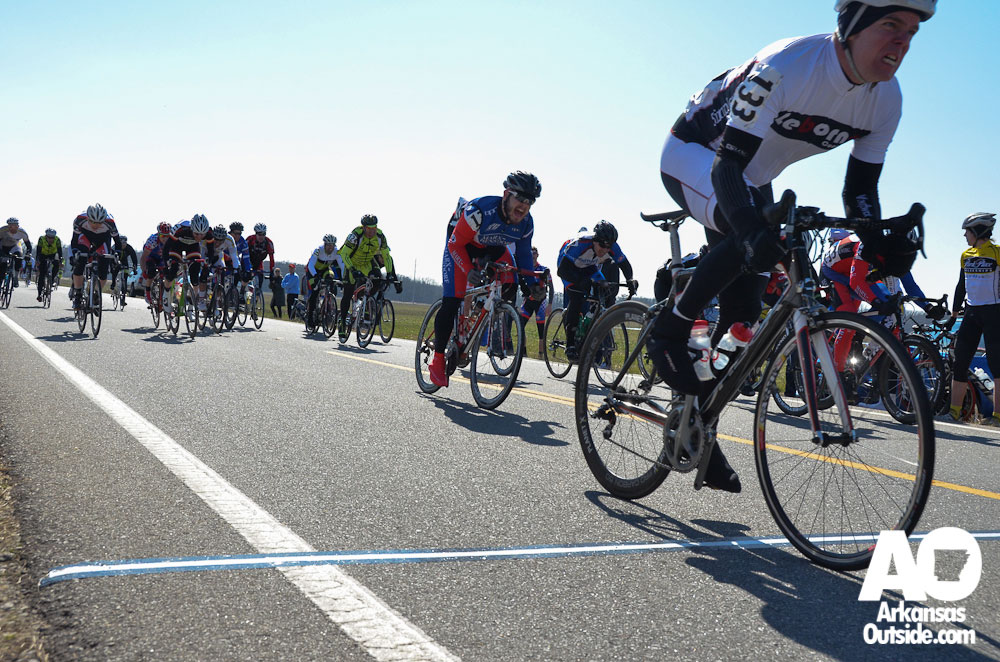 The Pro/Cat 1/Cat 2 mens race was fun to watch with local racer Zack LeVergne taking an early lead out from the peloton and being joined by one Tennessee rider, Bryant Funston. In the end Funston took LaVergne in the final stretch finding an opportune time for an attack. Local racer Hunter East rounded out the top three. Women's Cat 1-2-3 was won by Memphis rider Andrea Wilson. Local rider Patrick Emery made a great finish line grab to win the Cat 3 race.
Thanks to DLT Events Management for managing the race, race supporters Chainwheel, Arkansas Cycling & Fitness, Spokes Little Rock, The Ride, Teen Challenge and Hammer Nutrition for supporting road cycling in Arkansas.
Results are already posted on the DLT page.
Check our Facebook Page for a lot more photos from the day and feel free to download, share, tag and comment on them.