This morning I ran. I was chased only by my own desire to participate in an outdoor experience. You see, I don't like running, I never have. I started running when I was in the Navy a long, long time ago. I'd run in circles on the flight deck of my ship. It was a chance to get out of my steel encased office and get some sunshine and fresh air.  I was soon part of a club (I knew it was a club because we got t-shirts) of sailors who had run over 100 miles on that steel flight deck. It took me a couple of months on one of our deployments but I was proud to have done it. Still, I hated running.
Since then I've competed in triathlons, the first back in 1985, adventure races, and other forms of personal torture that involve running. The running was always the worst part for me. I don't run fast, I'm probably really inefficient and I have a hard time concentrating on what I'm doing. Trail running is a little better. I always concentrate better on a trail whether I'm hiking, running or mountain biking. Rocks and roots have a habit of keeping you focused.
So why run this morning? Well this is what I loosely call, TRAINING. I hate training almost as much as I hate warming up. I want to go do what I set out to do and be done with it. This strategy worked fine when I was younger. I was a solid middle of the pack competitor for most of my adult athletic career and that was okay. But the strategy is beginning to fail me. The ol' bod does not rebound like it used to (actually it hasn't for a while) but the worst part is, I can't just go out and do it. I have to learn to work up to things or at least stay active enough that I am in a perpetual state of reasonable physical fitness.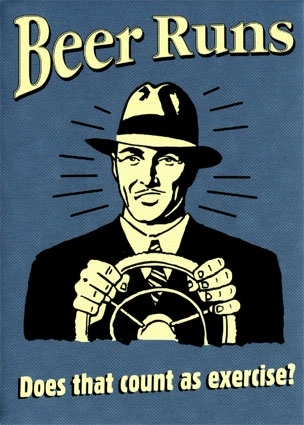 All that to tell you that I ran this morning because of a race/run. A race that is not held in Arkansas (GASP!). But a race that is worthy of travelling to. This will be the second time I have competed (Ha!) in the Run Through History in Vicksburg National Military Park. The first time I was coming off an injury and opted for the 5k race walk. I really hope no one got that on video. This time, the 10k run.
This will actually be the third time I've gone to Vicksburg for a run/walk. I've also run in the Over the River 5 miler (I don't believe this town has ever heard of a 5k.) It's a really cool out and back run across a train bridge that crosses the Mississippi River, they open to pedestrians once a year for the race.
At all of these races they have had awesome after parties. A band, food and beer. And when I say beer I mean the very best kind, FREE! Ameristar Casino (yes, the people who gave you vacations in a dark room throwing your money into a vending machine that rarely pays off with carbonated beverage or the latest concoction from Hersey's). Sure we have big parties at runs like the Susan Komen and the Little Rock Marathon but these are much smaller runs. And parties worth going to even if you didn't run, hopefully those suckers will catch the bug. It would be really nice if we had more events like these around here.
Okay, okay…..so I run for beer. I said it. Are you happy?