In the forward of her book Climbing Free: My Life in the Vertical World, Lynn Hill is described by her longtime friend, sometime climbing partner and early climbing mentor John Long as "…the biggest little hero I've ever known…The rest of us are just holding her rope."
A quick internet search of Lynn Hill will provide a long list of accomplishments in the climbing arena. It has been said she is the greatest female climber in the world. It's been argued that she is the greatest climber in the world. For non-climbers it can be difficult to understand the significance of the rankings, the Yosemite Decimal System, that go along with climbing. So when you hear that she was the first woman to establish a 5.12+/5.13 at Ophir Broke in Colorado, it might not mean much. Many outside the climbing community have heard of El Capitan so perhaps it means more to say that she was the first person to free climb The Nose route on El Capitan, was the first person to do it within a 24 hour period and that those 2 feats were not repeated for several years after she accomplished them.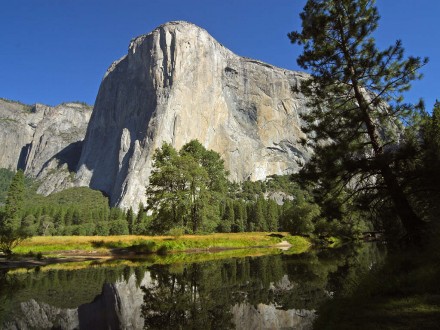 There is no shortage of information on her impressive climbs, her "firsts" like the first female ascent of the 5.14 Scarface route at Smith Rocks and her domination of Masse Critique in Cimai, France making her the first woman to climb a 5.14 route. Climbing stories: successes, failures and tragedies are all laid out in black and white in her book.It's interesting to note that the book is also filled with Lynn's emotional attachment to the serenity she finds in climbing, the family she finds in the climbing community and the heartache that comes with living with and loving people who are addicted to adrenaline pumping, often death defying pursuits.
It would be fair to say that the sport was dominated by men when Lynn began climbing. It takes incredible strength and some would argue that small stature is a disadvantage because of the need for reach between holds. Yet Lynn Hill, at 5'1″ and about 100lbs, has destroyed any misconception that women, even someone who could be referred to as petite, can't climb. Pictures of her plainly reveal her enviable musculature. Powerhouse would be an accurate desciption.
Lynn's introduction to the sport came from her older sister and her sister's boyfriend who later became her husband. She was just 14. At the time, her family was disintegrating due to divorce. In the book Lynn credits rock climbing with helping her deal with that devastation. She found peace and comfort amongst the rocks and crags. For her the absolute focus that is necessary for climbing became her refuge from the rest of her life. She also found the camaraderie that she was used to in her large family of seven siblings with the tight knit group of climbers she began spending her free time with. In the rocks, she found peace and kindred spirits at the moment those things were disappearing from her family life.
When the pursuit of natural harmony is a shared jouney, great heights can be attained.
– Lynn Hill   
She also found other women to climb with.  In 1979 she and Mari Gingery made the first female ascent of The Shield route at El Capitan. In the book her recollection of that climb was that "It was something to be proud of, yet rather than feeling like we had done something 'apart' from men, we felt we had done something 'equal' to men."
There were other female climbers around the Yosemite Valley. Some, like Beverly Johnson and Sibylle Hechtel, had been climbing for a few years before Lynn came on the scene. Bev and Sibylle were credited with the first all female ascent of El Capitan on the Triple Direct route in 1973. Lynn refers to Beverly as a mentor and a friend. For those who think of rock climbing as inherently dangerous it is interesting to note that Lynn Hill expresses a very deep appreciation for self preservation, a healthy respect for safety. Not everyone is so cautious, and herein lies the heartache that comes with living in a community of risk takers. Climbing Free includes accounts of several accidents that took the lives of friends and fellow climbers, especially those who were attracted to mountaineering.  Beverly Johnson and the man who introduced Lynn to climbing, her former brother-in-law Chuck Bludworth, were among those fatalities. Lynn on the other hand, seems to weigh risk and see the line between pushing limits and being foolhardy. While she is not attracted to the high adrenaline mountaineering aspect of climbing, her life is not lived without risk, but the risks are carefully considered and weighed against her desire to live on and continue doing what she loves most. In an interview published in Climb Magazine in 2011, she has this to say about risk taking: "You can get a disease, or die in a car accident, but as a choice I'm not going to do a certain type of climbing as I think it's risky, and I don't want to subject my son to that. "
In answer to author Katy Dartofrd's question "what do women need to climb at their best?", I think this quote from Lynn sums up how many of us feel about any worthwhile endeavor be it athletic or professional, or in our personal daily grind- "Who knows if it's biological, but I think women often sell themselves short of what they can do as they don't have examples of people who say yeah, it's hard, but I see the solution and I'm going to do it. I can do it."
 

A reading list for more on the sport of climbing in the late 1970's and some of the women who were there:
Sports Illustrated 1978, Stone Walls, Stout Hearts
A View From the Edge, Beverly Johnson