An XTERRA is a really cool event. The idea is to take a triathlon and change the road cycling to mountain biking and the running to trail running. This adds new dimensions to the king of multisport racing.
The only XTERRA I've participated in was the Dawg Dayz race several years ago when it was held in Burns Park in North Little Rock. Now the race has a combined start with the Spillway Triathlon. The race started with the swim as usual with various flights of the tri leaving first  followed by the XTERRA racers all going at once at the end.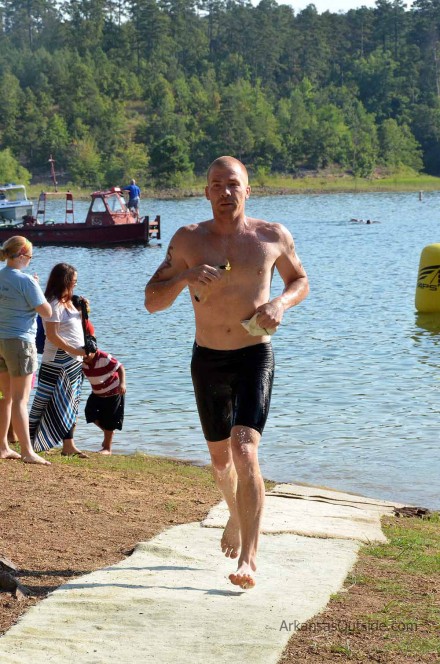 The first difference between the road triathlong and the XTERRA race was that the XTERRA racers would do two laps of the swim course for a total of 880 yards. You'll have to go through the photos of the swim portion of both races to find yours, it was tough to differentiate racers after a while.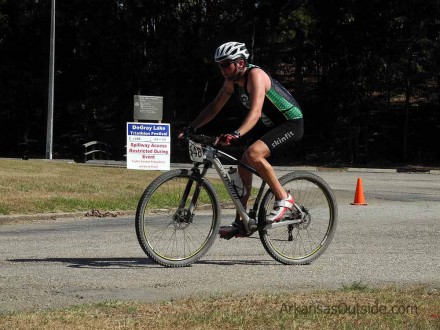 Once out of the water, racers went to the transition area to switch to there bikes. The first part of the bike ride was the same route as the road triathles until they came to the u-turn into the woods that the mountain bikers used the day before during the 3 Legged Dawg mountain bike race. Racers did 2 laps here of the north section of the trail. I understand that the trail was pretty loose at this point after all the racers the day before had worked it over. Once they had their laps in the racers got back on the road for the downhill back to the transition area for a total of about 15 miles of riding.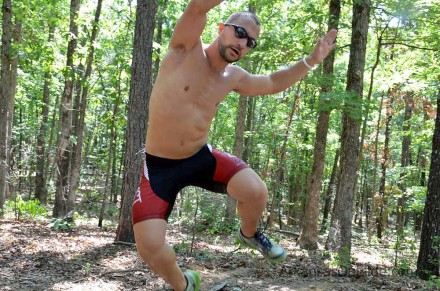 Switching to running shoes, the racers then headed up the same hill that the road triathletes and the trail run athletes went up and  followed the course of the trail running race for a total of 3.5 miles of running. By now the day was really warming up and only the shade of the woods gave the runners any relief.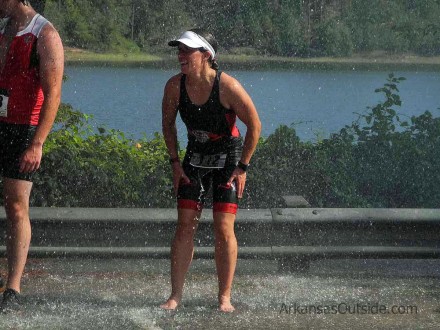 Once back at race headquarters, finishers enjoyed the water spray, some food and cold drinks. Watching this race made me want to give XTERRAs another try. Maybe in the fall.
We have pictures of everyone on the run on our Flickr site. Free Downloads.