From Arkansas State Parks news release:
This 9.2-mile Mountain Bike and Hiking Trail to Open in Conjunction With the 22nd anniversary of National Trails Day, America's Largest Trail Celebration

(GREENBRIER, Ark.)–The dedication of the Enders Fault Mountain Bike Trail, a new 9.2-mile mountain bike and hiking trail at Woolly Hollow State Park, is slated for Saturday, June 7, at 11 a.m. The ceremony will be held in conjunction with Arkansas's celebration of the 22nd anniversary of National Trails Day, America's largest trail celebration. The ceremony will take place at the trailhead located just northwest of the park campground. Remarks will be made by Arkansas State Parks Director Greg Butts; Steve Wilson, superintendent of Woolly Hollow State Park; and Bruce Alt, president of the Central Arkansas Trail Alliance. The public is invited. Refreshments will be served following the ribbon cutting.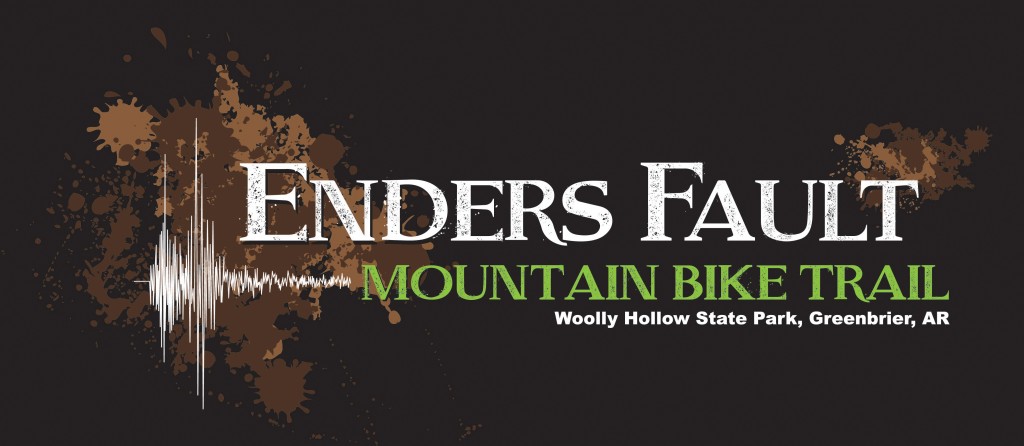 According to Park Superintendent Steve Wilson, Enders Fault Mountain Bike Trail is a purpose-built trail for mountain biking that likewise serves as a hiking trail. The trail takes its name from the area's active seismic fault line just north of the park. Featuring the rolling terrain found here in the foothills of the Ozarks, this singletrack trail leads through gentle valleys along pristine creeks, and climbs over 150 feet to offer winter views of Lake Bennett from ridges above. Cyclists may choose to ride the entire trail or divide it into two loops, the North Loop and the South Loop. A short 0.64-mile section of the park's Historic Springfield Road Trail connects to the new 9.2-mile Enders Fault Mountain Bike Trail. Combining the mileage of both trails, The North Loop is approximately 4.17 miles of smooth singletrack tread through rolling hills, and includes short climbs through the mostly hardwood forest, with minor technical challenges and a few seasonal creek crossings. The South Loop is approximately 5.67 miles of mostly smooth tread, a few moderate climbs, and some fast sections through evergreen groves. This loop offers ridgeline views of Lake Bennett during times of winter leaf off, seasonal creek crossings, and a three-fourth-mile hillside descent.
The Enders Fault Mountain Bike Trail was designed by Arkansas State Parks staff members Joe Jacobs, manager of Marketing and Revenue, and Darin Mitchell, Geographic Information System (GIS) analyst. It was constructed by Legacy Links II LLC of Fort Smith, a golf course and recreation sports construction company. A state-funded project, the $101,700 cost included trail construction totaling $86,770 and site improvements of $20,000 for the building of an access road and an adjacent parking lot at the trailhead.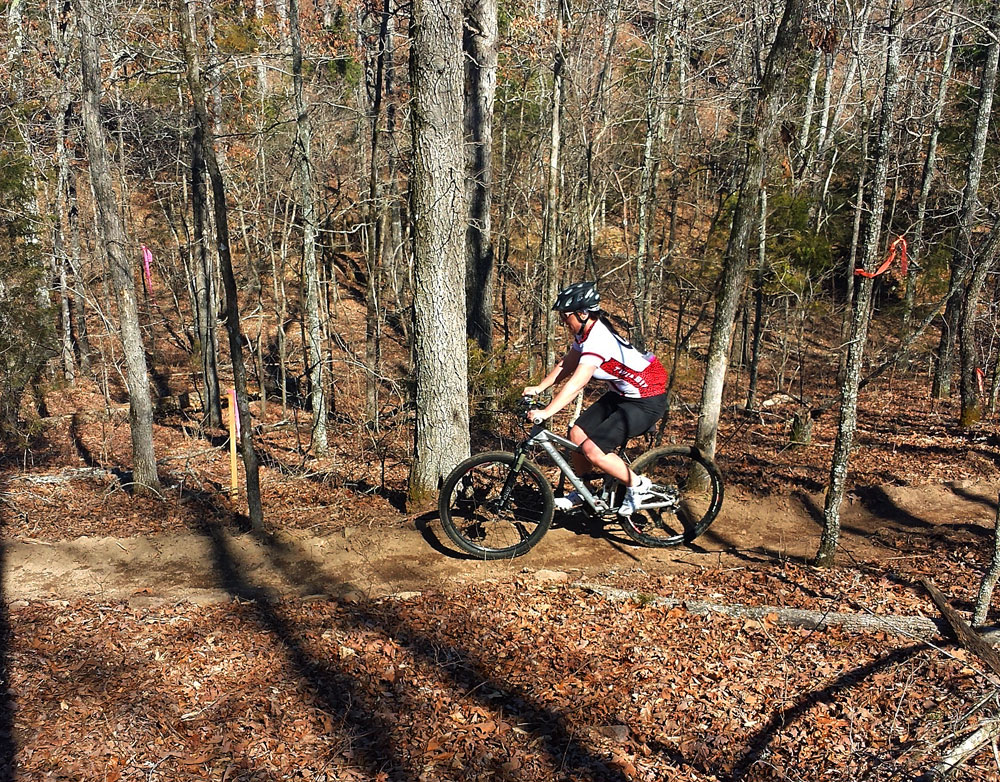 According to Park Superintendent Steve Wilson, "The Enders Fault Mountain Bike Trail has been greatly anticipated by local mountain bike enthusiasts. The Central Arkansas Off- road Group has been anxiously waiting for the trail's completion." He continued, "The trail will bring a new segment of people to the park that may not have ever visited Woolly Hollow before. Once the trail is established, we will have the opportunity to host mountain bike races that will, in turn, stimulate the local economy and bring new revenue to the park and the community."
State Parks Director Greg Butts said, "National Trails Day events throughout the U.S. on June 7 will join the nationwide observation of America's wealth of trail types and experiences while encouraging the public to enjoy a trail that day. What a perfect day to dedicate this new mountain bike and hiking trail at Woolly Hollow State Park." He continued, "With the opening of this trail, the Arkansas state park system will offer 143 diverse trails totaling 400 miles. These trails are recreational assets where heart healthy activity and quality outdoor experiences can be enjoyed. Their value extends to their economic impact on communities across Arkansas."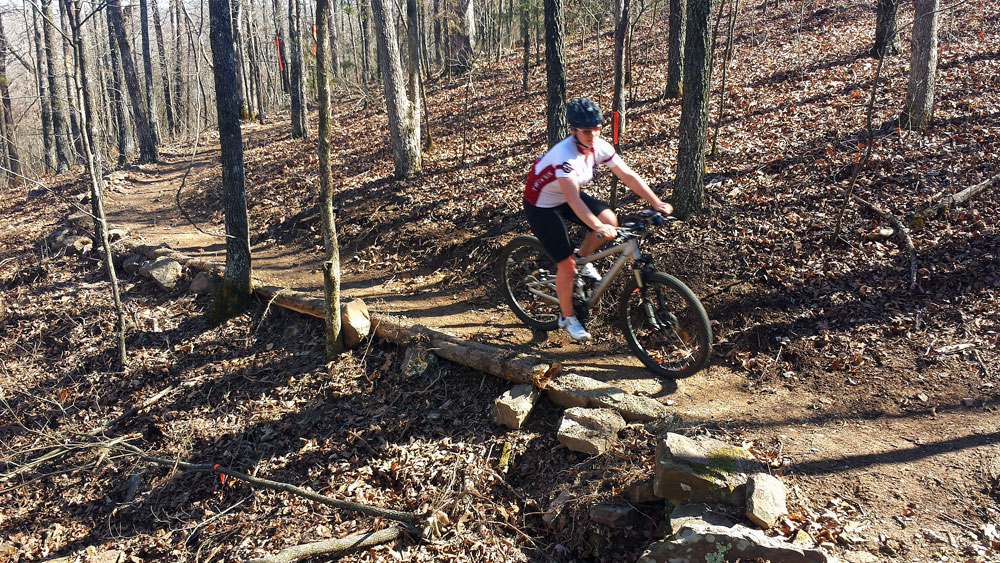 Butts noted that mountain biking is a popular outdoor activity with an estimated 40 million U.S. cyclists participating in this sport annually. "The Arkansas state park system has offered mountain biking opportunities since the 1980s. In April, Devil's Den State Park, in the Ozark Mountains near West Fork, hosted its 26th annual Ozark Mountain Bike Festival," he said. "Mountain biking is among the many heart healthy activities you can enjoy in Arkansas's state parks. Offering mountain bike trails is an important quality of life and economic investment in your state parks. We expect this new trail will encourage more park users, including students from local colleges."
Volunteer support from the Central Arkansas Off-road Group (COG), a group of local mountain bikers, will help the park staff maintain the trail. Erik Leamon, president of COG, said, "This will be a popular trail. Local mountain bikers are excited about this trail right here in their backyard."
Woolly Hollow is one of the 52 state parks administered by the State Parks Division of the Arkansas Department of Parks and Tourism. In addition to enjoying this new trail, trail enthusiasts can hike the park's 3.5-mile Huckleberry Nature Trail that winds around Lake Bennett and crosses the earthen dam that forms 40-acre Lake Bennett. The 438-acre park also offers opportunities for fishing, floating, and swimming in the waters of Lake Bennett. Canoes, kayaks, pedal boats, and fishing boats are available for rent. The park includes a free launch ramp. Anglers will need to bring bait and fishing supplies since there are no commercial docks on the lake. Near the swimming beach are a snack bar and bathhouse with hot showers. For campers, Woolly Hollow features 30 Class AAA campsites and 10 Tent Sites without hookups. Other park facilities include a picnic area, standard pavilion, a visitor center, and gift shop. Woolly Cabin, the log home of the area's first settlers, offers visitors a historic perspective of the park.
The lake was named for Dr. Hugh H. Bennett, the first director of the U.S. Soil Conservation Service (SCS) [today the Natural Resources Conservation Service]. Constructed in 1935 by the Civilian Conservation Corps and the Works Projects Administration, Lake Bennett was the first SCS watershed project in the U.S. built for the purpose of making scientific studies of the effects of water run-off, silt, and soil erosion control from a specific watershed. While first owned by Faulkner County, the site was known as Centerville Park as it developed into a recreational area after the SCS study. It joined the Arkansas state park system as Woolly Hollow State Park in 1972.
Woolly Hollow State Park is in Faulkner County northeast of Greenbrier. Take Exit #125 off I-40 at Conway and travel 12 miles north on U.S. 65, then go six miles east on Ark. 285 to the park.
For further information, contact: Steve Wilson, park superintendent, Woolly Hollow State Park, 82 Woolly Hollow Road, Greenbrier, AR 72058. Phone: 501-679-2098.
Email: steven.wilson@arkansas.gov.
Bonus Video from the South Loop of the Trail.