US-based bike festival with a loaded schedule set in the world-famous trails of Oz – over 300 miles of MTB trails in the epic Ozark Mountains, NW Arkansas, USA
Following on from the successful 'Women Shred' event in 2019, Kenny Belaey, multiple Trial Bike World Champion and avid mountain biker has made Bentonville his US home, setting plans in motion to host an even bigger cycling event in 2021 – Bentonville Bike Fest, presented by Pyure – an action-packed 3 days for bike enthusiasts taking place June 18-20.
The festival itself costs nothing to enter and offers the perfect place to chill out with your friends and family while you are surrounded by free demo bikes, world-class action, and access to some of the best trails around. There will be live bands, DJs and dirt shows with tons of jumps and a brand new Mama Bear pump track area hosting some of the best MTB and BMX freestylers around.
There will be a huge range of pro-rider talent present to encourage, teach, and race (generous prizes up for grabs). Riders include Freeride pioneer Hans Rey, professional two-wheeler – Barry Nobles, multiple world trials champion Vincent Hermance, Perrine Devahive who's a World Cup top 3 trials rider, Joacim Nyman who's a top 8 World Cup trials rider and is going to pulverize the 'Highest Forward Jump on a Bicycle' Guinness World Record plus, pioneering free-rider Richie Schley will be creating top-quality video reports during the event.
There will also be Anneke Beerten, multiple UCI Four Cross World Champion, Jeff Lenosky, trials and all-mountain rider, Nico Vink, founder of the LooseFest Series, and Red Bull Rampager participant and judge. Jeremy McGhee does pioneering work for disabled athletes alongside Mountain Bike legend, Multiple World Champion, Hall of Fame Inductee & all-around Bike Enthusiast Brian Lopes.
A number of brands are already committed to sponsoring the event with Gold Sponsors such as Van Dessel and Univega. Other sponsors include Body Armor, WD40, Vizzy, Vital Proteins, JUNK Brands, Mojo Cycling, Supernola, Live Gnar, Milo's Tea Company, Boost Oxygen, Impossible Foods, Dig Clothing Company, and many more. They will have booths set up in the expo area for riders and visitors to learn about their products. Bike brands like Allied Cycle Works, Niner, Jamis, Pirelli, Rapha, Univega, Van Dessel, and many more will bring demo bikes and booths to feature the hottest new items in the industry. Community partners include Rampaffairz, Pure Nutrition, Bike Bentonville, Visit Bentonville, the Walton Family Foundation, and Slaughter Trail Guides.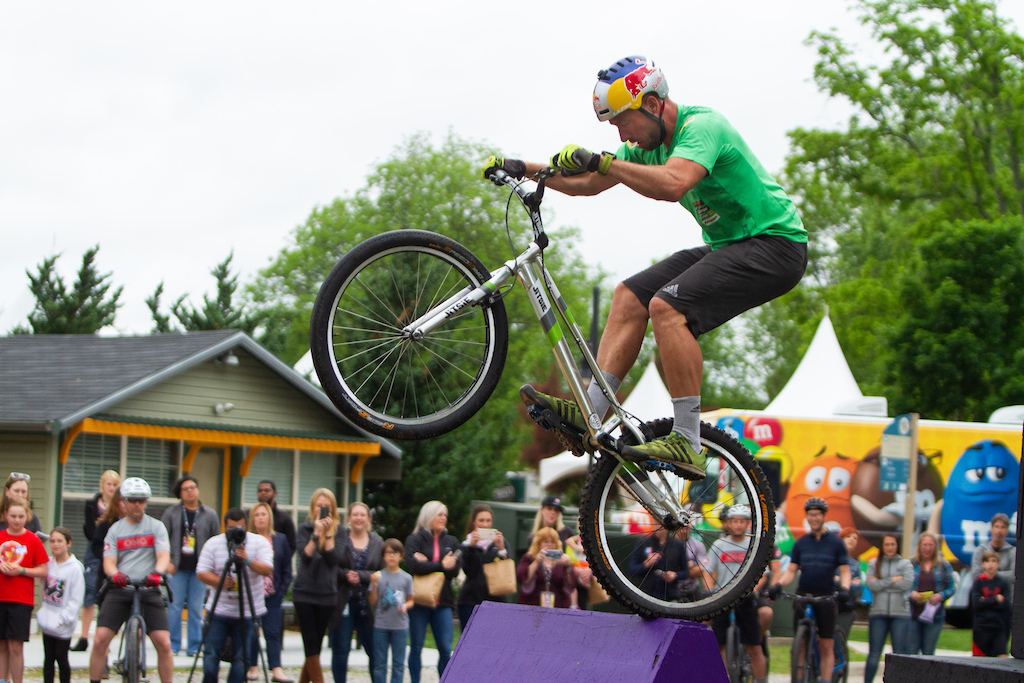 What's On:
All American Sprint & Enduro Races
The All American race will be presented by Supernola. The sprint format is not only very exciting, it's an individual sprint race on an iconic trail with the all American king and queen crowned that night and receive a $2500 prize purse.
The enduro carries a $4000 prize purse. It will be presented by Mojo Cycling and built and designed by one of the best enduro course designers out there – Slaughter Trail Guides.
Pumptrack Demo Area
Offering free access to a huge range of demo bikes.
Women Shred Programming
Anneke Beerten and Perrine Devahive will host riding workshops to improve safety and skills for female riders.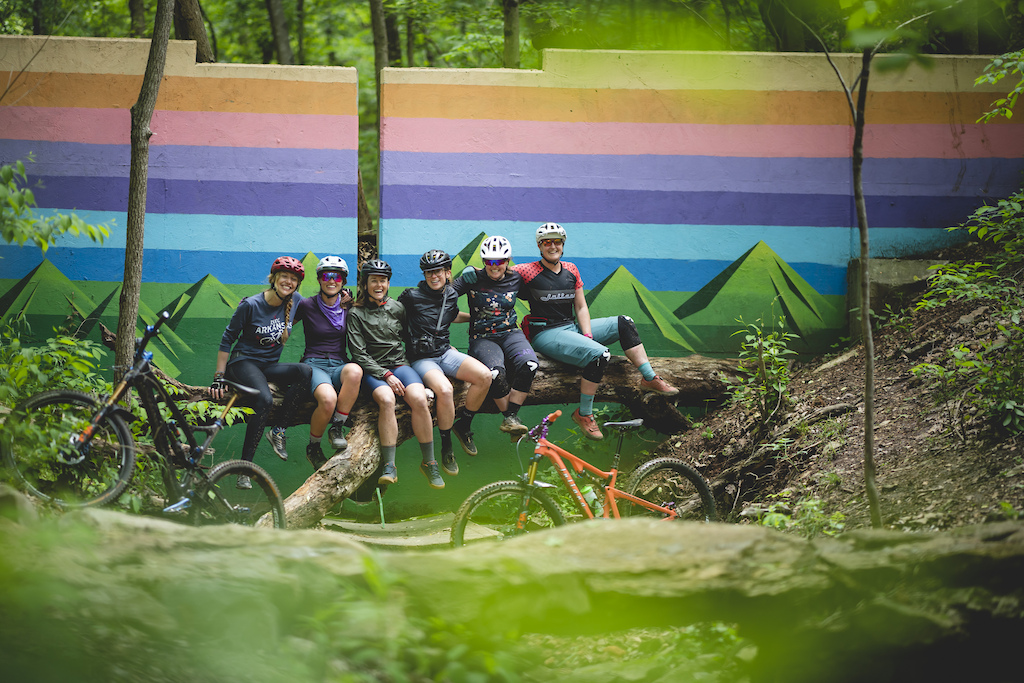 Kids Shred Activities
Buddy Pegs will make sure kids can try out an obstacle course and see the latest in children's bicycles.
Trial Bike Shows And Competition
Trial Bike shows will be happening throughout the weekend, along with a US National Trial Competition with a $4000 prize purse. This will serve as a test event in order to become a UCI Trials World Cup in the future.
Gravel Ride
Presented by Van Dessel and with the support of our gravel partner – the dedicated team at 37 North, riders can choose a 24 or 60-mile ride to get a taste of what gravel riding has to offer. Starting with a Q&A, the ride is fully supported with a sweep car for those who face technical difficulties, plus a meal is provided upon return.
Trial Bike Guinness World Record Attempt
'Highest Forward Jump on a Bicycle' – Vincent Hermance, Joacim Nyman, and Kenny Belaey will battle it out to see how high they can hop onto a wall. The World Record for this currently stands at 179cm which was set at Prudential Ride London by Laszlo Hegedus.
Style It Up Workshops
Nico Vink's career started as a world cup racer almost 3 decades ago. He has traveled the world building the world's best big air dirt jumps, is a Red Bull rampage judge, and one of the most respected free riders out there. You can sign up for Style it up workshops with Nico – He'll give you tips and tricks to ride better, safer, and cooler!
Art
In collaboration with OZ Art, there will be a number of art installations created by well-respected artists and inspired by the festival vibe. Art is a huge part of Bentonville and following the event, the artworks will be installed along the trails!
Kenny Belaey, Bentonville Bike Fest, presented by Pyure founder and CEO said: "Following the success of Women Shred we really wanted to up our game and put on an even bigger show with the hugely appreciated support of our sponsors and talented professional riders. We are really proud to offer riders the chance to experience the latest bikes, see world-class shows by multiple world champions (trials, flatland, Guinness World Record, and dirt). This is going to be an unmissable event for anyone wanting to race, learn or just soak up the unique atmosphere and unbeatable trails in Bentonville".
Kalene Griffith, CEO of Visit Bentonville said: "After running a very successful Women Shred bike event for the Bentonville Film Festival in 2019, we're excited to learn that Kenny Belaey will now head up the Bike Bentonville Fest in June of 2021. As the Mountain Biking Capital of the World, we can't think of a better place for bike lovers to travel to than Bentonville, Arkansas, for this exciting and inclusive event."
Tom Walton, Walton Family Trust – supporters of Bentonville Bike Fest, presented by Pyure said: "We've always challenged ourselves and Northwest Arkansas communities to be innovation labs for trail building and cycling – an effort that includes diversifying ridership."
With more than 300 miles of natural-surface trails, Northwest Arkansas has risen as a premier mountain biking and public recreation destination. When people leave the expo area of downtown Bentonville, they will roll right onto the trails. It is ideal for beginners, but also for the very advanced rider. The perfect place to experience mountain biking!
Want more racing and to see more of Northwest Arkansas? Extend your trip for a full week to check out Arkansas's second oldest mountain bike race June 23rd-27th. The Fat Tire Festival in Downtown Eureka Springs includes newly finished Marble Flats and Passion Play trail systems, just minutes from the Lake Leatherwood trail system and campground!
Please email Jessy@bentonvillebikefest.com to find out how to become a supporting brand or partner. Details on how to register for free entry tickets will be announced in the coming weeks (the races will be paid entries but access to the festival is free). Keep up to date at bentonvillebikefest.com and follow on Instagram or Facebook.
*We will, of course, be monitoring the ongoing COVID situation and will communicate any changes or new regulations that will affect Bentonville Bike Fest, presented by Pyure as soon as we can as the safety of every person involved is our main priority.