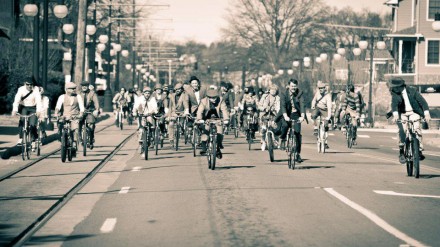 …make things better.  At 7 pm at the Oyster Bar, on Thursday April 5th, Bicycle Advocacy of Central Arkansas (BACA) will be holding elections for its new board. Nominees are in and are representative of most types of cycling in central Arkansas. This is your chance to make things better for cyclists in Little Rock, North Little Rock and the surrounding area. Should cyclists be relegated only to the Arkansas River Trail? Should the cities incorporate more bike lanes and sharrows in road designs? Should law enforcement have a better understanding of the laws that both allow cyclists to use the roads and protect them from injury and worse? These are the types of issues that BACA tackles. Here is a quick run down of what BACA does:
We're a bicycling advocacy organization serving the central Arkansas metropolitan area, consisting of Little Rock, North Little Rock, Pulaski County, and the surrounding communities. BACA seeks to provide a unified voice of advocacy for changes in attitude and public policy that will improve the safety, convenience, and acceptance of bicycling within the Little Rock/North Little Rock metropolitan area and surrounding communities in central Arkansas. We envision a future where Arkansans embrace bicycling as an integral part of our way of life; where bicycling is accepted as a safe, practical, and equitable means of travel; and where Arkansans recognize that bicycling creates cleaner, healthier, economically stronger, and more livable communities.

Advocacy is defined as the act of pleading or arguing in favor of something, such as a cause, idea, or policy; active support. Our goal is to do so on behalf of bicycling in Central Arkansas. We exist to advocate the many benefits of bicycling to our community.

In support of our vision, BACA strives to:

Work with public and private agencies to improve access to and use of existing transportation and recreational facilities by cyclists; and to support and assist in the planning, development and implementation of additional bicycle facilities to connect all parts of the communities served by BACA;
Advocate and support the needs of cyclists and other users of bicycle-compatible means of transportation and recreation during the preparation, development, and construction of transportation-related plans and projects;
Promote and support the safe and equitable use of the public and private roadways by all users – including motorists, cyclists, and pedestrians;
Provide a resource for bicycle education and safety information, activities, and training, to include the healthful benefits of bicycling;
Encourage and support central Arkansas communities and local businesses in seeking, attaining, and improving designation as "Bicycle-Friendly Communities" and "Bicycle-Friendly Businesses" under the criteria of the League of American Bicyclists' Bicycle-Friendly America program;
Increase public awareness of the benefits of bicycling and other forms of active transportation; and
Act in cooperation with other community, regional, and statewide organizations sharing common interests to achieve the above-stated vision.
To become a voting member all you have to do is sign up for the newsletter (here) no membership dues although donations do help and you can learn more about that at the meeting. Please take the time to attend the meeting on April 5th to show your support for cycling in central Arkansas. We need everyone from recreational/fun riders on the Arkansas River Trail to mountain bikers to club riders to pro racers. So come on out, get there early if you want a little food or beverage before the meeting and also use this opportunity to meet other cyclists. We are a great group of people.
Here is a tentative list of nominees:
President: Tim McKuin (Law student and city livability advocate – has a really cool website)
Vice President: Judy Lansky (An original instigator of BACA and coordinator of Bike to Work Week)
Secretary: David Paoli (Trail builder, maintainer, cyclist and innocent bystander)
Treasurer: Bryan Shipman (Spokes rider, CARP -Central Arkansas Recreational Peddalers rep)
At Large 1: Chad Cragle (Arkansas Cycling & Fitness rider and all around smart guy)
At Large 2: John Gillam (CARVE – Central Arkansas Velo rep)
Two other at Large positions are not currently up for election. These are good people and we appreciate them throwing their names in the hat. It's up to the rest of us to give them the support they will need to keep moving forward.
A recent article in VeloNews listed several great reasons to be involved in bicycle advocacy from a racer/club rider perspective. You can also learn more about BACA on the website and on the Facebook Page. See you at the meeting!