I'm a bit lazy about some things: hanging up my clothes, keeping my garage organized, and yes, washing my bike. Occasionally I do get a wild hair and get all my clothes put away, clean off my workbench, and wash my bike. If I'm lazy my clothes will be fine, although a bit wrinkled, and things might get a bit lost on the workbench, but not lost forever. My bike is another story. It really needs to be cleaned more often.
A dirty bike can be bad for performance and hard on components. Dirt and grit build up in drive trains to cause premature wear of chains, cogs, and derailleurs. Although many of us take pride in our dirty bikes as an example that we are actually riding, exploring remote areas, kicking up a little dust, it's still not good for your bike or your wallet.
I've needed to give my bike a good cleaning for a few weeks and my schedule of riding 3 or 4 times a week was not helping. It's also obvious that it needs cleaning from a distance as my bike is white (with red accents for speed). Last week I got an email from Muc-Off a bicycle and motorcycle cleaning product company. They asked if we would like to review their product and I figured that waiting for the product to arrive would give me the opportunity to procrastinate another week to clean the bike. Meanwhile, I went mountain biking 3 or 4 more times.
I figured the folks at Muc-Off were going to send me a bottle of their original pink cleaner so I was surprised to find a large box sitting at my front door. I opened it up to find a toolbox full of cleaning supplies including various brushes, eco-degreaser, original Muc-Off, a sponge, a chamois cloth and a finishing spray. They also included a couple of different lubes, some instructions, and a chamois cream (I haven't tried that yet). By giving me the Ultimate Cleaning Kit, Muc-Off was serious about me cleaning my bike.

It's time to clean. I set my bike up on my bike stand, in the driveway. I used no buckets and besides the cleaners and tools supplied by Muc-Off, I only used a garden hose with a sprayer. First, go over the instructions.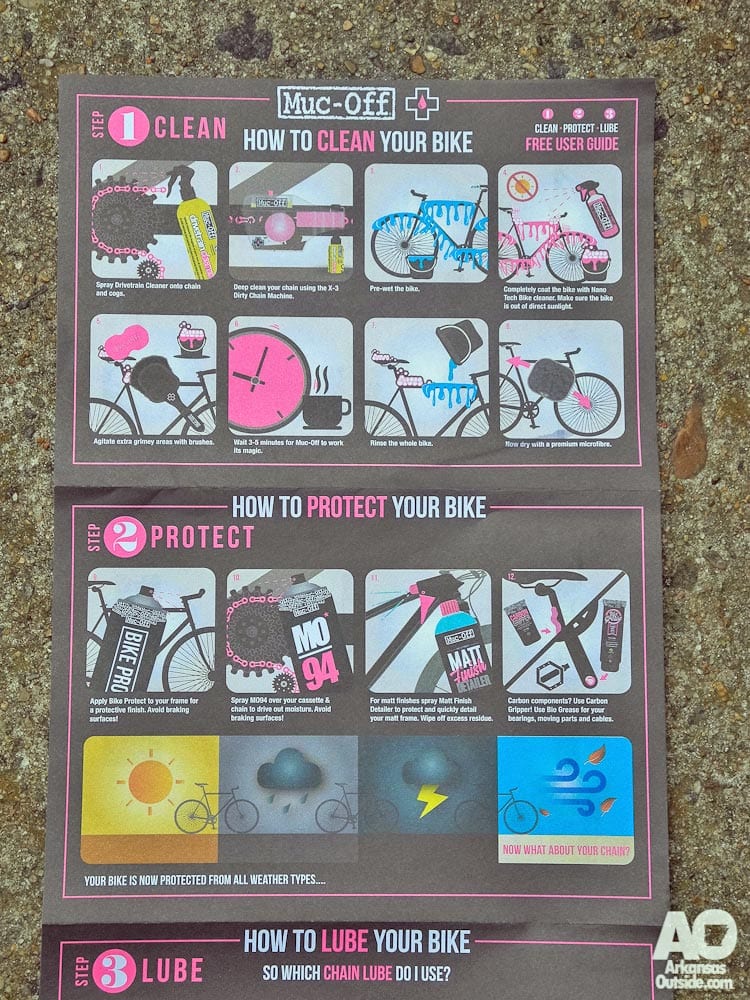 The first step was to spray down the drive train with the eco-degreaser. The bottle and sprayer are well designed and seem like they will last awhile. Often, I buy cleaners and degreasers and the sprayer fails before I'm halfway through the bottle. The Muc-Off sprayer is better made than most.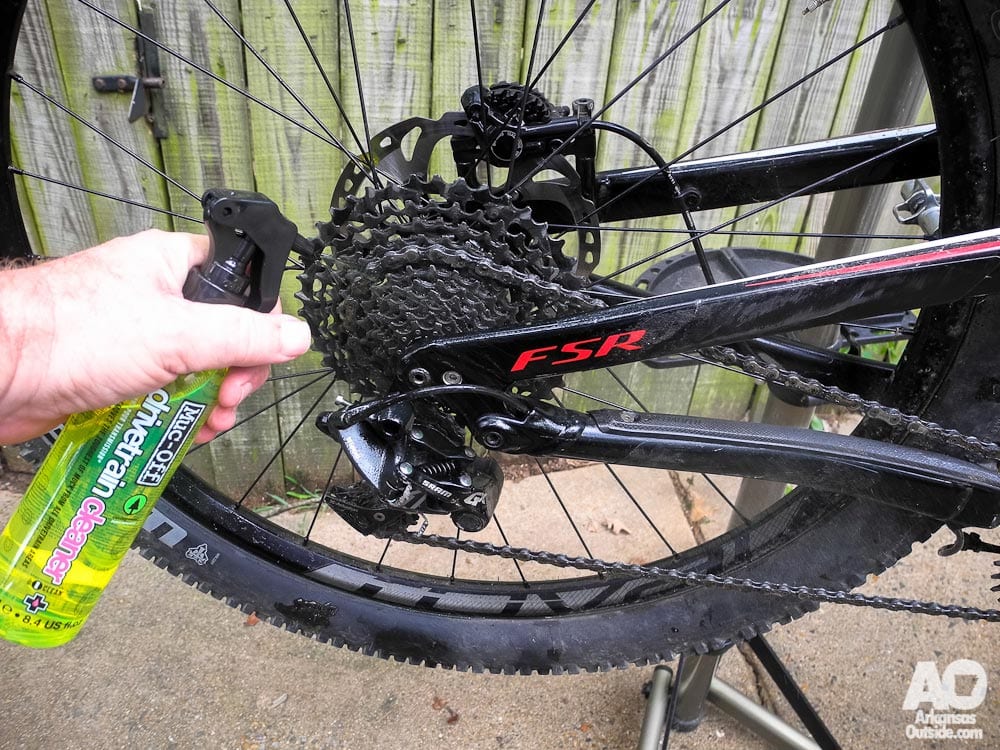 The Muc-Off X-3 Dirty Chain Machine was not included in the kit so I skipped this step. I went on to "Pre-wet" my bike and then sprayed it down with the Nano Tech Bike Cleaner. I then used the brushes included cleaning some of the grimier areas of the bike.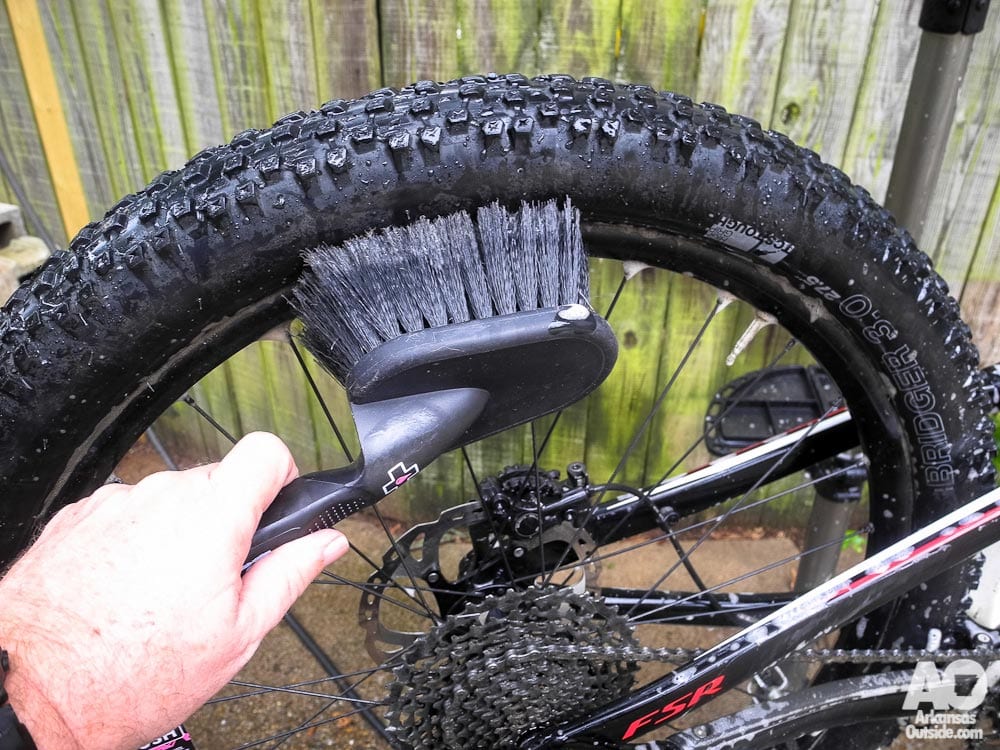 The instructions called for 3-5 minutes of Muc-Off Magic. It was a good time to enjoy a refreshing beverage. A little Epic Trail Amber Ale from Bike Rack Brewing seemed a perfect choice.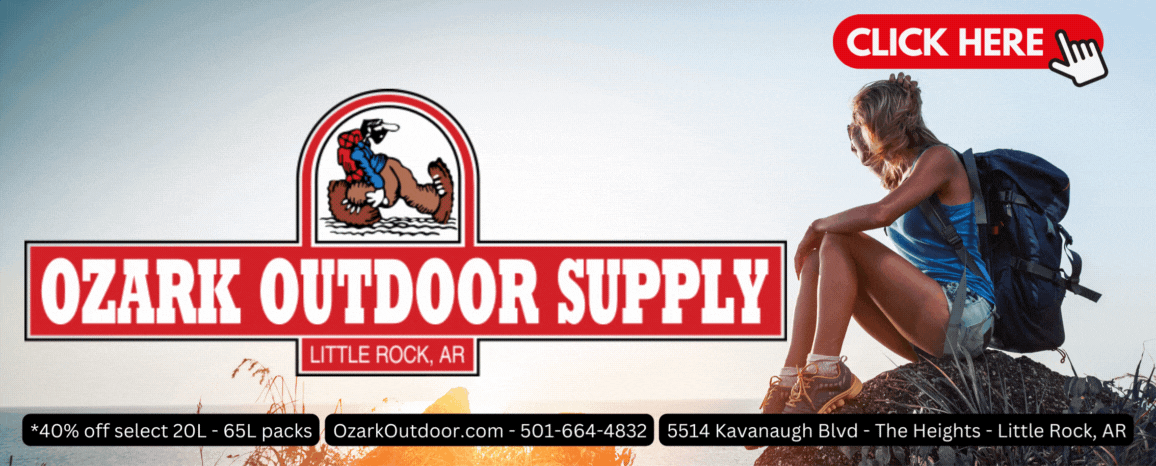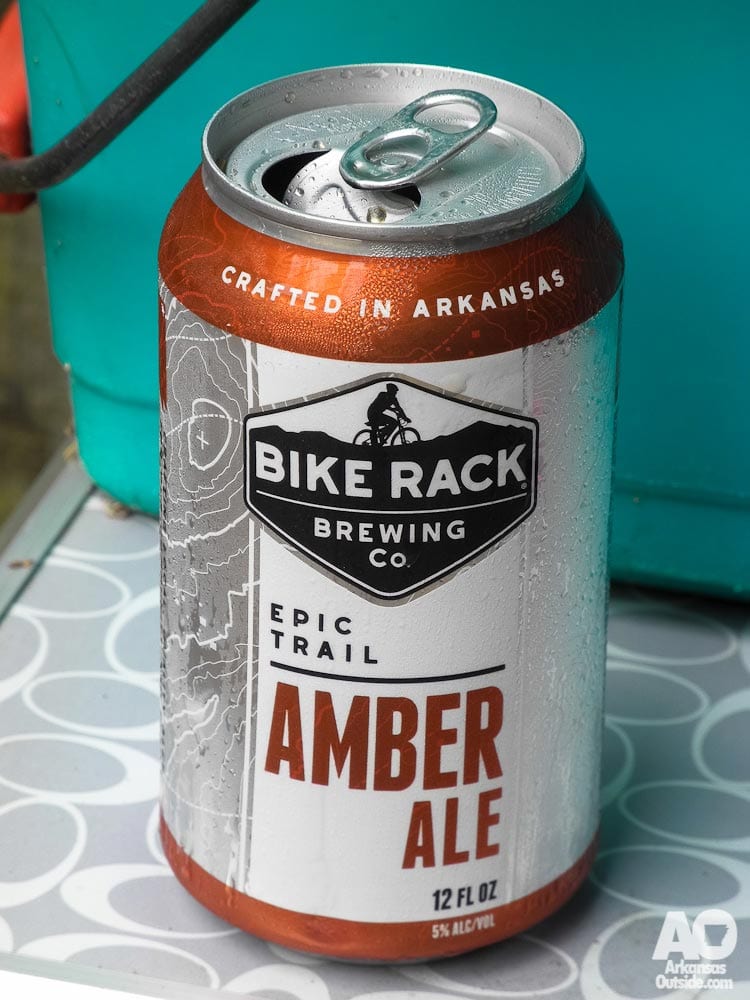 Rinsing the bike took just a few minutes and then it was time to check how well the kit had performed. Here are some before and after photos.

This was a nice quick clean up and I'm impressed with the ease of cleaning that the items in the kit provide. Is it worth over $100? Well, that is up to the user. Since I ride several nice bikes and so does my wife, this seems like a small amount to pay to have the equipment stay in good repair. This cleaning kit could be put together by researching various cleaners, brushes, etc. but I'd rather spend the time riding. After this cleaning, I did a little more on my own, wiping down the chain to get a little more gunk off and pulling the derailleur pulleys to clean them. Even more old grease and dirt came off and it came off easily. I attribute this to the Muc-Off Eco-Degreaser. I'll leave the story with a few photos of the finished product. I could get a little more muc-off using the included claw brush.