The temperature for the day was expected to reach the upper 90's. The area's largest music festival, Riverfest, would be in full full swing over the weekend. The three day weekend and for many the end of the school year, would take a lot of people on road trips, vacations or to one the many great lakes in Central Arkansas. But for more than 300 people, the morning of May 26th would mean getting up early, pulling on running gear and heading down to Murray Park and the River Trail for the Rock Run 8K to benefit Easter Seals. Easter Seals Arkansas has many wonderful services that money raised from entry fees will go to support. Some of residents of Butler Adult Living Center, a service that allows and assists adults with mental disabilities to live in a group environment while learning skills that help them become more independent were at the race to help out and cheer the runners on.
Little Rock Road Runners were assisting Easter Seals by administering the race. The Rock Run 8K has a history dating back to 1983 as part of the Arkansas RRCA Grand Prix series but was discontinued after the 2002 season. In 2010 the race was revived by ArkRRCA and Easter Seals.
A couple of weeks ago I was looking at a our race calendar for upcoming events that I might want to do. When I clicked on some of the info for this race I found this course map: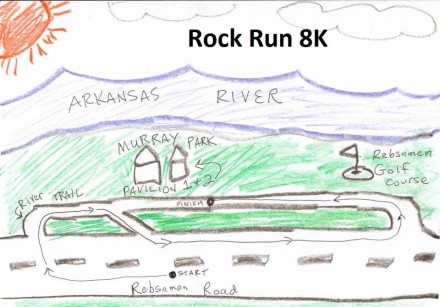 I can't resist any race with a crayola course map so I decided right away that this one would go on my list. I don't run a lot. I'm typically a mid to back of the pack runner which gives me a lot of time to chat, check out other people's t-shirts and to thank volunteers. During this race I saw groups of runners from a Cabot Country Cruisers club wearing t-shirts that said "we RUN this town", great logo. There were several folks with Saline County Striders shirts. There were as always a lot of recognizable shirts from past races. But for the first 20 or so finishers of today's race, it was Shirtless Saturday.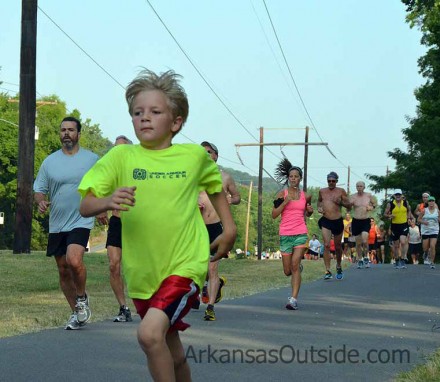 The 4.97 mile course is flat. Starting from the area in front of pavilions 1 and 2 in the park, the course heads west for about half a mile. As the Big Dam Bridge came into view I heard a woman behind me ask "We aren't going up THAT are we?" I answered "no, but if you want to there are other races that do including an evening run later this summer." "Please don't tell my husband" she said, "or we'll be signed up for that by tonight." As we made the turn to head back East, I see Joe positioned for photos at a point on the trail just before the pack is herded back onto the street. It had been a long week for me, and I wasn't feeling my best this morning. I gave him a weak wave, tried to smile for the camera and kept going. The rest of the course is East on Rebsamen Park Road past the golf course and on to the new roundabout that was recently finished at the intersection of Old Rebsamen Road and Riverfront Drive where we turned to run back on the trail heading West to the finish. Hadley Eblen of Bobby's Bike Hike was there giving direction and a lot of encouragement. It is a invigorating  to see local businesses out getting involved in community events. Especially new businesses. I did not see him because he was leading the front of the pack on his bike, but I understand that Bobby's owner/operator, Jeremy Lewno was there as well,  helping out. We've seen them out at a few different events lately, inspiring some civic pride in those of us who've lived here a long time and sometimes forget what our community is and what it could be.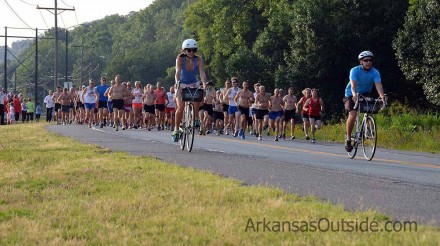 Macs Race Timing was at the finish with music and their big inflatable finish line. It's so nice to see that finish and hear the music for those last minutes of a run, especially if you need a little motivation. The finish area was lined with volunteers, friends and families who were cheering and yelling for every finisher. The usual treats were available for everyone afterward, cold water, bananas, juices and other snacks. Lots of the earlier finishers stuck around to talk to and cheer for those finishing later. There were lots of awards to hand out. Thanks to all the volunteers, cheerleaders and folks who were nice if they happened to be delayed along the park entrances to let the racers through.
Results can be found here.
We also have lots of photos here to download, favorite or share.