In a world filled with apps that allow you to turn your phone into a flute or launch birds at seemingly endless levels of pigs, it is refreshing to know that there are people out there developing applications that make it easier for users to get outside and down to the important business: mountain biking.
The following is my list of the eight essential apps for mountain bikers. Some are specific to "the Natural State," and others are applicable to singletrack aficionados worldwide, but all can be used to make your next ride easier and more enjoyable.
1. Singletracks
Singletracks boasts "the largest mountain bike trail map database in the world," and based on the amount of MTB beta in this app, I wouldn't doubt it. With an extensive world-wide database of trails, this app is a must-have for mountain bikers. In addition to trail maps, it offers reviews on bikes and gear, the ability to locate bike shops nearby, articles and a daily photo from some amazing mountain bike destinations for a little extra motivation to use those "sick days" you've been hoarding.
Cost: Free for Singletracks "Lite." For a little extra oomph, purchase the "Topo" version for $3.99.
2. Fox Intelligent Ride Dynamics (iRD)
If you have Fox suspension on your off-road rig, this is a pretty handy app. The user-friendly, step-by-step format allows riders to tune their fork or shock according to Fox's recommendations. Set-up is easy with the help of the iRD app – simply find the tag on your suspension and enter the code. The app shows you how to dial-in the rebound and damping, and even provides air pressure recommendations.
Note: This app may not be of much help with older suspension packages as Fox uses ID Tags to relay the necessary information to the app. Fox began placing ID tags on their shocks and forks in 2013, so if you're riding anything circa 2012 or earlier, the app will not likely support your suspension.
Cost: Free
To find it: Apple / Not Available for Android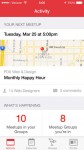 3. Meetup
For the uninitiated, Meetup is a social media platform that facilitates "offline group activities." While people worldwide use Meetup to organize gatherings around a wide variety of activities, the network has become popular among Little Rock mountain bikers thanks to the Burns Park Mountain Bike Group (BPMBG). Through the BPMBG (quite an acronym, eh?) local riders organize rides and post trips. From the color-coded trails of the group's namesake park to weekend trips to northwest Arkansas and weeklong excursions in Aspen and Bend, BPMBG's calendar is consistently full of mountain biking opportunities for riders of all skill levels.
The network also serves as a tool to promote and organize trail work days. The Central Arkansas Trail Alliance (CATA), a Little Rock-area trail advocacy organization and chapter of the International Mountain Bicycling Association (IMBA), regularly posts work days and membership meetings on Meetup to help spread the word and provide "trail love" for some of the state's prized singletrack.
Cost: Free
To find it: Apple / Android then search for and join the "Burns Park Mountain Bike Group."
Shameless Plug: Also be sure to check out the Central Arkansas Trail Alliance at www.centralARtrail.com – $35 per year gets you membership in both CATA and IMBA. Benefits include IMBA SWAG, a free one-year membership to fine mountain bike publications like Dirt Rag and Mountain Flyer, discounts on bike gear and more. Most importantly, your money helps support trail maintenance and development efforts to ensure that the mountain biking scene in central Arkansas continues to flourish. CATA is also a 501(c)3 non-profit organization, which means your membership is tax deductible.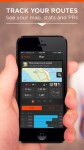 4. Strava Running and Cycling
Strava is a handy app that allows users to record rides by simply tapping the screen. Feeling competitive? Compare your times against fellow cyclists in the Strava community. Strava also offers a menu of "challenges" from Gran Fondos to less ambitious endeavors. The latest version allows users to switch between running and cycling modes, eliminating the need for separate apps.
Note: The app does require a decent signal and has been known to drop a recording in heavily wooded or remote areas. If you're heading out into the backcountry and want to record your ride, you may want to have a plan B.
Cost: Free
5. Arkansas State Parks, Park Guide
The Arkansas State Parks On-The-Go Park Guide for iPhone or Android gives users the ability to locate parks and trails and view maps. Tap the "find a trail feature" to search "trails near me" or search by difficulty, city and type. Trails are displayed by park and include a difficulty rating and approximate distance from your current location. The app also offers a "notices" feature that provides updates on park closures, trail conditions and special events and activities.
Cost: Free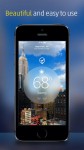 6. The Weather Channel
To quote the poet Paul Simon, "I get the news I need from the weather report." While certainly not trail-specific, any outdoor enthusiast knows that the key ingredient to a good day in the woods is nice weather (or at least a heads-up to prepare for nasty conditions). With an hourly forecast feature, this is a handy app to consult when planning to hit the trail.
Note: A trick knee or hip also works just as well as a weather predictor and does not require a download.
Cost: Free
7. Where Am I At?
As you may have gathered from the name, this app answers an important question. According to its description, Where Am I At? "will zoom in on your position and display your coordinates as well as your address." The app has also recently been updated to include altitude information.
According to CATA President, Bruce Alt, the app has potential as a useful tool for mountain bikers. "Its ability to hone-in on a rider's location could be valuable in situations where you want to notify a land manager of a trail maintenance need or hazardous situation using your phone mid-ride," said Alt. "It could also be used for emergency medical response."
Cost: Free (for a limited time)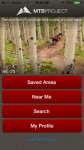 8. MTB Project
The MTB Project is a partner with the International Mountain Bicycling Association (IMBA) and is working hard to crowd source trails around the world. Mountain bikers are encouraged to upload local trail gps data from their gps device or smartphone to the MTB Project website. Pictures can be added along with trail descriptions, difficulty ratings and access information. Once the trail is in the system, mountain bikers can use it to pinpoint themselves on the trail or the trails can be pre-downloaded so they can be used in areas with limited cell phone coverage.
Cost: Free
Well that's my list, what's yours? If you have an app that's a must-download for mountain bikers, tell us about it in the comments section.