It's early Monday morning and Derek Berry is getting ready for his morning commute. He throws on his backpack and rather than starting up his Subaru Crosstrek, he wheels his matte black Cannondale bike out from his apartment, hops aboard and pedals off into the Little Rock sunshine.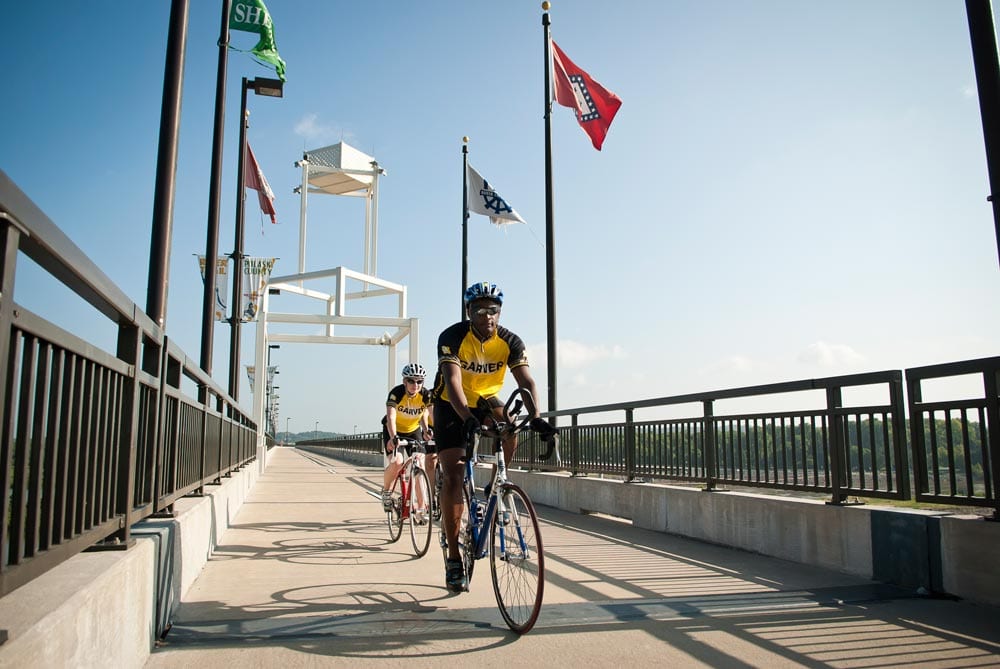 A few minutes later, he's at the River Trail. A few more and he's crossing the Big Dam Bridge to North Little Rock and his job as a digital designer for Garver, an employee-owned engineering, planning, architectural and environmental services firm headquartered at the foot of the bridge it designed.
Derek's daily commute is 20 minutes by car, 30 minutes by bike.
Once inside the building, he stows his bike in a locked storage area, grabs a company-provided towel from the rack and takes a quick shower. A cup of coffee, a banana and a bowl of oatmeal later, he's at his desk, ready to face the week.
"To me, I don't even notice the time difference. I wake up fifteen minutes early and it's just me, the bike and the road," Derek says. "Versus a car, it's hard to compare. There's something about arriving at work when the day is cool, you've already ridden for thirty minutes, fully awake and 100 percent productive. I can spend my time on a bike thinking about what I need to do.
"When I'm in the car, the radio's on and my mind is elsewhere. There are distractions, there are left-lane drivers, there's this and that. On the River Trail, it's just me and the bike, getting the exercise, being in a beautiful place. It's completely different. I work in a creative field and I do some of my best thinking and planning on a bike. So when I hit my desk I'm not just prepared to work, I've got fresh ideas right in hand. And when I get home on my bike, the work concerns are gone and I can enjoy my evening."
Which is exactly the point, says Diane Hannah, Garver's head of Vision Enterprise Resource Management. In addition to her daily responsibilities, Diane is a League of American Bicyclists-certified Smart Cycling instructor and will offer advice and instruction to beginning and less experienced employees who are cyclists.
"We first started employee commuting back in the old Garver building at 11th and Battery Streets next to Arkansas Children's Hospital," Diane recalls. "But once we finished the Big Dam Bridge in 2006, more people started riding into the area. In fact, the main idea for this location was based on employee wellness, including making the company available to cyclists. It was important that we have a location people can get to by bike."
The company has certainly built on that idea. Nowadays, Garver offers its employees showers and towel service, security-monitored parking for more than 40 bicycles and a professional-grade service area with repair stand, tools and pumps for employee use. It also offers a fleet of loaner bikes for employees to take to offsite meetings, lunch or errands. They can even check one out for family or friends to use on weekend excursions.
Local Support
Garver's commitment to cycling is also a matter of public service. The company has hosted the MS 150 ride start/finish area every year since 2014.
"That's especially nice because riders can use the Garver showers and get cleaned up before going home again or to the big block party after," Diane says.
The company also sponsors the Big Dam Bridge 100, even designing the official event jersey in-house. On a more casual basis, Garver maintains the North Little Rock Cyclists email list, bringing riders together for weekend or pickup rides. The company also works closely with North Little Rock's Recycle Bikes for Kids charity, hosting used bike drives and getting some grease under the company fingernails as Garver employees get donated bikes prepped, tuned, polished and made ready for giveaway to kids.
All of which may be part of why Garver's North Little Rock office has been a League of American Bicyclists' gold level Bicycle Friendly Business award recipient every year since 2010, and the Fayetteville office since 2015. It's an honor they share with fewer than a dozen other Arkansas businesses.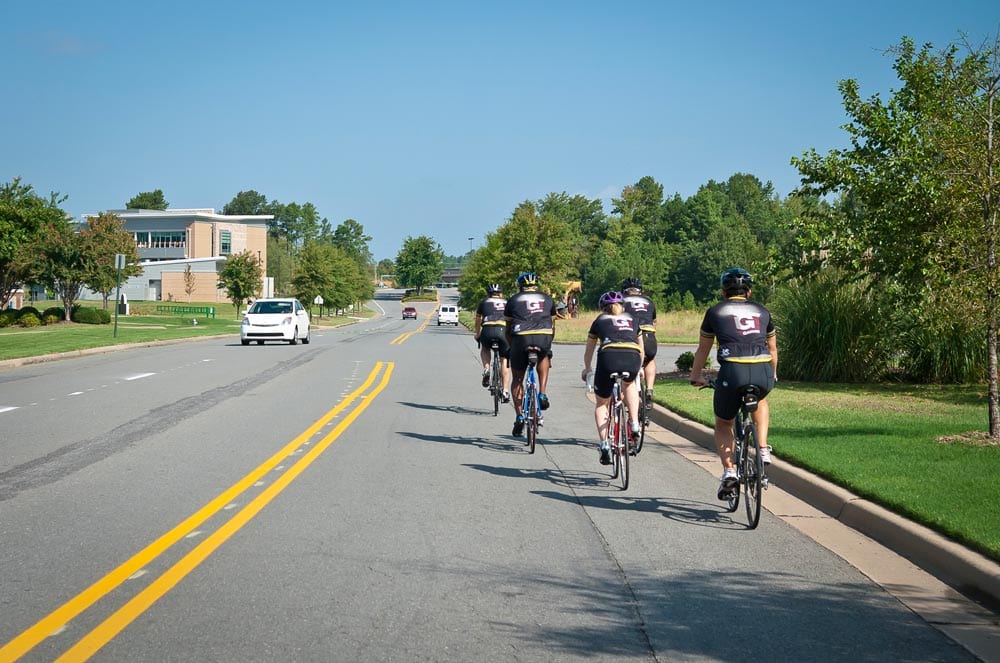 It's not just cycling
As Diane says, "Bike culture ties into our wellness plan, or maybe vice-versa."
Corporate Recruiter Caitlin Pennington agrees.
"For all our locations, we try to find office spaces that are near bike routes and outdoor facilities, with room for a gym and bike storage," Caitlin says. (The company has 25 offices in 11 states.) And for all employees, she points out, Garver offers free memberships to local gyms, whether there's one at the office or not.
"You don't have to be a fitness buff to take advantage of the facilities, and they're not just about biking. Having them right here onsite makes it harder for people to use all the excuses for not exercising," Caitlin says.  "It's just too easy to take advantage of the facilities for overall fitness, weight loss, stress reduction, personal sense of accomplishment or just to take time for a mental break. We even have stop-smoking programs tied to other wellness activities, and every employee in the wellness programs qualifies for discounted health insurance."
"When you think of the lifestyle Little Rock and Arkansans are known for, you don't necessarily know about all the multi-use paths around the state. Even though Garver's been in the community for almost a century. But everybody knows the Two Rivers and Big Dam bridges."
Fayetteville's Frisco trail? That was a Garver project, including the tunnel under Highway 180 and creek crossings. And much of the multi-use infrastructure along the River Trail in Little Rock, too. Shilcotts Bayou pedestrian bridge? Two Rivers? Broadway? All Garver projects.
Southwest Trail Planning
But the next and most ambitious project is the Southwest Trail. Approximately 60 miles long, this multi-use path will stretch east from Hot Springs all the way to the existing network of Little Rock trails, spanning Saline, Garland, and Pulaski counties in the process. Garver will route the trail's course, including the Old River Bridge, which first opened in 1891 to provide a crossing over the Saline River. Garver will also conduct the environmental assessment, the first step of the project.
"The employees are excited about it," Caitlin says. "And it's great to see Garver taking a leadership position within the community. From hosted yoga classes to running groups training for marathons, it's progressive for Little Rock, it's progressive for Arkansas, and it's progressive for the nationwide engineering community."
Wellness Coordinator Whitney Gorsegner sums it all up. "Everybody needs physical, mental, spiritual, financial and social wellness. We believe that work/life balance helps to manage all those things. And Garver benefits from having happy, healthy employees who want to spend time with their co-workers.
"In addition to the LAB honors, we were voted the No. 1 place to work in the entire U.S. among engineering firms. That comes back to us not just in terms of productivity, but in quality of work, which brings us more business. And that feeds back into quality of life, which completes the cycle.
"I'm a firm believer that if you are happy, you'll be successful. And that comes back to you in every part of your life, including family and friends. Most people believe that if you're successful, you'll be happy. But we believe if you're happy, you'll be successful."