When:
January 4, 2020 @ 8:00 am – 4:00 pm
2020-01-04T08:00:00-06:00
2020-01-04T16:00:00-06:00
Where:
Big Fork Community Center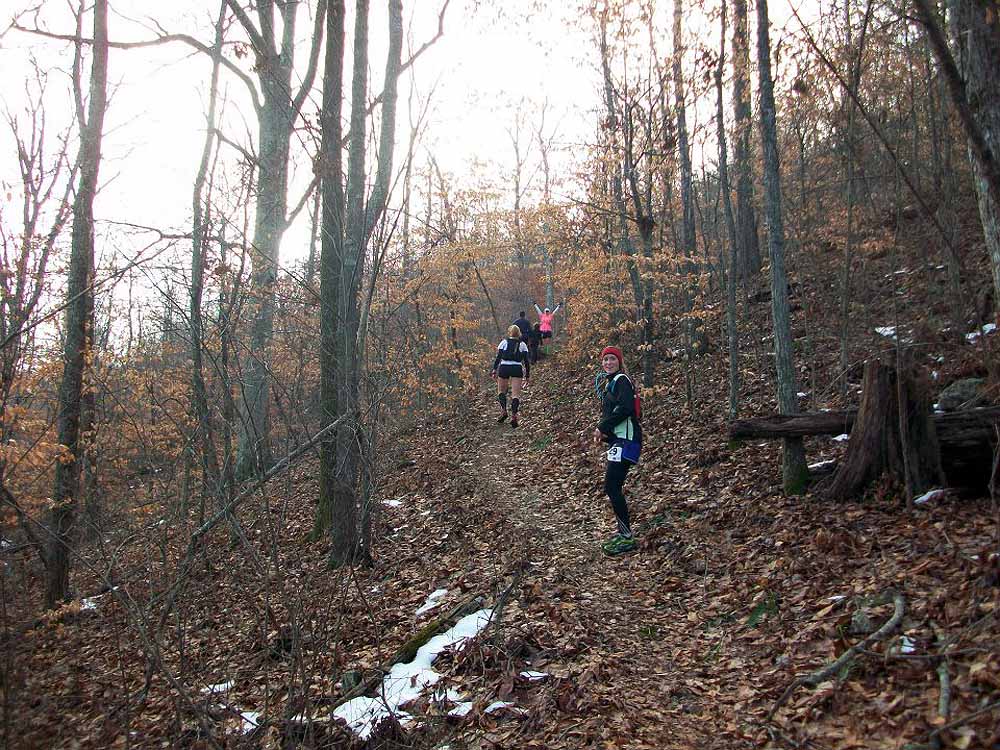 NOTE: This event is NOT for trail-newbies.
If you are not an experienced trail- or ultra-runner (or adventure racer), we happily invite you to one of the other UTS runs, BUT NOT THIS ONE. This is a difficult event on a difficult trail that presents many opportunities for one to get lost, injured, exhausted, or incapacitated–with sparse access for rescue.
The Athens-Big Fork Trail Marathon and Blaylock Creek 17 Mile Fun Run take place on the Athens-Big Fork Trail. This is actually > 100 year old horse postal trail. After running this, you will wish you had a horse!
The course is an out and back course. You first run almost 3 miles on roads – paved and gravel up to the start of the trail. Then you enter the Athens-Big Fork Trail – White Blazes. Follow the trail over 8 mountains. The 8 mountain crossings on the trail are:
Missouri
Hurricane Knob
McKinley
Brier Creek
Leader
Brushheap
Brushy
Big Tom
You pop out of the trail and need to go about a half mile down the gravel road to get your full 13.1. Then you turn around and go back. It's that easy!
The 17 Mile Blaylock Creek Fun Run only gets to run half of the hills. You will turn around at the Aid Station just across Blaylock Creek.
What this means to you the runner. Here are some statistics for you to consider – this is the "out" of the out and back:
Max Elevation: 2028
Min Elevation: 1023
Climbing Elevation Gain: 4600 feet
Climbing Distance: 7.10 miles
Average Grade: 12%
The
Athens Big Fork Trail Marathon
and 17 Mile Fun Run will be held
Saturday, January 4th, 2020
.
Registration will open Monday, Aug 12th and capped at 200.
We can use an aid station captain for the Little Missouri aid. If you are available and interested, please contact me at mverunnergirl@gmail.com
Big Thanks to our absolutely amazing volunteers! I am happy to announce that the Blaylock Creek and Turn Around aid stations will be sponsored by the same fun, caring, and capable people/organizations. SO go show them some love and visit their business.
Fleet Feet Little Rock – not only do they have a large selection of running apparel, shoes, and hydration options but they also host weekly runs. In fact, they are hosting an event with Oofos at Flyway Brewing this Tuesday at 6pm. Come Join The FUN!!!
Team Jackass out of Texarkana will also be back at the FULL Turn Around ready to send you back to the finish in a happy state of mind.
Ouachita Amateur Radio Association Inc. will be there tracking you and helping to ensure your safety!!
Polk County Sheriff's Department will be there to see you off to a safe start with an escort along the pavement section.
The
Big Fork Community Center
and all of the big-hearted folks of Big Fork plan to open their doors for another year with all of the warm hospitality that makes this place Extremely Special.
AS ALWAYS, ALL PROFITS WILL GO TO THEM IN ORDER TO HELP ENSURE THE LONGEVITY OF THE COMMUNITY CENTER.
We look forward to seeing who has what it takes to run from Big Fork to Athens, crossing 8 mountains TWICE!