Dirt Circus is an event series created by UltraSignup to bring together the local running community and celebrate everything we love about trail running. Come and join us under the big top.
This November, the Circus spectacle rolls into Bentonville, Arkansas for an exciting and competitive weekend of running. Explore Bentonville's winding wooded trails in the 5K or 10K race. This event is made possible through our partnership with Rush Running and the town of Bentonville. Come get to know Northwest Arkansas for yourself!
10K Prize Purse: $10,000!
Event Details
Schedule – Friday, November 17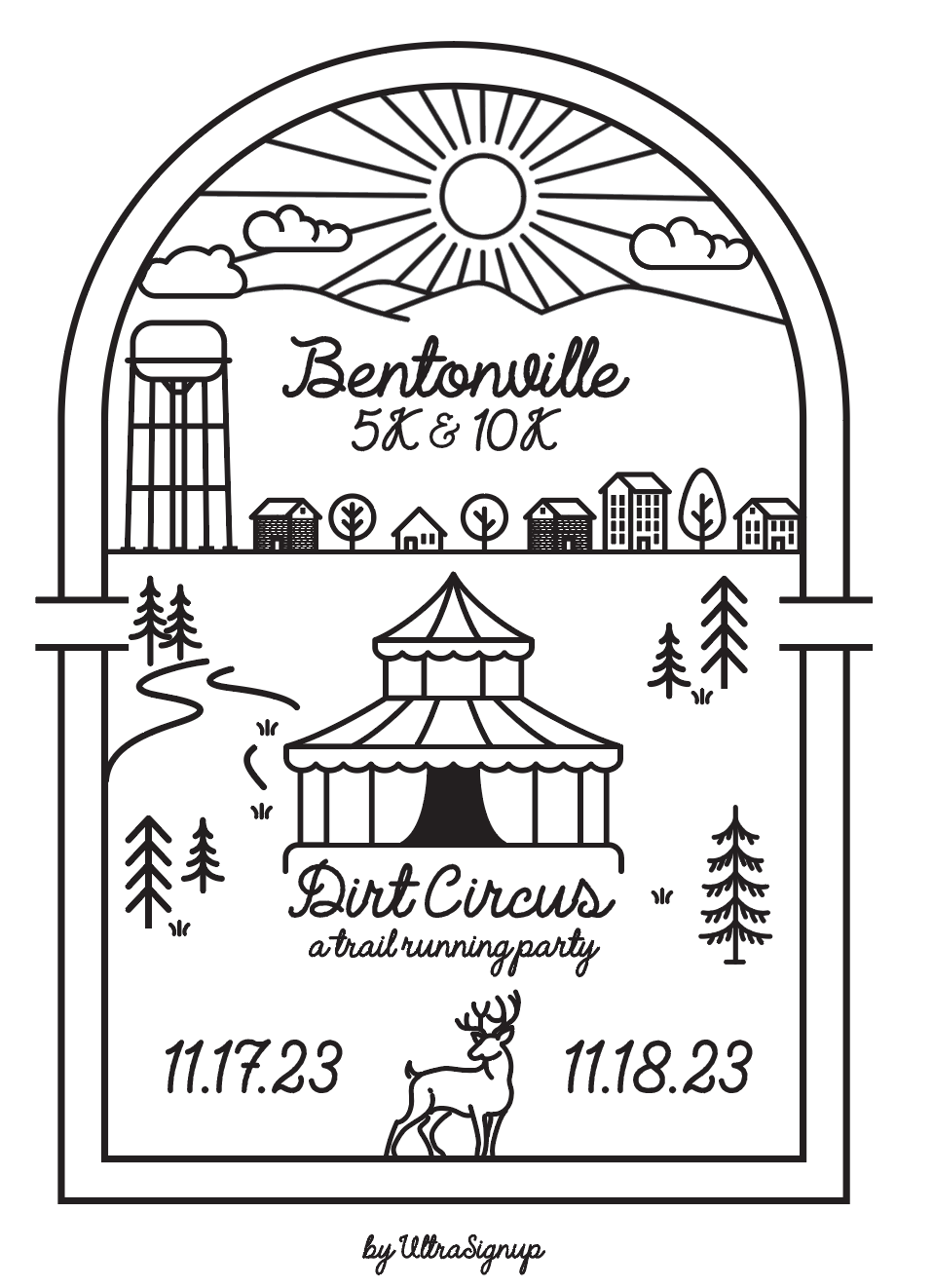 9:00-10:00am – Meet at Rush Running for a social shakeout run led by Mike Rush
Enjoy an all-paces 3-5 mile shakeout run. After the run, stop on in the store and to pick up any last minute items for tomorrow's race.
6:00pm – Packet Pick-up at Rush Running
7:30pm – The Circus kicks off – Join fellow runners for dinner get the trail party started!
Schedule – Saturday, November 18
6:00am – Packet Pick-up on-site for 5K and 10K events
Look for the UltraSignup tent at the race location at Handcut Hollow.
7:00am – 10K race takes off!
Start the day with the Dirt Circus 10K, runners will compete for first prize to win a $3,000 prize! All runners will enjoy the challenge of the winding and technical trail system. Test yourself on this 10K route.
8:00am – 5K runners start
5K runners will head out into the trails for a 5k fun run.
9:00-11:00am – Relax and Enjoy the Circus!
Finishers will celebrate with a post-race brew from Bentonville Brewing Co! Hang out and connect with other local runners and brands and hear about the local running community and events nearby from race directors and local clubs!
10:00am – Raffle Prizes announced.
Partner Store: Rush Running Co.
10K Race Prize Purse
The Bentonville 10K race has a $10,000 total prize purse across a mens and womens division.
1st Place: $3000
2nd Place: $1250
3rd Place: $750
Where to Stay in Bentonville
Courtyard by Marriott
Courtyard by Marriott Bentonville: Located just minutes from the Downtown Bentonville Square and just off I-49. Learn More
La Quinta Inn & Suites by Wyndham Bentonville
Beautiful hotel with a warm and friendly staff to welcome your group. Conviently located at
the corner of J St & Walton Blvd, minutes to 8th Street Market, downtown Bentonville, Crystal Bridges Museum, the Momentary, and more. Learn More
Wingate Bentonville Airport
Wingate Bentonville Airport by Wyndham is the closest airport to NW Arkansas Regional Airport and offers modernly appointment king and queen standard rooms, as well as King Suites. Complimentary
round-trip shuttle service is available from the airport and can be reserved through the front desk. Learn More
Routes
Bentonville 10K Route
Download 10K GPX File
An exciting, technical, and challenging 10K route winds through Bentonville's Handcut Hollow. Who will be the fastest and take home the prize?
6.23 miles, 735ft of elevation gain

Bentonville 5K Route
Download 5K GPX File