Devil's Den State Park has been a haven for mountain bikers for nearly 30 years, and this April is no exception.  This weekend (April 7-9, 2017) the park will celebrate its 29th Annual Mountain Bike Festival. Cyclists are always welcome to ride on one of the first mountain bike trails built in the state. However, the festival gives participants an opportunity to go on group rides with like-minded cyclists.
Guided rides will be geared from the beginner rider to the more experienced cyclist.  Some of the rides are strictly for fun while others will focus on enhancing your riding skills.  The kids are not forgotten; there will be an obstacle course with "skinny's" and teeter-totters to practice on. Scroll down for the full schedule.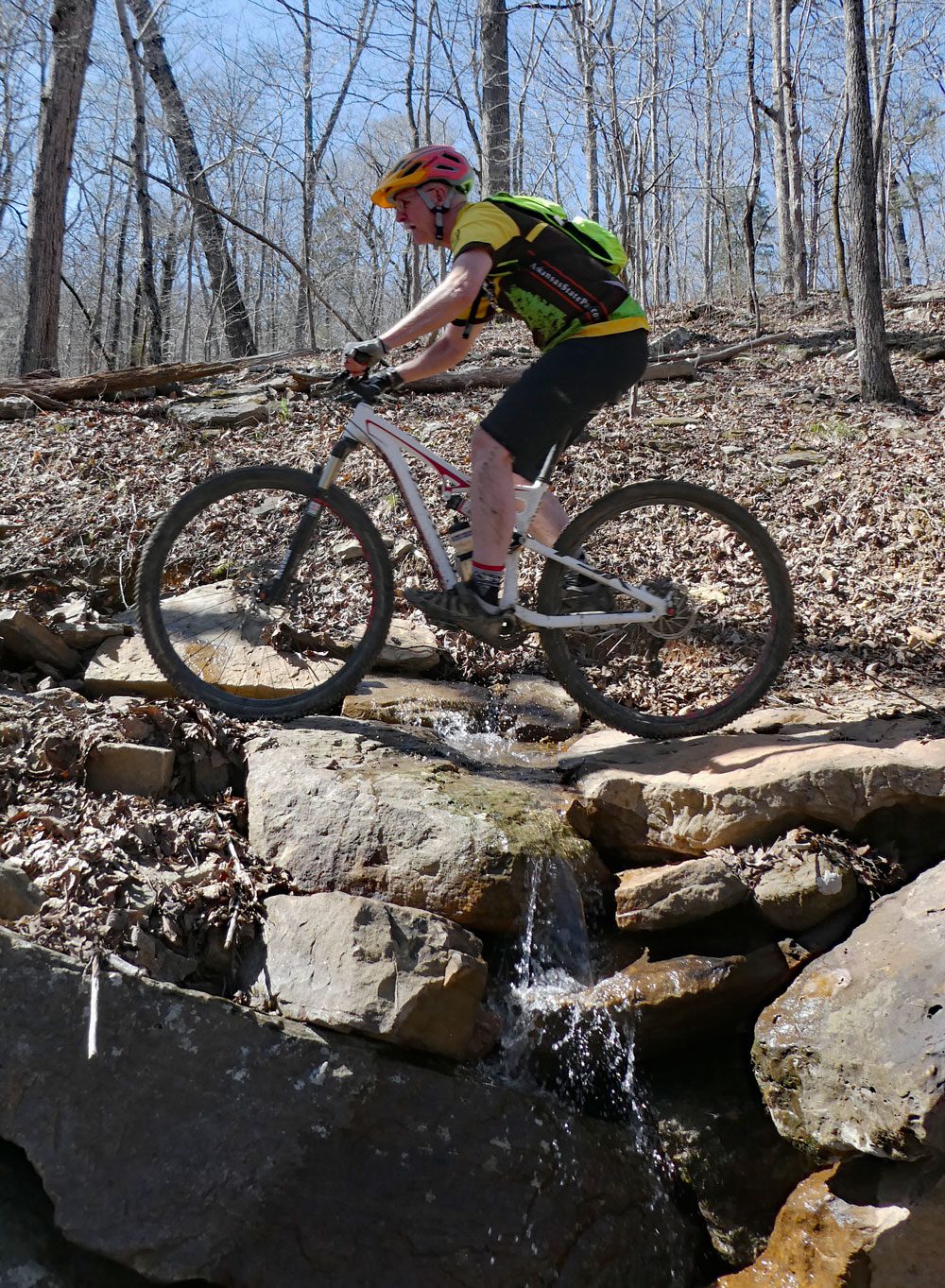 Today, you will find mountain bike trails throughout the state, especially in Northwest and Central Arkansas. But the idea for the Ozark Mountain Bike Festival started 32 years ago when mountain bikes were just arriving on the scene in Arkansas state parks.  In 1988, park staff traveled to the Fat Tire Festival in Crested Butte, Colorado, to observe the event.  Devil's Den State Park had its first festival in 1989. Basically, the rest is history and Devil's Den is often considered the birthplace of mountain biking in Arkansas.
The Schedule
Friday, April 7th
7:30 pm FOSSIL FLATS – 16th ANNUAL DEVIL'S DEN STATE PARK NIGHT RIDE.  Join NATHAN HUDGENS AND BIG JOHN SANDY for the annual Devil's Den NIGHT Ride and a ONCE A YEAR experience as the trails normally close at dark!  SPEED: Beginner to Intermediate DISTANCE: 6 miles START & END: Fossil Flats Trailhead in Campsite "A" near site 15 NOTE: All riders must have TWO light sources, and please use good judgment if considering taking children.
Saturday, April 8th
9:00 am PEDAL ASSIST GUIDED RIDE.  Join MARK PALMER AND THE CARROLL BROTHERS for this inaugural e-bike-only ride.  Meet at the Devil's Race Track Trailhead and Campground parking lot.  You will ride the outer loops and return to the campground for a 10 to 12-mile ride.  Please remember only class one e-bikes are allowed on park trails and this ride.  
9:30 am  OORC's RISH DIV AND JONATHAN SHAVER will lead you on the 2nd annual ride pedaling the new Monument Trails.  You will travel the entire outer loop,  including the downhill trail Sparky.  Scenic and challenging, which makes for an inspirational morning ride.  SPEED: Intermediate DISTANCE: 12 miles START:  The Devil's Race Track Trailhead and Campground parking lot.  END: Campground A. 
10:30 am ANNUAL LADIES RIDE on FOSSIL FLATS – Sorry, bros, but this ride is for the ladies!  Join seasoned mountain bikers AMY KNIGHT and ALLIE CORLETT for our Annual Ladies ONLY Ride.  Ask questions; these knowledgeable cycling enthusiasts will gladly help you improve your biking skills.  SPEED: Beginner to Intermediate DISTANCE: 6 miles START & END: Fossil Flats Trailhead in Campsite "A" near site 15.
11:00 am BEGINNER RIDERS WORKSHOP at FOSSIL FLATS – NICA COACHES HB FINK,  STEVE PEREIRA, and BOB CABLE will focus on riders' basic bike handling skills and ascending/descending while negotiating rugged terrain.  You have to be back by 12:30 for the BIG SPLASH.   SPEED: Beginner DISTANCE: 4+ miles START & END: Fossil Flats Trailhead in Campsite "A" near site 15.
12:30 LEE CREEK SHENNANIGANS at the LEE CREEK CROSSING – The "BIG SPLASH" is back!!  We'll take a mid-day break with spectator-friendly Mountain Bike competitions featuring the Lee Creek Water Crossing, including a "Cannonball" big splash contest!  A costume will get you extra points.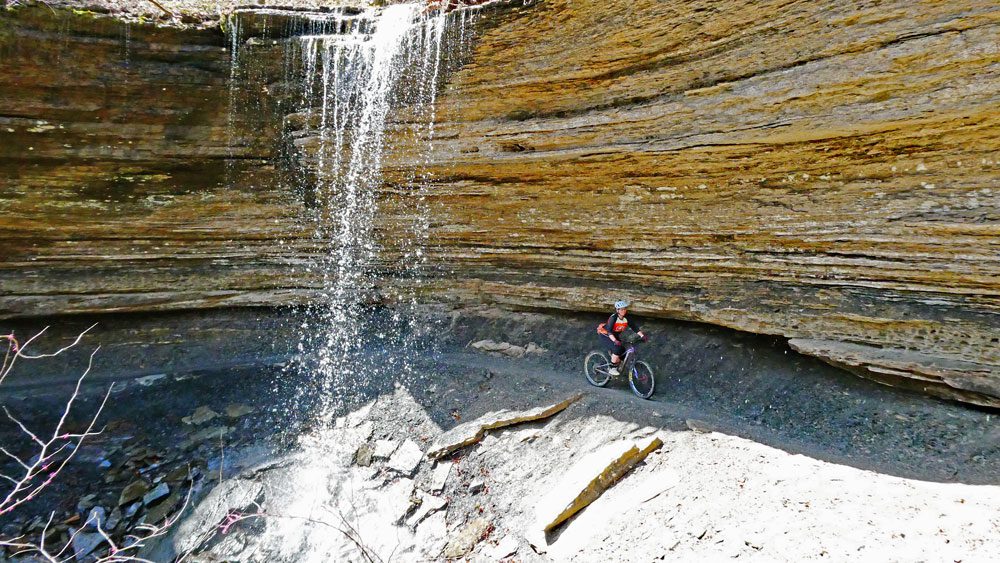 1:30 pm.  NEW TRAIL, OLD TRAIL.  JOIN NORTHWEST ARKANSAS LAND TRUST EXECUTIVE DIRECTOR GRADY SPANN and ARKANSAS OUTSIDE EDITOR JOE JACOBS on a mountain bike ride consisting of the new Monument Trails and historic Fossil Flats.  This ride will include the Gold Brick, Devil's Race Track, Dollar-A-Day, and Racer's Hill.  SPEED:  Beginner+ to intermediate DISTANCE: 7 miles START& END: Fossil Flats Trailhead Area A.  
2:00 pm KIDS SKILLS CLINIC– Develop your cycling skills with CRYSTAL AND KEVIN COX PLUS NATHAN HUDGENS on our beginner-friendly obstacle course with skinnies, teeter-totters, and most importantly, a guided ride!  START & END: Campsite "A" near site 14.  Be sure to thank the CARROLL BROTHERS for the toys.  
2:30 pm INTERMEDIATE GROUP RIDE at FOSSIL FLATS– Join JONATHAN SEBRING and BOB CABLE for this brisk group ride on portions of Hwy. 74, the Historic Butterfield Hiking Trail and Fossil Flats, including the day's longest descent, ascent, and mileage SPEED: Intermediate DISTANCE: 15 miles START & END: Fossil Flats Trailhead in Campsite "A" near site 15.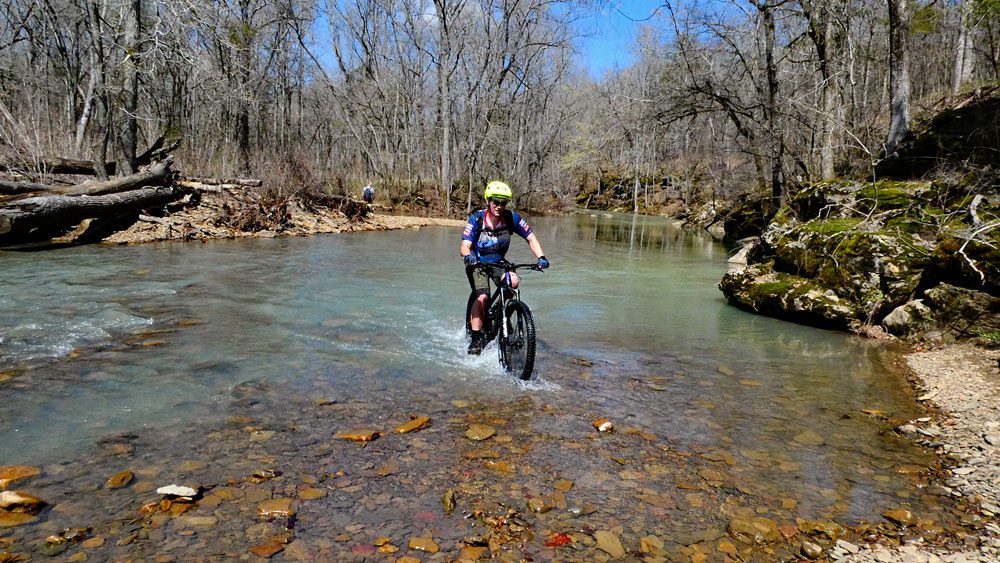 4:00 pm "THE HALL/WEST MEMORIAL" POKER RUN at FOSSIL FLATS TRAIL – Join NICK BIONDI, REBEKAH MANN, THOMAS, and EMILY BESHEARS, CHRISTIAN JOHNSON, CALLIE STOLTZFUS, and young ELLIOTT and OLIVER JOHNSON as we conclude the day's search for The White Squirrel on this family-friendly ride to four different stops, collecting cards to build a poker hand.  The poker run is in honor of these two members of the mountain bike community that left us in 2019.  So take your cards to the Cookout at 7 pm, where the best hands will win sweet swag!  SPEED: Novice DISTANCE: 3 miles START & END: Fossil Flats Trailhead in Campsite "A" near site 15.
7:00 pm The 34th ANNUAL OZARK MOUNTAIN BIKE FESTIVAL COOKOUT at the LEE CREEK PAVILION Hosted by DEVIL'S DEN STATE PARK – Celebrate the 34th annual mountain bike festival with longtime CHEF DARRELL COX  cooking chicken on the grill–thanks to DAVID VANSANDT and  SIMMONS for the food donation.  As always, we will make ice cream.  So bring your cards from the poker run to claim your swag!  ALSO, you will have the chance to participate in the infamous BIKE TOSS!!!
Sunday, April 9th
10:00 am LAKE FORT SMITH STATE PARK.  Meet PARK RANGER, SHAWN GRIFFITH, in the Visitor's Center parking lot for a 12-mile moderate-pace ride and an excellent chance to explore the park's mountain bike trails.    
REMEMBER: The Monument Trails have some challenging areas, and Fossil Flats terrain is rolling and rocky with two potential creek crossings – Rides are considered "No Drop" unless noted – Please choose rides within your limitations.
Helmets are REQUIRED for all participants – Please yield to foot and horse traffic – If you leave a group ride, tell the guide, and THANK YOUR GUIDE!
Are you looking for coffee Saturday morning?  Arkie Outdoors will have samples of his java Saturday morning in Area A.
AND… MARK YOUR CALENDARS FOR THE NW ARKANSAS MOUNTAIN BIKE CHAMPIONSHIPS SATURDAY, SEPTEMBER 16TH…