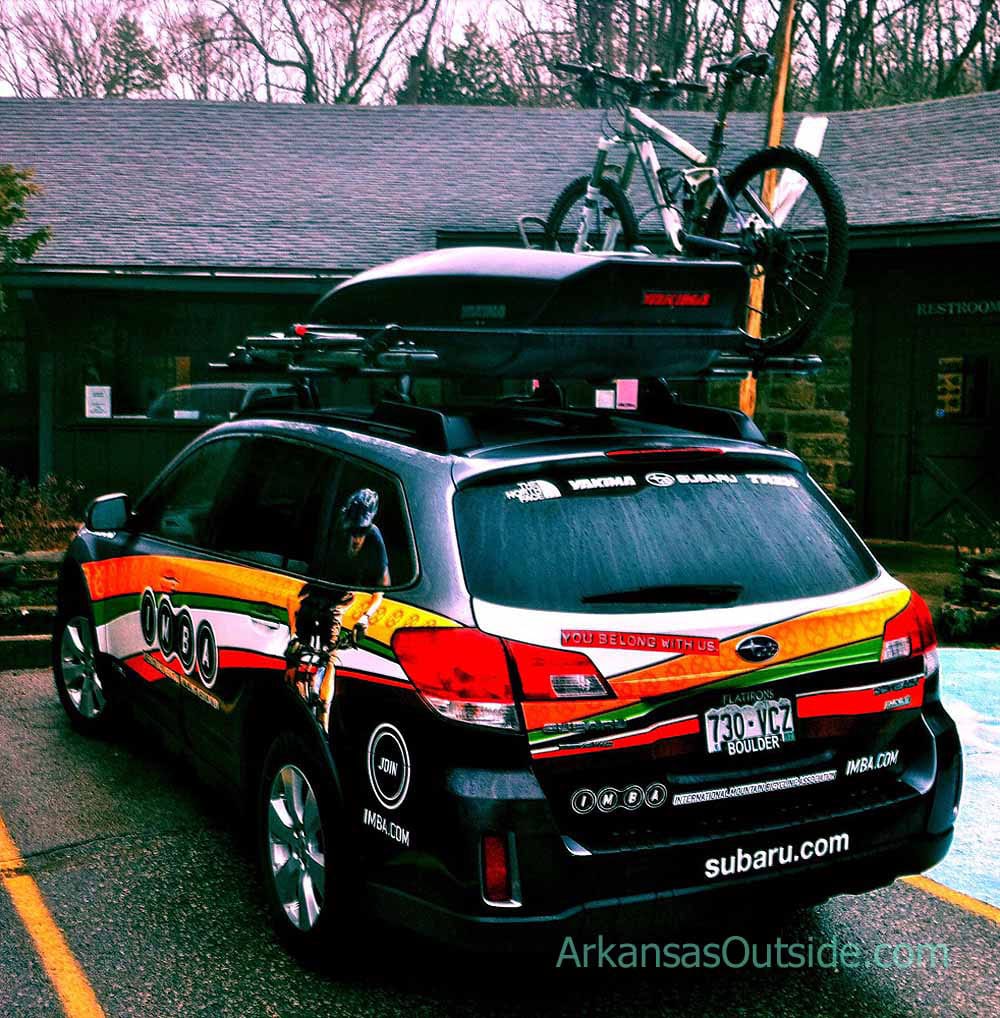 …and these folks know all about getting some, and building some, and maintaining some, face it, the International Mountain Biking Association knows trail. Over the years, Arkansas has benefited by a close relationship with these gurus of mountain biking. First they named the Womble trail and later the Syllamo trail system IMBA "Epics", letting mountain bikers everywhere know that we do have choice mountain bike trails in the Natural State. They have sent trail crews to Arkansas to help teach trail building and to consult on new trails. If you've recently ridden the newly laid out trails at Burns Park in North Little Rock or the Hidden Diversity Trail at Hobbs State Park near Rogers you've benefited from their trail design crews.
This past week Steve and Morgan a Subaru-IMBA Trail Care Crew visited Devil's Den State Park to teach the building and maintenance of sustainable trails for mountain biking, hiking, trail running, and horseback riding. This was not about how to wield a shovel or ax, that's easy, no, they had a great program that covered the really hard part of building trails, organizing for trail building, and designing proper trails. The entire program was aimed at various groups and was carried out in three stages.
First Thursday night we met in the basement of U.S. Pizza on Dickson St. in Fayetteville. The local Subaru dealer supplied pizza for those attending. This is where I was first introduced to Steve and Morgan. A young married couple who travel the country together in a Subaru decked out with a couple of Trek bikes, Yakima Racks, and North Face clothing (It's nice to have sponsors). They preach the value of sustainable trails and reducing user conflict. They have one of those jobs that many would consider a dream job. As I said, they were working in the basement of a pizza parlor and they were not throwing pie, too cool. The meeting was intended for people from clubs and organizations involved in trail building and maintenance. They discussed ways to create and manage trail-building volunteers, how to work with land managers, what kind of organization works well for this, how to work with other organizations, and how to publicize your group and they threw in a few things about what a sustainable trail is. They also talked about how to work through conflict within the organization. Those in attendance included leadership from the Ozark Off-Road Cyclists (OORC), Friends at Slaughter Pen Trail (FAST), Arkansas State Park staff, and several others from as far away as Kansas City. A good night of meeting a lot of like-minded people.
The second was a presentation held at the very civil hour of 10 am at Devil's Den State Park that was aimed at land managers. More state park staff, USDA Forest Service folks, some local parks and rec people from northwest Arkansas, and more of the OORC people were in attendance. I should mention that the OORC group petitioned to get the Subaru-IMBA Trail Care Crew here so kudos to them. This presentation included reasons to allow sustainable trail building, liability issues, and more about controlling user conflict. The session was only a half day so on Friday afternoon I was treated to hanging out with some of the OORC guys, the IMBA folks, and some state park friends. First, we looked at a possible place to do the next day's trail building exercise. Then it was off for a short walk on the Fossil Flats trail to see if anything out there needed any work. Aside from a couple of small wet spots, it was in great shape. Suddenly I was very happy that I brought my mountain bike.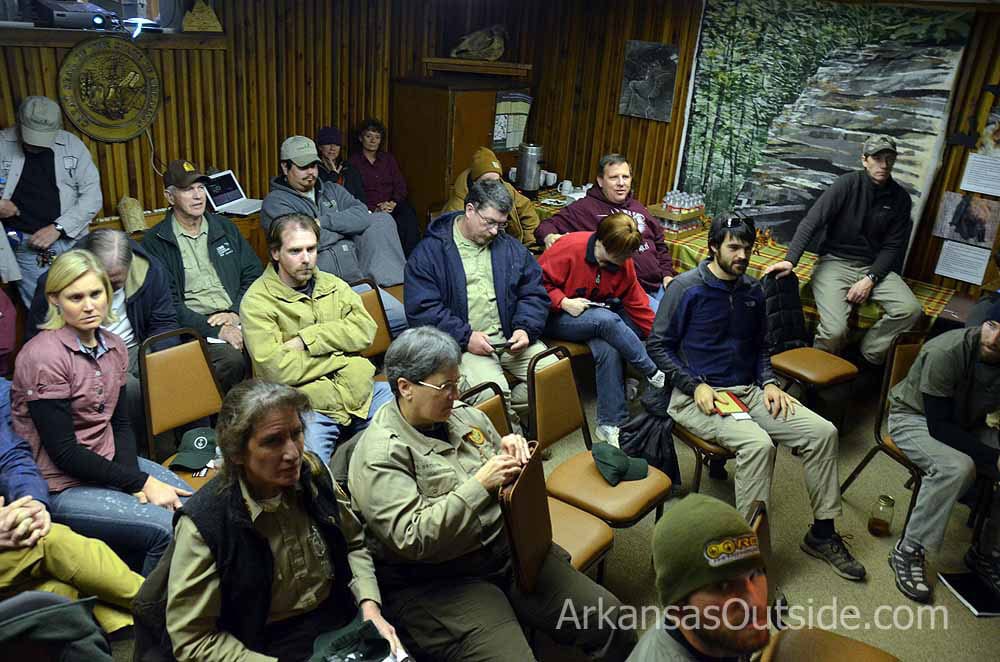 The third part of the visit was the crux of the whole thing. Twenty or thirty people showed up at 9 am on Saturday morning in the park again to learn more about building sustainable trails. The attendees were made up of trail volunteers, land managers, and local clubs. Some of my central Arkansas friends showed up. The morning was all about classroom study. Some t-shirt and hat giveaways (for those who paid attention and answered the questions first). Lunch was provided by the Friends of Devil's Den group, thanks! The real fun started after lunch as we all went out across the parking lot in the sub-freezing temperatures and they put us to work. When looking at the job the day before, I thought that it would have to be completed later. We were attacking about 700 feet of new trail that would need some serious bench-cutting in some sections and a good bit of rock removal. We also were tasked with removing about 200 feet of the old trail that included a rickety old stair system that went straight down the fall line. I was amazed at how quickly the work went with a large group, working together on a well-laid-out plan. We had planned to work on the project from 1 to 4 pm, and we were done before 3:30. Old trail was gone, and new, sweet flowy singletrack was built. I even got to help reinforce a low section with makeshift rock paving. It was beautiful.
Also, check out Morgan and Steve's blog on their visit. 
I've spent the last 3 years building and improving singletrack trails at Pinnacle Mountain State Park. I'm really glad I started by buying these two IMBA books, Managing Mountain Biking, and Trail Solutions. I think we did most things right but I wish we had included more people in the building. I think we could have gotten through a lot more trail a lot easier. We have more to do, a chance to get more people involved, and a chance for more great singletrack. You still have a chance to work with IMBA in Arkansas this year. The Subaru-IMBA Trail Care Crew will be at White Oak Lake State Park south of Arkadelphia in two weeks. Sign up now.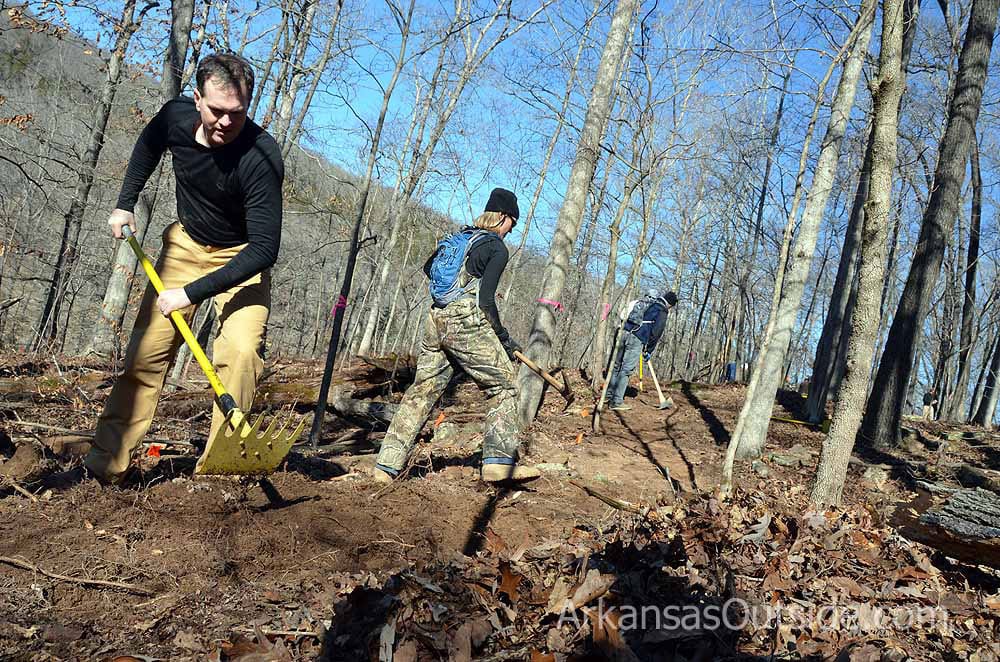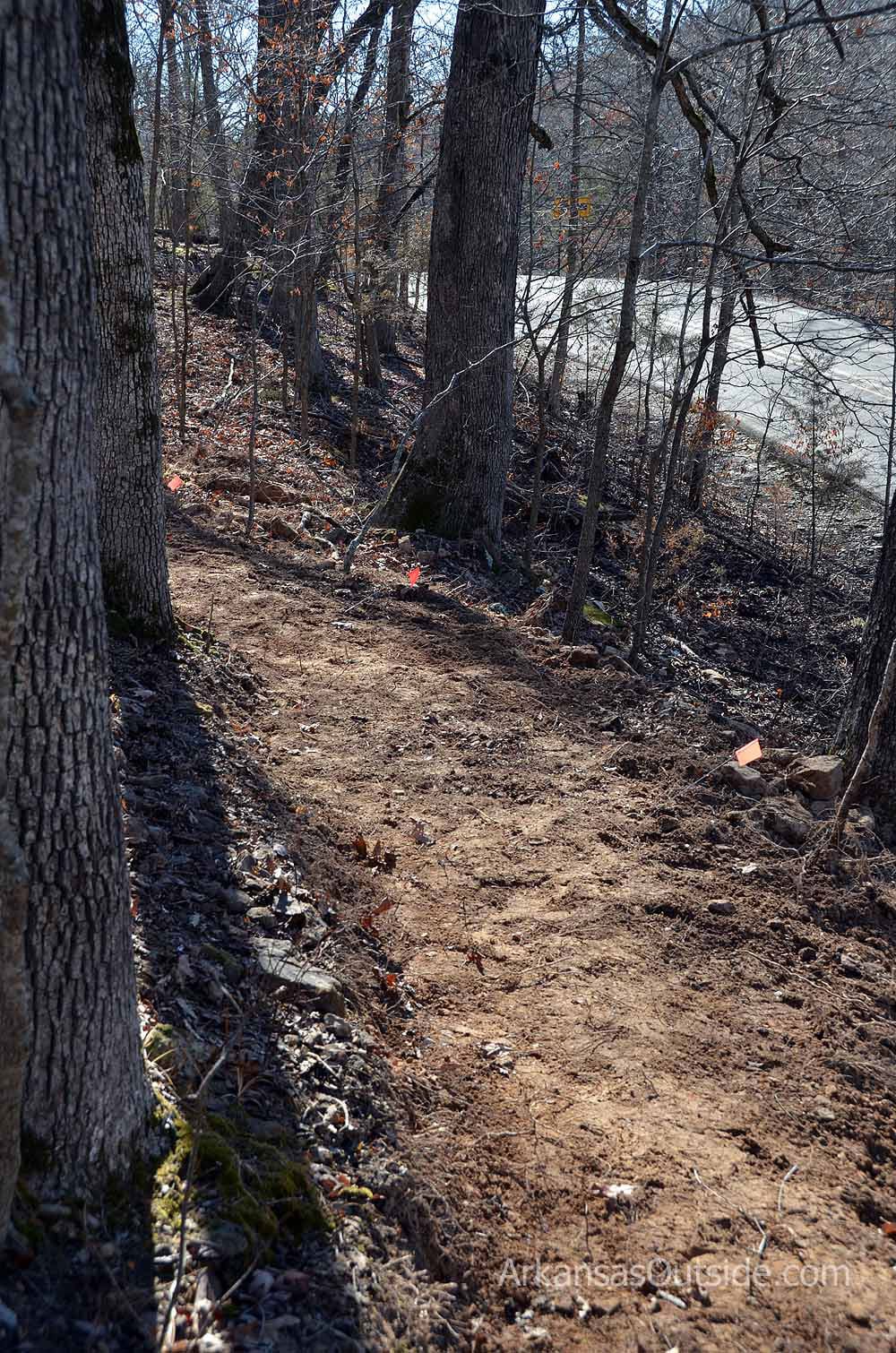 …Oh, and I did ride, the first tires on the new trail.