The Need
Arkansas has some of the most diverse, beautiful, and challenging mountain bike trails in the country. This was recently pointed out to the world when, in August, the International Mountain Bicycling Association (IMBA) honored us by naming two more Arkansas trails as IMBA Epics bringing our grand total to four. Along with that, the smart folks at IMBA named both Bentonville and Fayetteville official Ride Centers, destinations if you will, for great mountain biking. Every year we've seen more and more trail being built or opened up to mountain biking. This is all wonderful news but what good is it if no one is around to ride them, to enjoy them, or to take care of them? We are a low population state and to keep these trails in good order, we need riders.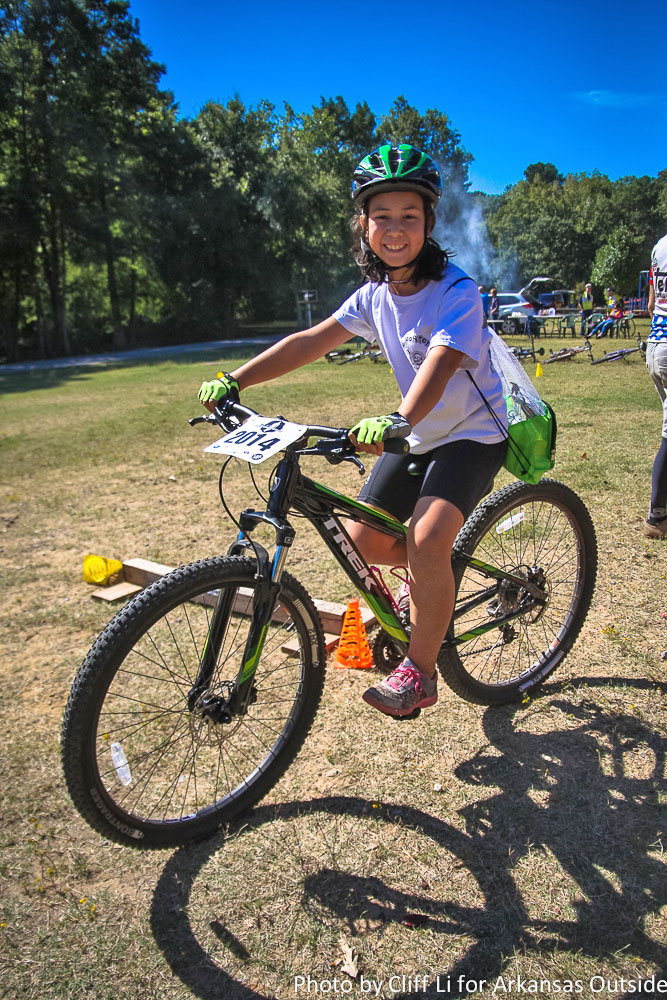 The International Mountain Bicycling Association also took care of helping us get more riders with Take A Kid Mountain Biking Day (TAKMBD). Held the first Saturday of October around the world, a total of eight events were scheduled in Arkansas, that's third behind California (13) and North Carolina (9). We're pretty serious about growing mountain biking around here. Events were scheduled at Hobbs State Park in Rogers, Slaughter Pen Trails in Bentonville, Devil's Den State Park near Fayetteville, Lake Fort Smith State Park in Mountainburg, Energy Park in Hot Springs, Craighead Forest in Jonesboro, The Lercher Trails in Searcy and Boyle Park in Little Rock.
The History
Arkansas Outside has hosted three TAKMBD's in three different parks in previous years, this year we were going to take it to a new level. Since last year's event, a new trail group,  Central Arkansas Trail Alliance (CATA) has been established in the area. The advocacy group quickly became an IMBA chapter and started doing great work around central Arkansas. An early project was a complete rehab of the natural surface trails at Boyle Park, an historic park in the middle of town. On one of our workdays I speculated with Norm Berner, a Little Rock Parks and Recreation employee, that the park might make a good location for the 2014 Take A Kid Mountain Biking event. He agreed and before I could change my mind he called me letting me know that the area we discussed was reserved for the event. He also shared the idea with staff and commissioners with the parks commission. There was suddenly more outside energy than I had ever experienced for the event. So I called Bruce Alt, President of CATA, and asked him if he thought the group would be interested in a partnership on the event this year. He was very positive and the planning began.
Over the past couple of months the Take A Kid Mountain Biking Day morphed from a little obstacle course and short trail rides for kids to a full blown festival. I  threw out a name, Big Rock Mountain Bike Festival, at a CATA board meeting and it stuck. Support for the event was overwhelming from the beginning. Waynette Traub of Arkansas Business Publishing Group volunteered to create a beautiful logo. Then we decided to get as many bike shops in town involved as possible explaining to them that "a rising tide raises all ships", they enthusiastically agreed to help.
The Event
It was a cool morning with the promise of a warm, sunny, early Fall day to come. The bike shops agreed to each take a different event during the festival with CATA members handling the kid stuff. Bicycle Advocacy of Central Arkansas set up a tent to add their expertise in cycling advocacy to the day while Recycle Bikes for Kids brought extra bikes for kids and adults to use plus helmets for those that didn't have any. To our surprise upon arrival at the park, a water main had broken overnight in the area where we planned to set up the bike shops. A moment of panic closed in before one of the city workers addressing the problem came over and said that he had already ordered in two port-a-potties since the bathrooms might be closed. They were on top of things. I decided to move the bike shops to an area nearby. I got lucky; the bike shops showed up in force with shop vans and trailers and tents, they would never have fit in the original area.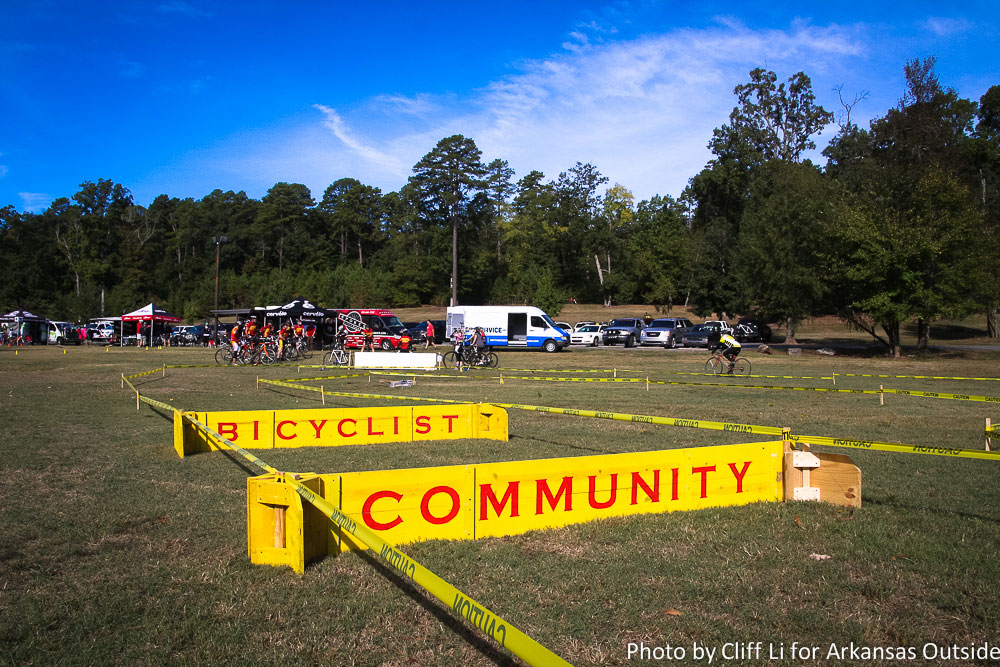 The festival started at 9 am with the shops set up and the kids obstacle course ready for use. The Community Bicyclist shop asked their Cyclocross team, winners of the Arkansas Super-Prestige Cyclocross Series two years running, to represent them. They began a cyclocross clinic at 9:30 on a short course  set up that morning complete with double barriers and some sharp turns. They had at least 7 or 8 attendees for the clinic and before long dismounts, luggage carries and remounts were happening throughout the group of students.
At 10:30 the Central Arkansas Velo (CARVE) mountain bike team sponsored a women's mountain bike clinic given by Liz Baltz. Fifteen women attended the clinic which covered some fundamentals of off road bike handling before heading out into the woods to enjoy the trails. Encouraging women and families to ride together is a big part of growing the mountain bike community and we feel we were pretty successful. Women on bikes is a very good thing, making cycling a family friendly sport.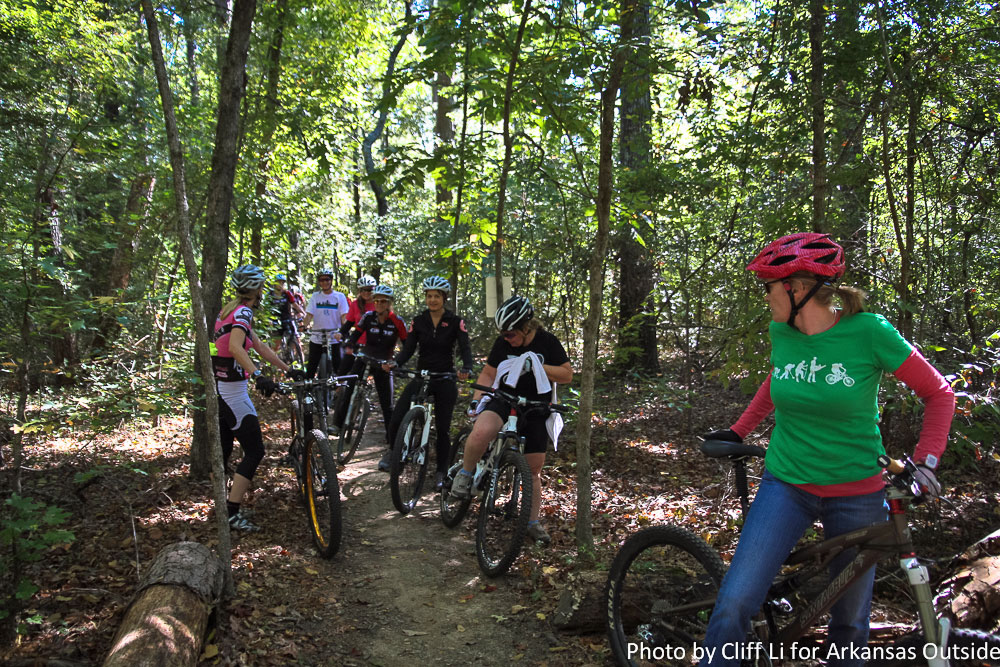 Throughout the day we continued taking kids on rides on the trails, just across the parking lot from the event. Leaders instructed the kids on trail etiquette, parents were welcomed and encouraged to tag along and we always had a sweeper to make sure everyone got out okay. The trail was well marked with a course that was easy to follow.  CATA volunteers staffed the trail exit at the road for safety and all went well. Between the rides, kids did lap after lap of the obstacle course often picking favorite parts to do over and over. The course consisted of a limbo bar, a skinny rail, a teeter-totter, and two barriers, a 2X4 followed by a 4X4.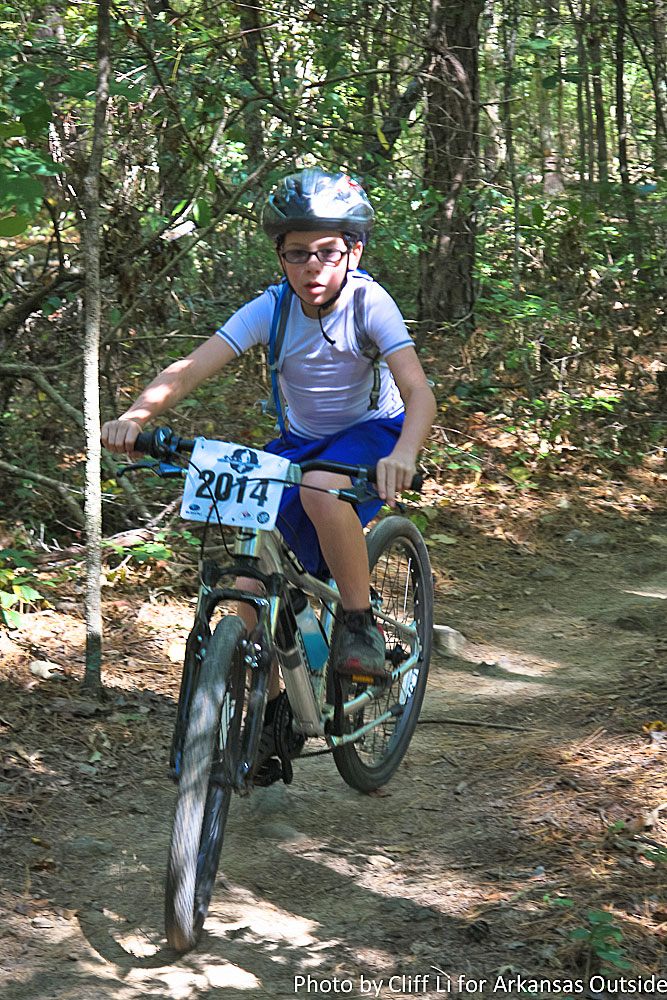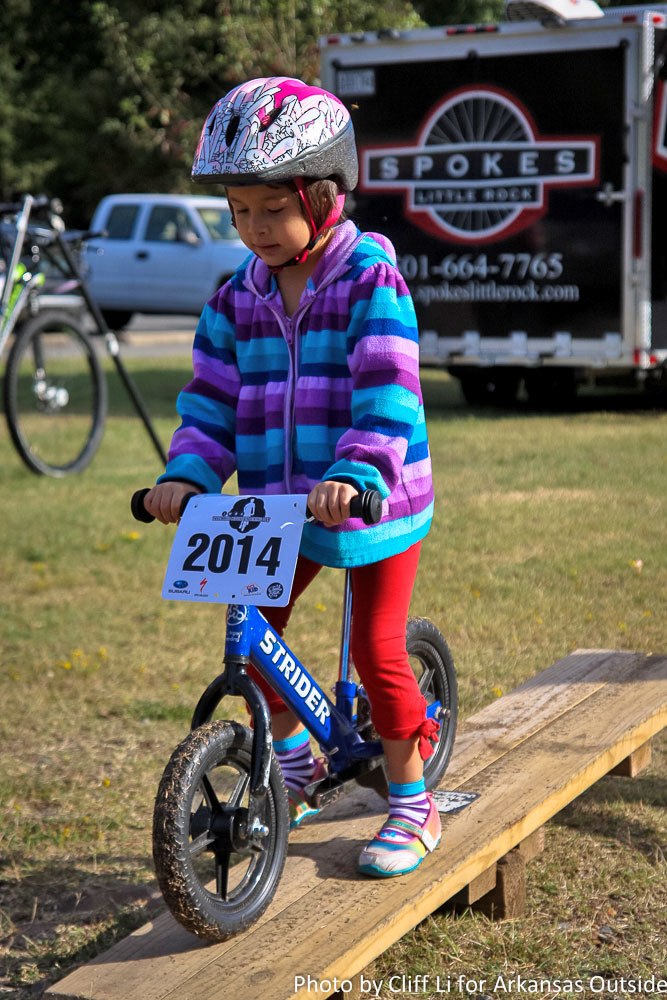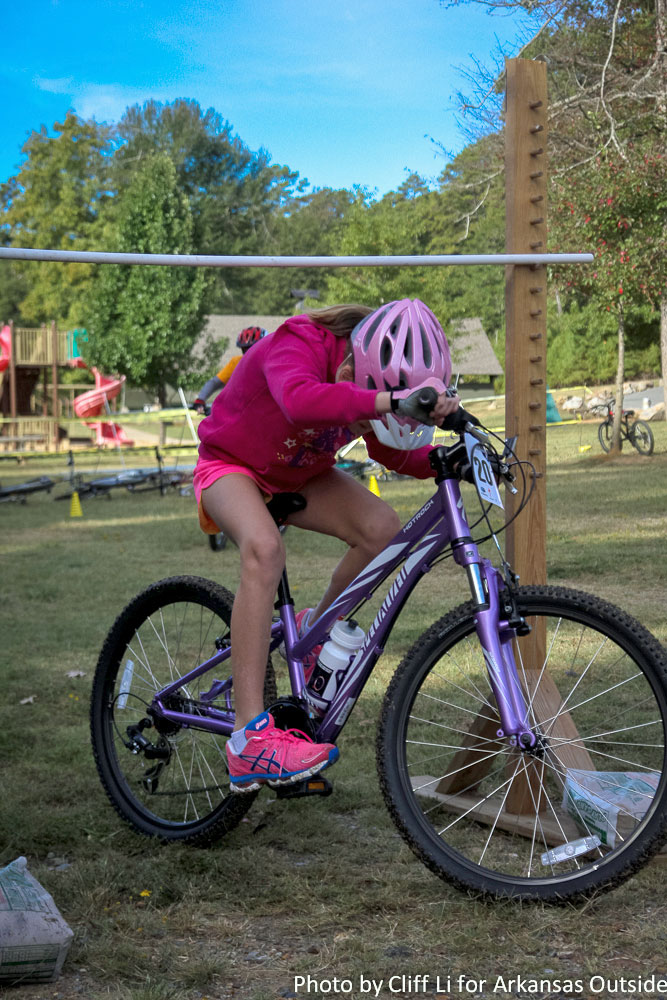 Lunch was served around noon. For a donation, participants could get a Capital Hotel house-made brat, or hamburgers. Grilled cheese was available for those skipping meat. The brats are part of the new Saturday and Sunday Beer and Brat menu available in the Capital Bar and Grill. Everything was grilled on the Bell and Company mountain bike team portable grill and cooked by team members and Bruce Alt. Chips and water were also available. All food other than the brats was made available by Sam's Club. Spokes Bike Shop was also on hand with Orbea test bikes and to answer questions. They also provided the bags for the swag and coffee for those of us setting up. Ryan Johnson of Motive Bike Service, a new mobile bike repair company, was  there offering free bike repair and quick checkups throughout the day.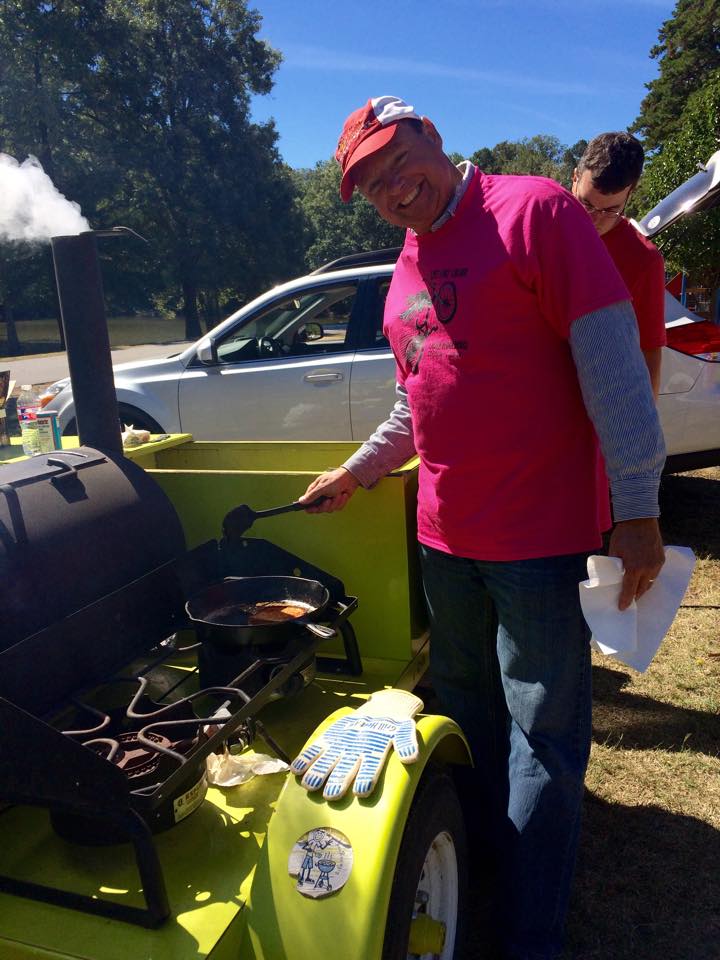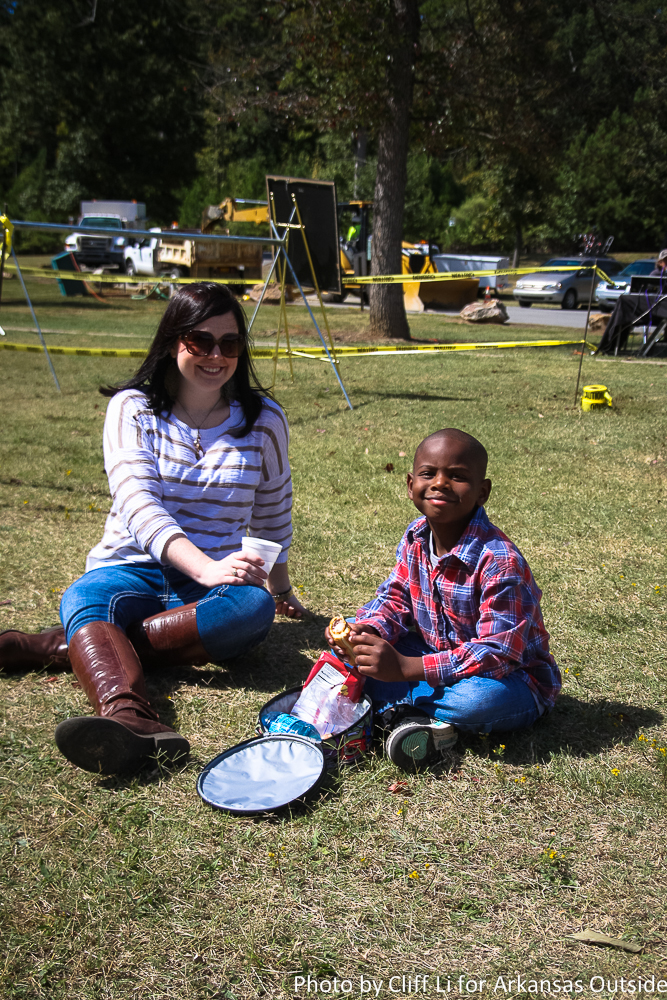 We also had great swag for the kids. The bags were loaded with Clif Z Bars, IMBA stickers, balloons, sunglasses from North Little Rock Fit2Live, t-shirts from Team CARVE and more.
After lunch Richard Machycek of Arkansas Cycling & Fitness led a Bunny Hop Clinic that may have had the best attendance of the day. Richard worked with cyclists on clearing those small barriers like logs and rocks while trying to get more speed on the trail. It was a great clinic for those trying to up their game. I noticed that the Little Rock Parks and Recreation Commission Chairman, Steve Johnson, also participated, it seems the event has encouraged him to take up mountain biking.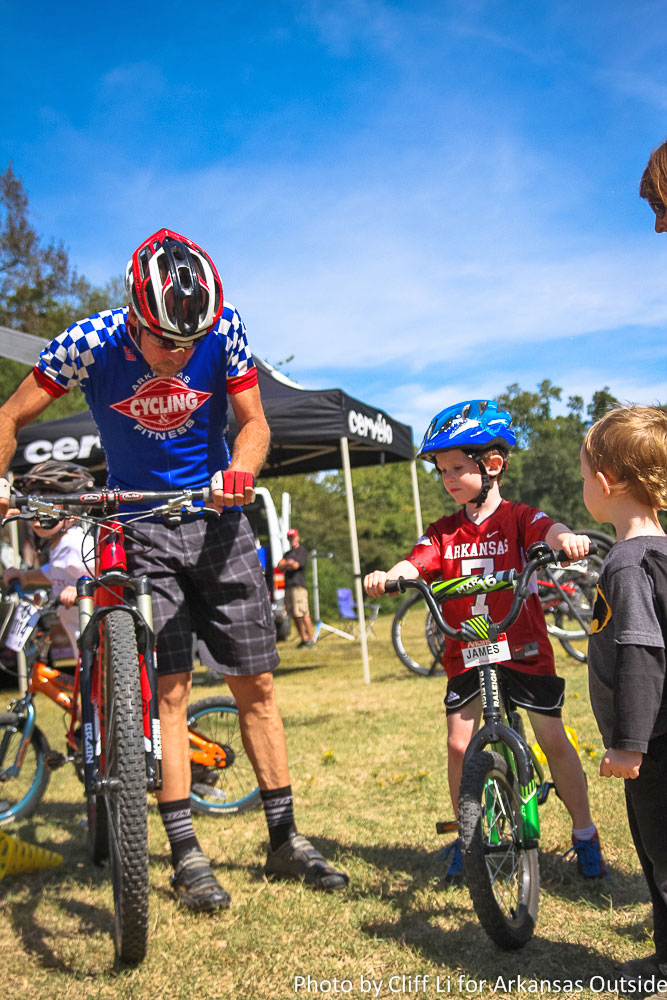 Local bike shop Chainwheel was on hand to help with kids bicycle games including a bike tire ring toss complete with prizes. Kids were lined up for this all day. Because more fun should be had on a bike than just what is scheduled, a movement was underway to have a impromptu footdown contest. A footdown contest, popular at cyclocross events, is where all the cyclists get in a circle of cones and start riding around. Slowly, volunteers begin to move the cones in, shrinking the circle. As things get tighter, the riding gets slower and people become forced to either ride out of the circle or put their foot down. When that happens they are out of the game. It goes on until only one cyclist is left. It's great fun as riders come up with strategies to take each other out of the game.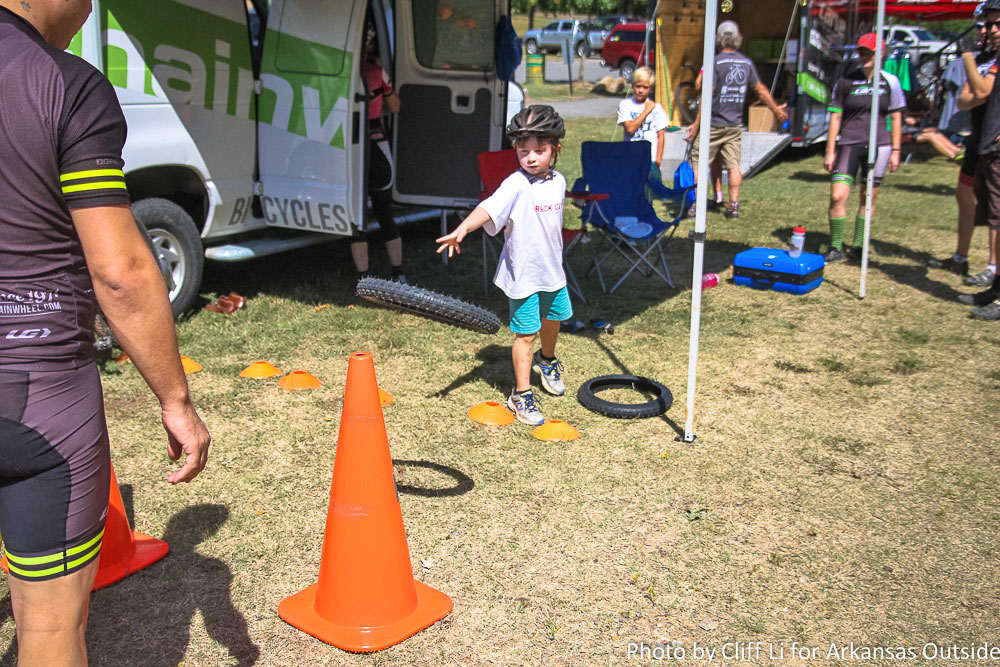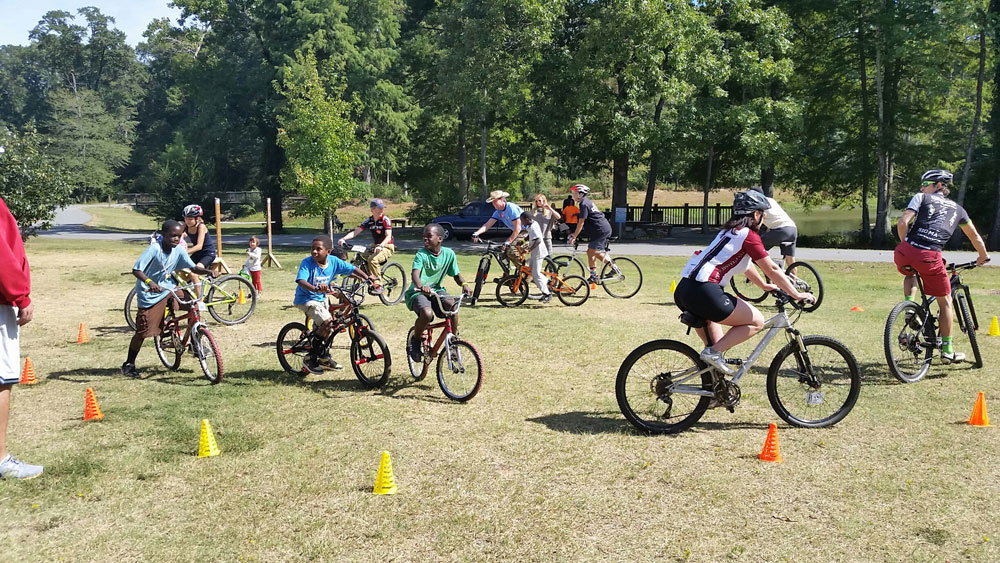 After three rounds of foot down we were back on schedule, next up – drag races. Two at a time, riders took turns racing from a dead stop straight down the field to break the ribbon with the winners from each round coming back to race each other until we had one grand champion. Even the grown ups decided to get into it.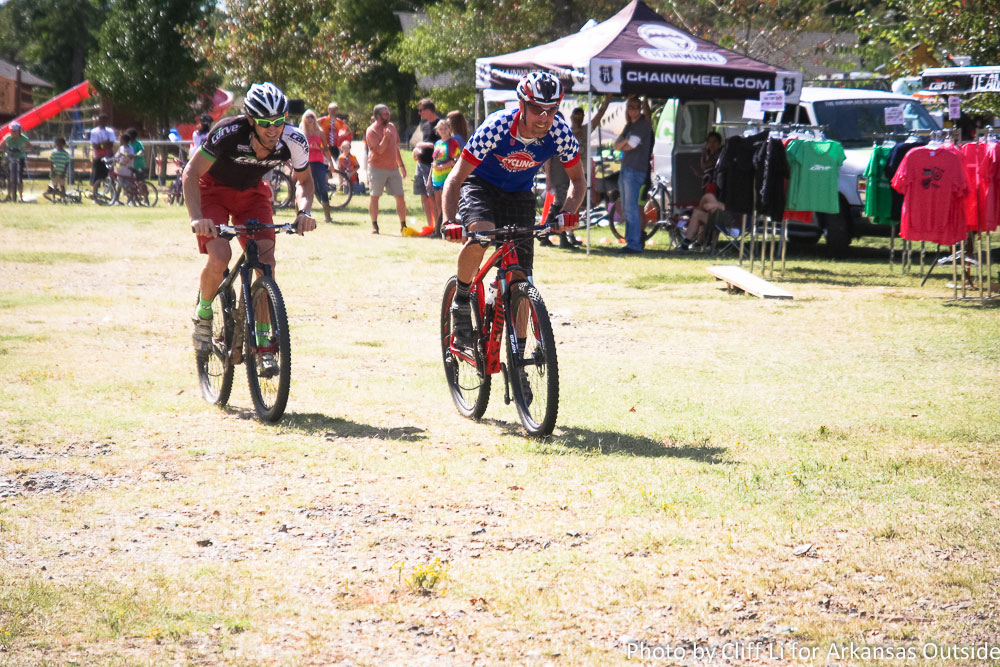 In the end we had about 50 kids on bikes during the day plus parents and volunteers and even parks commissioners. It was great to see local advocacy groups work with land managers to make something like this happen. Nothing is set in stone yet, but put a mark on your calendar for next year, the first Saturday of October for the 2nd Annual, Big Rock Mountain Bike Festival and Take A Kid Mountain Biking Day.