(From Media Release)
Two active leaders of the Arkansas Canoe Club recently joined forces to launch a new guide service on the Buffalo River. Yonder Adventure Company began offering full-service float trips in July including day trips, overnight trips, and multi-day adventures. The company is owned and operated by Cate Handley and Joe Goodwin, friends with over 40 combined years of experience floating rivers throughout Arkansas and the U.S.
"We love boating and have been sharing that love with our friends and families for years," Handley said. "We are excited to expand our reach further now to help families, friends, and first-timers get out and enjoy the river."
With Yonder Adventure Company, no experience is necessary. Customers are taken down river in oar-powered drift boats with a guide at the helm. The boats hold three passengers plus a guide, allowing Yonder to currently accommodate groups of up to six people. The company handles all of the logistics and provides all of the gear and meals. On overnight/multi-day adventures, the guides also handle the camp set up and tear down.
"If you've wanted to make a trip but didn't want to invest in the gear or didn't have the confidence to plan the logistics, that's what we're here for," Handley said. "We take care of everything so friends and families can just enjoy the scenery, the wildlife, and their time together."
Trips include stops for swimming, fishing, and/or hiking, and are highly customizable. Yonder Adventure Company is permitted by the National Park Service to operate on a 90-mile stretch of the Buffalo River which includes the middle and lower sections of the river. Spanning from the Carver access point to the White River, this long stretch offers a variety of landscapes. It includes the tallest bluff on the river and comprises some of the most remote sections of the river.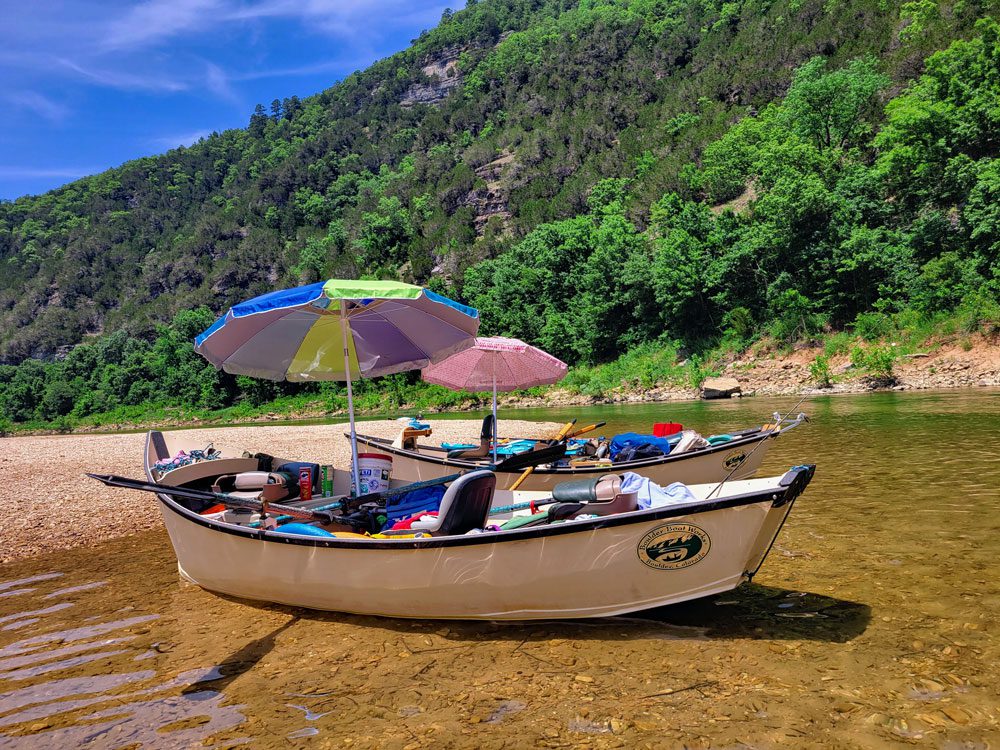 "As America's First National River, the Buffalo is a treasure and we are so fortunate to have it here in our backyard," Handley said. "It's a beautiful river and so much fun to float." A Louisiana native, Handley worked as a commercial guide on the Ocoee River in Tennessee while completing her undergraduate degree at Louisiana Tech University. After moving to Arkansas, she became active with the Arkansas Canoe Club and has served as president of the Central Chapter, and is currently vice president of the state board. She also directs the chapter's annual Rendezvous event. She has rowed rivers all across the country including a recent 18-day excursion through the Grand Canyon on the Colorado River. She holds Wilderness First Aid, Swift Water Rescue, and American CPR certifications and is an American Canoe Association Level 3 Kayak Instructor.
Goodwin has also floated rivers and streams across the country and is an experienced whitewater boater. He has been active with the Arkansas Canoe Club for over 20 years and helped form the club's ARKLATEX chapter. He is an American Canoe Association Whitewater Kayak and Swiftwater Rescue Instructor.
"The Arkansas Canoe Club has been a wonderful organization to be a part of," Goodwin said. "It has been gratifying to share my love of whitewater over the years with others, and we are excited to share our love of Arkansas rivers and streams and just boating in general with others in this new venture."
Yonder Adventure Company is offering fall color tours beginning in October and will be offering day trips, as well as overnight and multi-day adventures in the spring. For more information, visit www.yonderadventurecompany.com or call 501-409-6639.