It was a weekend we had been talking about for awhile, spend a night in Northwest Arkansas and ride the entire Razorback Regional Greenway Trail in a day. Without the use of a shuttle, it would mean a 72-mile ride since we would have to do an out and back of the 36-mile trail. This would certainly be doable, but not if we wanted to take our time and enjoy some of the sights, sounds and amenities the trail has to offer. The opportunity to do the ride came about recently when we decided to enjoy a Friday evening concert in Rogers. As I loaded bikes for the trip, I started to develop a plan in the back of my head, make it a two-day trip and include both road bikes and mountain bikes. The weekend plan was quickly turning into an adventure getaway.
We arrived, fully loaded, at the Holiday Inn Hotel & Suites off I-49, across the street from the trail and only a few blocks from the concert venue. After checking in, we headed to a nearby Mellow Mushroom for pizza and a beer before heading to the concert.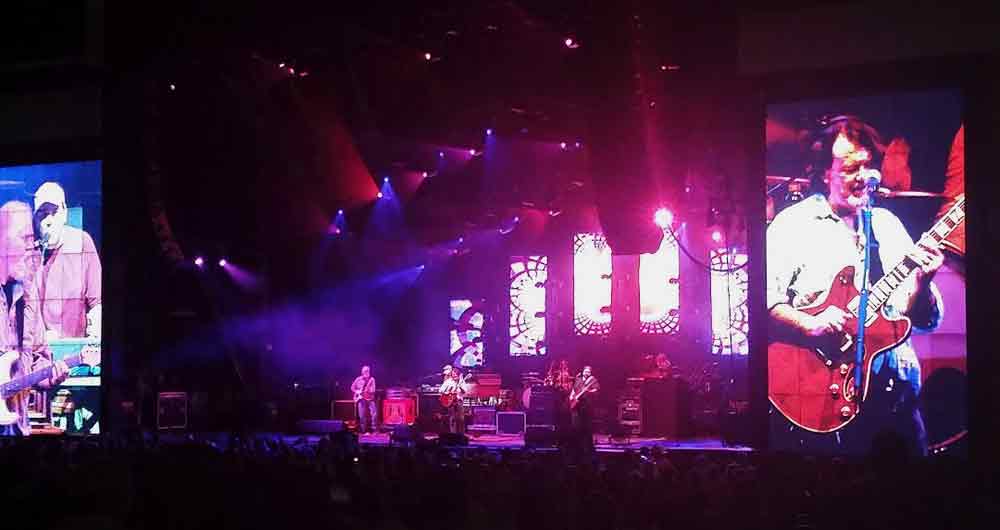 After an evening of partying with Widespread Panic and a few hundred of our closest sweaty friends at the Wal-Mart AMP, we woke up late, made our way out to the already scorching hot parking lot of our hotel in Rogers to unload our road bikes and hit the Razorback Greenway Trail for a long day of pedaling. But first, we needed breakfast. Much of the Greenway trail is in or close to urban areas so finding a place to fuel up was not a problem. We had choices ranging from fast food chains to a bagel shop to sit down pancake havens. We found Egg and I, right on the trail across the street from the hotel. After filling up with eggs, grits and other goodness, we headed south.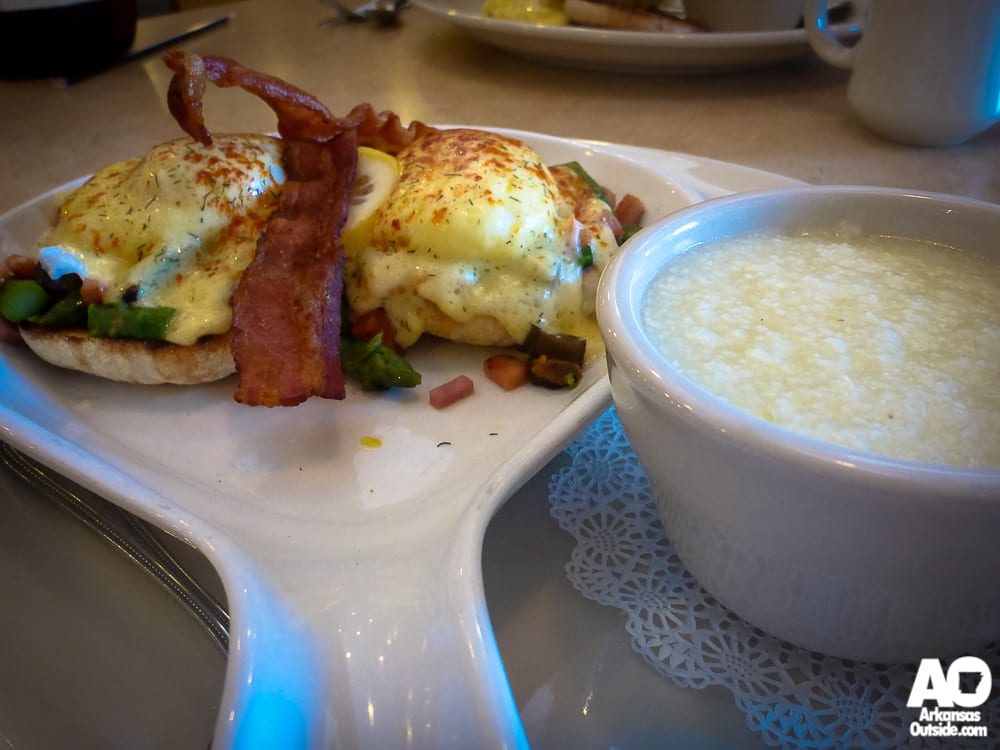 The plan for the day was to ride the 26.5 miles to Fayetteville and the southern terminus of the Razorback Greenway Trail. Along the way we would stop at various attractions, eating and drinking establishments and other pretty places. We would just follow the signs.
From the west side of I-49, I expected to have to cross traffic to get to the section near Pinnacle Hills. We were pleasantly surprised that a series of underpasses, marvels of civil engineering, would quickly and safely bring us to a section of trail that passes near the large shopping area, but still feels like a park. It is evident that the trail is designed as a transportation corridor first and recreation space second. Most of the trail is striped like a road with a center-line that would switch from solid to dashed letting users know safe areas to pass. There were signs for speed limits- usually 15 mph, reminders to audibly let people know when passing, upcoming blind turn warnings and stop signs at road crossings. In some sections, the road crossings have signals that work with motion detectors to warn motorists of approaching cyclists and pedestrians.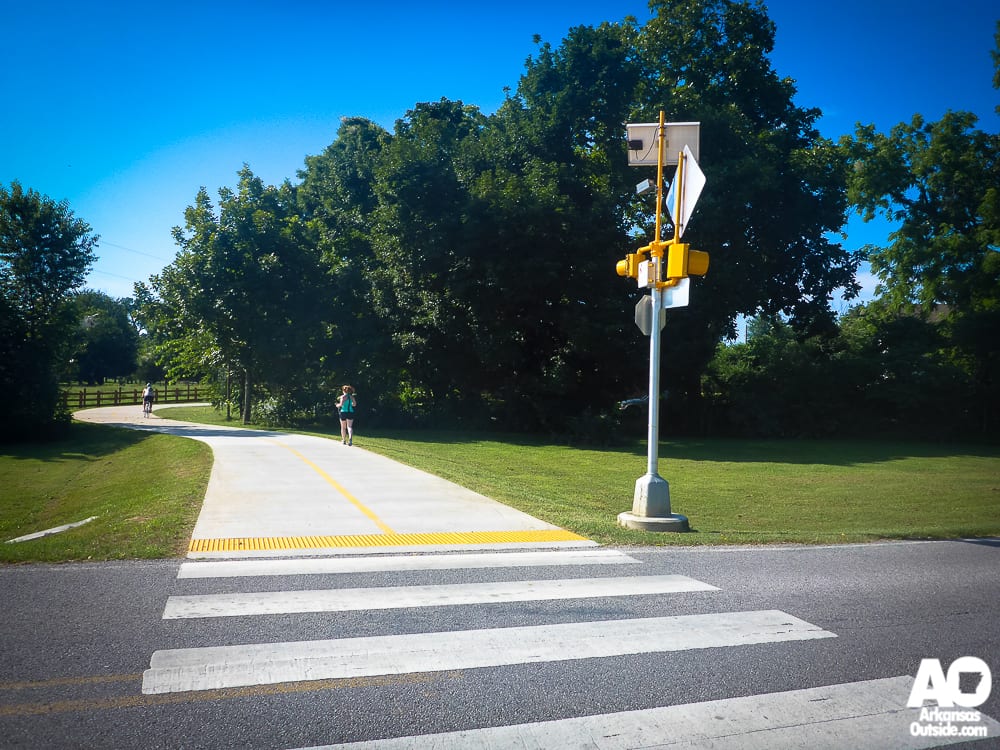 As part of our day celebrating the dedication of the trail earlier this summer, Springdale was the starting point of our only other ride on the Greenway when we rode from Shiloh Square back to Rogers so much of the morning ride so far was a repeat. We decided to stop in at the Shiloh Museum just off the square in Springdale. It was a hot day and after exploring the log cabin and outhouse, we went inside to enjoy the air conditioning and view the indoor exhibits.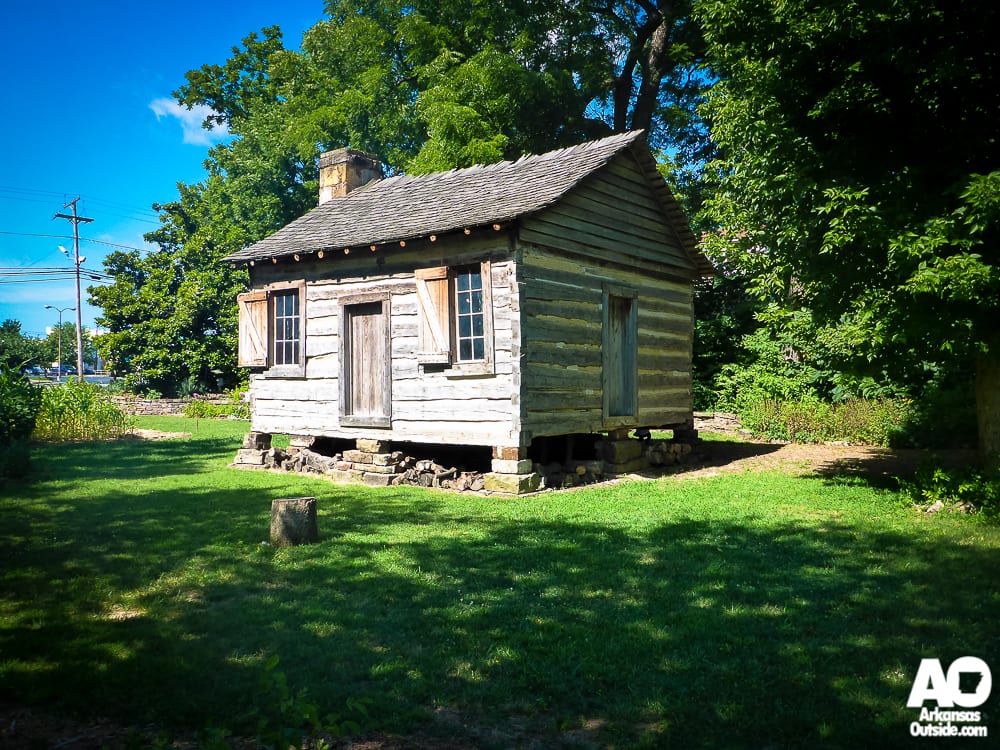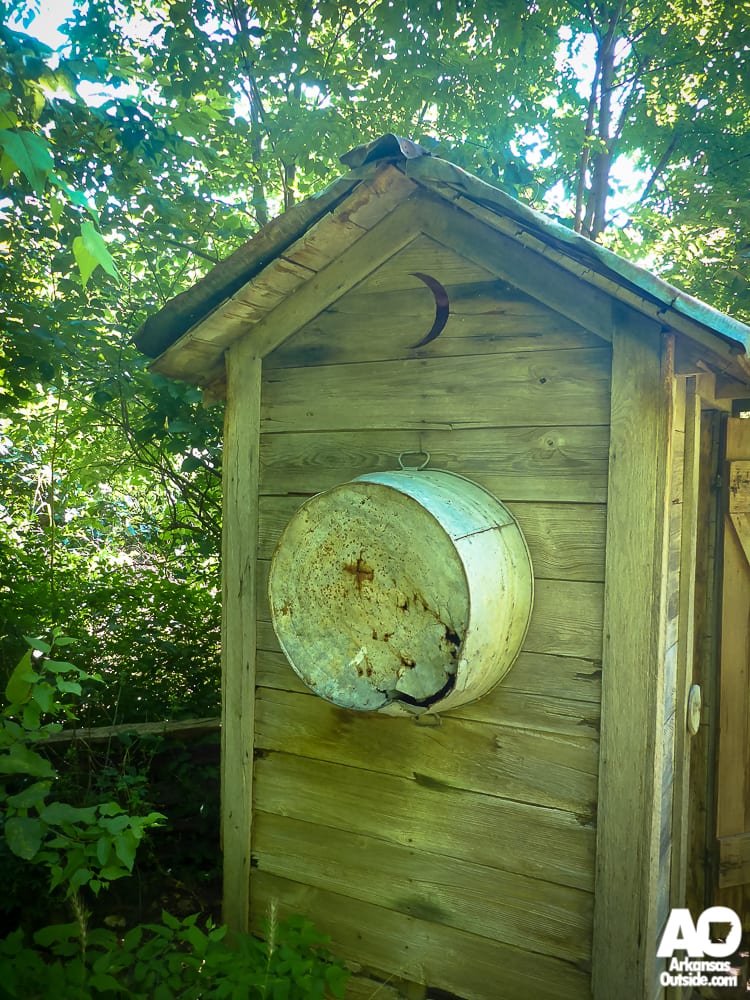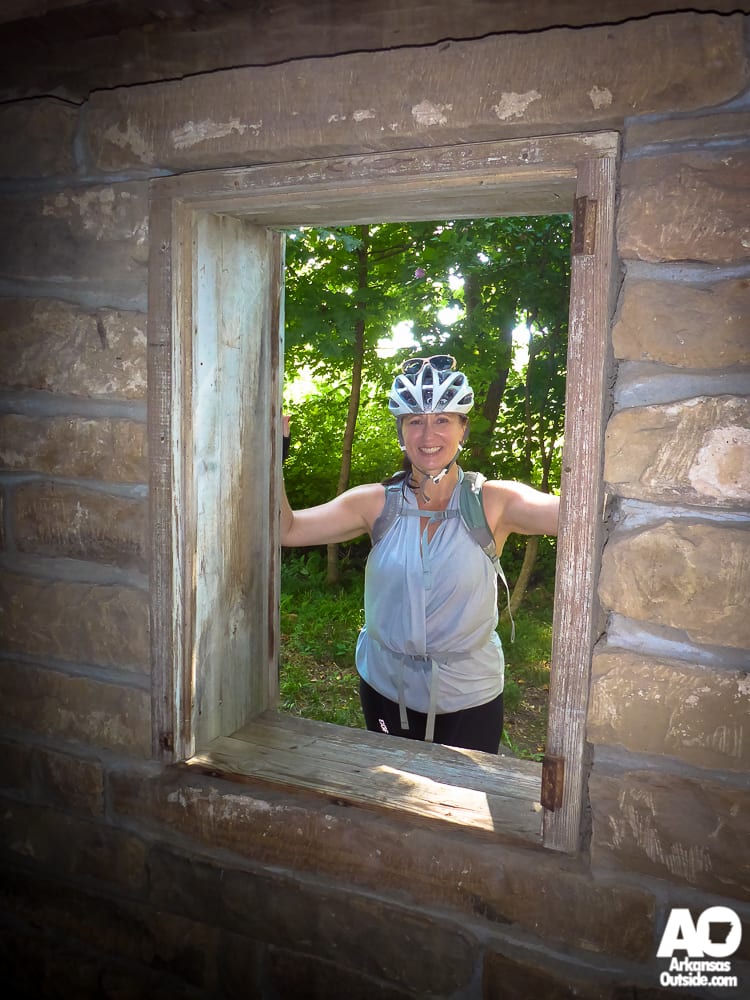 After about an hour of investigating Ozark history, we got back on the bikes. The day was heating up and we would continue to take it easy; after all, we had all day to play. The rest of the trip south would be on uncharted trail to us and we were set on enjoying it. We soon came across a couple, Craig and Sue, who are fans of AO. They live in the area and were out getting in a 40 mile ride with Susan on her new road bike. We rode and chatted with them until we reached Fayetteville where they peeled off to head home. What a perk it is to have this kind of facility close enough that you can ride, run or walk to it and use it on a daily basis.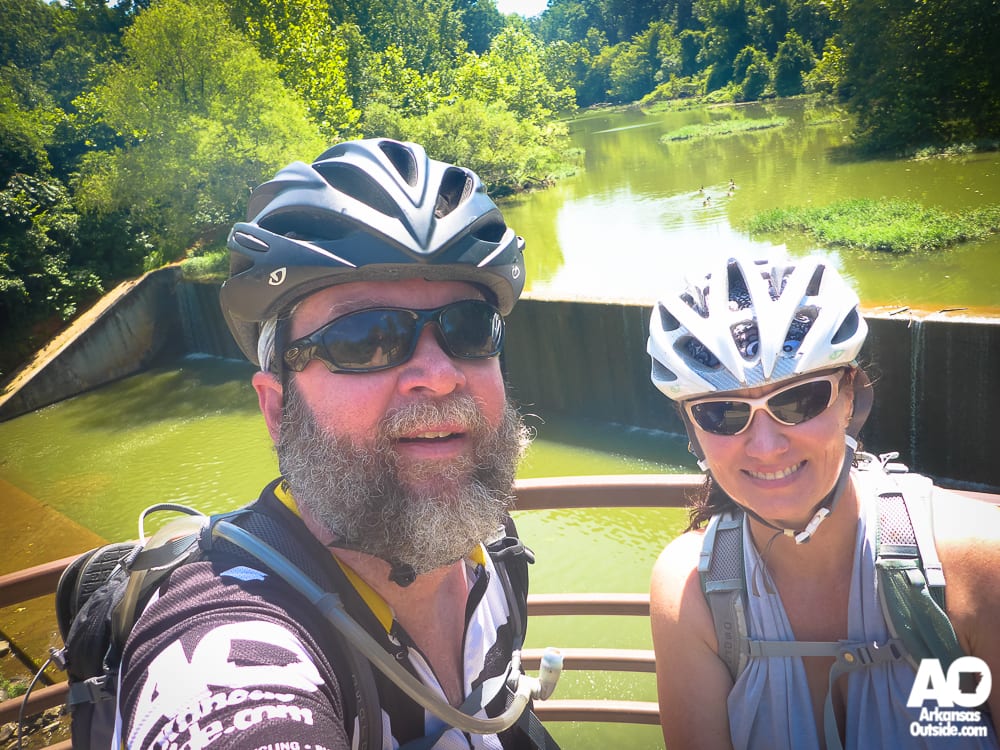 The next section would take us around Lake Fayetteville, a great urban park where we have enjoyed mountain bike rides and cyclocross races in the past. We were reminiscing as we crossed the dam that we tested our first kayak in that lake long ago. It wasn't long before we were around the lake and heading across town. We soon came by a Putt-Putt and Go-Kart place near the lake. We told ourselves that we would stop on the way back and take advantage of the fun. A ride in a bumper boat is not a bad way to spend a hot afternoon.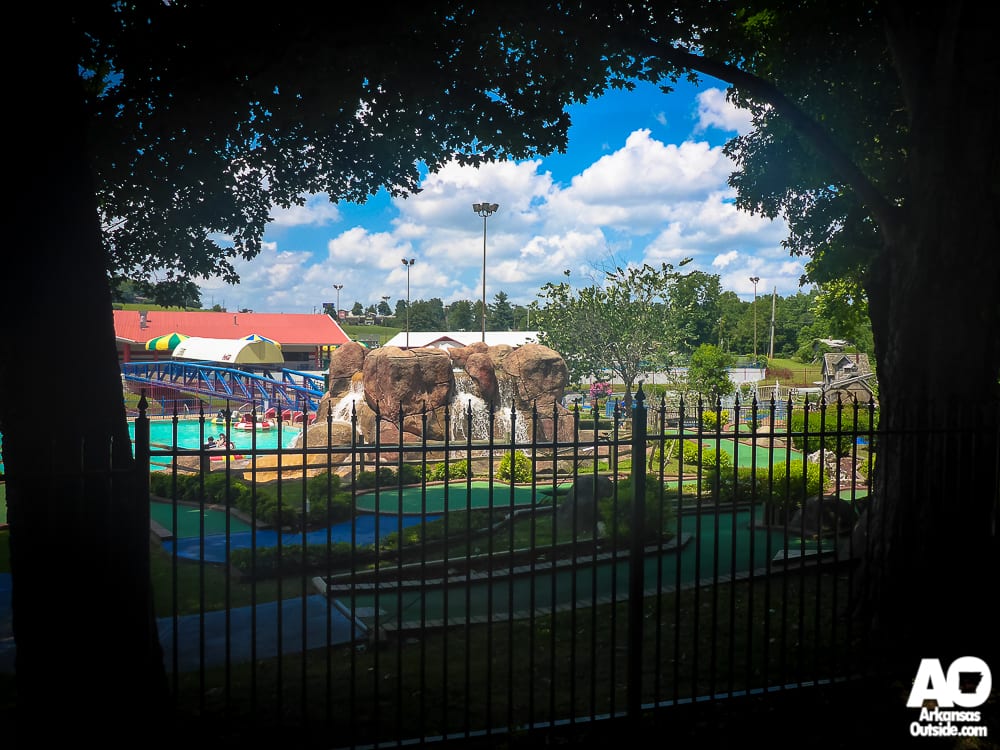 Winding through the town we noticed several spur trails that lead to shopping and residential areas. Beautiful, green, shaded places along creeks and on rolling hills eventually dropped us out on the famous Dickson Street in Fayetteville. We spotted an enticing lunch location, but decided to stop on the way back since we were so close to the end.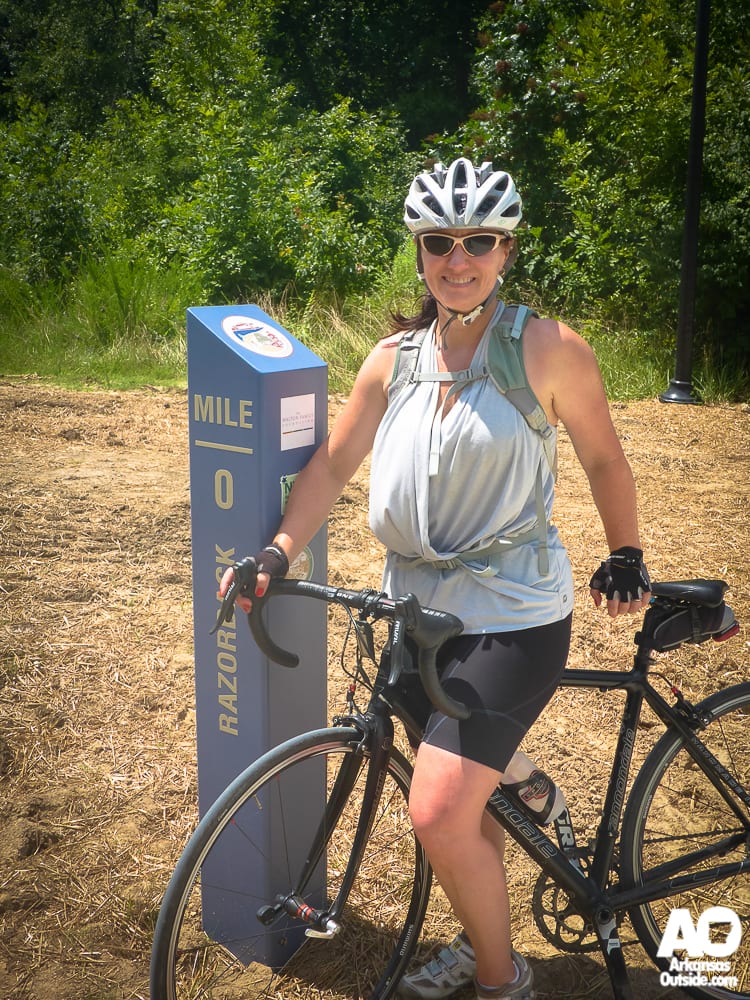 We finally came to the mile zero marker but noticed that the trail actually kept going, so we did too. It was about three-quarters of a mile before we finally found the end, but it won't be the end for long by the looks of it.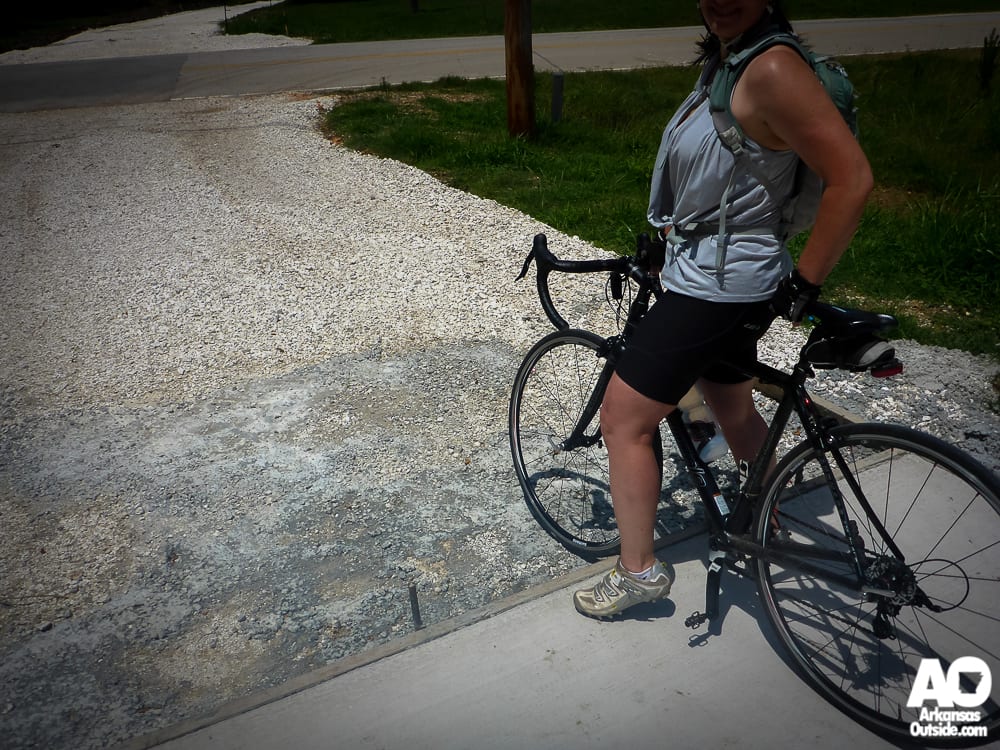 We turned to begin the return journey and realized we had time to make it to the Fayetteville Farmers Market (quick tie-in, the percussionist for Widespread Panic, Domingo "Sunny" Ortiz,was wearing a Fayetteville Farmers Market t-shirt during the concert the night before, cool local support from the band)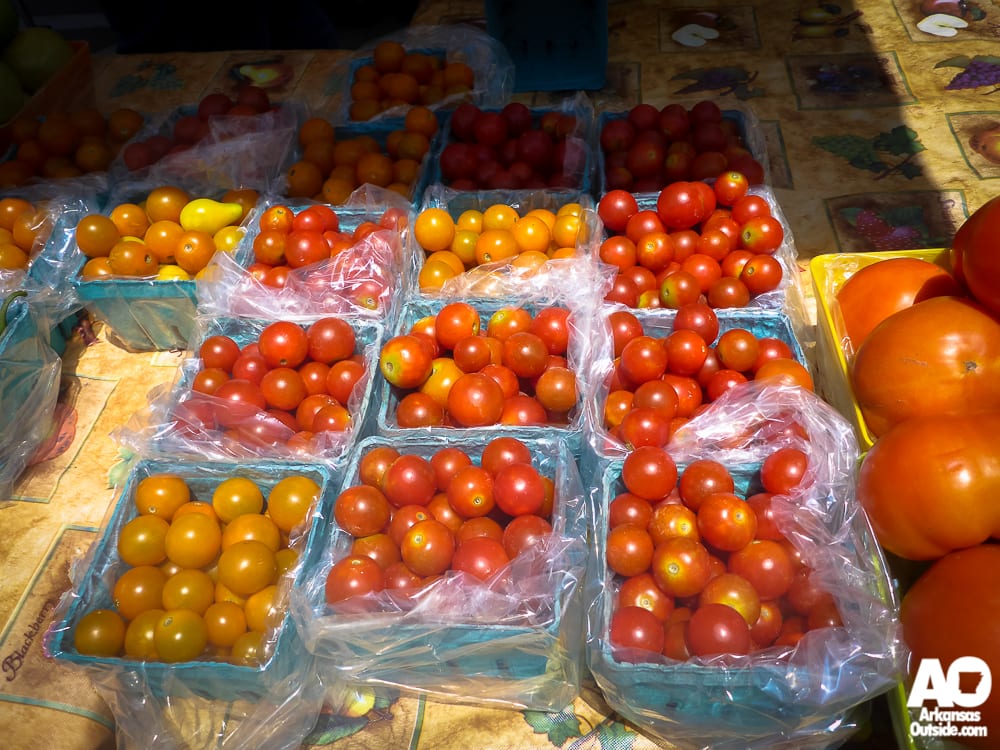 Back on the trail we made quick work of getting back to Dickson Street and lunch at Arsaga's Coffee, Food and Libations in the old depot. The water in our hydration packs and water bottles was hot and I couldn't get enough cold water. Whenever I've been working hard, particularly in heat, I don't feel like eating for awhile so I settled for a bowl of Old Mill Grits which hit the spot while Lisa enjoyed an awesome sweet batter buttered crepes and fresh fruit, I even convinced her to let me have a few bites. The waitstaff filled Lisa's water bottle with one of their specialty limeades and we were off again.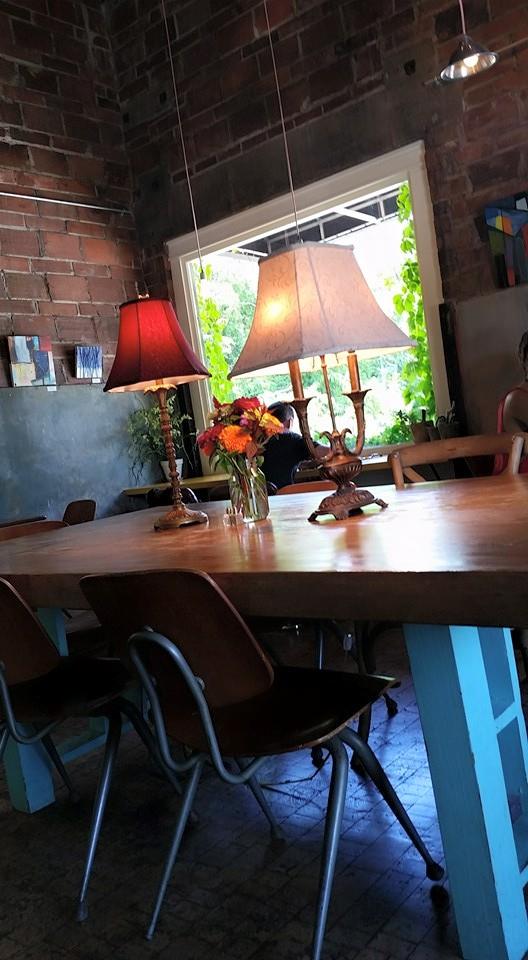 On an out and back, we typically take the trip back at a faster pace than the trip out, but we did make time for a few stops. The heat index was in the triple digits by mid afternoon and moving seemed to keep us cooler than standing still so we blew past the Putt-Putt place, but stopped to enjoy the view and take some photos on a particularly pretty bridge.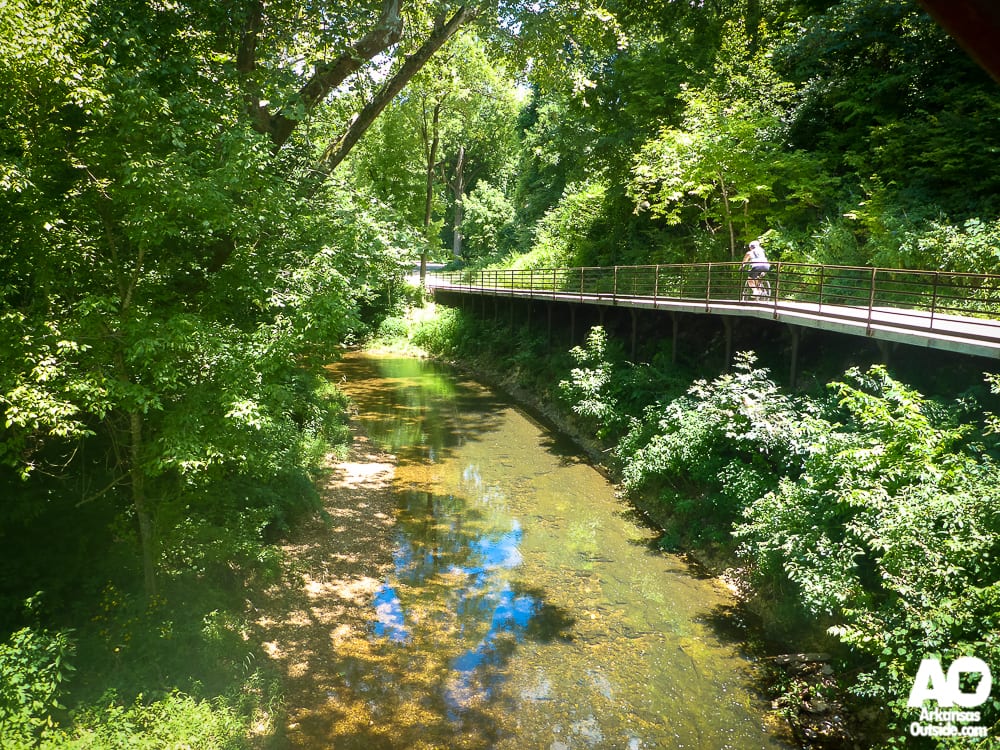 When we arrived in Springdale it was time for a break. A new place called The Steam is open on the square and we thought that might be a good place to enjoy a cold afternoon beer and cool down for a few minutes. A glass of water and a cold beer was just what I needed to complete this ride. The restaurant/bar is part of the revitalization in downtown Springdale that is supported by the Greenway Trail. I expect to see a vibrant, shopping and dining area in the coming years.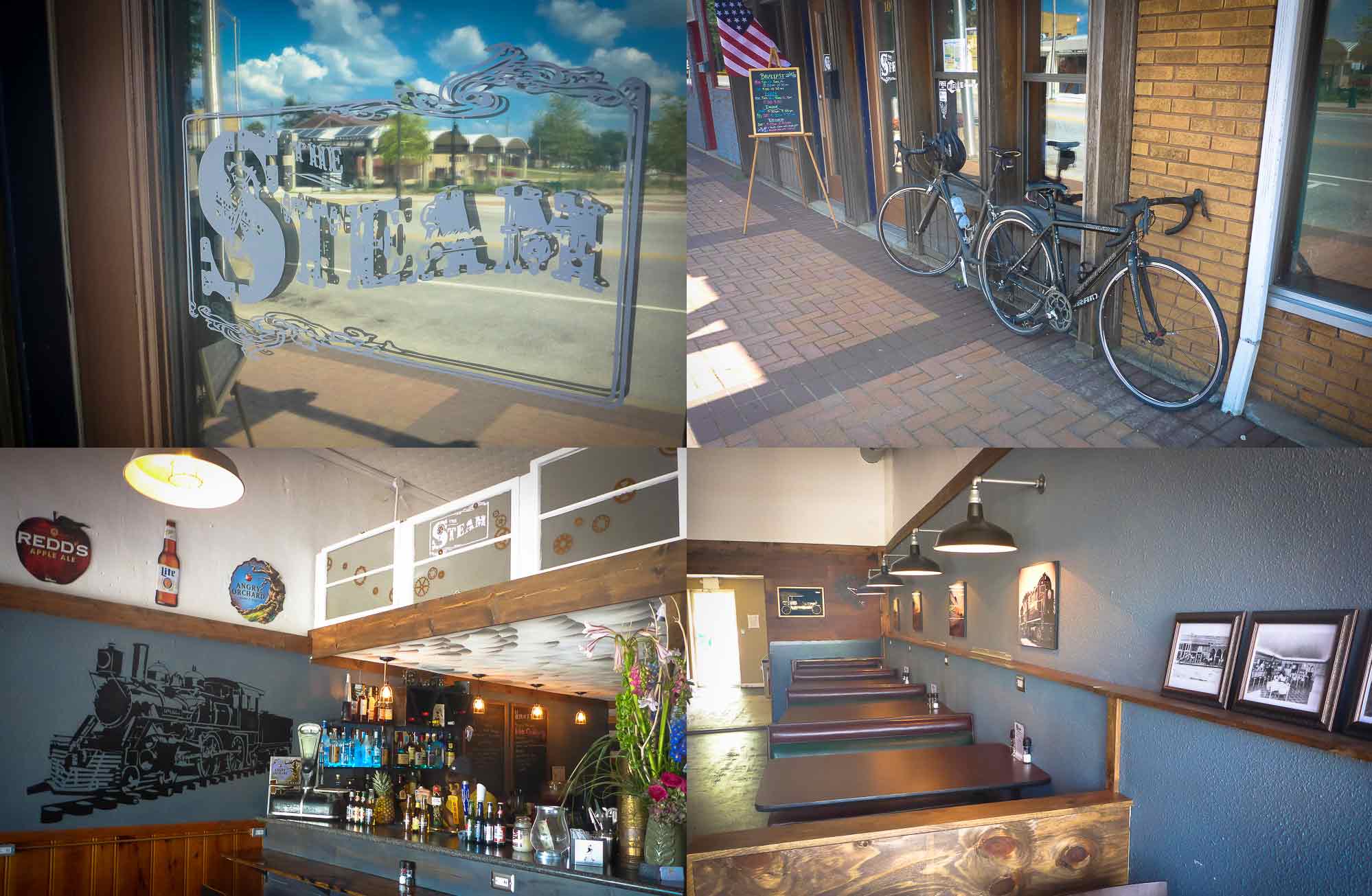 We left Shiloh Square in Springdale and continued to enjoy the ride to our hotel. It's great to see these beautiful areas opened up to the public by this great connector trail.
Throughout the day, we noticed families, couples, single runners and cyclists all along the trail enjoying the space or just heading from one place to another. Some had shopping bags, coming from the farmer's market or other shopping venues.  We also noticed that automobile traffic was giving a lot of deference to cyclists. At many of the road crossings, drivers stopped to let us pass even though they were under no legal obligation to do so. It was all a very pleasant experience.
Read Part 2, the trip north…no guts, no glory or taking advantage of local services along the trail.