…maybe it's cooler if we head north. (Read Part 1)
After arriving back at the hotel late in the afternoon and taking showers, we spent the next hour or so just enjoying the air conditioning. We couldn't stay there all night, we needed some calories and we needed them soon.
Although we liked the access to the Razorback Regional Greenway Trail offered by our hotel near the interstate, our favorite part of Rogers is the old downtown area. The area is home to local restaurants, the Daisy Airgun Museum, interesting shops, the Frisco Park and is close to Lake Atalanta with its beautiful hiking and mountain biking trails. After walking a couple of blocks to stretch our legs, we found ourselves in Parkside Public enjoying some great gourmet burgers and local beers. The long day in the saddle and in the heat continued to take its toll on us and realizing we needed to wake up early to try and beat as much heat as possible, we headed back to the hotel. (If you'd like an awesome taste of all that downtown Rogers has to offer and you like bicycles, check out the Rogers Cycling Festival on August 1st & 2nd.)
Since the trip north from Rogers on the Greenway Trail would be much shorter than the previous day's southern excursion and the northern end features some fantastic mountain bike trails, we opted for the fat tire bikes. Starting only half an hour earlier than the previous day, we knew that we would soon be enjoying another hot day in the saddle so we opted to get moving and put off breakfast for a bit.
This section seemed to have more direct road crossings on some fairly busy roads, but the signal crossings worked well and quickly. We made our way through a small business district, past a hospital and followed the main road into downtown Bentonville. We were hungry and riding through this residential area early on a Sunday morning made breakfast choices few and far between when suddenly a Kum & Go came into view. This convenience store was well aware they were on the Greenway Trail and supplied a bike rack for those of us using the newest transportation corridor in Northwest Arkansas. The attendant made fresh biscuit sandwiches for us and we were soon on our way. Then everything kind of went south on us, so to speak.
Just after leaving the convenience store, the trail slipped behind an apartment complex and as it came out of the shade it appeared to take a hard left, at least that is the way the striping went. Of course, this landed us somewhere south of the Bentonville Square, an area we know pretty well, but we still weren't sure where the trail went because there were so many marked bike paths, we didn't know which one was the actual Greenways Trail. After riding back and forth through the square, we finally ended up at a portion of the trail that headed south, but we were unsure of how it would get us to the Crystal Bridges area. It was time to pull up a map.
After figuring out that the trail picked up again on the other side of the square at the parking lot entrance to Compton Gardens we were on our way. Getting back under the trees was nice and felt at least 10 degrees cooler than the open areas we had been in. We had a goal though, The All-American Trail, one of our favorite short trails in the state. A relatively easy trail with a few skinnies and berms to play on. We stopped a couple of times to take photos, but were soon ready to add some speed to the trail.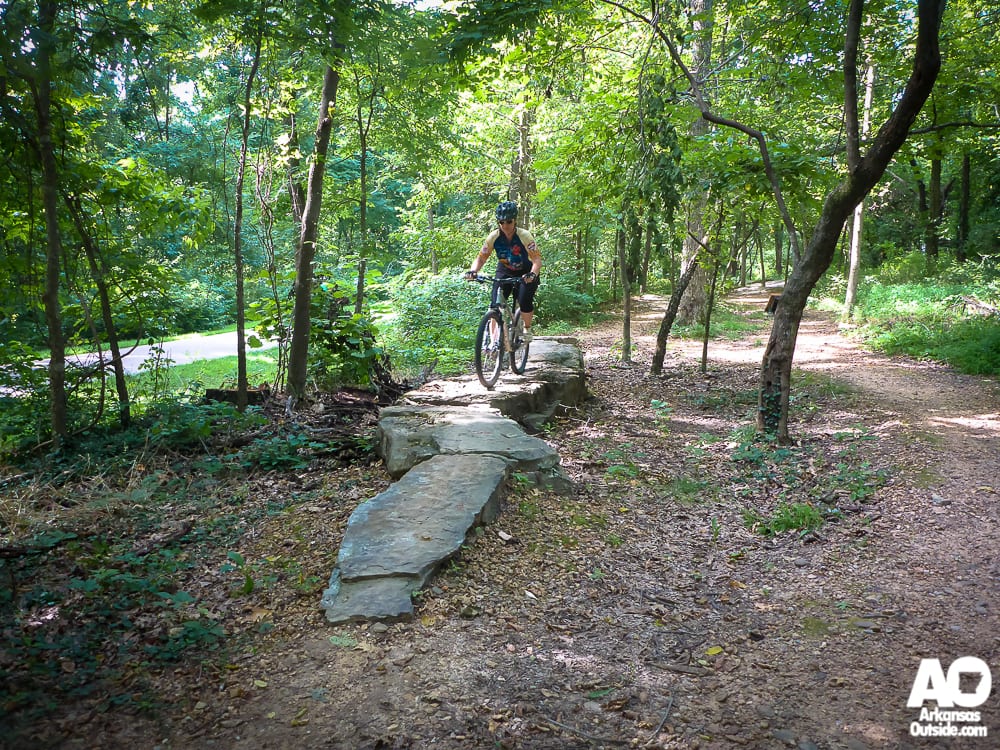 You may know that any easy, beginner trail can be made more technical by increasing your speed. Lisa decided it was time to step up her game some and remembering some advice given her by pro-cyclist, friend Frank Webber, attempted to rail a berm, laying off the brakes and letting momentum carry her through the turn. She came into it a little hot I think.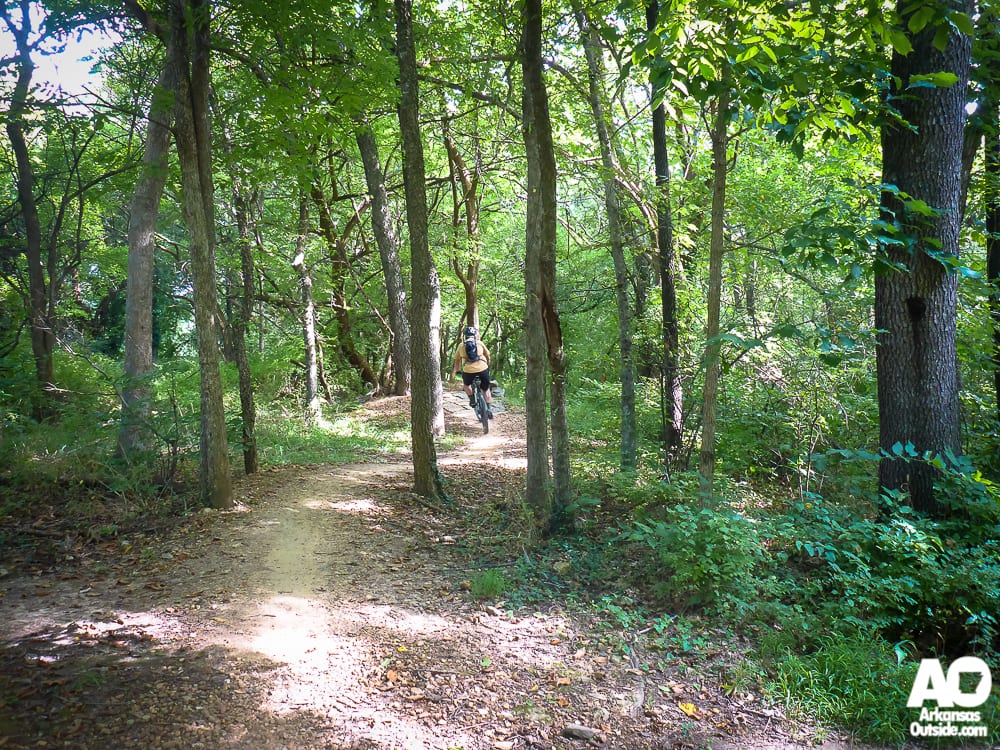 I was out ahead and heard a little woo-whoo, Lisa's "I'm having a great time, noise". As I came around the next berm I took a quick look back and didn't see her. I stopped and yelled back. I heard something that did not sound like the aforementioned gleeful sound. I headed back up the trail to find her standing in the middle of the trail bent over holding her hand, her bike laying on its side just off a berm. She had gotten a little too close to the top of the berm and let her tire slip over. Her hand was swelling.
The paved Greenway trail, which parallels the All-American, was in view so we slowly walked over to it. She decided she could ride so we headed back up toward the Bentonville square. We stopped at a shaded bench while I looked up the nearest medical facility. Northwest Medical Center-Bentonville was the hospital we had passed about 4 miles back and Lisa felt she could ride to it. So off we went.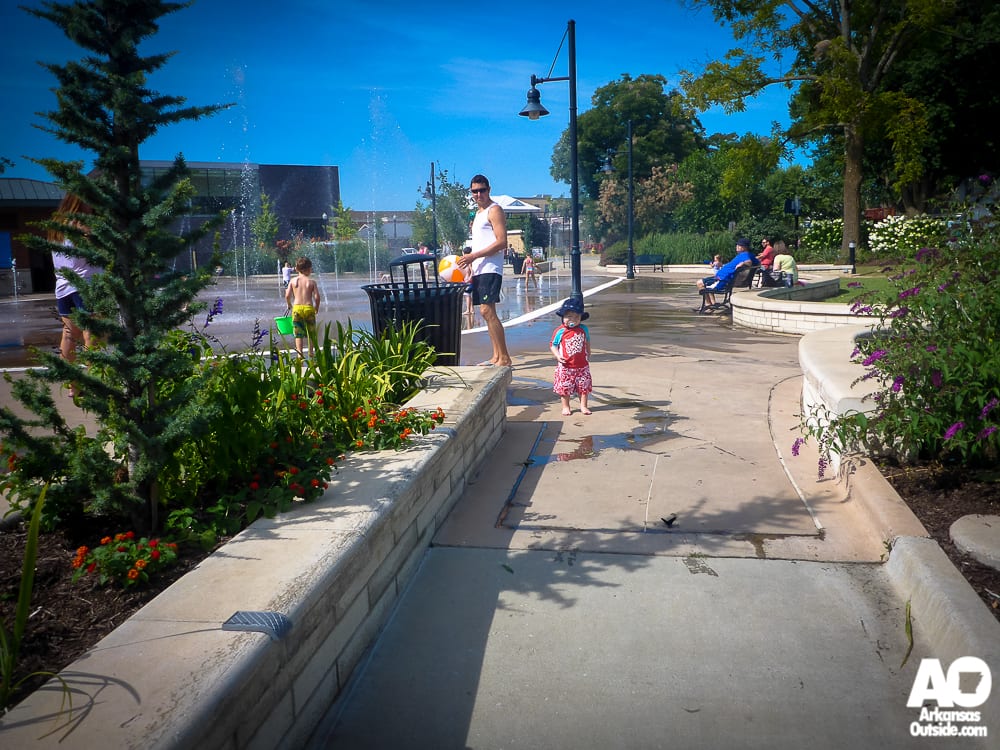 While Lisa was checked out, I went back to the hotel to get the truck and by the time I returned they had her bandaged up. Some pulled tendons and ligaments put an end to our ride for the day. The takeaway for us was the convenience of services along the trail. Being able to ride up to the emergency room is way less stressful than having to get a vehicle first and being taken across town.
We'll be back to finish that ride or do it again. Lisa will ride that trail again, it's still one of her favorites. Her biggest disappointment of the day? It wasn't getting hurt, it was not being able to go have more fun at Slaughter Pen and Blowing Springs. We'll be back Northwest Arkansas, we'll be back.
btw – The only things I would suggest for the trail in Bentonville would be some confidence markings, letting travelers know they are still going the correct direction and some bike racks at the hospital. I hate locking my bike to a trash can.