Family is typically defined as a social unit made of parents and their children or a group of people related by blood. These days many people extend the moniker to those around them who enjoy or appreciate the same activities. We have our "running family" and our "cycling family", I have my "gym sisters". And sometimes all those worlds collide.
This is the second year that Partners for Pinnacle has sponsored the Race the Base trail run at Pinnacle Mountain State Park. So my "volunteer family" put on a race that brought my family (my spouse and step-son), and my running family (on-on wankers),  my cycling family (Belgian Up, Sven), and even some of my workout family out to the park for a morning of dirt and gravel pounding. And there were lots of other families there too. We had Dad and daughter volunteers at the sufferfest peak of the run to greet and turn runners around. We had married couples who ran the race together and we had a few who really made it a family affair when mom, dad and kids all ran. Anne Struthers came out to cheer on her grand-kids, Drew Short and Mary Anne Struthers. Anne told me that when they told her they were both going to be running, she said she wouldn't miss it for the world. So she was there  to greet them at the finish line, pose for lots of  photos and to get lots of sweaty hugs from her grand-kids, even though they aren't little anymore and tower over her.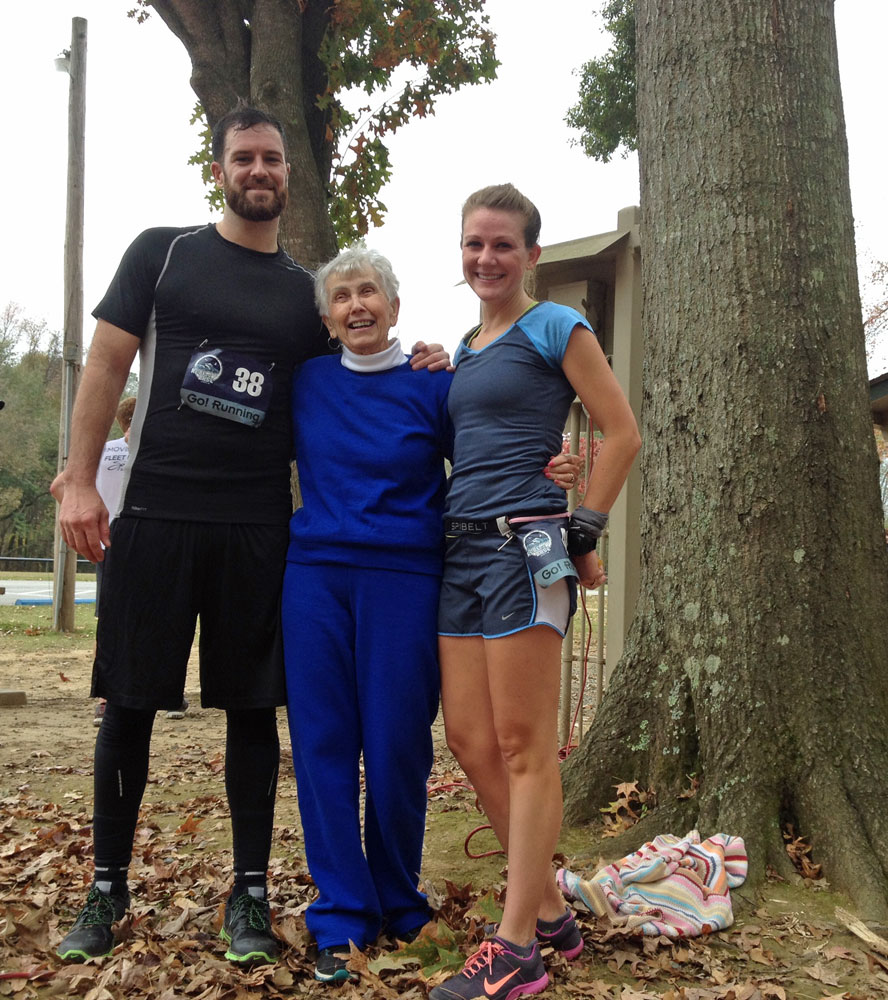 Last year's course was around 3 miles long and the winner came across the line in 22 minutes.  We wanted to make this year's course just a bit longer since everyone wants as much mileage as possible for their money, especially when they make a long trip or have to get up extra early to get to a race. The course took racers for a loop around Stuckey Field, under the park entrance bridge at Hwy 300, along the south edge of the Kingfisher Trail, then onto the grass down to the entrance of the old base trail, now known as the Fishing Trail, to connect with the Base Trail a quarter mile in. Since the Base Trail is about 2.5 miles, the addition of the field and Kingfisher gets the mileage close to 3.5 miles. It also keeps the runners away from the always busy West Summit entrance and avoids two of the rockier areas on the Base Trail. But there are plenty of rocks left for the rest of the run which is very technical and caused a few bloodied knees and a slightly twisted ankle this year.  We gave the runners plenty of time to wear themselves out with more than 3 miles of hard running before we threw them a little curve in the course and sent them up a steep gravel road for a quarter of a mile where a volunteer was there to cheer, heckle, and ring a cowbell at participants to let them know to turn around and take the steep chute right back down. Immediately after the race and even a day later, when I "ran" into some of my running family during my afternoon run, there were a few choice comments about that darn hill. And with all that, we still had a repeat winner in Chris Dunbar who finished in 27:06, blazing a 6:47 per mile pace. Lucky for us we had Ken McSpadden of Macs Race Timing Service on hand to track all our runners with chip timing. Results  from the race are here.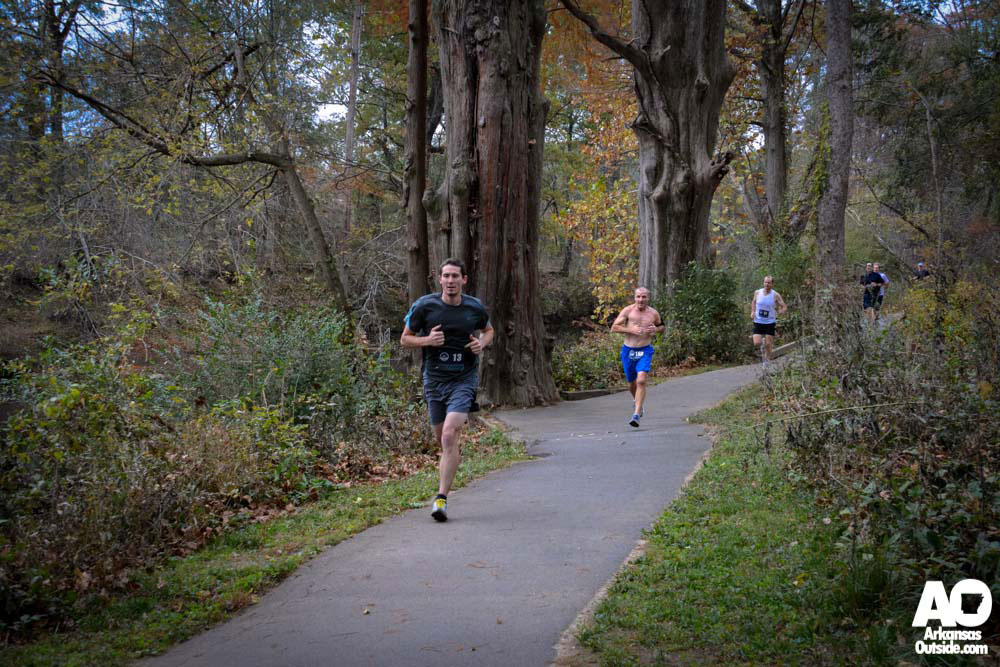 We had beautiful trophies, rocks from our own back yard painted by Parkview Arts and Science Magnet High School students. Lots of hard work went in to the trophies, just like the work that went into winning one so we hope everyone who earned a rock at Race the Base, proudly displays it. The Big Dam Bridge Foundation was the major sponsor for this year's race along with Partners for Pinnacle.  GO!Running  provided gift cards for our winners and t-shirts for draw prizes, and Little Rock Tomato provided lots of post race fruit for our runners. Even though it was a seasonally warm day many participants enjoyed the hot apple cider provided at the finish line by Partners for Pinnacle.
A big thank you goes to the park staff for blowing the leaves off the trail the day before the race keeping injuries down and making the course easy to follow. They also provided a great deal of logistic help and gave us our swag bags.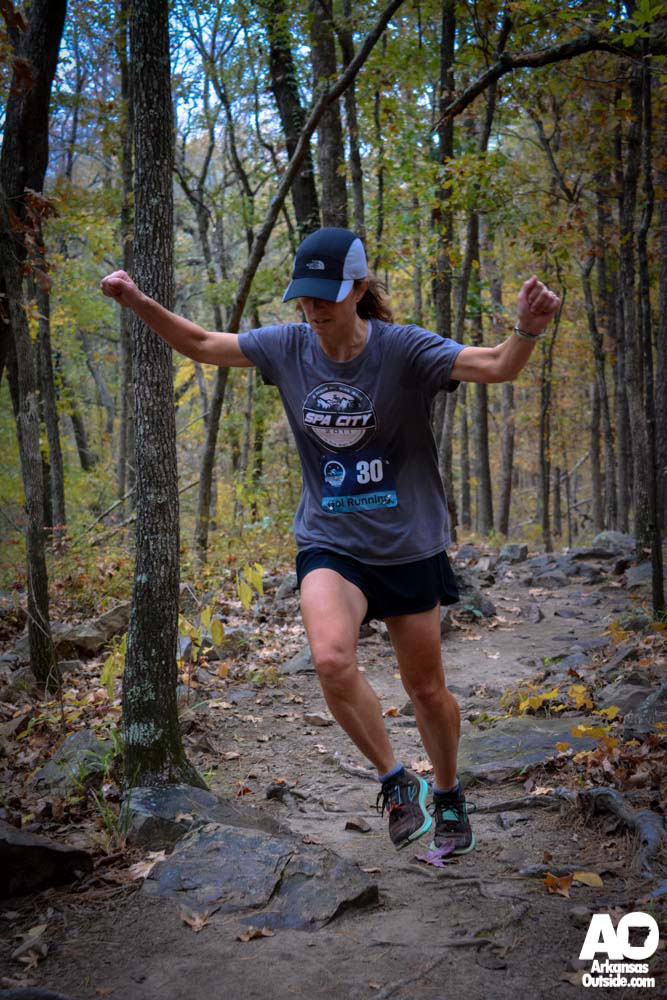 Another addition this  year was our Kingfisher Kids Trail Run that took the little ones on a 1/2 mile trek around the paved trail, along the playground and past the giant cypress trees. Each of the kids got a special Kingfisher Kids Race medal to take home along with a bag of goodies from IMBA, Clif Bars and the Capital Hotel.  Several of the Race the Base runners, including overall winner Chris Dunbar, ran along with the kids for their race. Kids and parents had a great time and we'll be repeating this event again soon.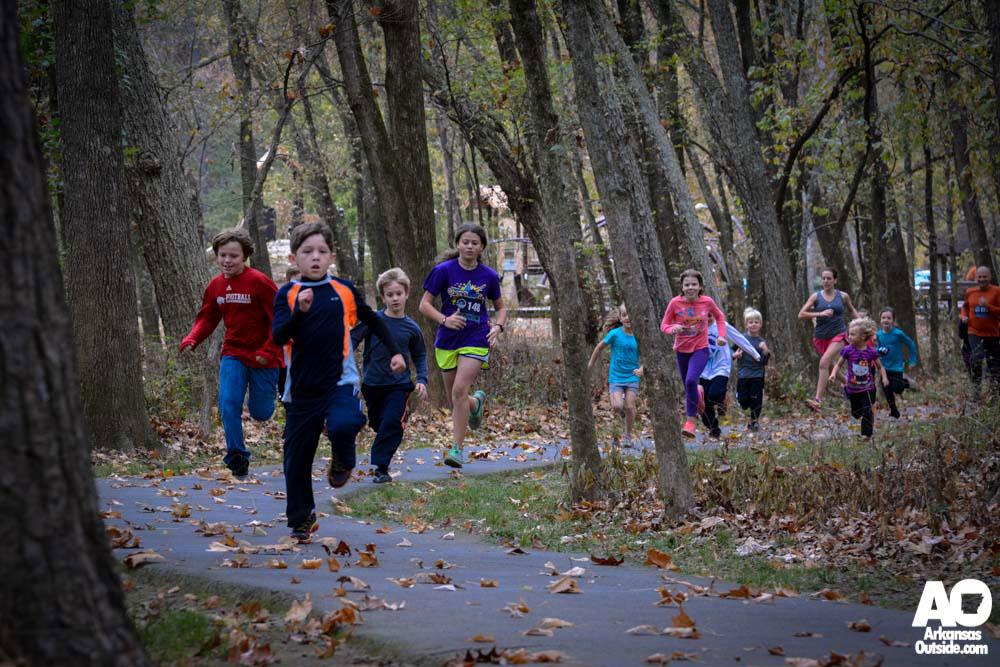 At a lot of events, especially smaller runs like Race the Base, the participants often know each other from years of competing in similar races or from training groups. But as we walked around before and after the race, we often heard comments about how there seemed to be a great mix of participants at this race: road runners, trail runners, and cyclists. This is our Arkansas Outside Family. And we love that events like this are kind of like family reunions where you meet family members you didn't know you had.
We have two pages of photos to share, download, tag can comment on – Check out our Facebook Page 1 & Page 2. Also for those not on Facebook you can share on Twitter and Pinterest from the photos loaded on our Flickr Page.