Fayetteville Parks and Recreation is launching a new program, the Fayetteville Race Series. This series is be comprised of annual events that vary between running, cycling, and multisport activities. Each event differs from the others and offers something for everyone. Until now, Parks and Recreation has not offered programs of the racing nature. In a place like Fayetteville, where beautiful parks and trails are in abundance, there are plenty of ways to be physically active in the community! By offering a race series, Parks and Recreation hopes to enhance the existing active culture of Northwest Arkansas while also reaching out to new audiences. The race series will begin as a grassroots effort that will continue to grow into a premier race series in the state of Arkansas.
"As a department, we recognized an opportunity to provide affordable, interesting events to our extremely active citizen base. We garnered the support of the community, Mayor Jordan, and the City Council by exemplifying the new position as self-sustainable through revenue generation and the subsequent economic impact. By providing this variety of events through the City, participants can rest assured their registration fees are going to positively affect the park system, trail network, and recreation programs – ultimately improving the quality of life for all citizens and visitors of the City of Fayetteville." – Recreation Superintendent, Alan Spann
The City of Fayetteville is fortunate to have several large parks with both paved and soft surface trails that are ideal for running and biking. Additionally, the city has a wonderful trail system stretching over ten miles in length from the north end to the south end, passing right through the heart and hub of the community. These features make Fayetteville a great place to offer a variety of race opportunities. The Fayetteville Race Series strives to offer unique racing events that are different from the abundance of races already happening in the area.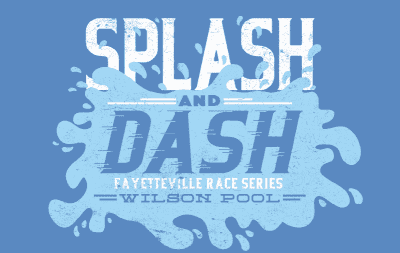 Splash and Dash
The first race of the series is a youth swim/run (aquathlon) at Wilson Pool, Fayetteville's municipal swimming pool, located in Wilson Park. Participants will test the waters of multisport racing with this "Splash and Dash" race. The Splash and Dash is open to ages 7-15. Participants will swim and run distances based on their age. The swim portion varies from 80-200 yards and a run portion varies from 1/2 – 1 mile. Fayetteville Parks and Recreation's goal is to have 100 participants this year. An opportunity for parents of participants to race may also be included in future years. A long term goal of the program is to have the Splash & Dash recognized as a sanctioned event in the "USA Triathlon Youth Splash & Dash Series". The Splash & Dash will be held on August 14, 2015.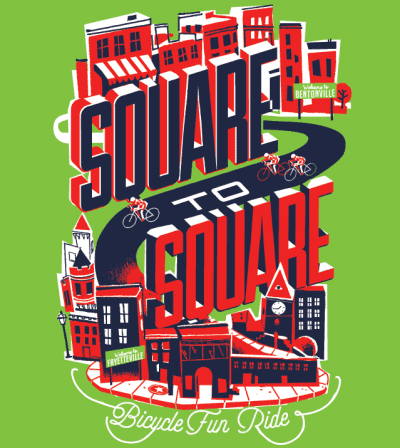 Square to Square Bicycle Ride
With the Razorback Regional Greenway complete and spanning 36 miles from Bella Vista to south Fayetteville, the timing was optimum to promote this unique amenity that NWA is very fortunate to have. Fayetteville partnered with Bentonville Parks and Recreation to offer a Square to Square Bicycle Ride twice a year for cyclists of all types to enjoy and explore the Razorback Regional Greenway. The organized fun ride will travel along the greenway from Bentonville's square to Fayetteville's square each September and vice versa each May. Scattered along the trail will be opportunities to take in local art and music. The event will feature festive post-ride activities for participants including live music, community farmer's markets, beer gardens, kid-friendly activities, discounts to square area businesses, bicycle valet, and more. Shuttle transportation will also be available to the starting community before and after the ride. The Square to Square Bicycle Rides will be held on September 12, 2015 and May 14, 2016.
Run for the Parks!
Every race series needs a good road running event with distance options that appeal to runners of all abilities. Run for the Parks will have three different distance options of long, medium, or short consisting of 8.5, 4.5, or 2.5 miles respectively. Each run starts from one of our lovely parks, running along the backbone of the Fayetteville trail system and finishing in Walker Park.  What could be more Fayetteville-esque than a Sunday morning run in the parks? We hope this event will not only draw a large crowd from our residents wanting to show appreciation for the city's parks and trails, but also from throughout the state. We are expecting 500-600 participants in this first year. Participating in the Run for the Parks event is a great way to tour the best sights of Fayetteville on foot! The Run for the Parks will be held on November 22, 2015.
Frozen Toes Trail Run
Kessler Mountain is home to our newest single track trail system in Fayetteville. Seven miles of winding trail are tucked into this 376-acre property located next to what will soon be our regional park. Views from the top are breathtaking – and not just because getting to the top will leave you winded. The Frozen Toes Trail Race is in early January and will be a 15K run on the Kessler Mountain trails. This distance is perfect for runners looking to transition from a 10K up to a longer race, perhaps even trying for a 25K. It might be cold, there might even be snow, but running up this mountain is sure to warm you up quickly and the views are sure to be great when looking out past the bare trees. The Frozen Toes Trail Run will be held on January 9, 2016.
Ladies Du Fayetteville
More and more women's specific racing events are being offered across the country. Fayetteville wanted to do our part to put Arkansas on that map by offering a ladies-only duathlon. This will be one of few women-only events offered in the state and will feature participant gifts, awards, and post-race entertainment with the woman in mind. The Ladies Du Fayetteville will be a sprint style duathlon with short distances making it attractive for first time duathletes. Participants will run, bike, run around the paved trails of the beautiful and scenic Lake Fayetteville area. Each run portion will be 2 miles and the bicycle portion will be 11 miles. Fayetteville Parks and Recreation looks forward to presenting this event in partnership with women's specific cycling apparel company, Moxie Cycling. The Ladies Du Fayetteville will be held on May 22, 2016.
The goal with the Fayetteville Race Series is to offer quality events that become annual traditions, a source of revenue and economic impact, showcase our parks and trails, and create a further sense of pride for the community of Fayetteville. Additionally, we plan to keep up with racing trends across the country with fresh new offerings every few years. We hope the Fayetteville Race Series will be successful in attracting regional visitors to the parks and trails we are proud to call home.
For more information on the Fayetteville Race Series visit http://parks.fayetteville-ar.gov or contact Recreation Program Manager, Tiffany Gaulke, at 479-444-3463 or tgaulke@fayetteville-ar.gov