Labor Day weekend will mark the 3rd year anniversary of when I went to a local bike shop and bought my first mountain bike. Having never ridden before, the guys in the bike shop pointed me in the direction of Pfeifer Loop as a good place to learn how to use my bike and to get my first taste of off road riding. From the moment I took off from the trailhead and turned into the loop going over the first bump, I was in love. I spent my first couple rides out there like everyone new to mountain biking just getting acquainted with my bike: learning how to change gears, when to change gears, getting a feel for how the brakes worked, etc. After just a couple rides at Pfeifer Loop, I was having the time of my life whipping through trees and hollering out whoohoo's after every little dip and bump. So a short time later when I was added to a an email list and invited to my first ladies ride at a new trail, I was excited to take my bike for a fun ride someplace new!
Reality sets in at Cedar Glades…
I pulled into the parking lot the morning of the group ride and one of the first things I noticed was how all the ladies were dressed: cycling jerseys, spandex, gloves, glasses, and shoes specifically for riding a bike. Dressed in t-shirt, hiking shorts, and tennis shoes, I felt a little out of place and goofy (the latter still to this day). I took my position in the back of the line as we headed out from the parking lot towards the trail. We were moving a little faster than I was used to so when we came up on a berm on the right hand side of the trail, it took me completely off guard and flying I went! I launched high and landed hard. The ride came to a grinding halt (before it really began) and all the ladies came back to check on me to see if I was okay. I was physically fine but I realized that this ride was going to be moving faster and harder than I was used to. Never one to back away from a good challenge, I got back on my bike determined to take on the ride. We made our way to the first hill, an uphill switchback to the left. I got off my bike and just paused in utter disbelief as I watched the ladies ahead of me ride up the hill on their bikes. Wow. I walked my bike up the hill then got back on my bike and took off again. This became a pattern pretty early in the ride and I felt horrible. Everyone there had driven at least an hour from home to ride and was spending most of their time waiting for me to catch up. I pleaded with everyone to please go on ahead and I would catch up when I could. By the time I got to "the switchback climb" I was done. Finished. Zapped. Physically, mentally, and spiritually drained. I started up the first stretch and didn't make it far before I had to stop. I stood there for a few minutes to catch my breath then got back on to go a little farther. I did this several times before even making it halfway up, then came to a point where I had to completely get off my bike. I was in survival mode. I laid my bike on the ground and sat on the side of the trail and looked up towards the top of the hill and saw how far I still had to go. What the hell am I doing here? It occurred to me then that all the riding I had done back at Pfeifer Loop was barely anything more than mountain biking down the River Trail. I'll never be able to do this. I tried to relax for a moment and took in the woods around me. It was a nice day and very pretty out there. I would absolutely love mountain biking if I could ever do it but at that moment the outlook for me looked grim. I spent too much money on a bike that would never be ridden anywhere besides Pfeifer Loop. After what felt like an eternity plus a day, I was finally recovered enough to pick myself and my bike up and walk the rest of the way up the switchback climb. Greeting me at the top when I finally got there was the rest of the group. They were very supportive and encouraged me to continue on. I felt awful. All I could think about was getting back to my car ASAP so that they could enjoy the rest of their ride. We came to a point on the trail where we were by the road and it was offered up to me as a good bail out point if I wanted to call it a day, which I gladly (and sadly at the same time) took. I loaded up my bike to make the long sad journey back home to Little Rock. Defeated. Disappointed. Deeply disappointed. I had the hour long ride back home to think about how much fun riding in Pfeifer Loop had been and the rides I had been looking forward to at all the other trails I had been reading about and watching YouTube videos of online. I cried. I literally cried on the drive back home like a 5 year old being told Christmas wasn't happening this year. The rides I had been looking forward to weren't going to happen. When I got home, I unloaded my bike and found a place for it out of the way. I wasn't going to be needing it for awhile. "…I'm back in the saddle again. Out where a friend is a friend." (Gene Autry, Ray Whitley, 1939)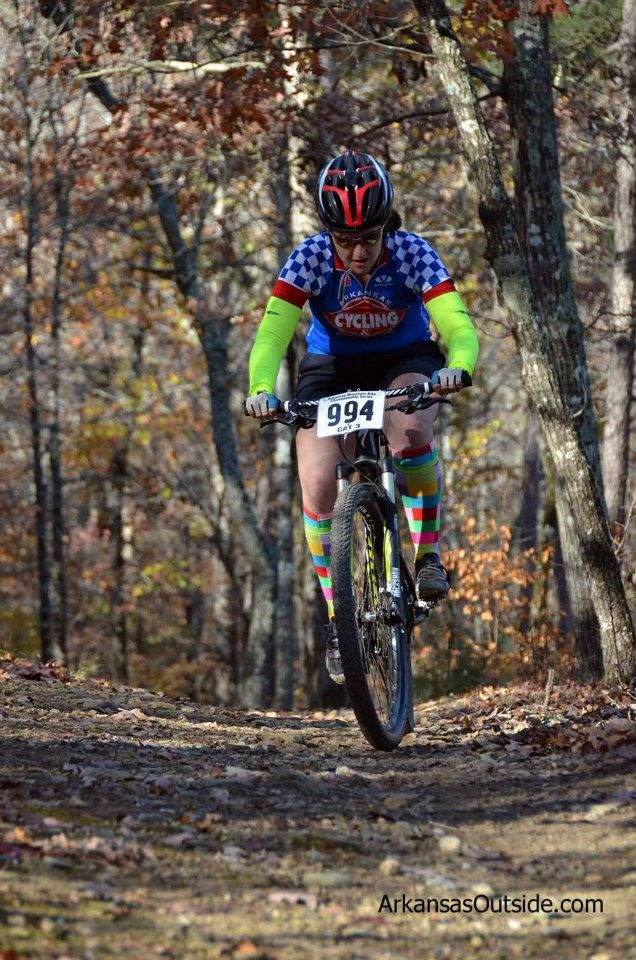 A short time passed then one day when mountain biking was pretty much a page turned in my history book, I received an email from the same ladies group that got my attention. A ladies beginner ride at Pfeifer Loop. Hey I can do that!!! I showed up for the ride and right away noticed I wasn't the only one wearing regular shorts, tshirt, and shoes 🙂 The ride was fun and throughout the ride the leader stopped and gave us pointers and made sure the ride was progressing at a comfortable pace. A couple more of these rides happened and in a short amount of time I was having fun on my mountain bike again. This is where my memory and chain of events become fuzzy because a very short time later after the first beginner ride, I found myself standing with my bike at the start line of a mountain bike race at Springhill. What the hell am I doing here? By this time I was surrounded by friends supporting me and encouraging me to just do my best and have fun. It turned out to be another bad day on the bike for me. I rode smack into a tree reentering the woods mid race and bent my front rim. First race, DNF. Defeat. Disappointed. Deeply disappointed, once again. I spent more time on my bike the next few weeks getting better, riding faster, riding harder. Crashing. Repeat. Got better, rode faster, rode harder, CRASHED. Repeated this pattern over and over and started feeling love for my mountain bike once again. I got a call from one of the ladies I had been riding with letting me know that the next race was the following weekend. What is she talking about, the next race? Still a newb to ALL of this, I had no clue what she was talking about. There's a race series? She assumed I was going to be racing and threatened to call me a quitter (like best friends do) if I didn't show up to Attila the Hun…the race at Cedar Glades. I hadn't been back there since the ride that nearly made me give up mountain biking all together. I started looking back at that first ride at Cedar Glades a little differently. It didn't show me what I couldn't do. It showed me what I wouldn't do if I let the little voice inside me talk me out of trying. I went to Attila the Hun with the goal just to finish the ride. I couldn't even walk the trail months earlier and that day I finished a race there. That was the last race of the season so the next few months were spent getting to know my bike and the ladies I was riding with a lot better. March rolled around and a marathon race came up called the Spa City 6 Hour at Cedar Glades. There was no sane minded reason for me to be there but I wanted to go back there and see what I could do. I finished riding the trail that day 3 times. The more experienced racers get in 5-7 laps, but 3 laps at THAT trail that day was a HUGE achievement to me and it felt awesome. I showed up there again this year and added another lap making it 4 and couldn't stop thinking that I had almost quit mountain biking at this very trail just 2 years ago. The way I think about it, all of us are beginners at the point we're at in our ride. The hills we try to climb get steeper, the distances we try to ride get longer, our speeds get faster. We set goals and accomplish them and move on to the next goal. We're always being challenged at the point we're at and feel the same feelings of defeat and accomplishment in the process of trying to reach our goals. I think making that first goal early on is something few of us will ever forget. For me, it was making it to the top of the switchback climb at Cedar Glades for the first time without stopping. That felt amazing!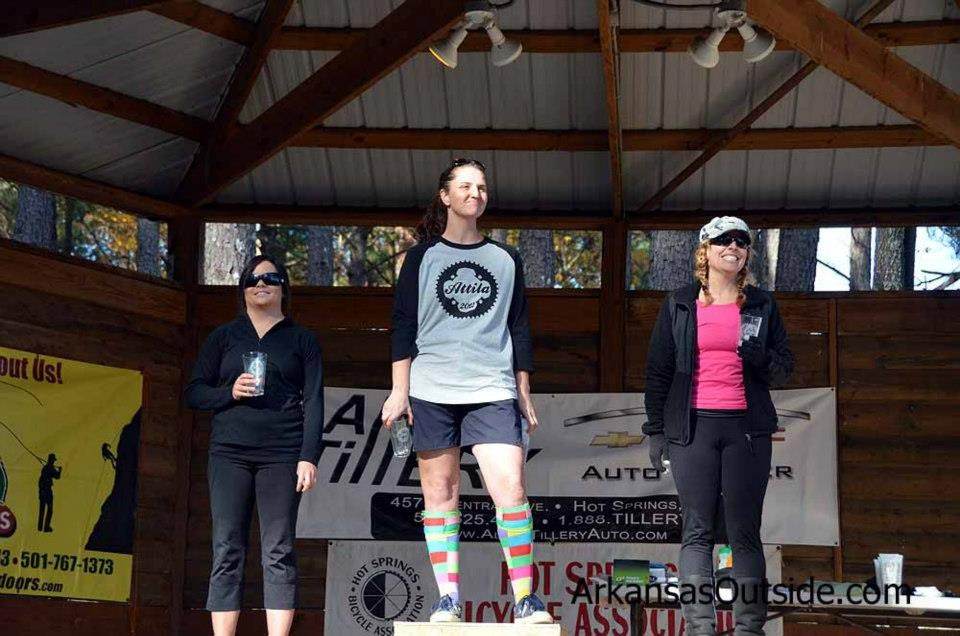 Everything comes full circle. Riding Pfeifer Loop and feeling like a kid again!
I was about to start a ride at Burns Park one evening when one of the local men racers approached me to tell me he knew a couple girls in the area that were looking for a ladies group to ride with and that it would be awesome if we had a beginners ride available for these girls and others that are just getting started in mountain biking. In a flash of about 5 seconds all the events the past 2.5 years leading up to me getting ready to ride my mountain bike that night came back to me. I wouldn't be putting on my cycling shoes and getting ready to ride my bike out there if someone hadn't had the patience and taken the time with sincere desire to ride with me. I loved the idea and wanted to do this. Six ladies came to the first ride. A couple came who had never ridden a mountain bike before. Some were there that had ridden and even raced before but it had been years past and this ride was going to help get them reacquainted with their bike. Another was there that had just recently moved to the area and was looking for a ladies group to help get familiar with the local trails. The ride was a blast and we're making an effort to keep this ride on the calendar for any ladies wanting to give mountain biking a try. These rides have been beneficial to the ladies coming out to ride and they've been mutually beneficial and fun to me! It's hard to explain the feeling of being out there with someone just starting out and passing through a technical section, and when they're riding through hearing their struggle, hearing them say, "I think I'm going to do this!", then the follow up "WhooHOO!!" after they've passed through. It's awesome!!! There's been a few times I've wanted to jump off my bike and give high fives in excitement but that would interrupt an awesome ride.