We climb for those that can't breathe on their own. We climb because no one deserves to die from lung cancer. We climb because our children deserve to breathe clean and healthy air.
The 
American Lung Association
 -Arkansas has been raising both awareness and funds to battle lung disease. They promote programs on improving indoor and outdoor air quality, raise funds for research, and give people the tools they need to stop smoking. ALA-Arkansas holds fundraisers throughout the year such as art gallery exhibitions and golf scrambles. The Fight for Air Climb marked its fifth year in 2014 with participants traveling a course climbing more than 700 stadium stairs at War Memorial taking them all the way around the arena, passing up and down the stairs several times, as fast as they could go to the finish line at the home team entrance. Stair racers started one at a time with chip timing provided by Macs Race Timing, competing against each other for the fastest times. Others opted to walk or run a 5K course on the sidewalk around the stadium. In either case, participants were there to raise funds to help ALA-Arkansas spread the message for clean air and lung health by collecting donations before the event.  Some participated on their own but many formed teams. Firefighters from the Little Rock, Cabot and Pine Bluff Fire Departments could be seen running the stairs wearing full gear. Lung cancer patient and "lung champion" Tonya Hill's team was 169 people strong this year while most teams were in the single digits, regardless of number, everyone working toward a common goal.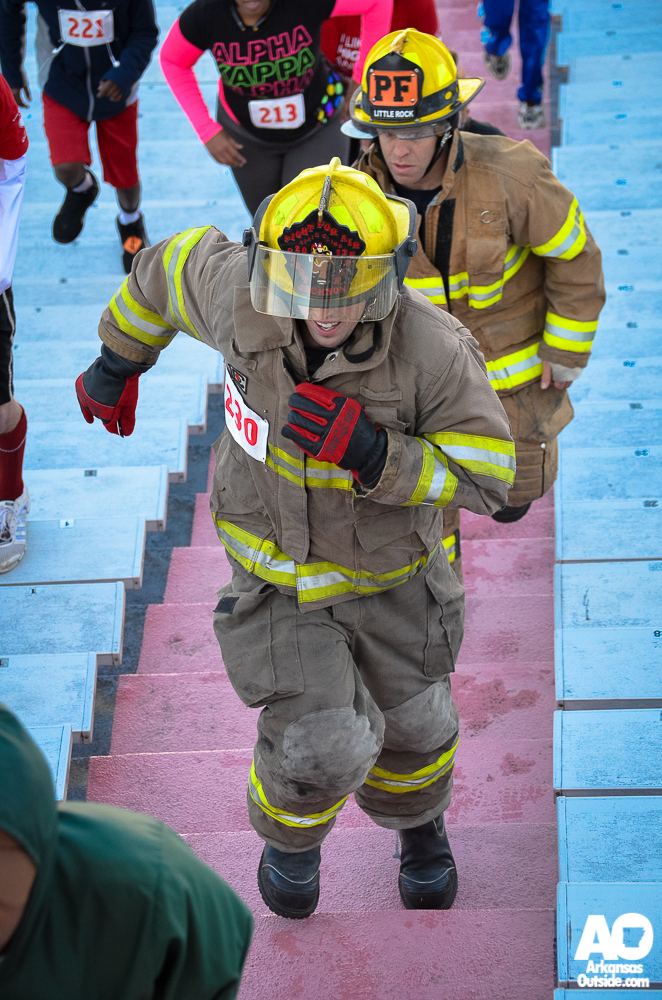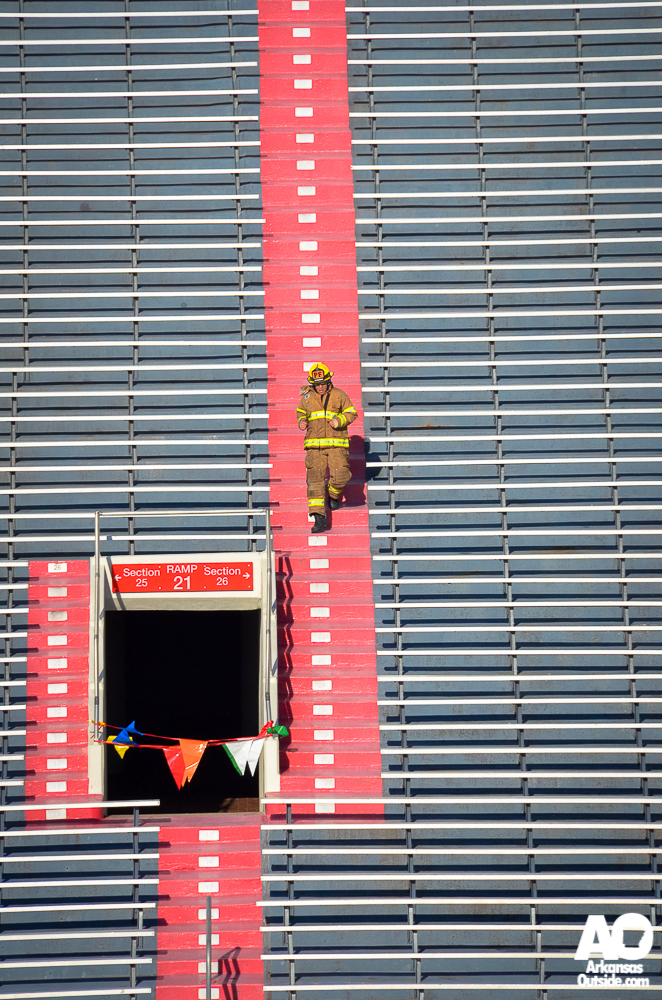 One of those teams was the Beta Pi Omega Chapter of Alpha Kappa Alpha Sorority, Incorporated, the first graduate chapter of Alpha Kappa Alpha in Arkansas, formed in 1937. In addition to recruiting members for the Fight for Air Climb team, the women support and promote other health related associations such as Go Red for Women, the American Heart Association and the American Diabetes Association. The group also joins with other Arkansas chapters of African American sororities in Sisters United, a community based initiative focusing on decreasing infant mortality rates. I wasn't surprised to find my long time gym buddy Kristi Smith standing in line at the start, anxiously awaiting her turn with her sorority sisters. I knew she would be competitive and looked forward to being able to cheer her on. After the race she told me she really didn't want to get passed, so when a firefighter managed to get by her, she kicked it into high gear and climbed to a first place finish in her age group. As I stepped up to congratulate her at the finish line, many of her teammates were finishing as well and I was fortunate enough to hear their stories. This is the second year that Beta Pi Omega has had a team in the Fight for Air Climb. Team Captain Michelle Smith got involved through her mom, Florence, also a sorority member and on the board of the American Lung Association. Michelle was there to greet her team with hugs and cheers at the finish line after snagging a second place age group finish for herself. Deanna Shelton finished strong then said "My legs feel like jelly." Legs and lungs get a workout at this event, but as the motto says, we climb for those who can't. By all accounts, team member Keesa Smith should have been on the can't list. In 2011 Keesa had quintuple bypass surgery. Her heart issues came to light as she was embracing a healthier lifestyle and training for her first half marathon. After the surgery, Keesa continued her quest and was a 2014 Little Rock Marathon finisher earlier this month. I guess the half wasn't far enough for her so she continues to strive, setting a great example for her sorority sisters and her community.
The field at War Memorial Stadium took on a party atmosphere as stair climbers finished. Walking off the exertion, laying on the football field resting or just wandering around enjoying the music and commotion. There were inflatables for the kids to play on, music to dance to and more active fun like Hula-Hoop competitions. I look forward to attending next year and trying my legs on the climbs.