Just a few days ago, a client and long-time friend, asked me a really interesting question… "Hey Ben, how long have you been an endurance athlete?" As a coach slash physiologist slash nutritionist slash business owner, rarely are you provided the opportunity of time luxury to sit back and reflect on such questions, so it was with uncertainty did my immediate arithmetic (predicated on my first bike purchase) provide me with the appropriate answer – "Well, I guess about 19yrs." "Really?" He said, almost surprised by my answer not in as much as it was an unfathomable number, but because that figure represented over half of the years I've been on this Earth. "I bet the sport in Arkansas has changed considerably since you first began wouldn't you say?" My answer, "Oh, my God has it ever…"
My first bike purchase, at the age of 13, was a Giant Rincon mountain bike which I purchased from Chainwheel from a salesman who must have thought I was a complete idiot, due to my demeanor and reluctance to purchase such a high-priced and high performance piece of off-road machinery. I think I paid about $300 for it. For all I knew, it might actually have been made of the silver reflecting at me when the sun shined on it's paint – afterall, it didn't even have a kickstand… a true sign of a HIGH performance machine. Little did I care, it was only for one purpose – training though an ankle injury sustained during a district track meet little more than 3 weeks prior to my purchase. I was a runner and not some pansy spandex-clad bike rider. Little did I know that bike would catapult me into a lifestyle that now permeates through every facet of my life and would introduce me to a collection of individuals that would provide the catalyst for lifelong health and friendship.
As I continued to ride, like most cyclists, I had a hunger for speed and performance and, as a result, took more to the roads than to the trails. It was during this time that the single most transforming moment in my athletic career occurred… I got passed by a road cyclist. That road cyclist's name was Jeff Goff. Back then, circa 1997, triathlon in Central Arkansas was in it's infancy and the sight of a "tri bike" brought only confusion and feelings of complete futility because there simply weren't any tris in which to participate at that time. Afterall, the sport really only became mainstream in the early to mid 90's and had little following due to the sparcity of equipment outlets or events on which to focus. At that moment, I made the decision to visit a little store over on Bowman Curve right called Arkansas Cycling and Fitness for a "proper" bike that could satisfy my urge for "velo"city. The year was 2001 and the Armstrong Era was in full swing. Anybody who was anybody needed a Trek and that's exactly what he (Richard Machyek) gave me. It was this bike that carried me to my first ever triathlon, which was situated at the picturesque Lake Degray under the direction of the one and only Fred Phillips. It was his first every triathlon and Don Starr the now-owner of the Sporty Runner in Conway, AR convinced me that If I was to ever enter the foray of multisport, this was the event that was to do it for me. I entered having no idea that 13years later I would still be racing Fred's events and that they would become a mainstay in the Central Arkansas endurance community. I was addicted…. in a big way.
I loved and cherished that bike… right up to the point where I irreparably damaged it in one of Bruce Dunn's first Joe Martin Stage Races. Because the crash was caused by an obstruction in the course that shouldn't have been there, Bruce actually offered to compensate me for the wreckage, a gesture that I haven't forgetton to this day. Little did I know that he would soon "compensate" me by chasing me down in the closing miles of the 2005 Arkansas State Championships race after a suicide 40mi solo break. Thanks Bruce. I took the bike to Bikeseller.com where a kind gentleman named Craig Zediker took the pieces of my beloved Trek 2300 and exchanged them for a "tri specific" Cannondale Ironman with these radical new wheels that "are supposed to speed you up rather than slow you down"… hey I'm just using his terminology. I think he called them Spinergy Rev-X's. Only a year later they would rendered invalid when a series of horrific accidents involving one of the four bladed carbon spokes impaled the bodies of a few unlucky riders. Well, I think I still have them somewhere in my parents basement. Regardless, I was now OFFICIALLY a triathlete and I began training under the guidance of Erik Leamon who was compensated for his multisport expertise and coaching by an indentured servitude as a bike mechanic/janitor at his new bike shop which he called "The Ride". "The Ride?" I said. "Why 'The Ride?'", "Because that's what I want people to remember when they get off their bikes." He said. Erik has been an example in my life ever since.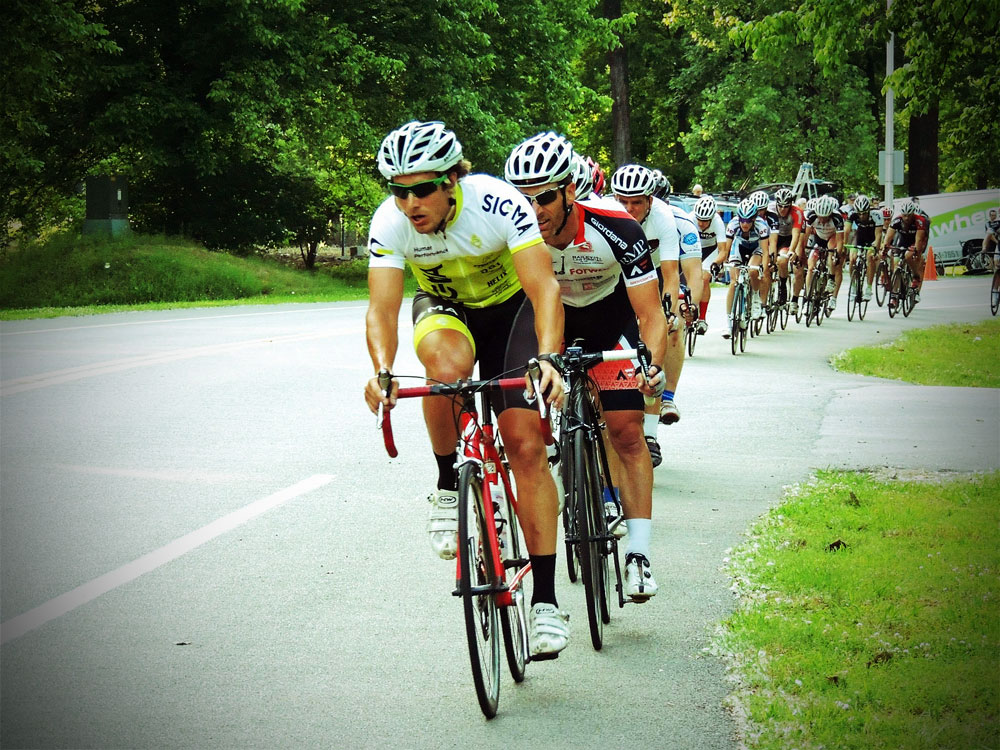 I continued riding, racing, and training with the likes of Richard Green, John Saxton, John Ed Moore, and of course Jeff Courtway who really deserves the credit for my addiction. He introduced me to the CATS Sprint Tri which was originally held in Conway at Beaverfork Lake and served as the State Championship Triathlon for many years.
Now, as an official bike-shop employee, my budget (and appetite) expanded to bikes that were lighter, stiffer, and made of a new kind of material that was supposed to revolutionize the bike industry – carbon fiber. Because Erik carried Specialized bikes, I took to them immediately and became immersed in the art of bike racing. The first year of the Burns Park Crits, The Ride Team loaded up, headed to equipment, and became introduced to the Evil Empire known as CARVE. They raced smart, had hand signals, and dominated every race. I hated them with every fiber of my being. If we didn't win a race, it was CARVE's fault. If our men in the break were brought back to the fold, it was because CARVE organized and chased them. If I didn't make a stoplight on my way to class and was late, CARVE was responsible. Little did I know, years later, not only would my business sponsor the team, but I would be one of their biggest supporters. Oh, does time change attitudes and opinions… more on that later.
I trained and competed in every race I could find, which mostly ranged from any of Fred's tris and road races, to century rides like Hotter'n Hell 100. It was an addiction that only seemed to grow with every season. As one of Erik's employees he always made sure that the equipment I was riding was of the highest caliber – often to his own financial detriment.
When grad school took me to Great Britain and continental Europe to complete a course of study in Exercise Physiology, I had the opportunity of riding and racing with some of the most talented athletes and beautifully challenging courses on the planet. However, I maintained close ties with my community in Central Arkansas and they never, for one second, let me feel alone even though I was so far away from home.
They phrase, "it takes a village to raise a child" is something that we often quote without ever fully realizing its complete meaning or in how many settings it has significance. Little did I know, when I made that first purchase from Chainwheel so many years ago, it would set in motion events that would cultivate a life both personally and professionally, with an intention to uphold the values that so many people contributed to it… whether triathlete, cyclist, or both – most all of these individuals I met on our around a bike; many of whom I still see regularly. Most people who know me also know that I founded Sigma Human Performance, a company devoted to the cultivation of the endurance athlete. My life revolves around its movements and it has become an extension of my devotion to the sport.
When I look back on my life as an endurance athlete I see a collage of familiar faces, all with smiles, beaming encouragements and creating pathways of success for me and those like me. While I am an only child, I was blessed with an incredible family of brothers and sisters, moms and dads, who have taken the upmost care in endlessly challenging me to be a better version of myself in one regard or another. I have laughed, cried, fought, cheered, succeeded and failed with them. But no matter what, we see each other again, possibly at a race, possibly around beers after a race, or even a feed zone, but regardless of where I see them, they are always adorned with the same infectious smile beaming nothing positivity and confidence.
There's one thing that Lance Armstrong did actually get right – It isn't about the bike, it's about the relationships formed as a result of sharing a passion in something so innocent as riding. We in Central Arkansas have a community of people that you cannot find anywhere… believe me I've looked. We have such a vibrant community of individuals who are all willing to do their part to contribute to preserving what we enjoy. For all who have contributed to shaping my life in the manner in which it has shaped, Thank you. If you are new to the community of Central Arkansas endurance athletes, I cannot say this to you any other way: On behalf of all of us, welcome. You've found your home.