"I have an existential map. It has 'You are here' written all over it." Steven Wright
Last month we asked our readers to let us know about their favorite map applications. There are obviously a lot of options out there these days, most of which take advantage of various government efforts to map the world including lidar, satellite location, etc. Most of us have navigation systems in our cars, on our phones, on our watches, and on outdoor workout devices. If you Google "mapping", you are presented with all kinds of mapping. Mapping the brain, human genome, etc. For our purposes, we are talking about finding our way in the wilds.
When I started hiking and backpacking in the late 1970s and early 1980s, my friends and I would sit down with US Forest Service Quad Maps. These would be ordered through catalogs, purchased at outdoor shops, or, in Little Rock, could be bought at the Arkansas Geological Survey. Using these maps in the field required a compass. This technique allowed us to navigate off-trail on numerous multi-day backpacking trips throughout Arkansas, the Rockies, and the Appalachians. Once on a backpacking trip in Idaho, we were confronted with forest fires and had to change our plans. We spent an afternoon with our paper maps and found a new hike that would keep us away from both the fires and the smoke. Our years of experience with topographic maps saved the vacation.

Modern Wilderness Navigation
Today, there is a plethora of online applications for finding our way in the woods and on the water. There is a twist to most of these apps.  Many of these apps track you so they can easily tell you where you are. When you sign up for these, you'll notice that the app asks for permission to use your location data. This is what makes these so exceptional. Another thing to understand about these apps is that the terrain (mountains, rivers, lakes, etc.) is generally accurate but other things change like buildings, trails, etc. Most of these man-made features are kept up to date by users. either through volunteers or just by watching user experiences via that request to access your device's navigation. This is similar to when you check-in at a restaurant on Facebook when it asks you a series of questions (hours, phone number, etc.). This is the app creators' way of keeping things up to date.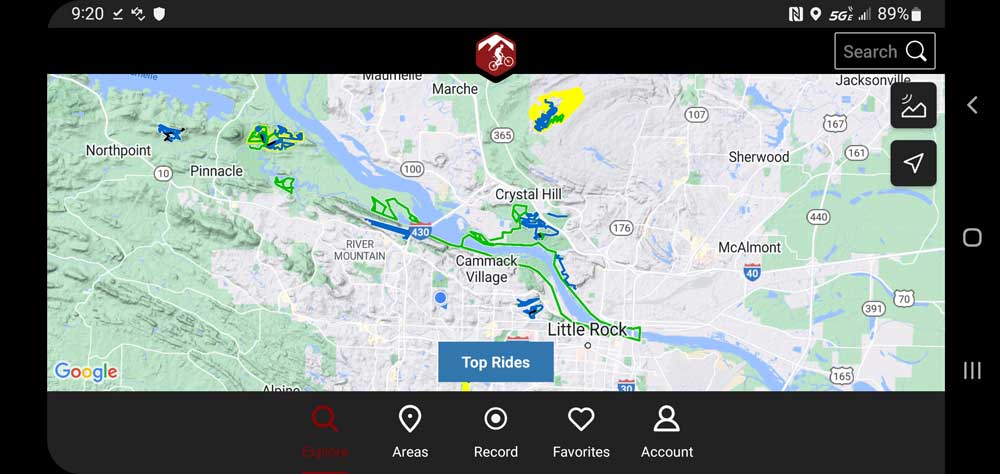 How Does It Know?
The most used device for navigation these days is the smartphone. The location systems usually use satellites to locate you. The trick though is that is just a coordinate and will mean nothing to most people without that coordinate being placed on a map. So your phone normally will use a map it obtains through the cell phone signal. These work together to show you where you are. But what if you don't have a cell phone signal? The navigation system in your car uses a map that is built into the unit along with the satellites. For this to work on your phone, the user generally has to pre-download maps while the smartphone has access to a cell signal or WiFi. In other words, you still need to plan your trip. Cell phone signals can still be nonexistent in many remote areas of Arkansas. So if you want to use your phone for navigation for your trip to Devil's Den State Park, the Buffalo National River, or the Ouachita National Recreation Trail, check with your mapping app of choice and make sure the map is downloaded for the area before you leave. Another thing to remember is even if you have previously used the map, it's best to redownload before each trip as the maps may be updated from your last visit. The worst time to see if your map is working is when you are already lost.
"The time you want the map… is before you enter the woods" Brendon Burchard
Which One Is For You?
As stated, there are a lot of mapping apps available for your smartphone. Here are some things to consider when choosing:
Easy of use – The easiest is probably the one already built into your phone, mainly because everything is already automated and you are already familiar with it. The downside is that it may not have all the information you are looking for including trails, points of interest (waterfalls, footbridges, etc.), or offer elevation data which can be very helpful when traveling under human power.
Specific to your mode of transportation – Some apps are better for mountain biking, hiking, paddling,  or even climbing. Some combine many of these while some keep them separate.
The popularity of the app – Since most of these apps are updated by the users themselves, a good rule of thumb is that the more popular mapping systems will be more up-to-date.
Cost – Some apps are free, some offer more features for a premium, and some cost to use at all. This will be a personal decision that will depend on how much you expect to use the app.
Here is a list of some major apps (there are many more) along with where they fell on last month's survey.
AllTrails – 23% – Comprehensive trail app, used by many hikers.
TrailForks – 15% – Started as a mountain bike trail app but is expanding.
MTB/Hiking Project – 15% – Adventure Projects has separate trail apps for climbing, mountain biking, hiking, trail running, and snow skiing.
GAIA – 15% – Comprehensive trail app.
Other – 8%
No App – 23%
As with any outdoor experience, success and enjoyment hinge on preparation. Knowing where you are going and how you're getting out is only part of preparation. Always remember water, food, clothing choices, and most importantly, letting someone not on the trip know where you are going. Also, have a plan for when the batteries die.
---
Check out our hot weather information and remember to cast your vote for your favorite lakes in the June Survey.