"I tell our runners to divide the race into thirds. Run the first part with your head, the middle part with your personality, and the last part with your heart." – Mike Fanelli
The course for the Cajun Coyote naturally helped plan how you would run the event.  Five laps on a 20 mile single track loop trail around the lake at Chicot State Park in Ville Platte, Louisiana.  A beautiful venue with long gangplank walkways elevated above the picturesque cypress swamps around the edge of the lake.  The trail was open and wide under a high tree canopy, most often packed dirt (soft on the feet) with only one small stretch exposed to the wind.
Goal number 1 and the most important part of the race…. don't run the first lap too fast!  My target pace was around 4:30 hours.  I started at the front of the shivering pack in 33 degrees at 6:21 AM on Saturday morning and went slowly so people would pass me as we worked our way towards the trailhead.  I was eyeing the pack for a special someone…someone who looked like they knew what they were doing, someone who had a similar pace, someone who had the look of experience.  I spotted her a few miles in.  A running skirt from SparkleSkirts.com (with a dinnerware pattern of knifes, forks, and spoons), one bright orange and one bright green set of compression socks, and a well-worn set of high end running shoes.  Her name was Betsy and she was a personal chef from the Northwest.  She had run 60+ marathons and this was her 48th ultra-running event…and she had a target first lap time of 4:30-4:45.  Perfect!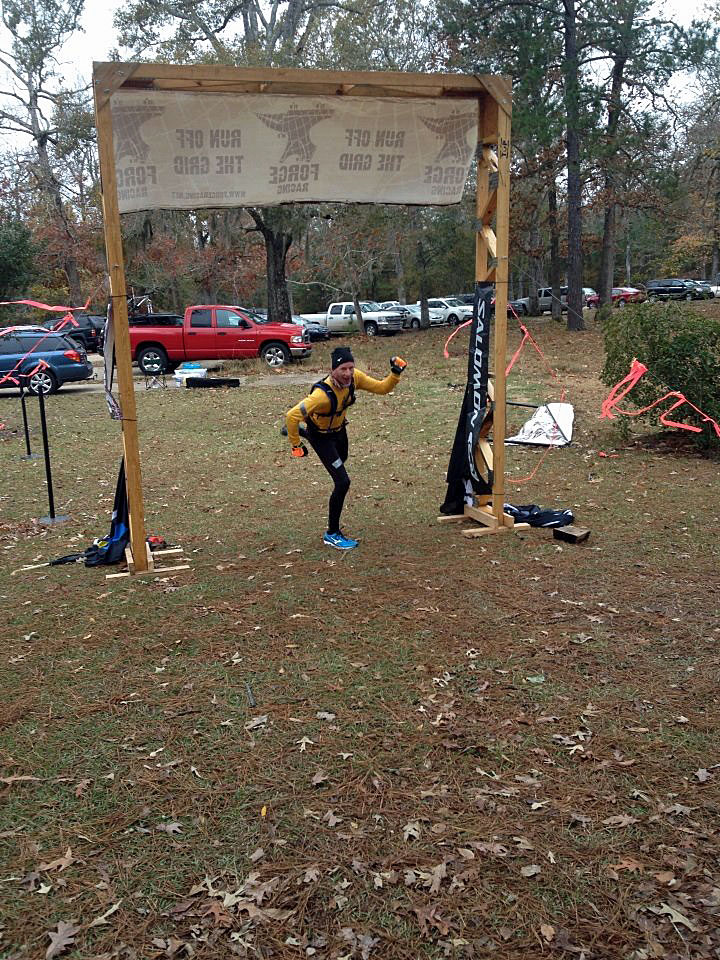 Betsy and I hit it off right away.  We chatted and told stories, we saw her husband pass us going fast, she adopted me as a trail newbie and I was happy to have an experienced runner pacing me.  She kept me walking the uphills and running a good easy pace on the downhills and flats.  It was all going so well.  I knew Betsy could get me to the end of this event and we hoped to finish the race together.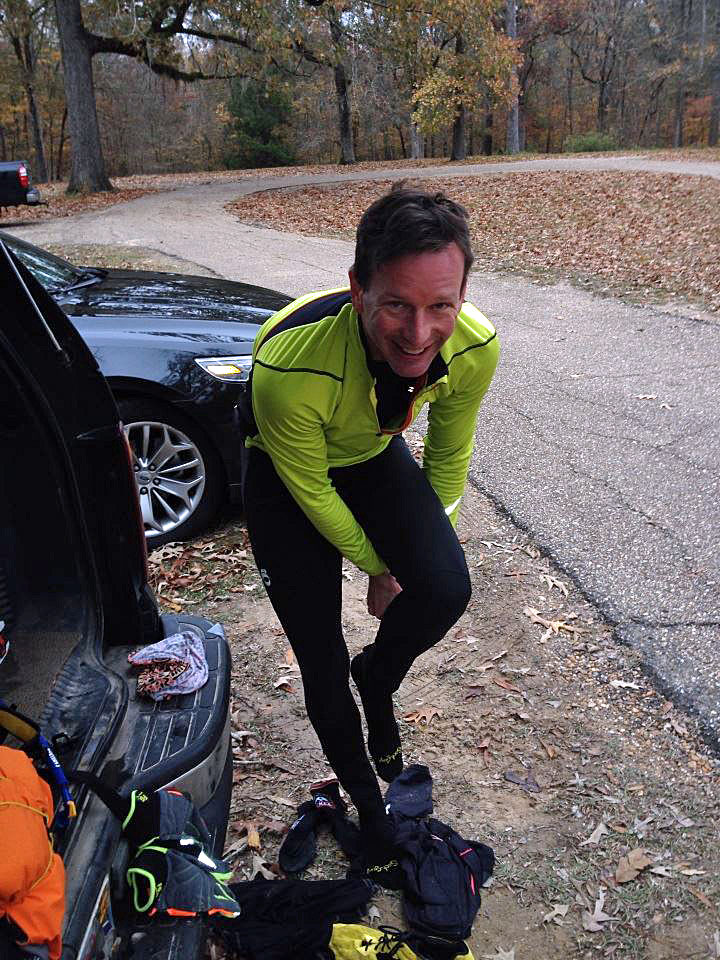 I should point out that finding someone to run 100 miles with is a tricky endeavor.  It is not proper ultra-etiquette to just pick someone and tag along, or even to start talking with another runner.  People have plans, routines, and pacers all figured out way in advance for their special event and don't want a strange runner to come monkey-ing around and messing things up.  To find Betsy with all her experience, and enjoy running together without getting on each other's nerves was amazingly lucky.
Our dream run lasted for several laps.  Into the night we went, and things began to slow down.  Betsy's jogging pace was equivalent to my fast walking pace (I have size 14 feet and they cover a lot of ground).  I started to fall asleep as the pace become slow and monotonous, on occasion walking off the trail into the woods in a sleepy stupor.  I had to do something to wake up and get going.  I dreaded taking a caffeine pill because I would then need a succession of them to keep going.  So I put in my ear buds and cranked up my MP3 player.  The music did the trick and I was moving and awake again.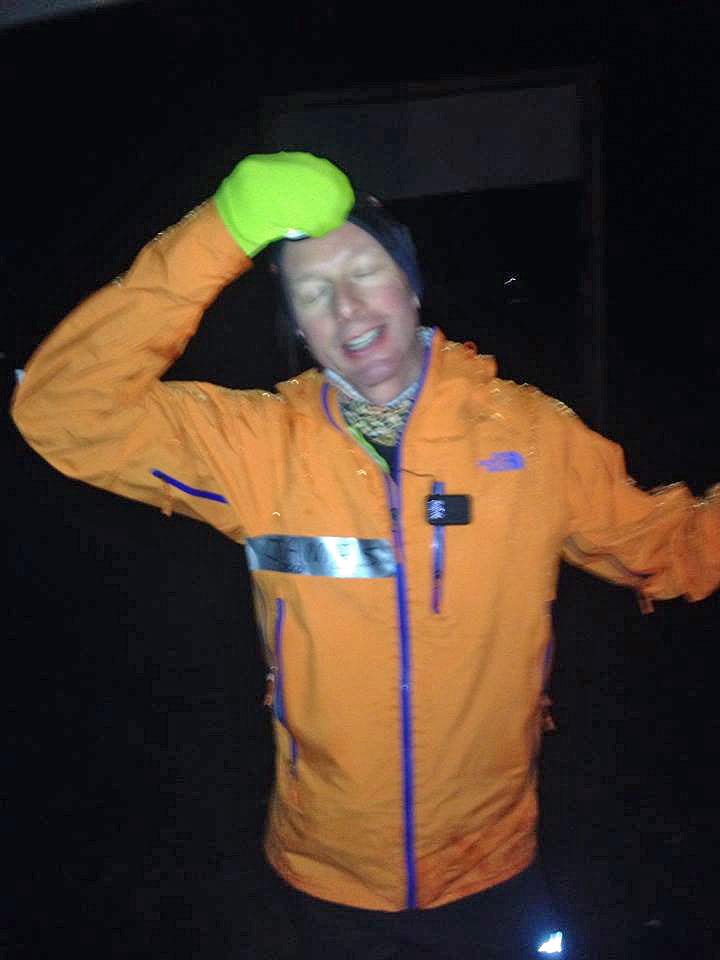 Unfortunately Betsy had started to slow, every lap becoming a little longer with the 4th lap taking 6:40.  All the fast walking had caused my right shin splint to flare up.  It hurt every walking step, but running was fine.  As we huddled in the start/finish at 4:30am about to embark on our fifth and final lap I had to make a hard decision.  The rain was coming down harder, Betsy was getting slower, and possibly in jeopardy of finishing under the 30 hour cutoff time.  I could not fast walk anymore.  The tough call was I needed to run because of my shin splint, because I had come to run, and I had come to finish my first 100 miler.  Betsy and I hugged, she promised to keep up as best she could and we jogged off to the trailhead.  Betsy ended up with a great finish time of 28:10.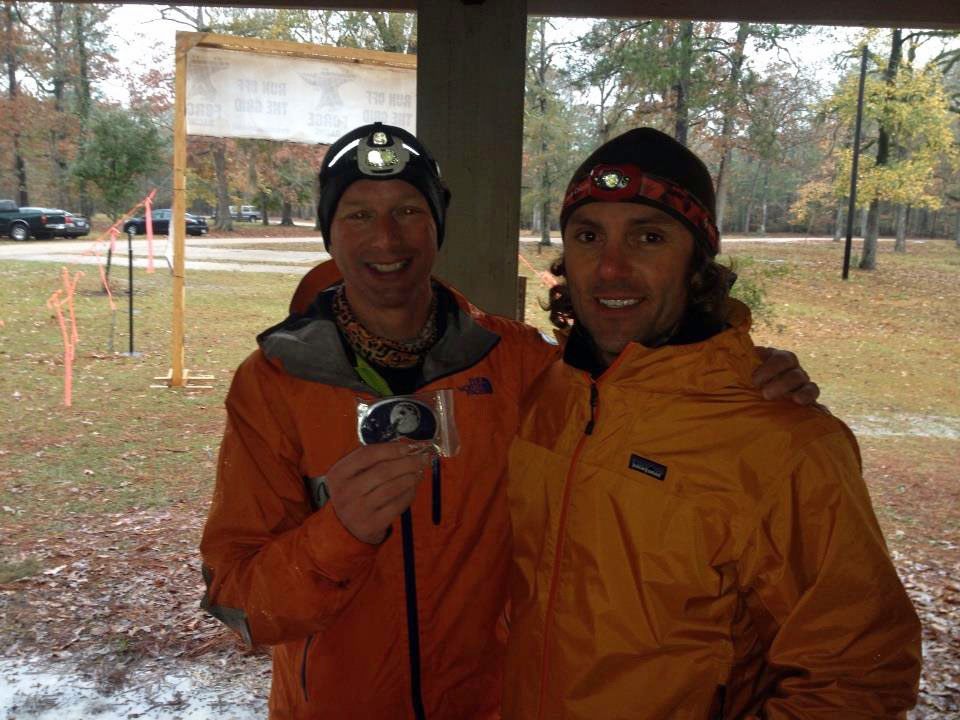 The advice I was given by Tina Lewis, women's winner of the 2012 Leadville 100 running race  was "it's better to go in undertrained and rested than even 1% over trained."  That was a big part of my training and tapering plan put into effect five weeks before the event.  I felt it as I rounded the first corner of the last lap and my legs were happy to grab some trail.  They carried me amazingly fast to the first aid station and kept going strong until mile 16, the last aid station.  There, the rain came harder; the trails were drowning in water and debris.  Every little uphill was a battle but I wanted to complete my last lap and the event as strong as possible.  The pain came and I did not care.  I kept pounding down the trail.  The faster you run the faster the miles go by I kept telling myself.  I fell once sliding in the mud, ran off the trail twice in sharp corners and almost hit three trees.  The effort paid off and my last lap was my best at 3:56.  I was joyous to cross the finish line in 26:05.
What did I learn at my first 100 mile race:
1. Going slower takes longer.
2. One cup of lentil with potatoes is enough, two cups makes for an unhappy stomach.
3. Run your own race.  The trick is knowing what your "own race" should be.
4. Music is awesome for keeping you awake and on the trail.
5. Good friends, crew, coaches and love make all the difference.  Love your supporters.
Thanks for being there with me Arkansas Outside, for all the comments, congratulations, "Likes" and support.
A special thanks to my buddy Brent, because of him my first 100 mile race event is well documented and shared back on the Arkansas Outside Facebook page.  Brent was exceptional and took the best care of me before, during and after the event.  I highly recommend everyone get a Brent.
A big thanks also goes to the Original Mud Babe, Sophia Wharton, who taught me how to run an ultra and has coached me every step of the way (the picture above at mile 60 is of me talking to her on the phone during the race).  She is an amazing runner and you should follow her on her Ultraphia blog.
(Follow James on his journey to achieve Leadman status: The Road to Leadman and Embracing My First 100 Mile Run.)
Results at http://ultrasignup.com/results_event.aspx?did=19051