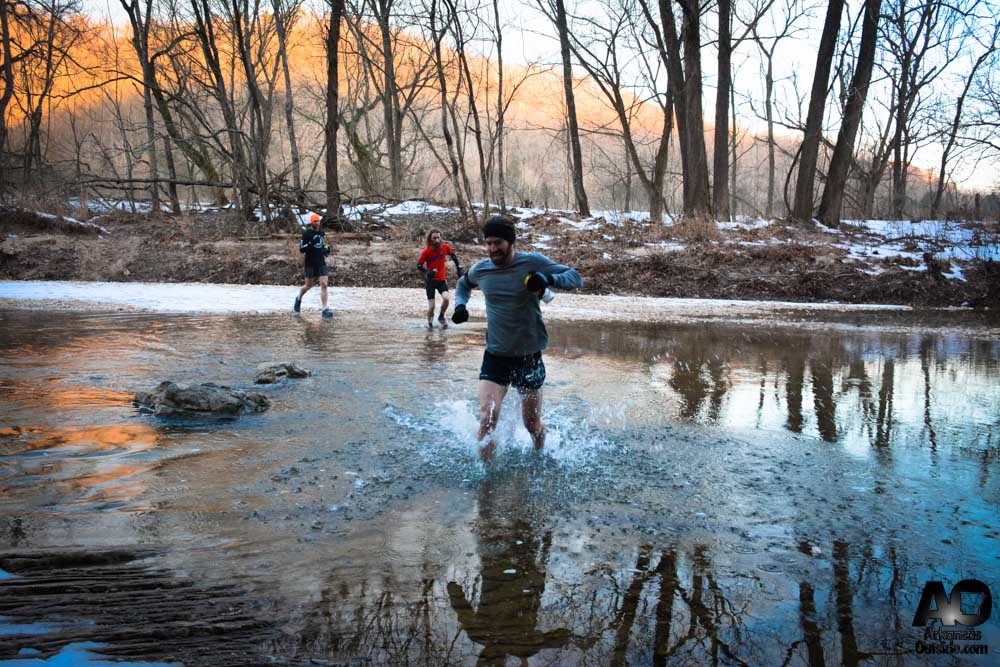 The Sylamore trail holds very special memories for me and the annual Sylamore 25/50K race has been on my races I want to do radar for a couple of years. I was a little disappointed when the race sold out in less than 20 minutes and I hadn't gotten a spot. Luckily, as sometimes happens with races, spots started opening as registered racers found they couldn't attend and had to give up their bibs. Just a couple of weeks before the race I was able to get a spot and could look forward to a day on the dirt with my friends.
A few years ago, not long after Joe and I first met, he asked me to go backpacking with him. Later his story was that he wanted to "test" me, to see how I handled being in the wilderness for a couple of days to make sure I was going to fit the idea he had for the person with whom he would spend his outdoor loving life. He took me to Sylamore. I was in love. With the Sylamore. And eventually with Joe too. I continue to be grateful for a partner who loves the dirt, who taught me to love the dirt more and who encourages me to love the dirt more every day. All this sentimentality just sweetens the timing of this year's Sylamore race which fell on Valentine's Day weekend. Instead of spending Valentine's Day putting flowers in a vase, opening gifts of sparkly things and going out to dinner at a nice restaurant, I spent the day laying out race and post race clothes, trying to decide how to layer for a race start of 23 degrees, gathering the food and sundries we'd need for a day of me running and poor Joe standing still in the cold taking photos before we would pile in the car and head  up to Mountain View.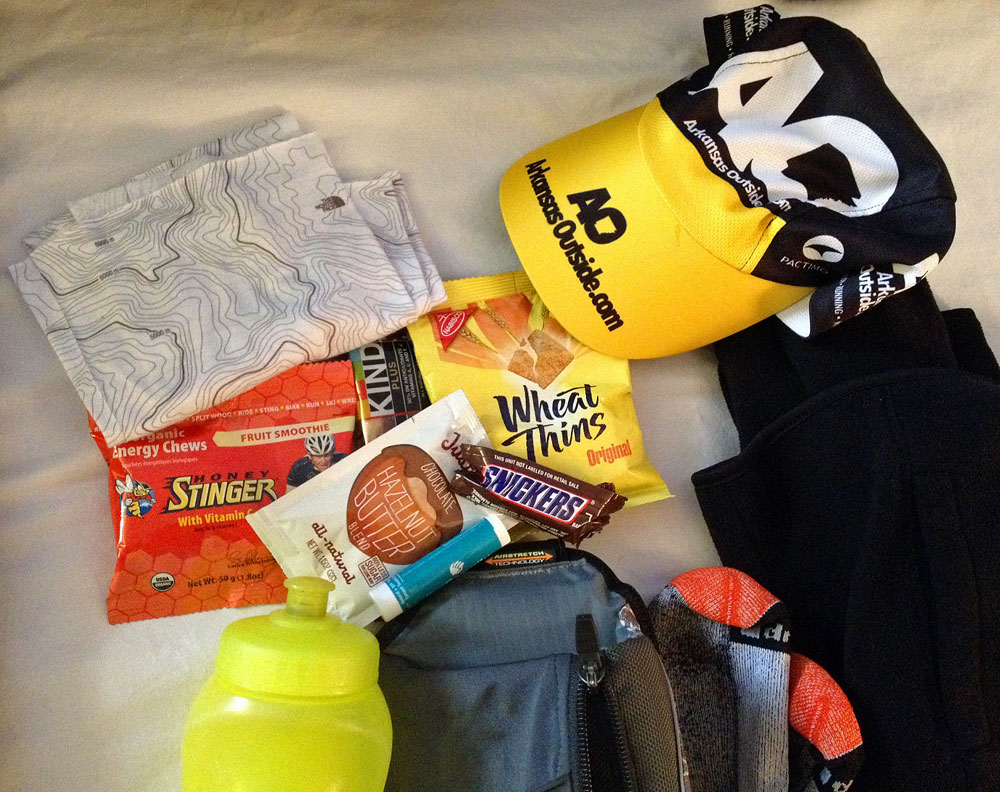 As we drove north and as I occasionally looked up from the book I was reading, I began to notice just how much snow was still on the ground in the yards along the road. Reaching Mountain View, there were large expanses of white on the ground and a few roads were still largely impassable or at least dangerous due to the melting and refreezing snow. I was mentally preparing for a day of falling gracefully, hoping that if I slipped around that all those balance exercises and mountain bike skills would pay off and I wouldn't crack a tailbone out there. After checking in at the always welcoming Dry Creek Cabins at the Ozark Folk Center, Joe and I drove to Angler's, the site of the packet pickup, start, finish and post-run celebrations. The staff at Angler's deserve a huge thank you for putting up with cold runners cramming into the store to keep warm before the race and stinky runners hanging out in their parking lot for hours and hours to cheer, eat and recover after the race. I've long been a little envious each time I see a runner wearing a Sylamore 25 or 50k hoodie. They are coveted by trail runners, proof of  bragging rights for finishing one of the toughest and most popular trail runs in Arkansas. In the parking lot I noticed a lot of license plates from Tennessee and Missouri. This is another of those races for which runners are willing to travel.
The morning dawned with the expected sub freezing temperatures as racers huddled to stay warm before the start. The 50K run started at 7 a.m. so I dropped Joe on Hwy 14 at the turn off to the trailhead at 6:30 so he could be at the first creek crossing for photos. The gravel road to the trailhead was still completely iced over so we decided not to risk driving down the hill.  I chose to go back to our cabin, mere minutes away, to enjoy the warmth and a bathroom with no line for a while longer until my race started at 8:00. I arrived at 7:40 to find that the 25K race would start at 8:30.  It seems the ice was becoming a factor in the race, slowing a few runners, especially in the back of the pack where bottlenecks were taking time to clear. The safe thing to do for the front runners of the 25K would be to keep them from running up into the back of the 50K run. While waiting, conversations turned to topics such as who was signed for the 3 Days of Syllamo, what's the difference between the Sylamore and Syllamo trails, and how many years the Sylamore 25/50K had been going. Twenty-one years is the answer to that last one.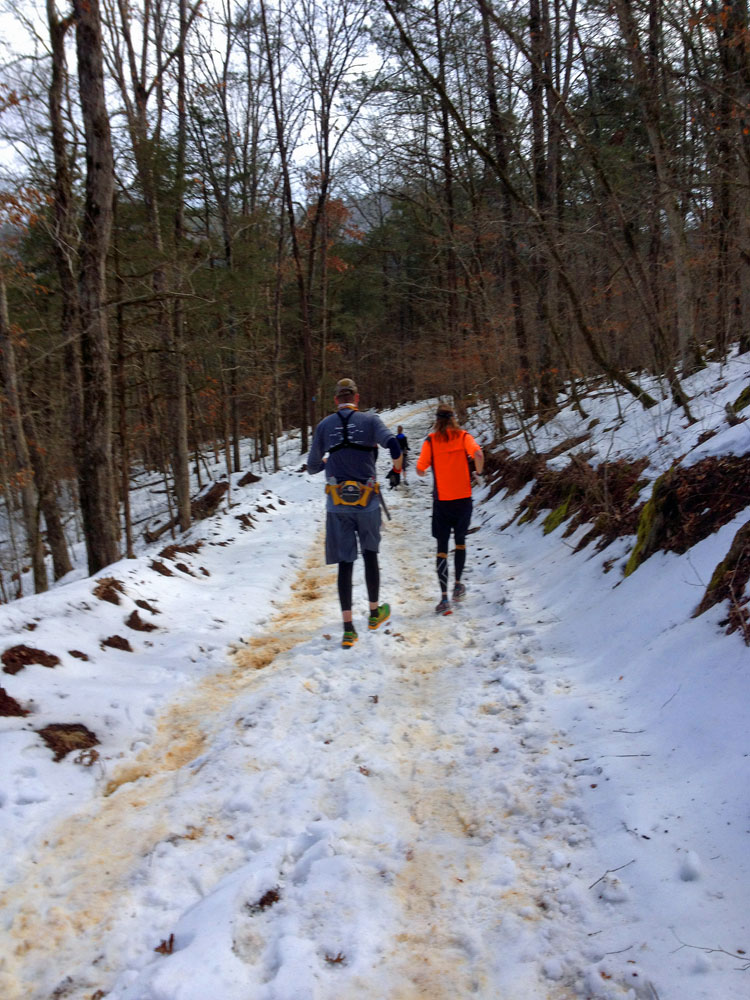 I went to find my own pack, friends that I planned to run with because the company is 99% of the reason I participate in these events. I found birthday girl and 25K first timer Cassandra, and our Sunday afternoon running buddies Stephanie and Melissa. We pulled Skip into our group and quickly formed a Little Rock runner train heading up Hwy 14. As soon as we turned off onto that iced over gravel road, almost everyone slowed to a walk. Some brave souls chose to run, a few slipped and fell and many of us were repeatedly slipping and catching ourselves. The temperature was still in the mid 2os and I don't think many of us were looking forward to crossing Sylamore Creek. The creek can run from a trickle to waist deep depending on the time of year and rainfall. It was just over shin deep for the race this year. We waited to cross, watching the runners on the far side navigate the steep and treacherously icy steps away from the bank. Many were crawling on hand and knees, realizing that a slip here would have dire consequences. Cassandra and I danced a tango through the creek when it was our turn to go, because if you can't have fun while freezing your toes off, you're doing it wrong. We all made it up the steps and onto the trail which alternated between slippery ice, shoe sucking mud and the occasional dry spot. Everyone was still moving slowly as we rounded the bend to the big waterfall at Roper Hollow. This area can be dry during much of the year, some call it the amphitheater; but on this day there were huge icicles, water flowing over the top and the trail in the shade of the overhang was slick with ice.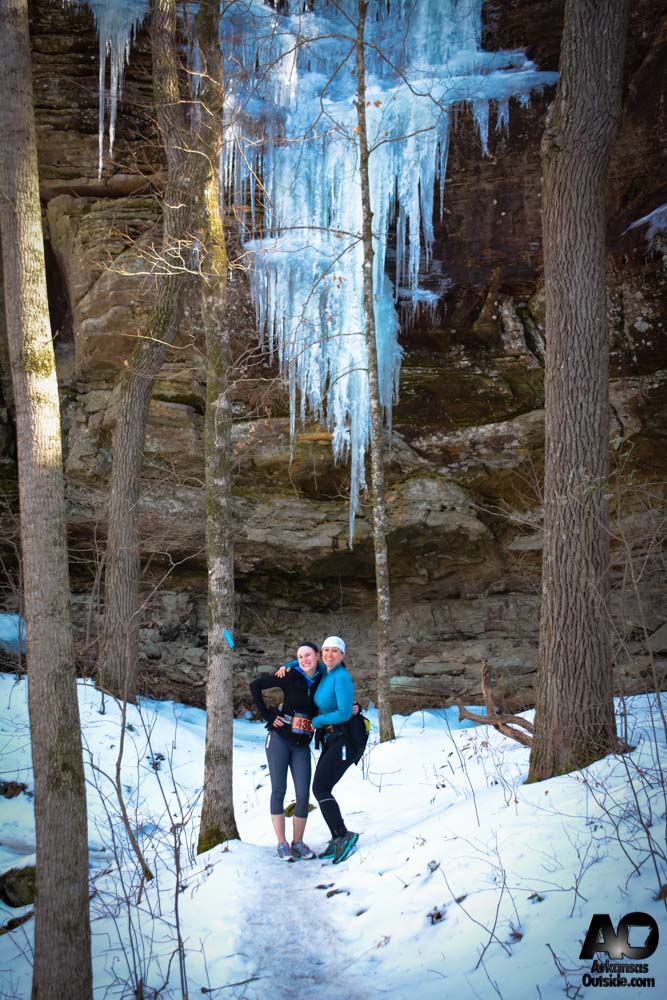 We spent the next four miles dodging mud, crossing cold streams, and trying to stay upright on the ice. There was an aid station at mile 5.5 with a welcomed bathroom, and helpful volunteers with food and water. As we headed up the steps leading to a steep climb on the trail that would take us up and over the pass to the hollow where our 25K turnaround would be, I passed our friend A.B. who was out cheering on his wife, it's always good to see a friendly face out there. We started to see a lot of the front runners for the 25K coming back, giving high fives to friends like front runner Ryan Garvin running for Arkansas Outside supporters Go!Running and long time AO friend Jeffrey Grove on his way to a 6th place overall finish. By the top of the climb, the trail and surroundings were completely covered in snow and with two lanes of traffic, it was difficult to keep anything other than a slow walking pace as we tried to give runners  heading back plenty of room. We descended down into another hollow where we knew we would find the turnaround. We stopped long enough to take a photo of a group from Memphis and had them take one of us before we all began the climb back up, already looking forward to the long descent back to the aid station. The 5.5 mile return trip from the aid station gave us a chance to enjoy the mud, ice and cold water all over again but this time we could enjoy the views out over Sylamore Creek and the big rock formations along the bluffs a little more since the trail had become much less crowded than it was on the way out. We stopped to appreciate the waterfall at Roper Hollow that was a bottleneck in the morning, and jumped a bit when the sun and rising temperatures caused a large chunk of ice to slide off the rock overhang, crashing to the rocks below. But we weren't out there for a nature hike, we were supposed to be running so we headed toward Sylamore Creek for one last water crossing and photo op. Leaving the creek I was struck with a memory of standing in that field on a warm Spring day many years ago, the first time I fell in love with the Sylamore. And the memory kept me warm all the way to the finish line. Enjoy a few highlights including a real riverdance:
2014 Sylamore 25K/50K from ArkansasOutside on Vimeo.
We have over 1500 photos on our Facebook Page for your viewing, tagging, sharing, commenting on and liking pleasure.
Results and other race information can be found at Agee Race Timing.