From Summer, 2012
Much of Arkansas is currently under severe/extreme drought conditions. It hasn't rained much here all summer. Every time we get a few drops Facebook lights up with tongue-in-cheek questions about what is falling from the sky. If you are a kayaker, it's been a disappointing Summer for floating. Or has it?
We've been wanting to do some floating this summer and to hear much of the media talk, that would be just a dream but really, if you prefer slow easy paddles, exploring the shoreline, and moving with a very gentle current, Arkansas still has plenty of great paddling. On a recent trip out west from Little Rock, I took note of a place that I had been planning to explore a bit. It looked like it had plenty of water. We planned an early morning trip for this past Sunday to take advantage.
If you go west of Little Rock on Highway 10 you cross Lake Maumelle. The lake area west of the bridge has recently been opened up to kayaks and canoes. (Why the whole lake isn't open is a whole other story.) If you want to float this area the best place to put in is less than a half-mile beyond the bridge staying on Highway 10. On the south side of the road is a small recreation area called Sleepy Hollow. They have a boat ramp, picnic tables, and parking. The area was recently renovated and is a really nice place to have a picnic or to stretch your legs. Look to the left on this map to see where the recreation area is and the area where canoes and kayaks are allowed.
Lisa and I were joined by some old friends, Robin and Brian for a quick trip through the area. The water is a bit low so the trip up the river was short but still beautiful. Brian had come to this area in his youth and remembered rope swings with questionable engineering that launched folks out into the middle of the river.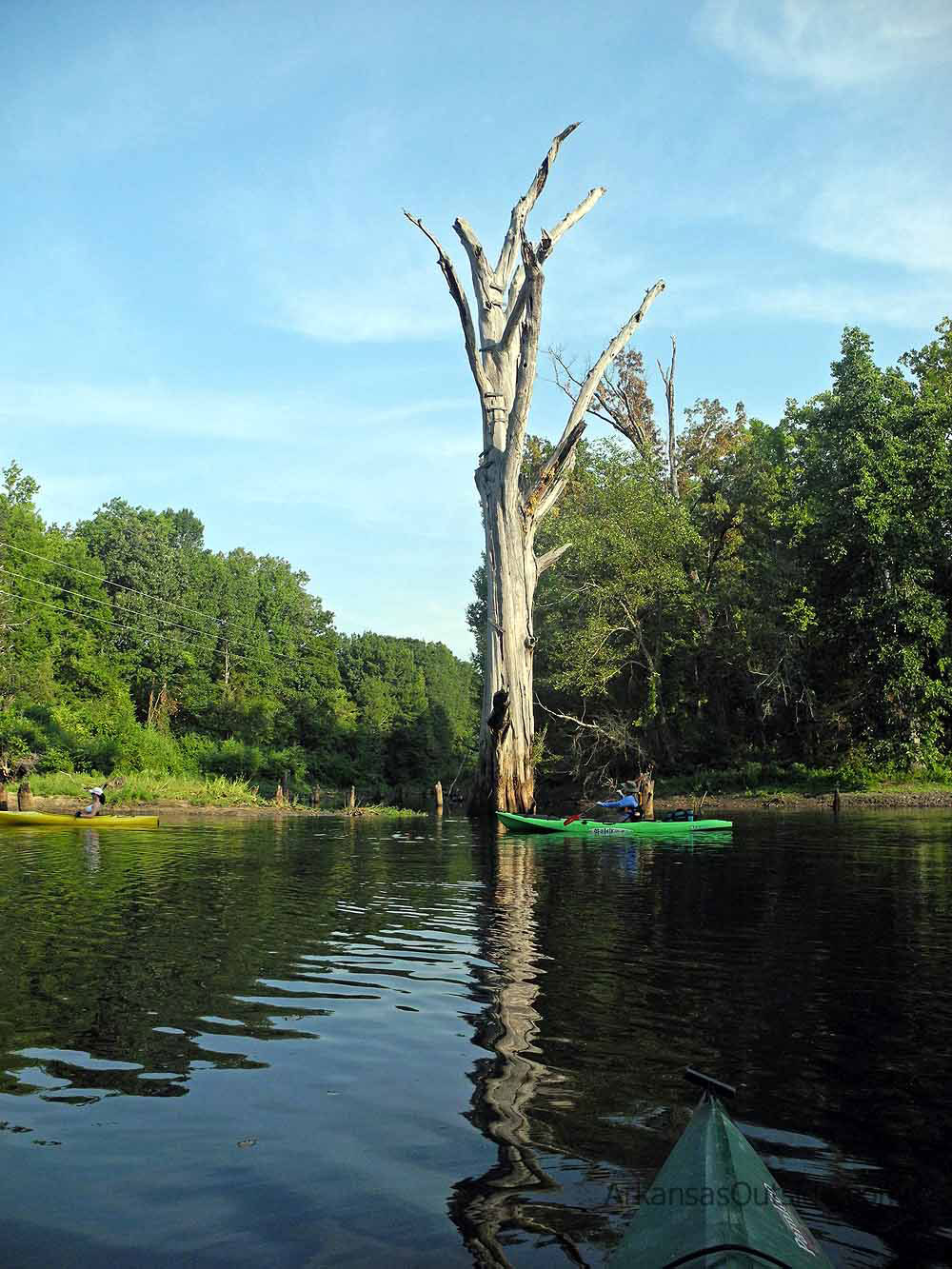 As we went upstream the cypress trees took on an eerie look as the root balls were exposed by the low water. If these trees had been featured in a Tolkien book they would have started walking around and talking.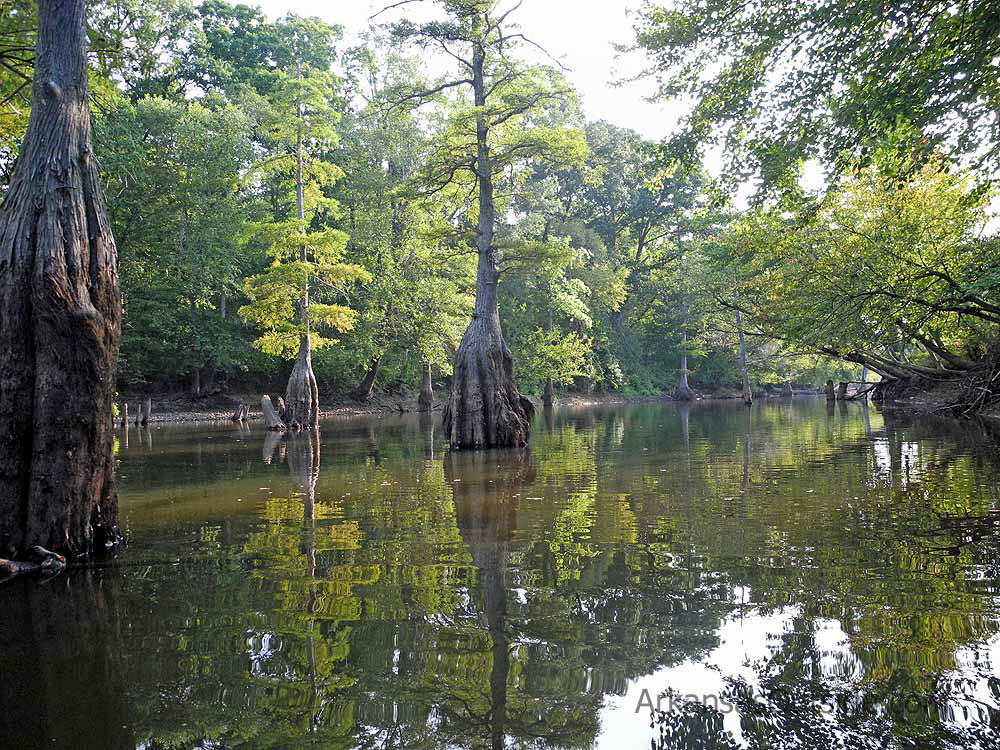 We really enjoyed seeing all the birds in the area. A flock of Canada Geese flew over us in formation at one point. This upper area is a place I'd really like to explore some when the water is back at normal levels. I've seen some of the sections farther upstream during hikes on the Ouachita National Trail and it looked beautiful.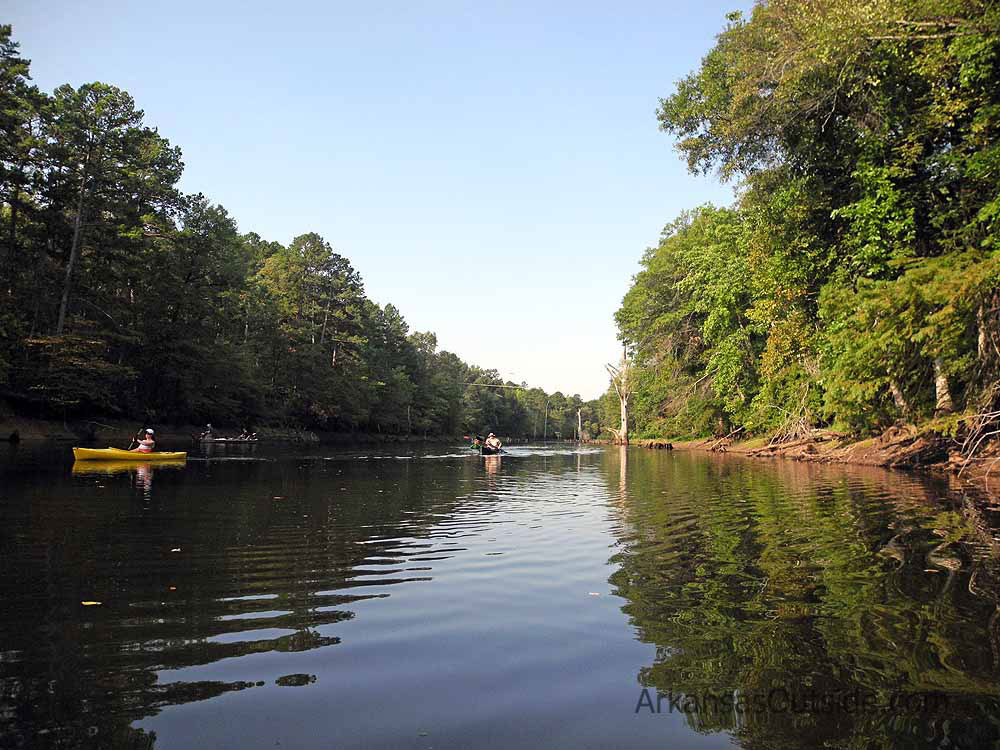 Once the cypress trees turned us back we headed downstream to the lake. where we came across even more birds. White Herons, Egrets, and others that I can't name. We found this lone rock in the middle of this portion of the lake and someone mentioned planking on it. Lisa was up to the challenge as always. So now she can add planking on a rock in the middle of a lake to her list of accomplishments.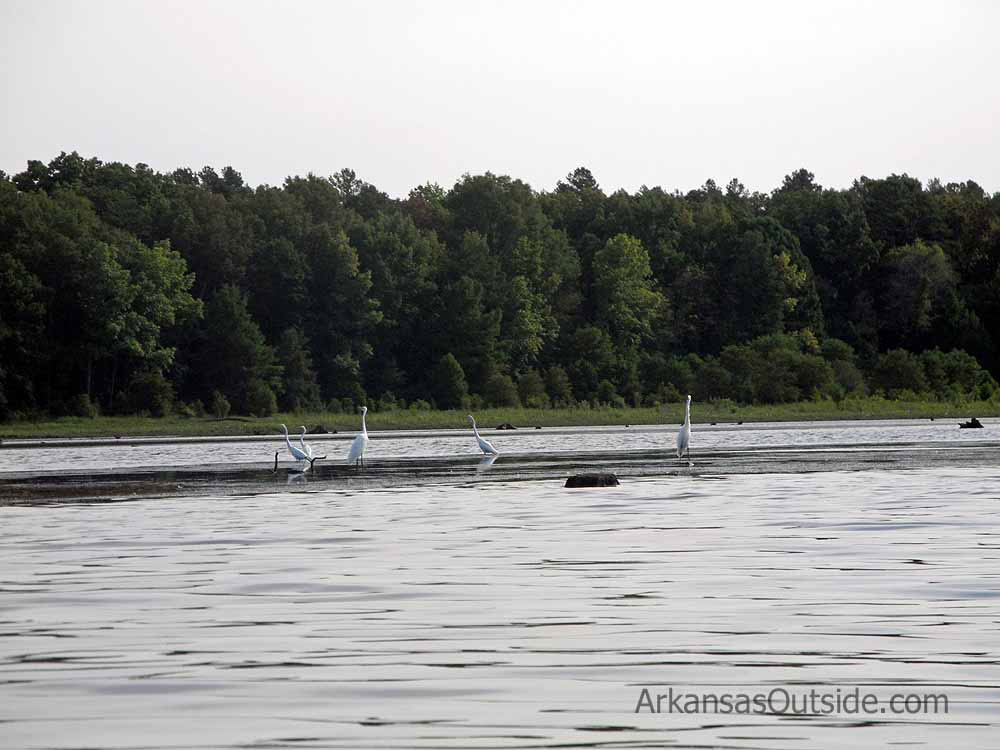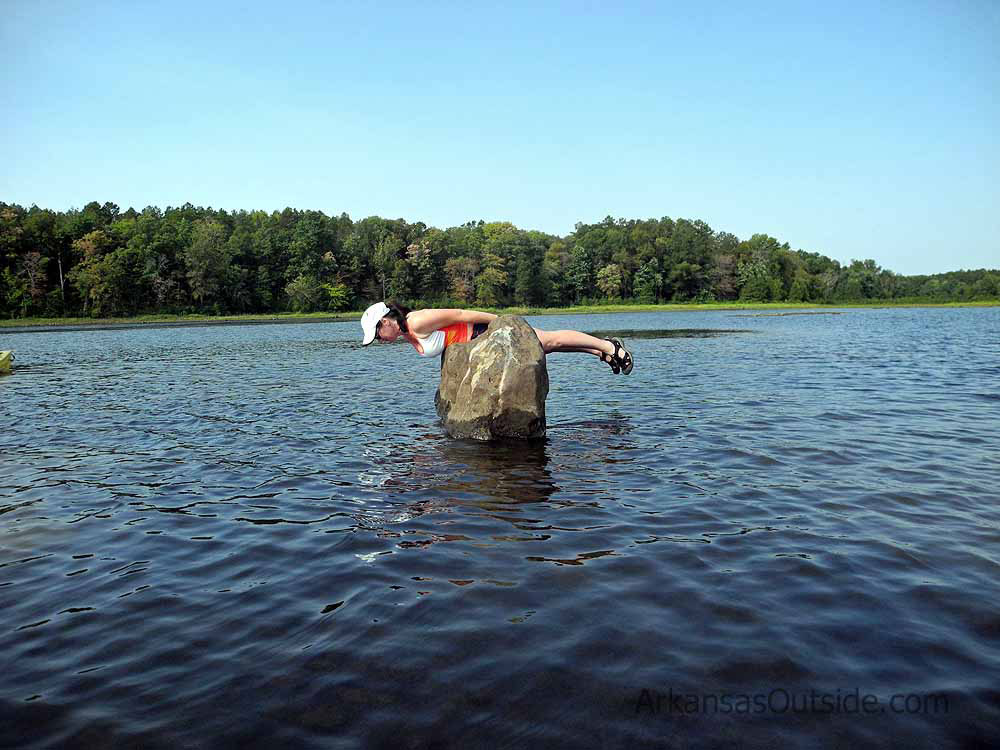 Then it was on to the bridge to get as close to the area that we are not allowed in as we could (we are almost outlaws). We turned and chased a few more birds around the lake area and then headed back to the boat ramp.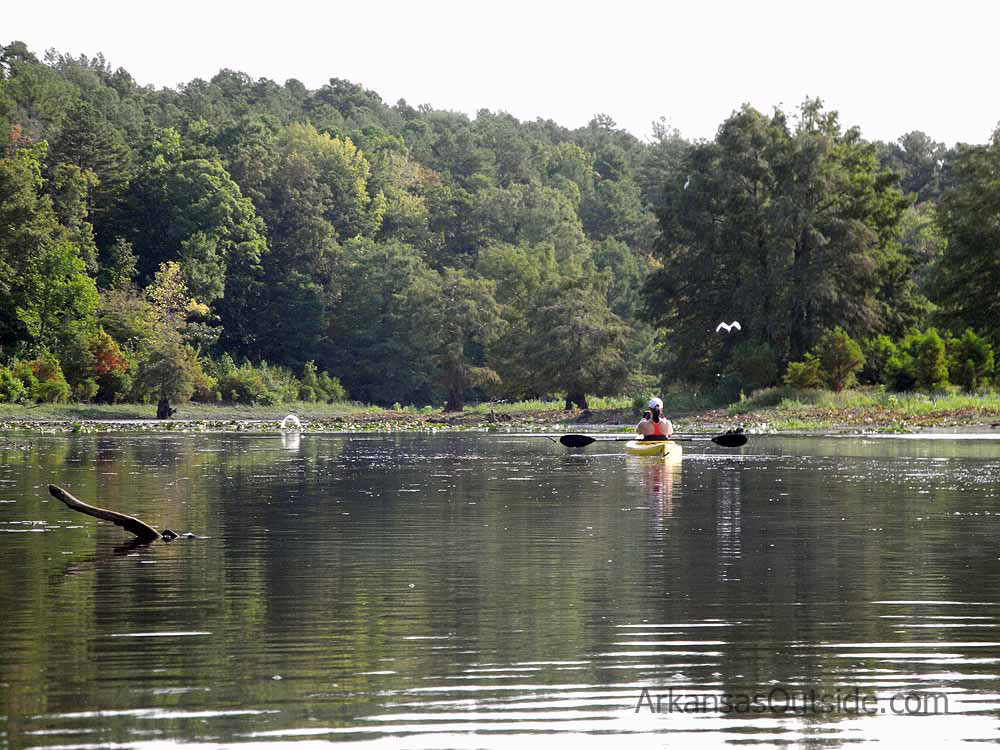 The water levels are low and the lake portion is pretty shallow so keep an eye over the edge for sandbars and you should be okay. At this rate, we probably only have a week or two before this area dries up so get out there when you get a chance. We spent a relaxing two hours on the water before it got too hot out. It was very nice.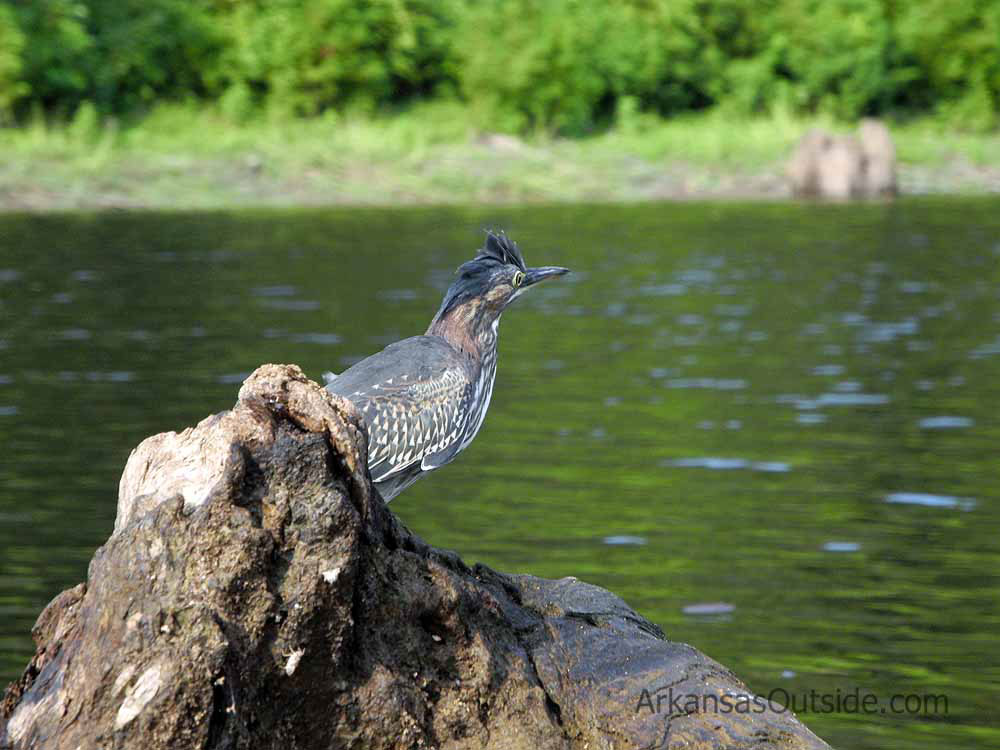 If you are looking for other opportunities to get out on the water, most lakes in the state are still in good shape, you can rent recreational kayaks at many of the state parks. Also, check for water release times on the Ouachita River and do some floating around the Rockport ledge near Malvern. Some nice cool water that you'll enjoy getting in. As always, be safe, drink plenty of water and look out for each other.