(Our weekly wrap-up of local and national outdoor news from other sources)
Local –
There's a trailblazing … (updated information on the Southwest Trail)  – Daily Record
The Natural State is known for its grand national parks. From hiking Pinnacle Mountain to whitewater rafting on the Buffalo National River, Arkansas houses a slew of destinations for recreational use. Naturalists and explorers from all over the world can enjoy the outdoors in the midst of the calm yet ever-changing Arkansas weather.
However, it seems a new venture has spurred the community. What was once a concept has manifested into something that will stretch on for miles. Arkansas' Southwest Trail, a multi-use path connecting Hot Springs National Park, the Old River Bridge on the Saline River, the Little Rock Central High School Historic Site, and the Arkansas River Trail System will allow for pedestrians and bicyclists to safely enjoy outdoor recreation. This upcoming trail has the potential to bring local benefits such as providing a stimulus to the local and regional economies as well as a national attraction for the state.
Intentions for the Southwest Trail was a combination of history and talk. Dating back to the 1800s, the Southwest Trail, formerly known as the Old Military Road, served as a network of routes connecting the mid-Mississippi River Valley (the St. Louis/St. Genevieve area of Missouri) to the Red River valley (northeast Texas). Most of the trail crossed Arkansas from northeast to southwest, and by the 1830s, more than 80 percent of Arkansas territory's population had entered through the Southwest Trail. Usage of the trail north of the Arkansas River declined in the late 1800s, but the trail south of the river remained in use decades longer…(more)
Where Placemaking Meets the Outdoors in Northwest Arkansas – Project for Public Spaces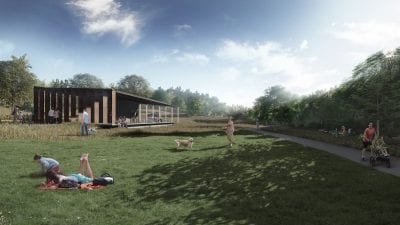 There is a peculiar division between placemakers and proponents of the great outdoors. Both groups care about conserving space for all to enjoy. Both care about a sense of place. Both care about similar outcomes like health, wellbeing, and sustainability. Yet it seems that these groups only come together on a regional trail project, here, or a national park within city limits, over there. Maybe it's the urban-rural divide at play, or maybe it's simple disciplinary and bureaucratic silos, but both parties still have a lot to learn from one another.
That's why it's exciting to see an organization in Northwest Arkansas bring these sister movements together through places that combine outdoor sensibilities with a density and intensity of uses that rivals any urban area. And the glue holding together placemaking and the outdoors in Northwest Arkansas is something that many placemakers may not have thought much about in their practice: mountain biking…(more)
The White River Bridge demolished after Clarendon residents fought for years to save it – KARK
(Sad News)
The historic White River Bridge was built was in 1931, and after decades, the Arkansas Department of Transportation spent over $10 million to demolish it.
"It's there one second and gone the next," explained life long Clarendon resident Alison Steeland. She won a raffle to be the person to detonate the explosives taking down the bridge. "They counted down, and I did it," she said. But this wasn't an easy decision for Steeland. "They said it should be somebody from here who loved the bridge, "she said. She was one of many people from Clarendon who fought to keep the White River Bridge standing.
It was a fight that made it all the way to the Arkansas Supreme Court. In July 2019 the court ruled the bridge was unsafe and needed to come down. "We lost. This is a historic bridge. We would have loved to see it saved," said Clarendon Mayor James L. Stinson III. Stinson fought to turn the bridge into a pedestrian, and bike trail with the goal of bringing tourism to Monroe County. "Tourism would bring dollars into Clarendon. It's not going to happen now," he said…(more)
National – 
Study: The More Trees We're Surrounded By, The Lower Our Stress Levels – Return to Now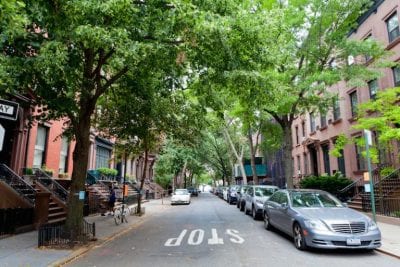 We all know that a walk in nature can help slow the maddening pace of modern life and bring us back into the moment, but a recent study tells us just how many trees are necessary to keep us calm.
Researchers put people in stressful situations and then showed them 3-D videos of various "city" scapes, each with different densities of tree cover.
The thicker the tree-cover, the lower the subjects' stress levels dropped.
The researchers, from the University of Illinois and the University of Hong Kong, subjected 160 participants to various stressful scenarios, including having them prepare to deliver a speech or perform a math test, in front of judges and cameras.
Once the participants were fully stressed out, they viewed one of 10 six-minute videos of city streets that changed only in the amount of tree coverage, ranging from 0 to 70 percent…(more)
5 reasons to support your local bike shop – Red Bull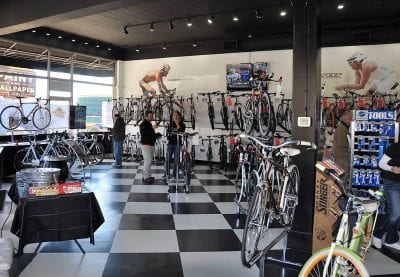 There are a lot of recurring arguments in the world of cycling, from quarrels over fashion, protection and suspension to those who defend their choice of wheel size like someone has insulted their first-born child.
One argument that pretty much everyone agrees on, however, is that it's better for the sport as a whole if you buy your bikes, gear and whatever else from the local bike shop rather than from a cost-cutting website or non-specialised dealers.
This advice tends to be less practiced than preached, for the simple reason that cut-price retailers, by nature, save people cash. Local bike shops may have been the backbone of the cycling community for decades in the past, but in the era of direct sales and online shopping, what is their place now?…(more)
Have a great weekend and we'll see you on a trail.