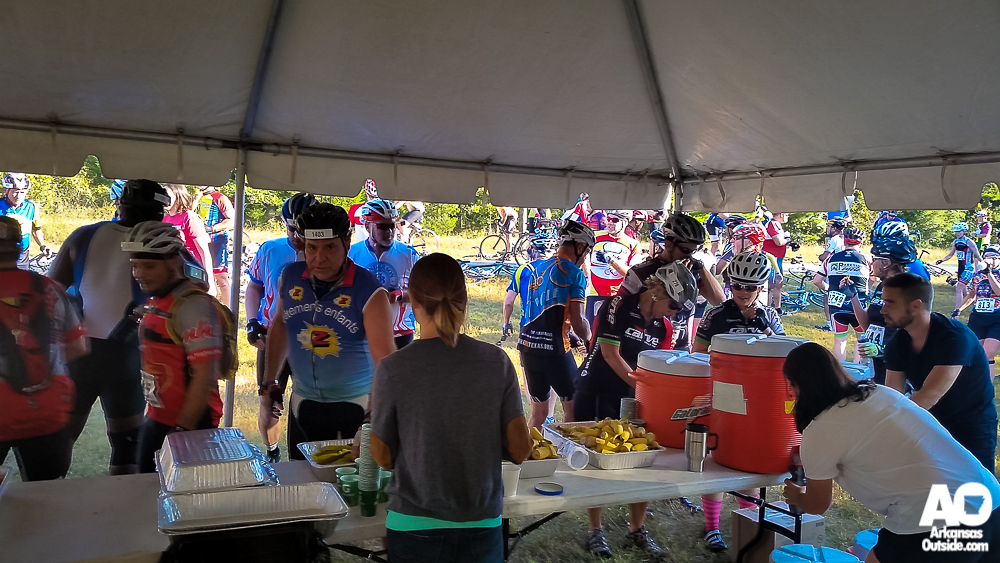 A wall of spandex clad, sweaty people, heads encased in helmets, eyes hidden by sunglasses, swarmed the table like a zombie horde. Instead of "Brains!", they were after peanut butter & jelly, Gatorade, and pickles.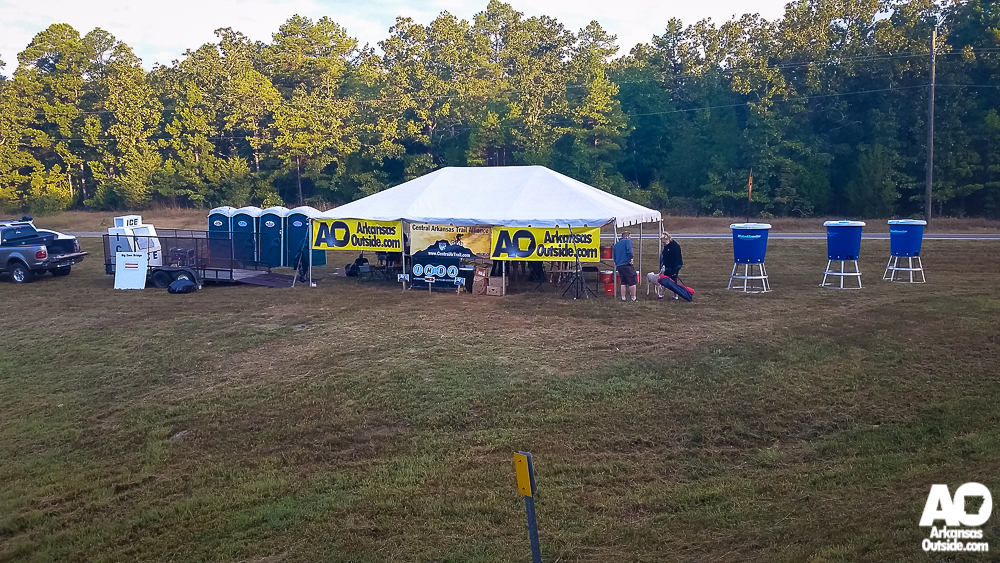 At just after 7 a.m. on Saturday morning, the mobile Arkansas Outside office pulled off of Hwy 10 and onto the triangle of grass at the intersection of Hwy 113. The signs marking the turns for the sixty-eight mile and one hundred mile courses of the Big Dam Bridge Tour were posted, law enforcement was in place, and the towers of water that would serve the more than 1500 cyclists expected to choose one of the longer routes of the tour were filled. Situated at mile twenty-eight, we would not get to see the cyclists riding thirteen, twenty, or fifty miles. Our crew of volunteers, many of whom are runners willing to come support their cycling friends, set about the business of cutting up fruit, making hundreds of PB & J's, mixing Gatorade and un-boxing cookies in preparation for the chaos to come. Our youngest volunteer, nine year old Allison, took on the job of taking care of those cookies. Cyclists who rode in the Gran Fondo earlier this year might remember Allison as the lovely angel who handed them a cold wet washcloth at the final aid station of that ride. I think this girl has a big future as a dedicated volunteer. She also runs 5 and 10Ks with her parents. She and mom Nancy would help us for several hours before heading back to the finish line to cheer for dad David who was riding the 100 miler.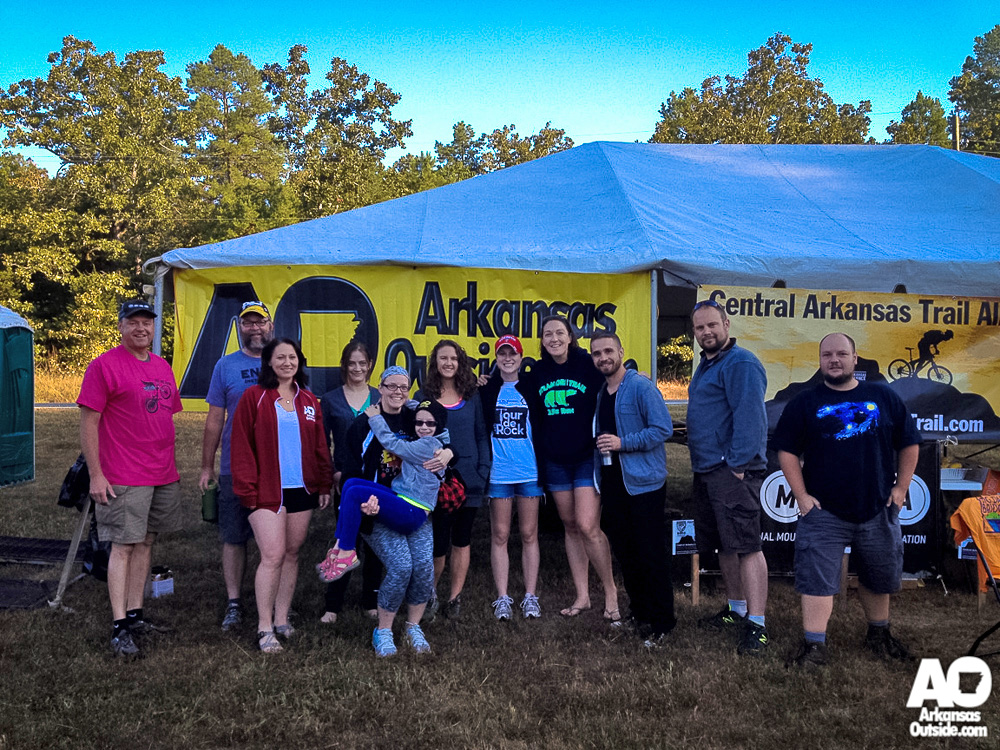 The mountain bike community was represented behind the table by Central Arkansas Trail Alliance board member Bruce Alt. Paddler and waterway cleanup volunteer Jon chose to help us while many of his crew were cleaning up Fourche Creek. Members of a local running group, my regular Sunday afternoon run buddies and great AO supporters Tisha, Stephanie, Elizabeth, Cassandra, and Lance rounded out our group of water bottle filling, cleat fixing, sandwich slinging, hug giving cheermeisters. Every member of our team knows the importance of a smile, an encouraging word, or a friendly face during an endurance event. We know that while nutrition and hydration are absolutely necessary for keeping the body going, it is often the spirit that needs motivation. Aid station stops are one way for endurance athletes to refresh the body and the spirit and our volunteers have been members of the horde on the other side of the table often enough to know that a "Hurrah!" is as important as the GU in an athlete's pocket.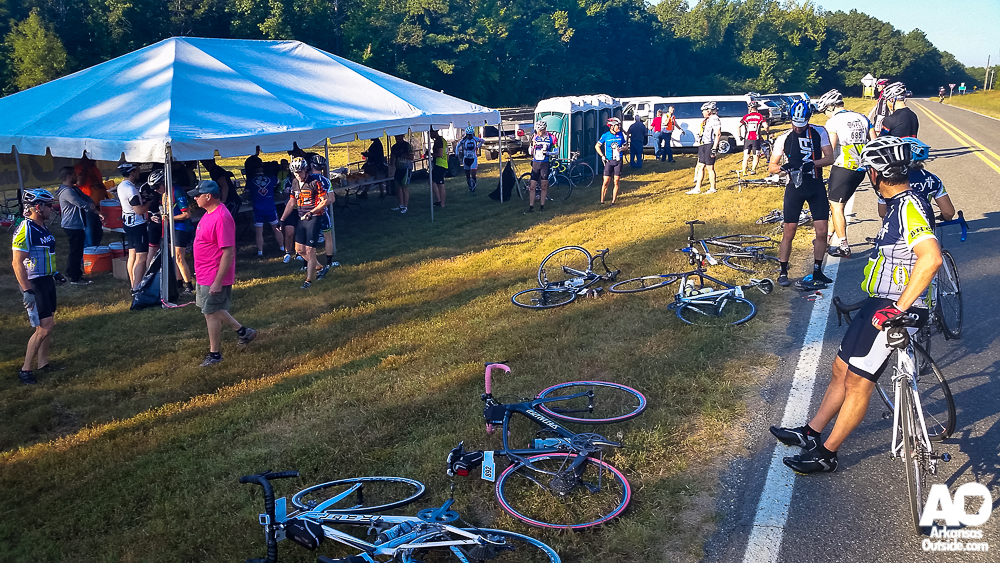 We watched, cheered, and waved as the first groups blew by our station. We knew those going for the fastest time goals would not be stopping; so we gave them what we had to offer-our loud mouths. By 9 a.m., two hours after official start time, the horde descended and we scrambled to keep the trays full, the bottles filled, and to find tools or in one case, superglue, to keep those bikes on the road. I willingly admit that I spent more time away from the table than behind it. There were too many sweaty necks to hug and countless friends to cheer.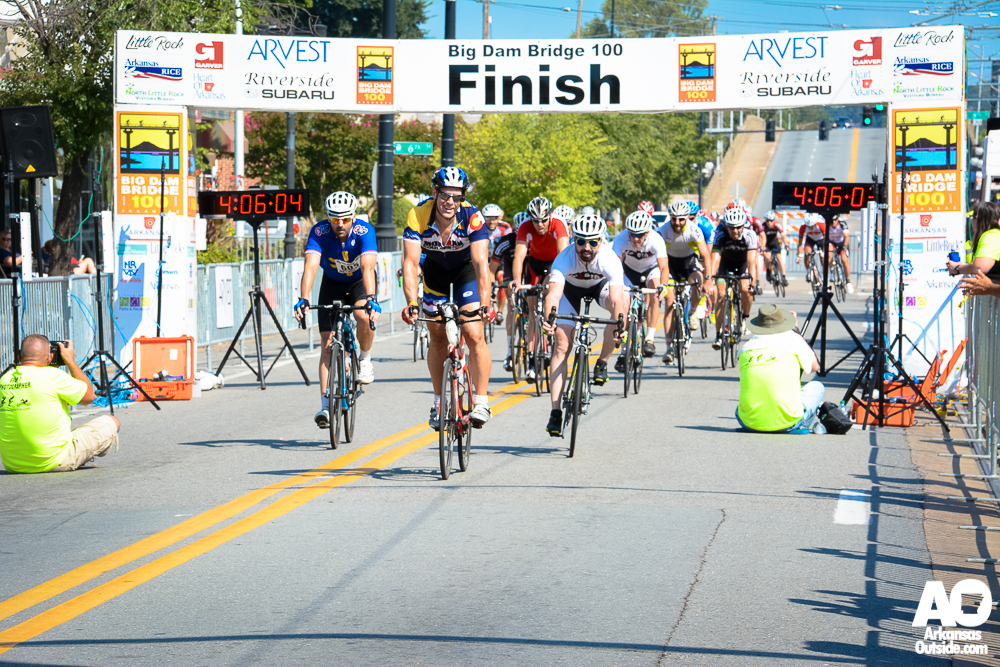 Throughout the morning I had one person in particular on my mind. My youngest niece had borrowed my road bike for the tour. In past years, she's ridden her mountain bike on the 50 mile route. She wanted to do the 100 miles, but didn't own a road bike and she knew it would be difficult to complete the 100 on fat tires. When I still hadn't seen her as the end of the pack was riding away from our station, all I could do was hope that she had fallen in with a group that decided not to stop. As the horde morphed into a legion then trickled to a stream, our volunteer crew cleaned up the station, packed away the gear, and made plans to reconvene at the finish line to continue our duty of cheering in the riders. We gathered at the finish line with more of our running friends who were volunteering all along the finale fest chute on Main Street. Early finishers were already taking advantage of the chocolate milk and other recovery beverages offered at the line as well as hot dogs. The line for the post ride massages was full for most of the day. Many Argenta establishments were open for business, catering to riders and spectators throughout the day.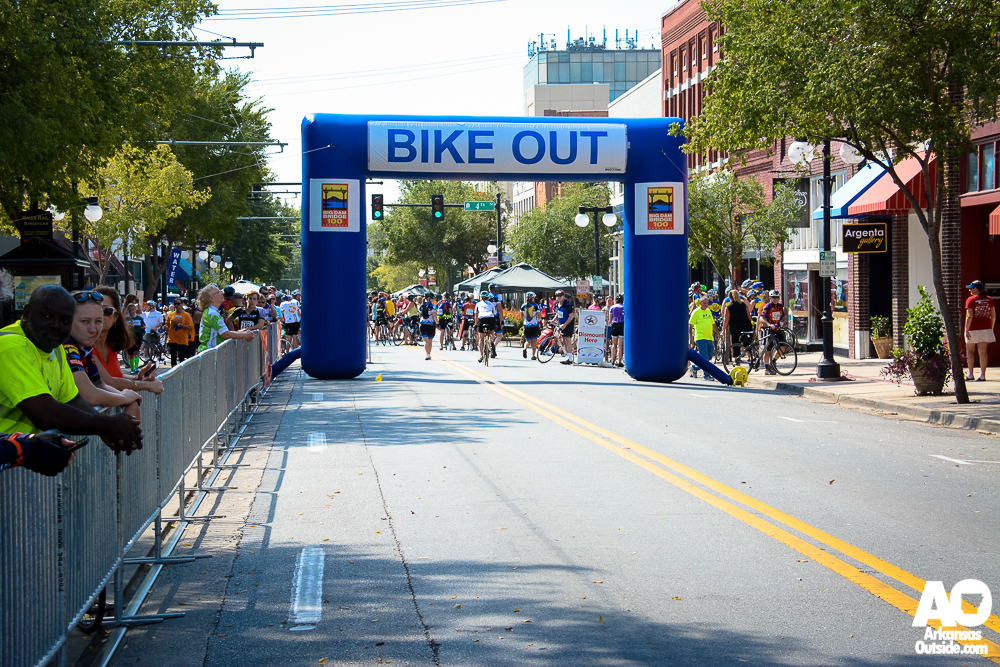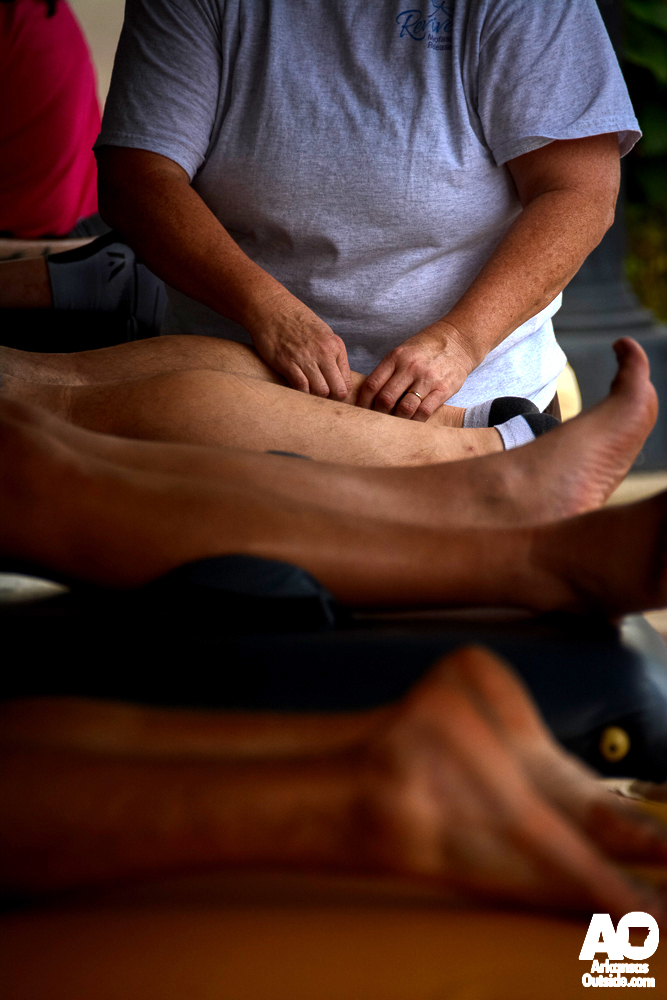 As the clock passed the eight hour time I heard my niece's name announced at the finish line. I was so happy to be there to greet Crystal and Toby, who met her at mile 30 and thankfully agreed to ride with her for the duration. The little beast had finished a 100 mile ride in just over eight hours chip time having only ridden a road bike a handful of times, she was counting on a sixty mile distance PR to get her through, and on flat pedals no less. There are hundreds of stories from Saturday's ride: comebacks from injuries, first time finishes, time PRs, distance PRs, and family triumphs like the Father/Son Team Yarbrough. For the Arkansas Outside team, it will remain a bittersweet remembrance as we congratulated Crystal on her finish, transported her back to her car, and said good-bye for more than just the day as a U-haul was waiting for her in the driveway to begin her move to Colorado where I'm sure she will find plenty of cycling and plenty of Big Dam hills.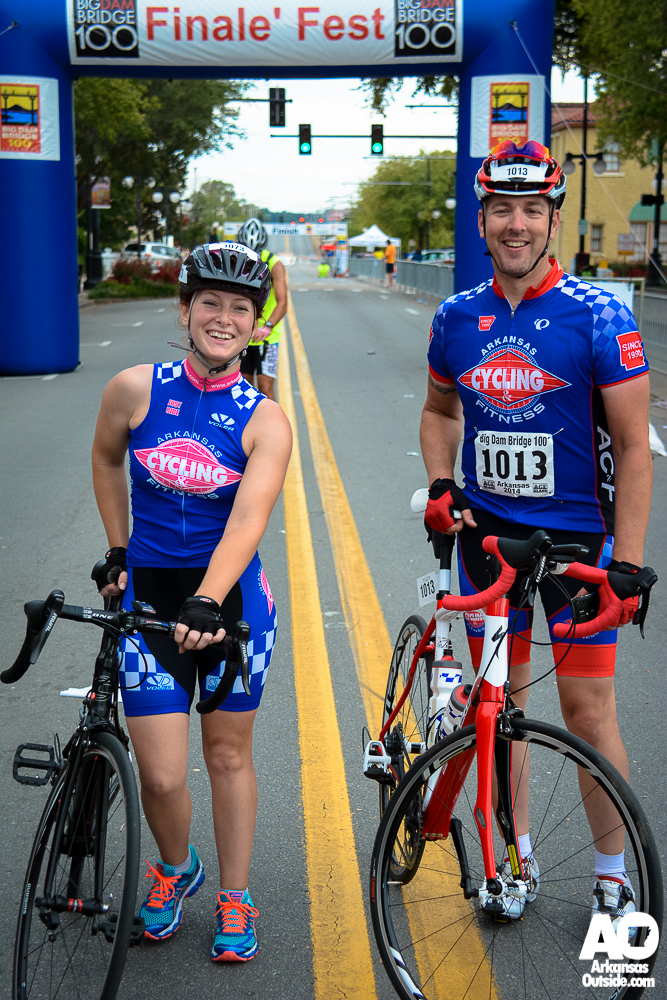 Thanks again to all those who stepped up to help us make the mile 28 aid station a success.
FYI: Results for all courses are available. A new record of close to 2900 riders this year, choose what distance you will do next year and start training or maybe you'll volunteer. I'd like to invite all the cyclists who benefited from our aid station this year to choose a running event to return the favor.