Holiday runs have always had their place in the running community. With Thanksgiving in central Arkansas we get the Go!bbler Turkey Trot and Sunset 6/12/24 Hour Endurance Run.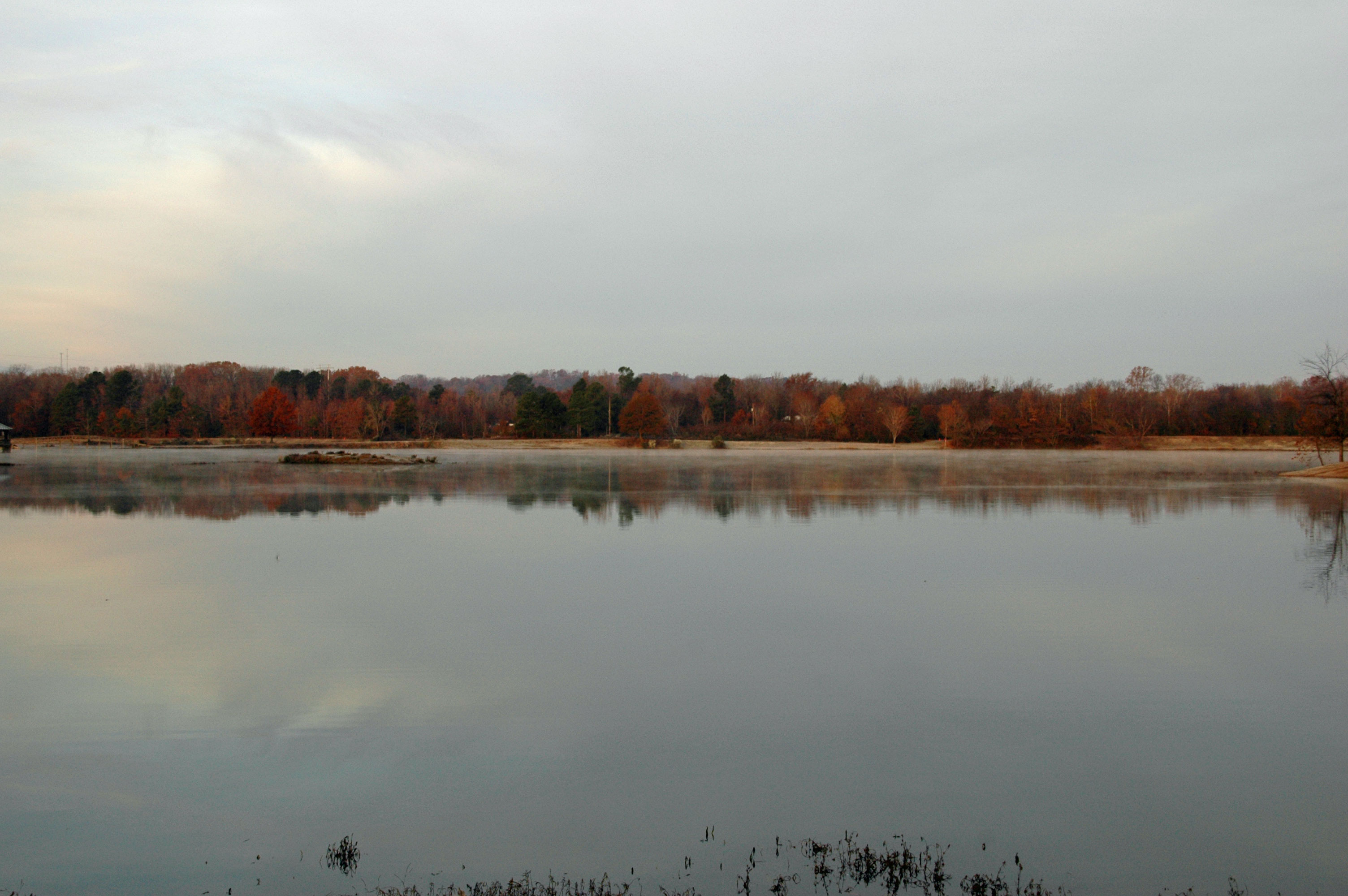 For the third year the Saline County Striders hosted the Sunset 6/12/24 Hour Endurance Run. The Striders are one of only two other clubs in the state that has a race in both the Arkansas Grand Prix Series and the Ultra Trail Series. If you happened to participate in the Arkansas 20K in September, you are aware they make sure each runner is well taken care of. Pete Ireland directs both races and his leadership and wisdom is priceless.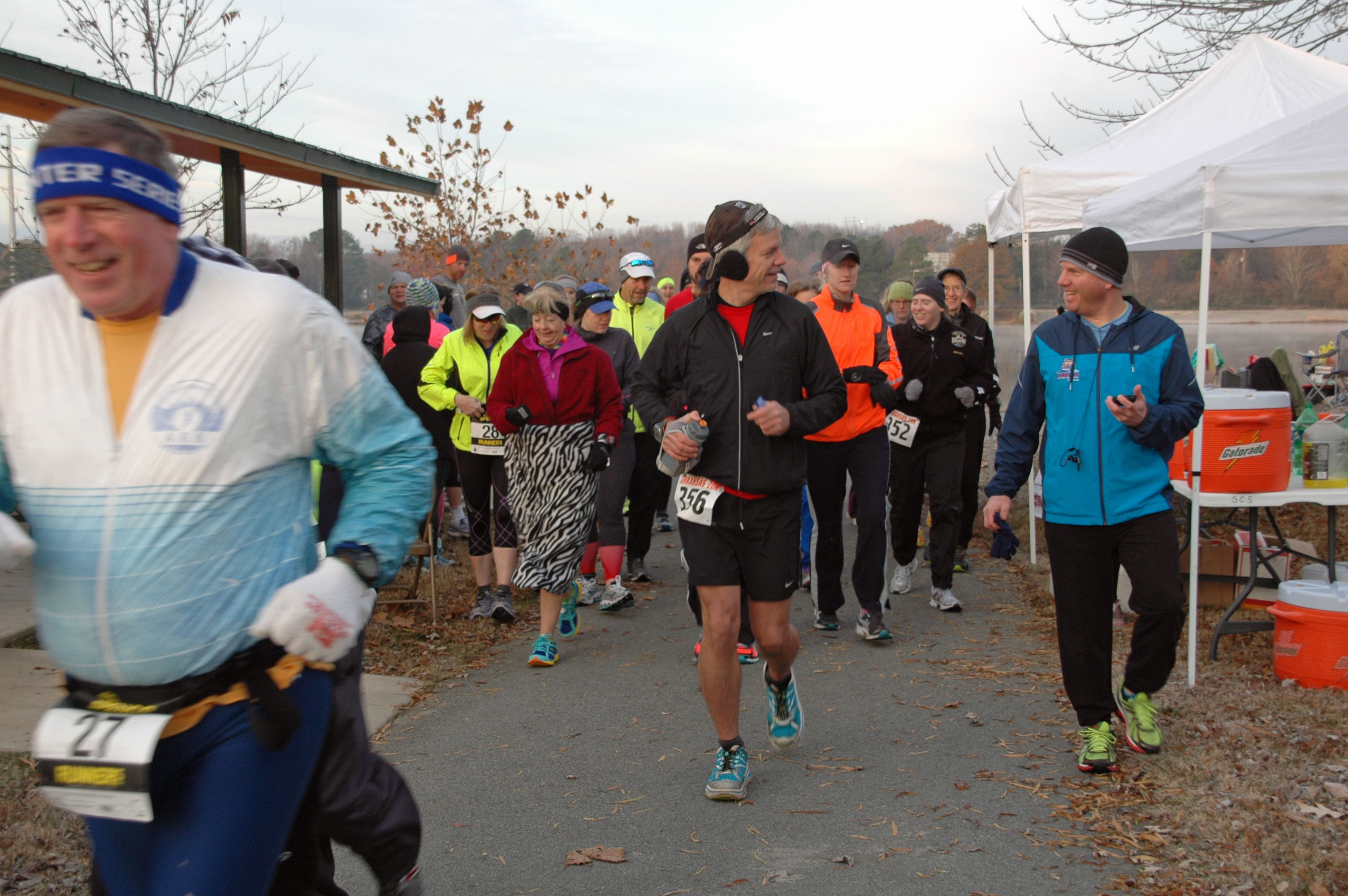 Each year more people find their way to Sunset Lake to run the loop one-mile loop. No matter the distance, this was the place. No need to worry about DNFs. If one were to run a half-mile, it would still be counted. If someone wanted to do their long run amongst friends and with support, again this was the place. Finally, if there was any guilt for tryptophan or dessert induced comas experienced due to Thanksgiving, each lap would have made it easier to forgive the indulgence.
The 24-Hour start at 7:30 p.m. is always a little frigid. This year ice was on a section of the loop. That was a first. Cones cautioned everyone of the surprise obstacle. Nicole Hobbs, Strider Vice-President, made sure we had a fire. It was a good idea for volunteers, but the runners had to do what they could to stay warm. It was the coldest it had ever been with temperatures dropping below freezing during the night and early morning hours.
As Tim Norwood and Tammy Walther battled it out last year to run the most miles, the stage was set for round two. Both had completed over 100 miles previously with Tim running 105 and Tammy running 101. Both started together, but Tim decided to stop at 50K, which is nothing to squawk at.
Tammy's goal was 115, which would set a new course record. She looked strong every time I saw her. It was no surprise that she came in just under 117 miles for the day. She has had a great year. It's no wonder she is this year's Arkansas RRCA Female Ultra Runner of the Year.
The most consistent person year after year has to be Maurice Robinson. He has done at least 70 miles per year. Each year it's an extra lap to celebrate his birthday. If this were a regular race, I'd say he edged out Jonathan Young. Everyone knows this isn't a race against anyone else. It's a race against you and your limits, if they exist.
Jonathan recorded a personal best with a little over 71 miles. Although it's his longest in one day, he did finish 3 Days of Syllamo, which combined over all three days flirts with the 100-mile mark.
I don't think Rachel Speer is training for Run LOViT 100K, which she is co-directing, but she is preparing for something. Her 60 miles in 12 hours was the most anyone did at the distance. Whatever she has on the horizon, she's going to crush it.
Mother and daughter team Elaine Gimblet and Susy Philips had their usual fun. They added 46 miles to their party on the pavement. The same can be said for Ronnie Daniel and David Meroney. Both put in at least 46 miles. Ronnie finished with 50.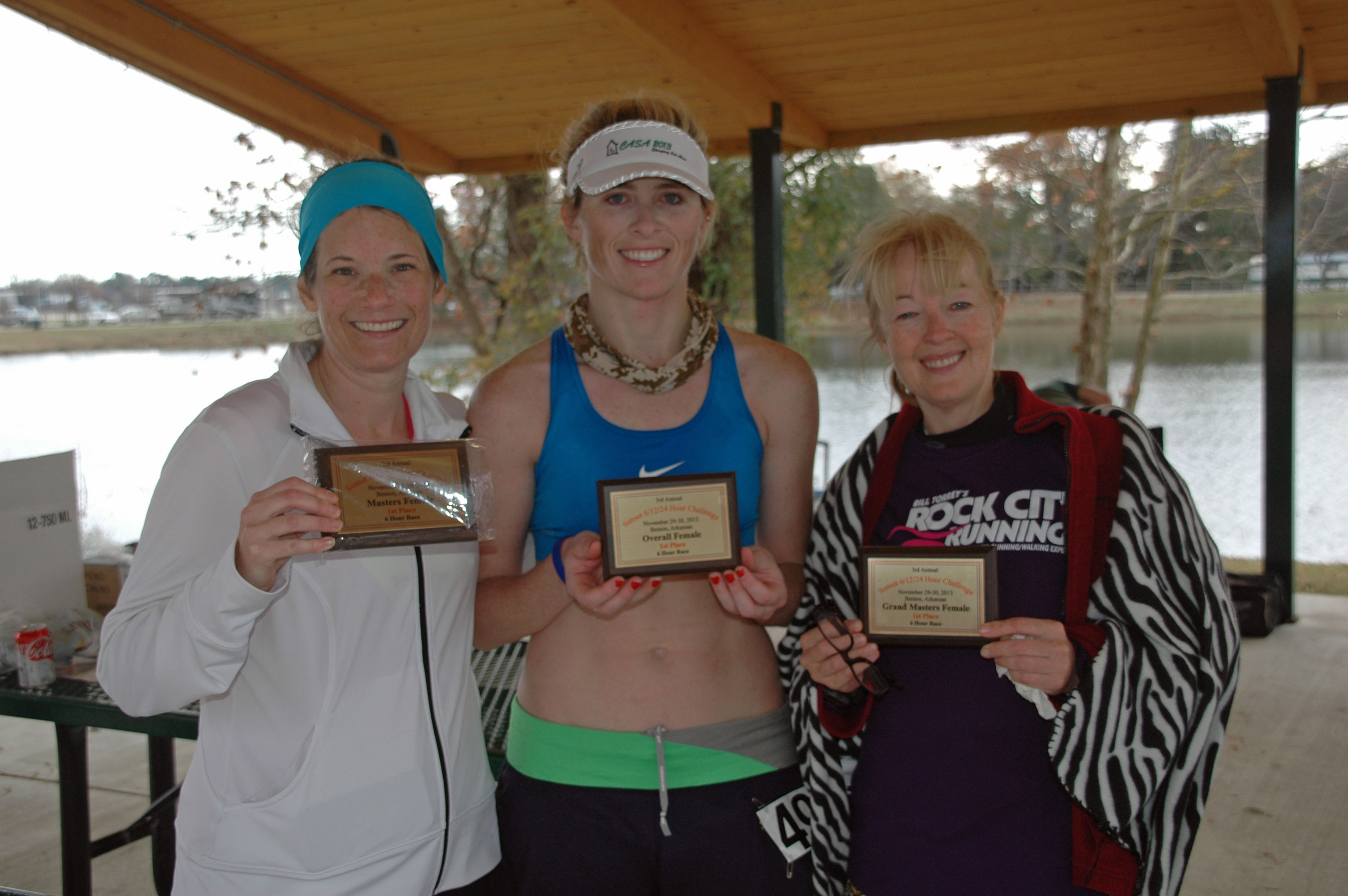 When Jenny Wilkes ran close to 38 miles she sealed it for the ladies. Women ran the most miles in all three categories. Also in the 6-hour group, Thomas Chapin and Aaron Dickens put in over 34 miles.
If the family that runs together stays together, the Drakes, Stracners, Youngs, DenHerders and Freilinos are going to be inseparable. Individually all of the families represented put in major miles and had accomplishments. Collectively, the numbers are astonishing.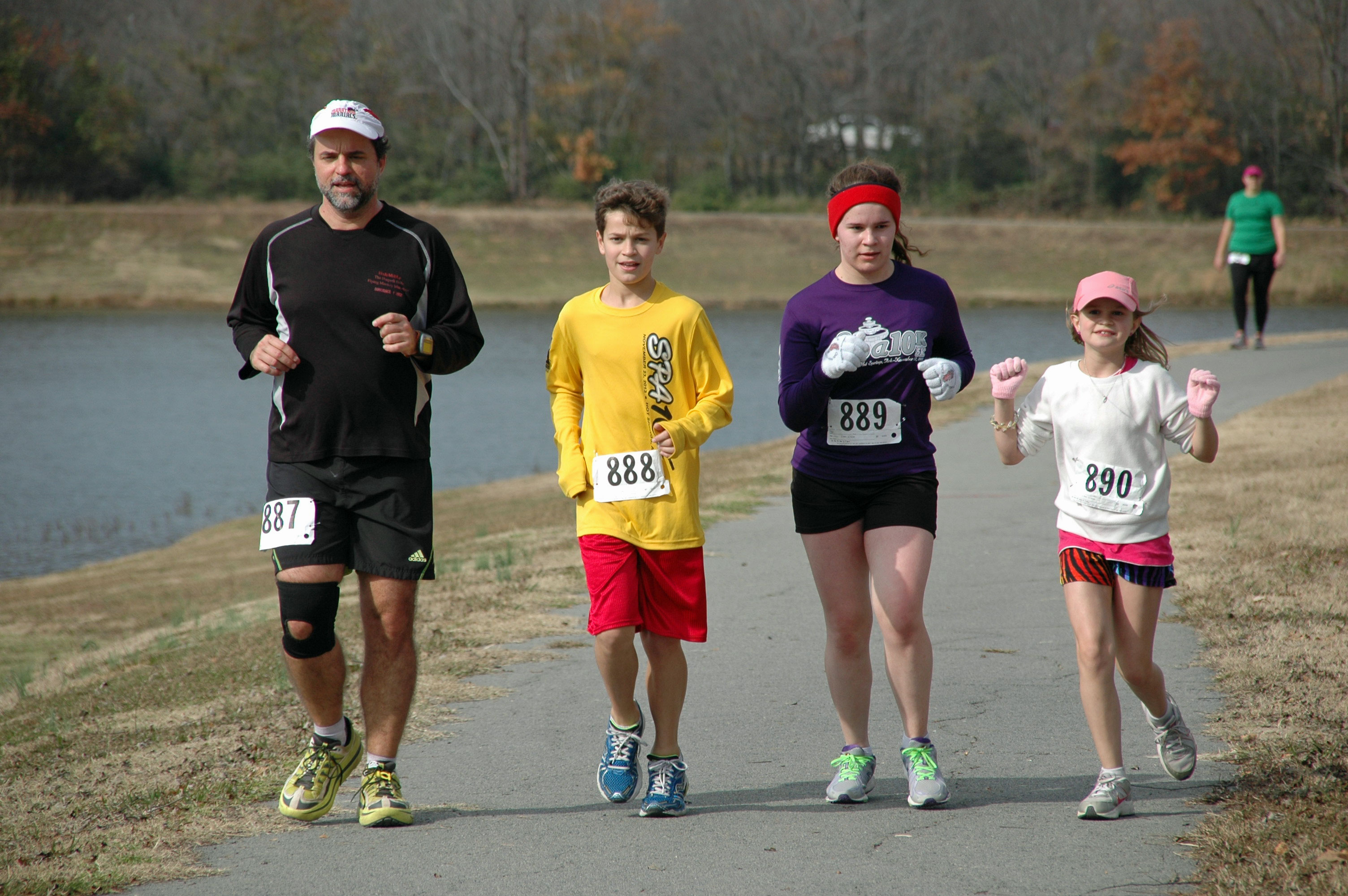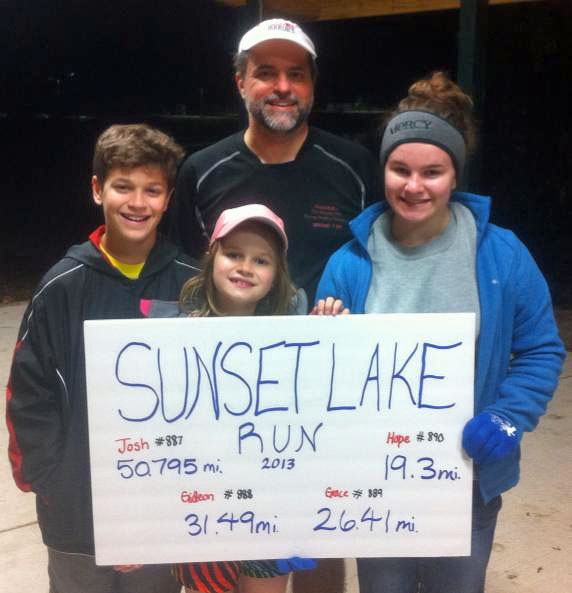 Next year there will be even more crazies. This isn't only for Arky crazies either. Melissa Burton came down from the St. Louis, MO, area and Larry Freilino was visiting his daughter from Maine. It's not enough that Vincent Ma came from San Jose, CA. He ran a marathon at Sunset before driving to Louisiana to do a 50K in the Big Dog Ultra Trail Runs. If you're as nutty as this group, you'll feel right at home.
When I'm not running, volunteering, or writing, you can usually find me lurking on Twitter or blogging at ICEdot Athletes, #Runchat, or Trail and Ultra Running.