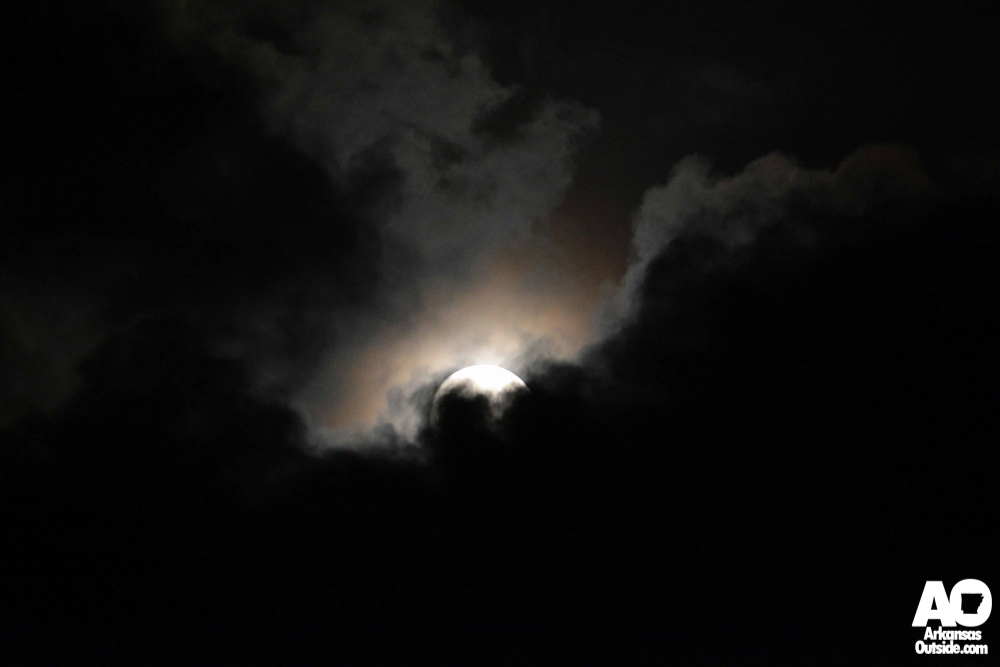 The rain spit softly from the sky, the gentle drip of a Faucet with a bad washer. The temperatures began to drop and the clouds eased the sun's relentless beating of the gravel and dirt route that runners' Feet would soon be crunching over. The Fun was about to begin. With a couple of hours yet until the start time of the Full mOOn 25K/50K run, participants, volunteers and organizing crews were milling about inside and out of race headquarters at Camp Ouachita. Race sponsors and AO supporters Go!Running had the giant inflatable start/Finish arch up and music was playing from a sound system as lounge chairs were set up in all kinds of configurations intended for rest, relaxation and conversation before we all took off on the adventure of running 16 or 30 miles, on gravel roads, in the dark.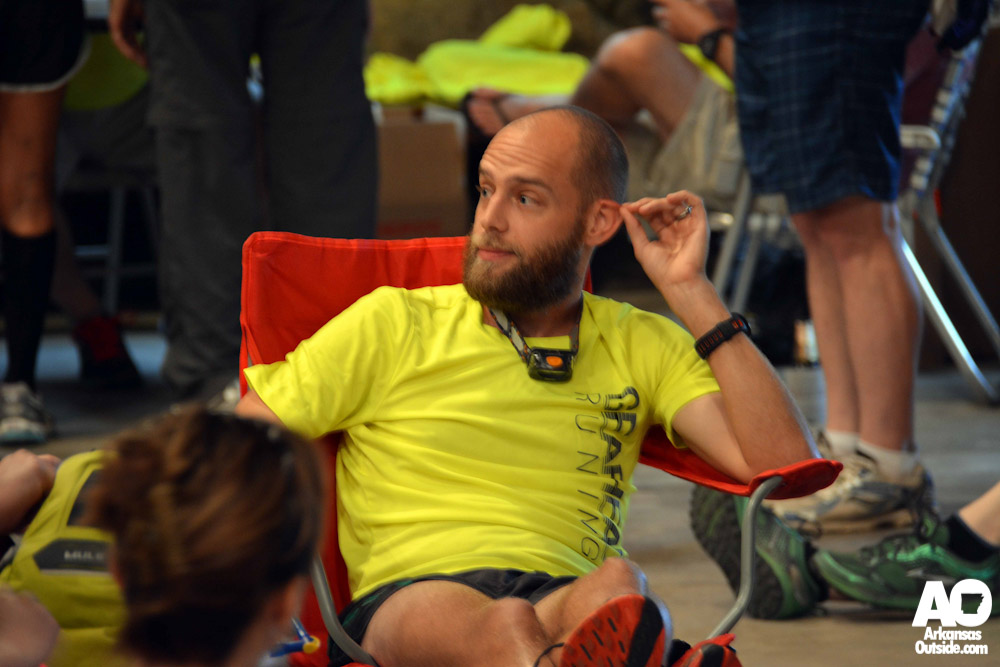 There was an hour early start for 50Kers who felt they needed a little extra time to complete the course but the masses took to the line at 8 pm. After entertaining the crowd with a little Hash humor sing along song, Full mOOn Queen Susy gave the Ready, Set, GO! and we were off. Up the pavement, out onto the road and into the abyss. It wasn't long before I saw Flashes. At first I thought it might be lightening considering the weather but it was Joe and his new Flash set up taking photos for all the still Fresh runners willing to mug for him.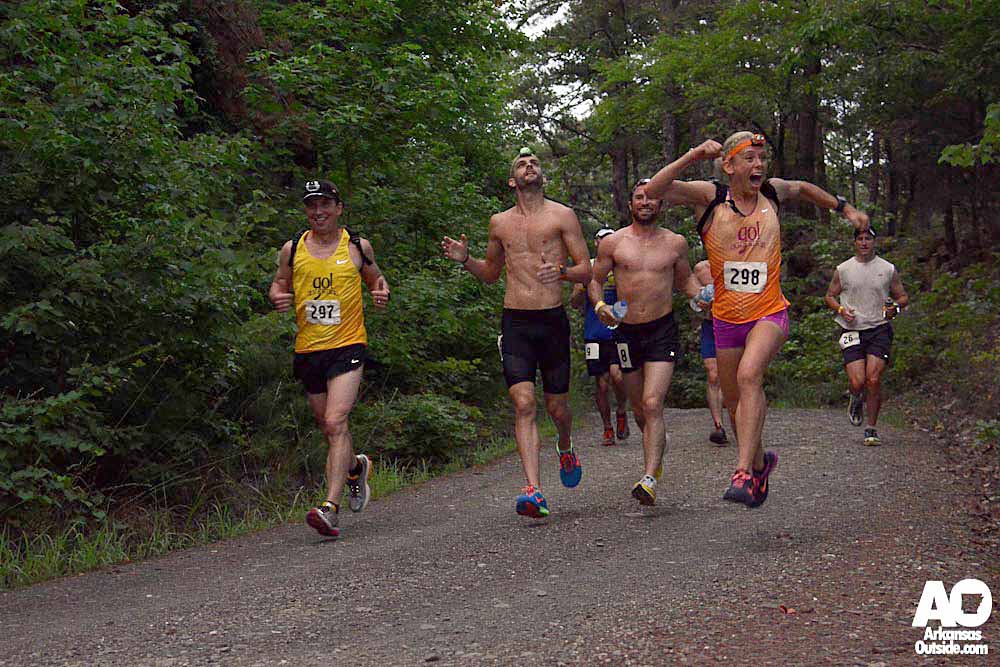 It took less than a mile for my body to react to the humidity by becoming a Fountain of sweat. I was worried it was shooting out and might cause other runners to slip and fall, or squirt in someone's eyes. The light rain before the start did reduce the temperature to a somewhat pleasant range considering it is mid July in Arkansas but the humidity still makes most Feel like they're in a sauna, just so happens the heat in this sauna wasn't Functioning quite right.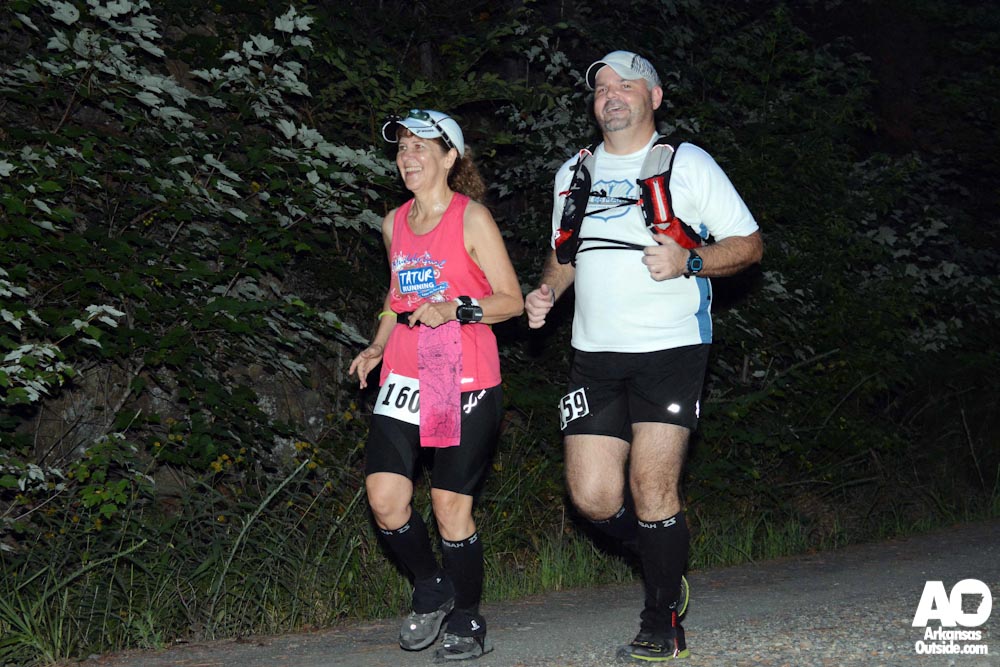 The 25K course has an elevation gain of just over 1500 ft. with the climb to the manned aid station and 25K turnaround changing 250+ ft in just under .5 mile. What makes it worth getting up that incline? At the top there was Fresh water, ice, Gatorade, and goodies in the form of candies and salty chip goodness. Also it was a chance to make a big Fuss over one of the two Birthday girls. Elaine Gimblet was there to join me as I sang her Happy Birthday and she joined me replacing my Happy Birthday to YOU with a big, loud and Fabulous ME! for each verse. I didn't get to sing to the other Birthday girl and the patron Saint-esse of the Full Moon 50, Lou Peyton, as she was too busy taking care of those crazy people running 32 miles. Birthdays are celebrated and hospitality abounds because ultrarunners aren't just a collection of athletes but  a Family.
Setting out I knew I didn't want to run any portion of this course alone. A lesson learned from other distance runs, especially from this same race last year is that it is lonely out there at night with no scenery to distract you and only the crickets and Frogs to keep you company while you hallucinate from Following the bobbing headlamps in front of you. Once all the headlamps started coming on, about 20-30 minutes into the run,  the multitude of reflective tabs on shoes and clothing looked like Fireflies Flitting about.  Or come might drift into dreams about Sasquatch jumping out from the shadows of the Forest to drag you Frantically screaming off into the woods. Or perhaps I'm just projecting that Fear on everyone else. So I knew I wanted a Friend with me so I wouldn't have to Fend for myself out there in the dark. Luckily I Found that person at the start of the run and we stayed with each other up until the last .25 mile and the Final hill where she left me like she was a spry young  gazelle and I was a lame 45 year old lion. I owe Tisha a debt for being my Failsafe.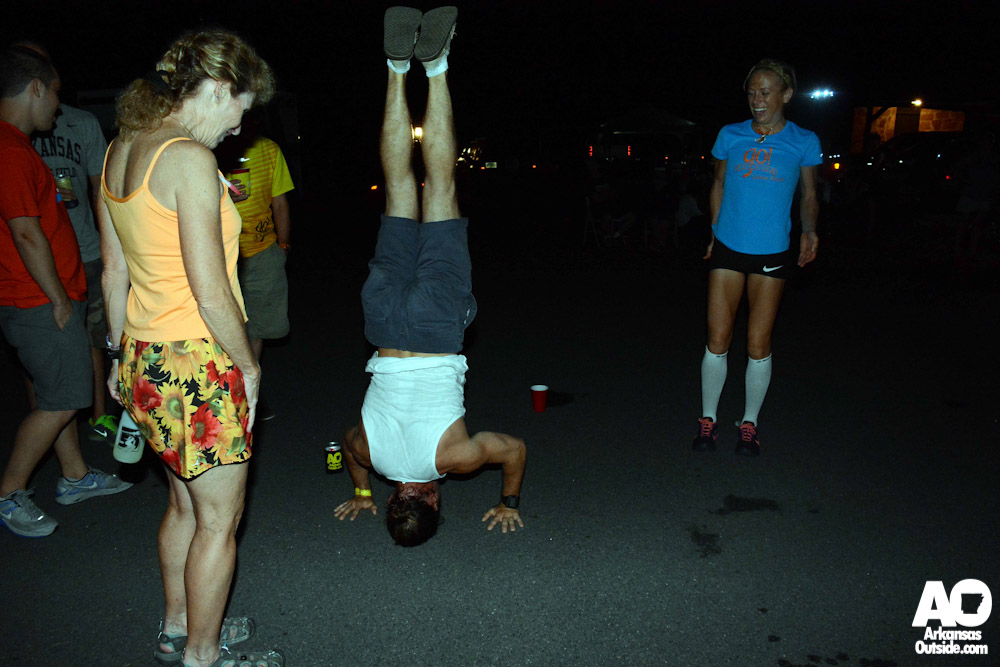 After the race we had plenty of time to chat with Friends. Some were super happy, still energized enough to dance, party and pose for the camera. Some let us know how they Felt by Falling out at the Finish line. Some decided that yoga was a good way to stretch out those tired bodies and a crow pose competition ensued that transitioned into Fallen Angel and general Frivolity. And then there were those who finished using other F-words to describe the experience. I wonder if they'll be back for more punishment next year?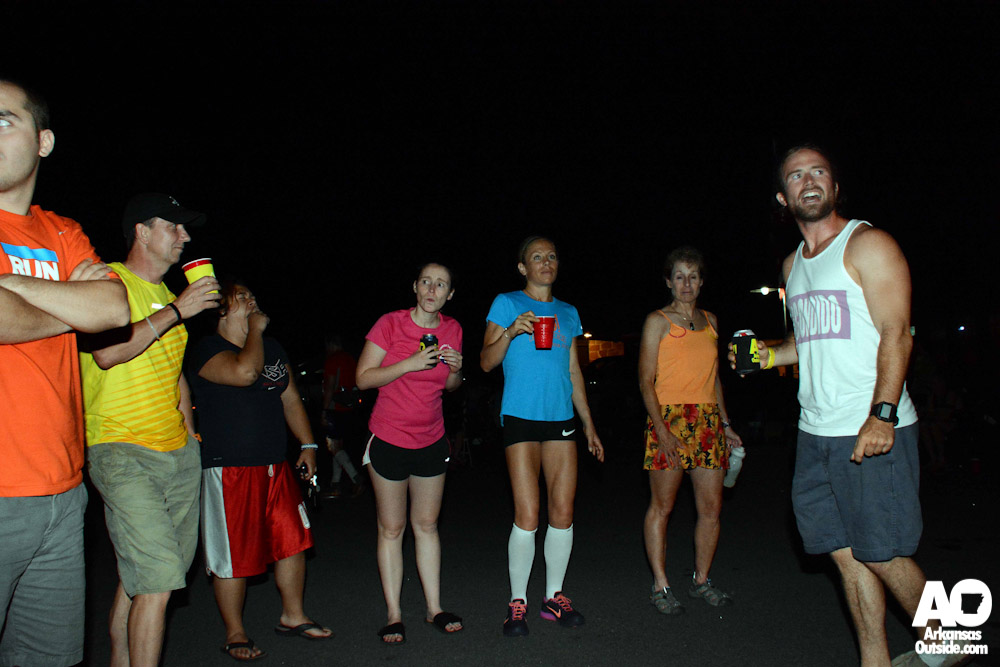 You can keep up with Lisa's exploits on her blog, Frenetic Fitness.
Over 500 Fotos to share, download, tag and enjoy on our Facebook Page.