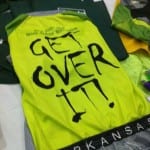 What a day for a ride! The sixth installment of the Big Dam Bridge 100 seems to have gone off with few problems. My wife and I opted for the 68 mile version having done the 100 a couple of years ago and knowing that we hadn't trained properly for that. If you'd like to read about some of the 100 (104) ride head on over to JBarCycling Blog for John Barton's take on that portion. The rides were the same up to the 35 mile point at the Oak Bowery checkpoint.
We pushed hard (for us) on the ride and came in at a respectable 4 hours and 23 minutes. We were shooting for under 4 hours but the hills towards the end of the ride took a little too much out of our average. We came in right around 4 hours for the metric century and I'm happy with that. I have to give it to race organizer, Fred Philips of DLTMultisport for having plenty of volunteers, law enforcement and medics out on the course. I never questioned where we were going, I never had to stop at an intersection and I had no "close calls." The only incidents that I heard of were bike related, no motor vehicle problems to speak of.
The 68 mile course was great and I'm really glad it is a full loop, no backtracking. The final hills were pretty tough but we just dropped down to our granny gears and spun our way up. I used to be known as a fair climber and it felt good to do some passing on the big hills. By the time we got to the hills the 55 mile course had merged with the 68 so it got a little more crowded. I saw a lot of walkers on those hills.
We finally hit the river trail at Burns park and had the old familiar ride into the North Little Rock Riverfront area. At one point a police officer on motorcycle passed us, sirens blaring. Just behind him was a lone rider. We later found out it was a gentleman by the name of Kris French from Little Rock. He was first to finish the 100 (104) with a final time of 4 hours 21 minutes, 2 minutes faster than we did the 68. He was moving pretty quick.
The support throughout the ride was wonderful. Plenty of Gatorade, snacks and porta-johns (well, there are never enough porta-johns). At the end of the ride we were greeted by a huge block party in the Argenta Arts District of North Little Rock. Free hot dogs, ice cream, chocolate milk, massages and local pubs open with street seating and drink specials. Also included was an area to park your bike for free, a couple of bands and pretty much anything else you would need.
The only disappointment of the whole thing was that our local media is acting like it didn't happen. A few stories before the ride mainly about road and bridge closings and warning that there would be a lot of cyclists on the roads. Here are a few things that people should know about the race:
According to the ride organizer, Fred Philips, the capacity based on number of volunteers he had lined up was 2,300 riders. He hit that mark.
Fred estimated the economic impact of the ride to be about $750,000 for central Arkansas. That would be from hotel stays (over half came from far enough away to need overnight accommodation), food and dining purchases, purchases at local bike shops including servicing and repairs, special nutrition, spare parts, etc. Also, when people travel that far they spend money taking in other sites in the area.
People came from as far away as California, Minnesota and Florida. Approximately 60 people from the Dallas/Fort Worth area, over 100 from Louisiana and over 150 from the Memphis area. That's a lot of money being spent in our local economy.
Below are images that show where people came from to participate in this ride. Looks like a nice draw to me.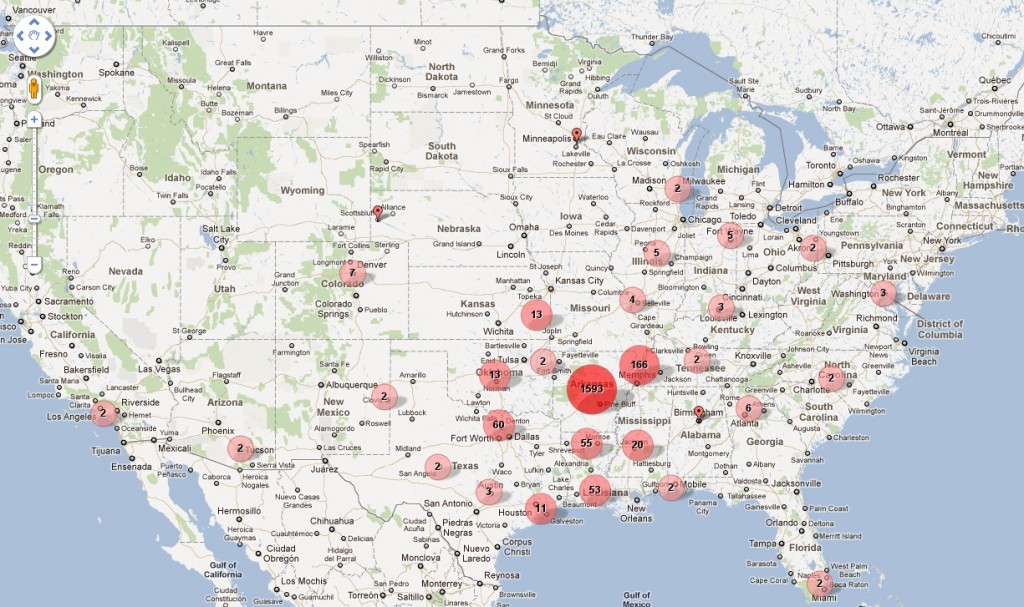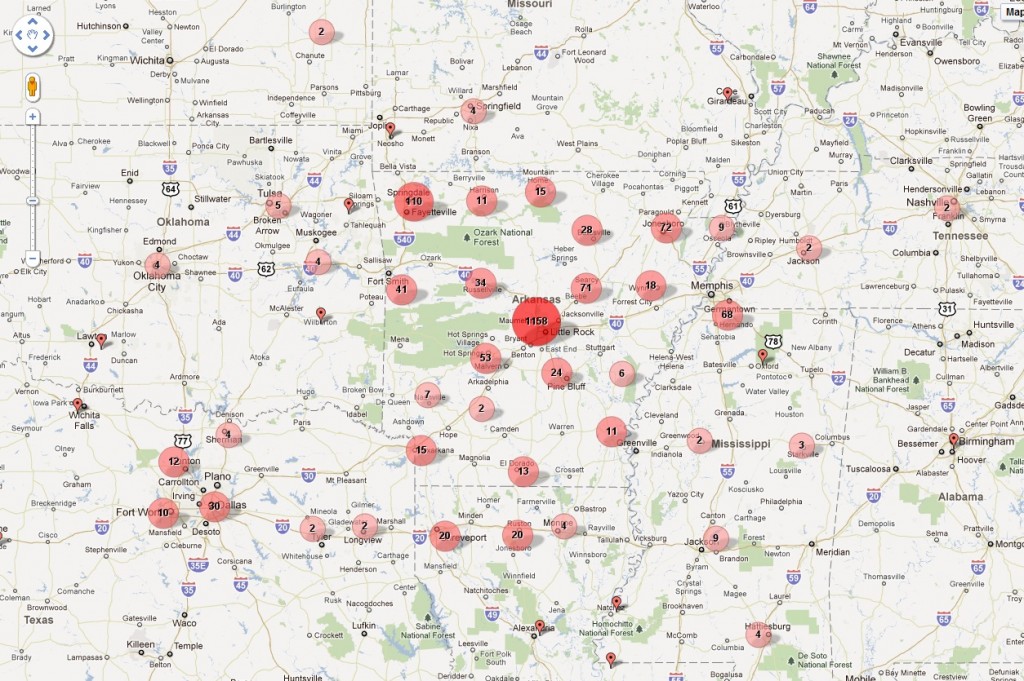 One last photo that summed up the day for me. I had just gotten a hot dog and pulled up a bit of curb rest and eat. I noticed a young man in camos holding a really nice Cannondale bike. He looked a bit out of place and then his father (I assume) walked up with his hot dog and leaned on the bike to rest. It's not often you see a grown son come out to support his father in something like this. It was an all American moment for me….and a bicycle was included.