(The first of three interviews with various runners participating in the 2014 Go! Mile happening June 14th in Burns Park. Register at: RunSignUp)
It's almost June. And around the running circuit, that means it's almost time for the Go! Mile. This exciting, 1-mile race has captured the hearts of many Arkansas families, but it also caught the eye of the National RRCA that awarded the Go! Mile the 2014 RRCA National 1-Mile Championship Road Race. We are honored and excited. Only 3 weeks til the gun goes off. Take your marks… we're off to the races. And who better to share some racing vision than Mark Ferguson. A fast elite, and leader of his running family.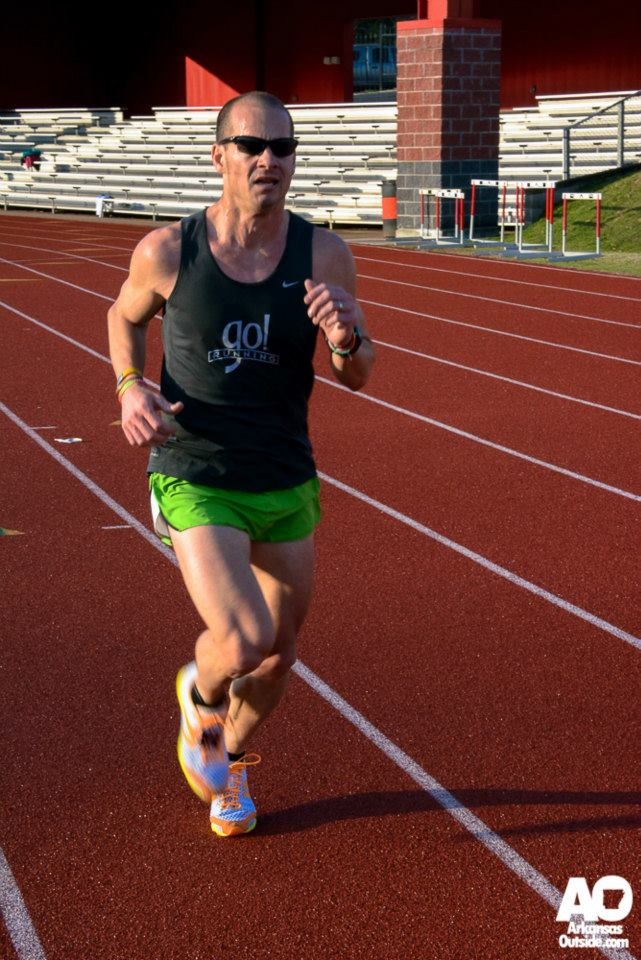 Go! Mile: Mark, you've been having quite the showing this Grand Prix season. I think actually undefeated so far? (we won't tell them about the one time you got beat by a girl) Tell me a bit about your training over the past year.
Mark Ferguson: I am doing fairly well in the Grand Prix this year. I am taking the races one race at a time. I have been able to run well enough to win many of them, but every race is its own race. Of course, I would like to win a few more, but we will see.
My training this year has been similar to previous year's, but maybe a few less miles each week over the last few months. I typically try to run 50-60 miles per week, 5-6 days per week with 1 long run of 16-20. I try to run 6-8 miles on each of my other runs. I am not very good at planning my workouts for tempo, speed work, hill repeats, etc. Other than my long run, I really don't have a schedule of how many miles or what type of training session I plan to have at the beginning of my run each day. Every day is a new day and I plan my run based on what I feel that day, usually during the first mile of that run. I like including hills, tempo, and speed work in all of my runs! Maybe a crazy way to train, but this works for me.
G!M: I am sure you have heard that this year the Go! Mile will be an RRCA National Championship race, and that there is some prize money on the line… what do you think about that? And are you excited about the prospect of some really fast times being run?
MF: I am very excited about the Go! Mile this year. It is so fun to be able to participate and cheer on everyone else during their heat. It is a great atmosphere, and I have loved being able to participate the last few years. I believe with as big as this year's race will be, there will be some very fast times.
G!M: What are your personal goals for this year's Go! Mile?
MF: My goal for this year's Go! Mile will be to do better than I did last year, but I would like to do much better. Since I don't really do speed work, it is hard for me to pinpoint what I am capable of. I would be very happy with a time somewhere in the 4:40 range.
G!M: Who do you see as your biggest rival as the returning masters champion?
MF: My biggest rival in this year's race would probably be Todd Hink. He and I have battled out many races over the last few years and Todd is a great competitor. I believe there may be others out there as well. I am sure that there will be many Masters runners traveling in this year since this has become such a huge race and the purse is so large. It will be very competitive.
G!M: Do you have your sights set on any particular races the rest of the year?
MF: I want to continue to run the Grand Prix races this year and compete the best I can in them. I don't have any big races planned at this point for the rest of the year, but you never know. That is why I like to keep my mileage up so in case I decide to run something, I should be in relatively good shape to do so.
G!M: Your wife and daughters are also runners, will they all be racing too?
MF: All of my family (wife Christine, daughters Mackenzie, Zoe, and Avery) completed in last year's Go! Mile races. It was so much fun to see them compete and race. Races are great family activities and allow all of us to participate in the same activity. I love to cheer them on.
G!M: Who in the family gets the most nervous before their races? Who is the most competitive?
MF: All of my family is very competitive with myself leading the charge with Christine and Mackenzie not far behind. Zoe and Avery are also competitive, but they seem to smell more of the roses in route to the finish line than the rest of us do. I think both Christine and I are the most nervous prior to races. Just call us Nervous Nelly. Even though we have run many races over the years, it is still nerve wracking on race day. Am I wearing the right shoes, did I eat enough, did I drink enough, did I get enough sleep the night before, am I wearing the right clothes, did I visit the port-a-potty enough times.
G!M: What advice do you give to your kids on race day? Or what advice do they give you?
MF: My advice to my girls before every race, 'Do the best you can and have fun. As long as you try, don't give up, and be happy with your results no matter what place you get, then you will have a successful race'. Advice my daughter's give me, 'Don't get beat by a girl'. I am usually successful with this, but not always – Thanks Leah!
G!M: What is your favorite thing about the Go! Mile?
MF: My favorite thing about the Go! Mile, the amount of time and effort that the Go! family put into the race and all the activities that occur on race day. Gary, Erin, and all the employees at Go! do a great job of putting the race together. It truly is a family field day where everyone can have fun.
Check out more information on the Go! Mile in this Arkansas Matters interview:
Last thing, get entered into the Run Happy, What Makes You GO! contest on the GO! Running Facebook Page. Check back next week for the second installment of GO! Mile Interviews.