By Kelly "K2" Richards RRCA At-Large Director, ROADIE and 3 X GO! Mile Competitor
The Road Runners Club of America added the mile to the slate of National Championship races in support of the Bring Back the Mile (America's Distance) movement. For three years running, the GO! Mile presented by Go! Running ®, has been the RRCA 1 Mile National Championship.
A one mile race in June in Little Rock is guaranteed to be hot, fast and fun! How hot? A steamy and sunny 80° by 7:00 AM. How fast is fast you ask? Six Arkansas State Age Group Records were set and the men's winning time was 4:21.49 while the women's winner set an AG state record in 4:43.28. Don't run over to the porta-pottie or you'll miss the finish fast! What about the fun? For me, it's any time I'm not running because I'm a marathoner and running a mile is way harder than it is fun, but I have three favorite race heats:
1) The First Mile, this heat is for novices and beginners. For most participants it's their first race and therefore their first mile. Everyone finishes feeling accomplished. I thought it was fantastic that race sponsor CHI St. Vincent had over 70 employees participate in the First Mile. Erin Taylor, co-owner of go! Running ®, has run the First Mile with her father, John McCarthy, the past three years. John passed away suddenly last fall. This year, Erin, all four of her children and some special friends ran the First Mile together in honor or John.
2) The Elite heat because this is when the super speedy runners' race and it's just plain cool to watch a human body move that fast.
3) The Mini-Mile for Kids. I absolutely love the enthusiasm and joy the little kids run with.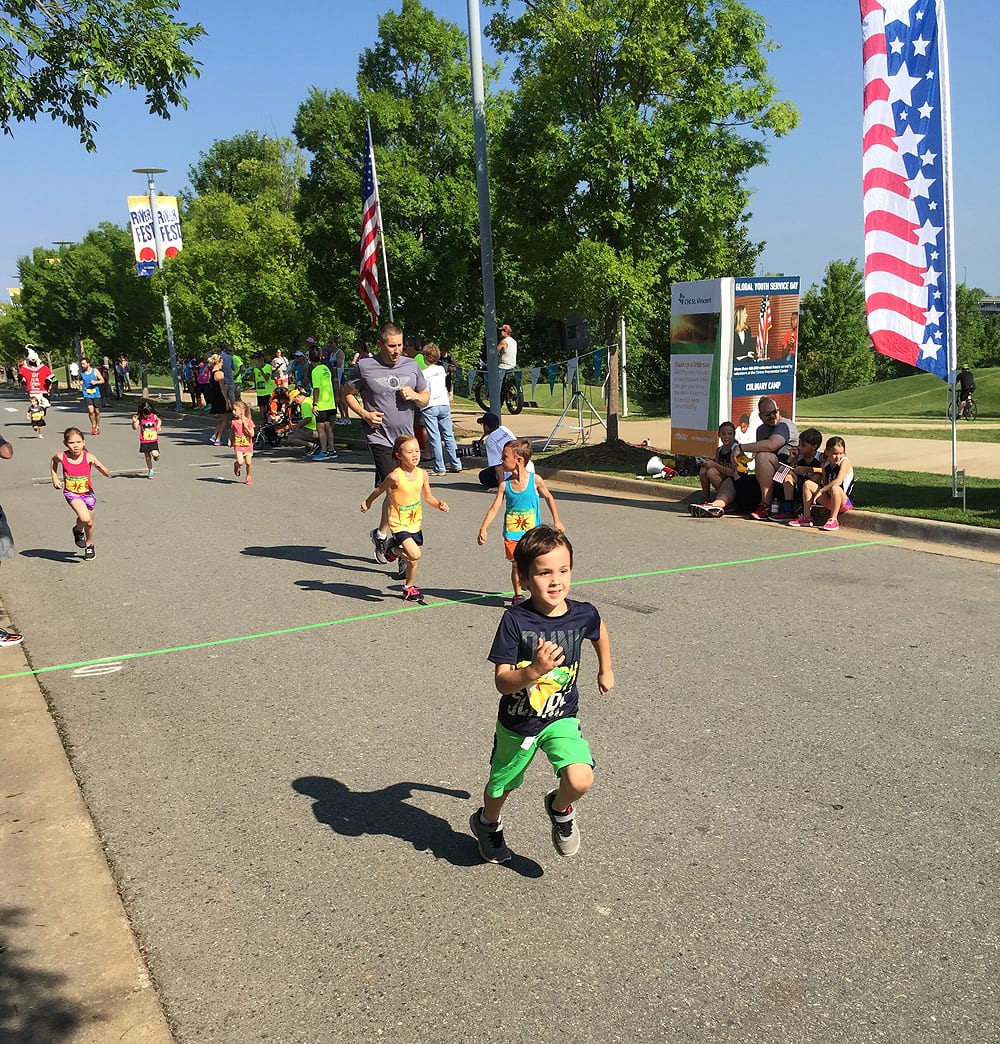 Allen Eke, a NJ native and recent graduate of Oklahoma understands being a Sooner means you get there first so he won. In 4:21.49! Compared to some of the close finishes in past years, he solidly beat second-place Christian Brewer by almost a full second. Not to be outdone or outrun, farm girl to NCAA national champion Razorback Jessica Kamilos took just 4:43.28 to become the RRCA 1 Mile National champion. She won by over 30 seconds, setting an Arkansas state record for females 20-24.
Following the race and all weekend long, racers are encouraged to explore downtown Little Rock and the surrounding areas where they can receive discounts and free items at over 30 venues by showing their Victory Lap wristband. Participating businesses included museums, microbreweries, restaurants, bike shops, and more. In the roughly thirty hours I was in town I managed to make it to: Skinny Js, Core Brewing Co., Rebel Kettle and Big Orange. It's safe to say I consumed far more calories than I burned. Just doing my part to support those that support running!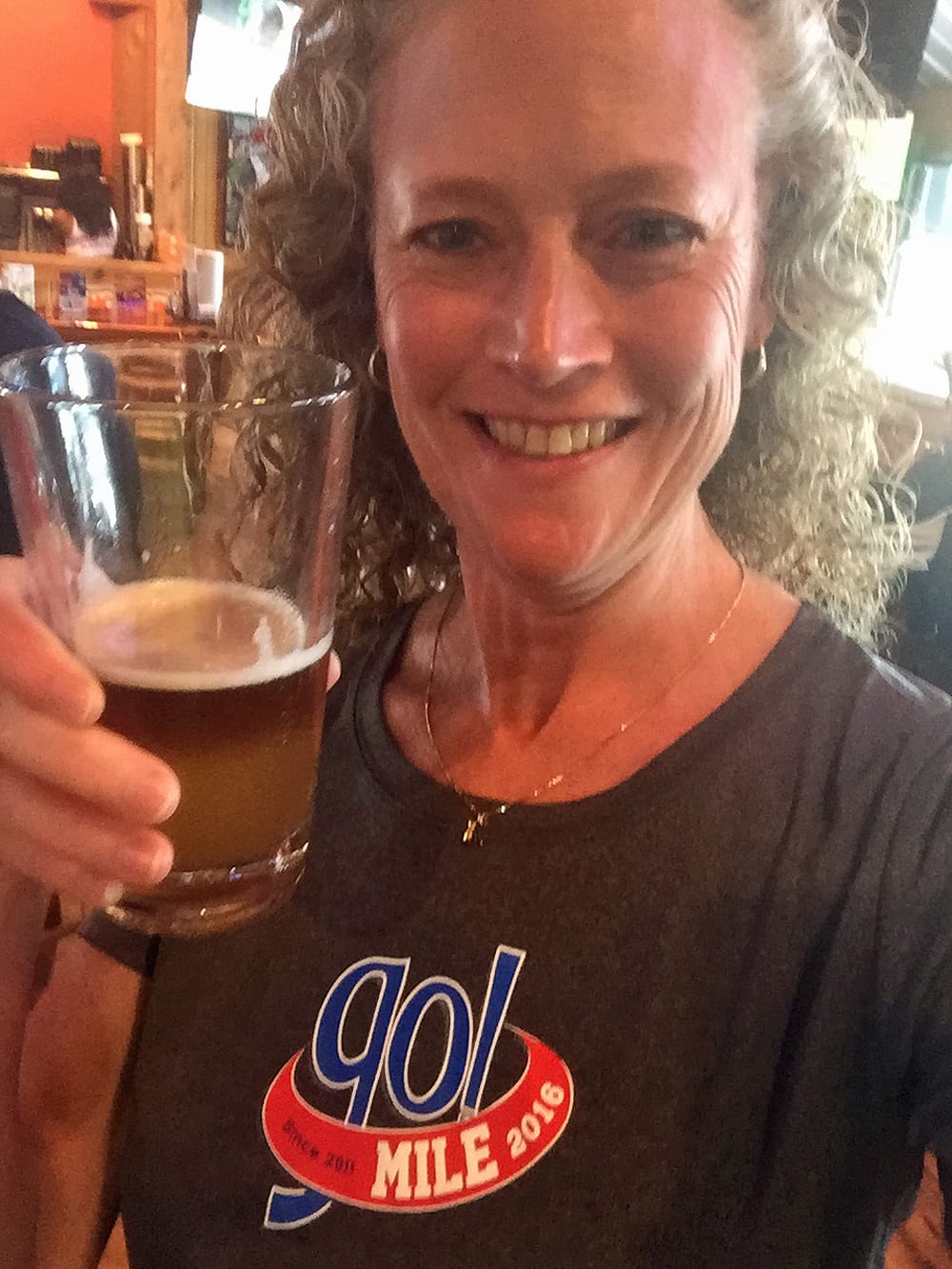 I'd like to acknowledge Gary and Erin Taylor for putting on a fantastic run. I thank them, Arkansas RRCA State Representative Arkansas RRCA State Representative David Meroney and the whole Arkansas running community for making me feel welcomed while in Little Rock. I say it every time I'm in–state but it's true, the Arkansas running community is really special.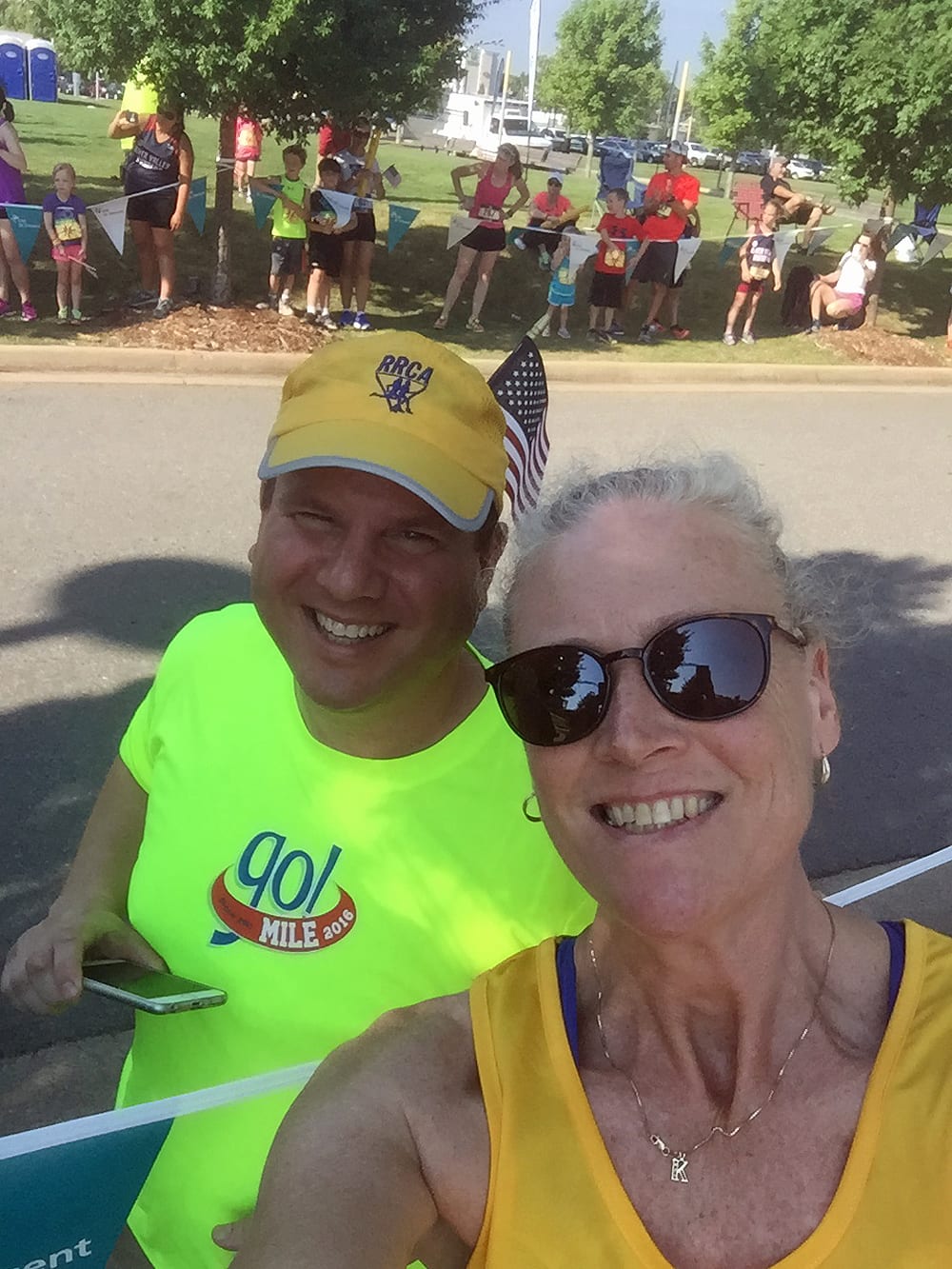 RRCA 1 Mile National Champions
Overall Male Allen Eke 4:21.49
Overall Female Jessica Kamilos 4:43.28
Masters Male Timothey Gore 4:39.00
Masters Female Kem Thomas 6:00.39
Grandmasters Male Bruce Oakley 5:32.24
Grandmasters Female Lynn O'Neal 6:25.22
Senior Grandmasters Male Jeff Maxwell 5:57.31
Senior Grandmasters Female Debbie Hill 7:26.58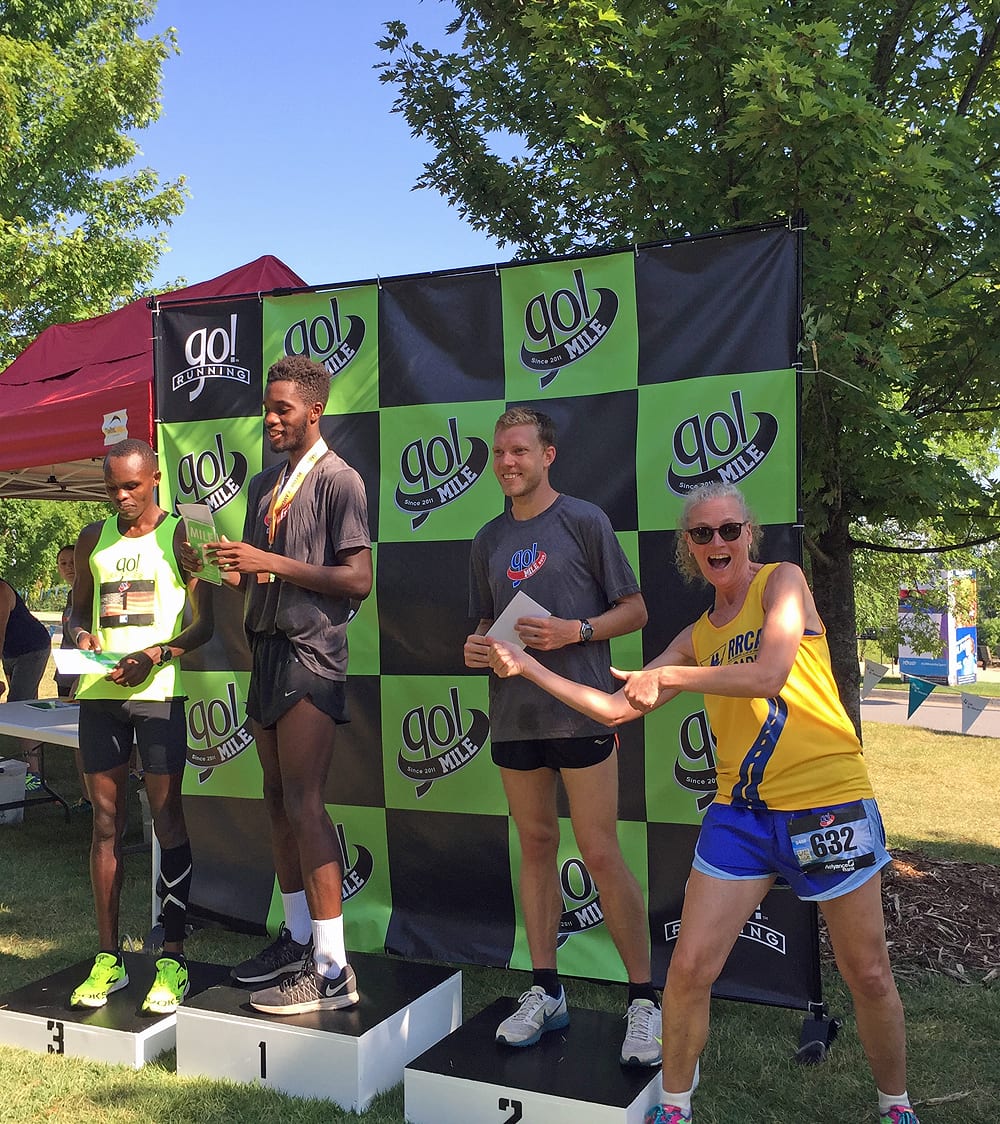 Other race notables:
The entire women's field had two women from outside of Arkansas while the three of the four fastest men came from different states outside of Arkansas.
Arkansas State Age Group Records set:

Female 20-24 Jessica Kamilos 4:43.28
Female 65-69 Debbie Hill 7:26.98
Male 35-39 Brian Sieczkowski 4:37.95
Male 45-49 Timothy Gore 4:40.00
Male 65-69 Peter Mullin 5:33.77
Male 70-74 Billy Bob Hardman 7:08.96

Both the men's and women's races had an 80+ (years old) finisher
Marvin Engels, the AR M-75-79 and 80+ state record holder, was the oldest finisher at 84 years young