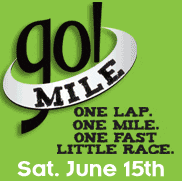 (Each Wednesday in May we will feature an interview with a Go! Mile Runner. Thanks to elite marathon runner, Leah Thorvilson for conducting these interviews. Remember, the Go! Mile is on Saturday, June 15th. It's a fantastic first run event or the perfect place to see just how fast you can go. Get signed up now.)
It's that time of year again. The temps are rising, the birds are chirping, the grass is growing, and the road race circuit is in full bloom! All of us at Go! Running are getting excited about our favorite summertime race, the Go! Mile, coming up on Sat. June 15th! This year, the Go! Mile is not only an Arkansas Grand Prix Championship Race, but also an RRCA Southern Region One Mile Championship race. As such, we are anticipating our 3rd annual to be the largest, fastest, and most fun Go! Mile yet. We recently had a chance to catch up with women's two time champion, Tracy Tungac. Here's what she had to say about her recent racing stats, and preparations for defending her title.

[Leah] Tracy, 2013 has been quite a year for you so far, notching personal bests in the 10k, 15k, and marathon (with a 2nd place overall finish at LRMarathon!!). You must be very excited. Tell us a little bit about the highlight or most defining moment for you so far?

[Tracy] The year has started off pretty great. I'm super excited about my training, and the improvements I'm seeing in my race times. My ultimate goal was to run a sub 3 at Little Rock Marathon this year, and I missed that by 15 seconds. I have to say that was frustrating, but I still ran a PR by 7 minutes and came in 2nd place, so that was pretty awesome. 

[Leah] What race plans do you have for the remainder of the year?

[Tracy] As of right now I plan to run a few shorter races in the Grand Prix series, and I'm looking in to a fall marathon. I just haven't decided which one yet. I'm going to get that sub 3!!

[Leah] What are your goals for the Go! Mile this year?

[Tracy] I would like to run a 5 minute mile, and it would be great if I could keep my winning streak for the race going! 🙂

[Leah] The Go! Mile is designed to not only be a place for the speedsters to go head to head at a uniquely shorter road race, but also to be a very beginner friendly and family-oriented event. What do you love most about the Go! Mile?

[Tracy] I love that there are different heats so we are able to watch our friends and fellow runners race. I have a few friends that made the Go! Mile's "First Mile" their first race and they loved it. It's a great feeling to be a part of that. I also love that it's the only race like it around, being a shorter distance. I probably get more nervous for that one mile than I do for all the other races!

[Leah] We understand you are working with a new coach? Your race statistics obviously speak for themselves, but tell us a little bit about how your training has changed and the experience of working with a coach.

[Tracy] Working with my coach, Cezar Terlea, has done wonders. He has been a huge help. I went from just running my weekly mileage with little to no speed work, to doing speed work, hills, fartleks, track workouts, tempos… you name it. My mileage hasn't changed much, but I feel that the quality of my runs and workouts has definitely improved. It's great to have someone to tell you what to run, someone to push you and hold you accountable.

[Leah] Did you know that this was a Grand Prix Championship race and also an RRCA Southern Region One Mile Championship? Does that add an element of excitement for you?

[Tracy] I did not know that! Cool! I knew it was in the Grand Prix, but not a regional championship race, that's very exciting. It makes that one mile that much more invigorating!
[Leah] Who would you expect to be big contenders for this years Go! Mile Championship titles?

[Tracy] We have some fast girls in the Grand Prix this year…Aimee Larkin, Tia Stone, Jennifer Harpel just to name a few. Also, the girls that came out last year from Searcy and Kenzie Bloom. I think if they all show up, it will be a really fast and exciting race. I'm really looking forward to it!!
(Watch for another interview every Wednesday this month and while you're waiting, go ahead and get registered for the Go! Mile. Also enjoy an evening of running with friends every Thursday night at the Go! Running Shop.)