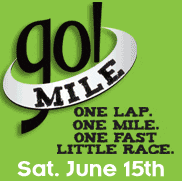 (Each Wednesday in May we will feature an interview with a Go! Mile Runner. Thanks to elite marathon runner, Leah Thorvilson for conducting these interviews. Remember, the Go! Mile is on Saturday, June 15th. It's a fantastic first run event or the perfect place to see just how fast you can go. Get signed up now. Read Part 1)
Ginea Qualls, 3 generations of runners!
The Go! Mile is the most unique road race in Arkansas this summer! Not only does it set itself apart by being a shorter distance, but the multiple mile heats make it ideal for every age, pace, and level of experience. Any runner will attest to the fact that lining up for your first race can be an intimidating experience. If you're a newbie, the "First Mile" is for you!! Reserved for first-time racers and novice racers, the First Mile is a celebration – and we're hoping it will become "the First Mile of the rest of your life"….as a runner!
For all the speedsters out there, who don't often get a chance to showcase their talent, the Elite race is your time to shine! All the state's fastest roadies will be there, plus some names you aren't used to hearing, as the summer season always brings out a few of the top collegiate and high school runners looking to extend their track season.
Looking for a day your whole family can enjoy?
Bring your kids too! They can run in the Kids Mini-Mile (ages 9 and under), which is actually a half mile distance, to make it a bit more "little one" friendly. With these race, plus the men's and women's open heats, masters heats, and NEW for 2013 runner's village at the finish line, there will be no shortage of spectators and the energy is always high! One of Little Rock's road racing regulars, Ginea Qualls, will be running her 3rd consecutive Go! Mile this year. What makes this year's race unique for Ginea? Her family will have 3 generations participating, each in a different heat of the race! We recently had a chance to visit with Ginea, and ask her a bit about her life in a "running family".
[Leah] I know that your mom (Barbie Hildebrand, one of Arkansas' top masters runner) has been a huge inspiration to you and so many others. Tell us a little bit about the role running played in your childhood.
I have several fond memories that center around running races. I'll share one in particular that makes me smile. My mom was the P.E. teacher at my elementary school. At the time, the Little Rock Road Runners put on a 2K Junior Jog. My mom had the students train to run the race. In order to "qualify" to go you had to run a mile. I, along with 100+ students from my school, qualified and participated in the race. It finished in War Memorial Stadium. I vividly remember running in to the stadium and the music was blaring "High Way to the Danger Zone". LOL! I think I rocked a 9:24 2K.
[Leah] Do you remember running any races with your mom when you were young?
No, I don't recall running any races with her. She would enter me in races, and tell me to follow the person in front of me. Ha! Once she finished (normally in first place), she would circle back and run me in. I looked forward to seeing her running towards me as I finished. To this day, she still comes back to get me. 🙂
[Leah] How exciting is it knowing that not only can you, your mom, and your daughter Savannah represent 3 generations of running at the Go! Mile, but because of the different heats, you will be able to be on the sidelines cheering for each other too?
I am really looking forward to this year's race. Savannah  enjoys "racing" me. It will be fun to see how she does. I love the heats! The highlight of last year's race for me was watching my mom kick it to win the masters' heat!
[Leah] What makes the Go! Mile special to you?
The Mini Mile. Seeing all the little kids run is so much fun. I also enjoy being able to see all the fast runners finish. Being a middle of the pack runner, I never get to see them or cheer for them at other events.
[Leah] Are you raising a future Grand Prix champion in Savannah? Is she getting pretty fired up about running the Kids Mile? Or is she just in it for the cool toys and smoothies at the finish line?
I think Savannah has my mom's athletic genes, so I hope I'm raising a future Olympic star! Haha! In all seriousness, I want Savannah to be healthy and active. If running happens to be her thing I'll be more than happy, but if she prefers gymnastics I'll be just as happy. Savannah will be all about the toys and smoothies too! 
[Leah] Between the First Mile, the masters heats, the open heats, the elite race, and the Kids' Mile, there are 7 races at the Go! Mile. Your family will be representing in 3 of the 7 already. Any thought of trying to talk your husband Dave into running the First Mile in preparation for his half marathon later this summer?
Dave needs to step up his training, and I hope he decides to run the "First Mile". I would also like to get my Dad back out on the roads. If I can make all that happen, we will have a family member in 5 of the 7 heats!
[Leah] What would you say to someone who is on the fence about running this race?
If you're looking for a fun, stress free, fast race, you should definitely run the Go! Mile. You will be able to cheer on elites, first timers, and the cute little kids. It's the perfect event for everyone!
(Watch for another interview every Wednesday this month and while you're waiting, go ahead and get registered for the Go! Mile.Also enjoy an evening of running with friends every Thursday night at the Go! Running Shop.)