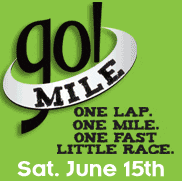 The Go! Mile has always set itself apart from other summertime races with it's unique, shorter distance. This year's Go! Mile, however, carries a few other distinctions as well. It has been designated as a State Championship event in the Arkansas Grand Prix Series, and has also been named an RRCA South-Regional Championship race. For those unfamiliar with the Grand Prix, each year, 20 races of various distances are selected. At these races, individuals as well as teams (comprised of local running clubs from around the state), are scored against each other to compete for the Grand Prix titles. 10 of the races are non-championship events, worth a maximum of 20 points each, and 10 are championship events, worth 30 points each. The championship events also have deeper awards categories, giving competitors an extra shot at taking home some hardware! With the State and Regional Championship recognition, we anticipate an even larger and more exciting field of athletes both from within Arkansas, and the surrounding states as well. For the Arkansas Grand Prix, to be eligible for individual awards at the end of the season, runners must complete a minimum of 5 races. If they complete more than 5, their score is compiled of the best 5 championship scores and the best 5 non-championship scores. While some might be content running just enough races to keep themselves on the scoreboard, others take on the personal goal of running everyGrand Prix race. These people are named and honored at the end of the season as "Iron" Men and Women. We recently had a chance to chat with an extra special Grand Prix "Iron" Man, Joe Milligan.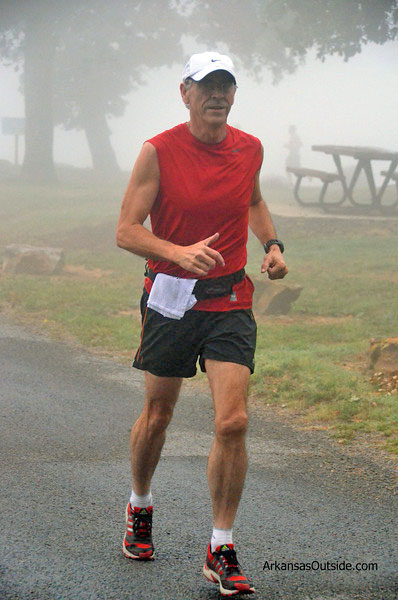 [Leah] Joe, some people set the goal of running a Grand Prix "Iron" season one time in their running career. You, on the other hand, have done it….how many times consecutively?
[Joe] Believe it or not, I usually have to think a minute to remember how many it has been.  If I complete this season it will be 9 consecutive "Iron" seasons.  The one number I usually cannot ever remember is the number of consecutive Grand Prix races.  I have runners ask me that all the time, and I honestly cannot ever tell them without mentally counting it up.
[Leah] What inspired you to want to do your first Iron season?
[Joe] Actually I didn't have anything that "inspired" me.  It just kind of happened.  I remember Jacob Wells and I discussing it during the course of the year, but it was nothing that I had planned at the beginning of the year.  Jacob was an Iron Man that year also.
[Leah] Have you ever entered a Grand Prix season saying "this is gonna be the last one"? If so, what changed your mind?
[Joe] Good question, Leah!  No one has ever asked me that before.  To be honest, I haven't gotten to that point yet.   I love to run, and when it is no longer fun then I will stop.  For the record, I don't just run in Grand Prix races.   Over the last 5 years I have averaged running in about 30 races of varying distances each year.  I love to run in trail races, and races that are for good causes like the recent March for Babies 5K.
[Leah] What has presented the greatest challenge for you in maintaining your Iron streak?
[Joe] I have been very fortunate over the last few years to not have anything that really presented a challenge.  There have been two times that I thought the streak could end.  During the last few years I have lost both my Mother and Father.  They both had cancer and passed away after only a few months.  It just happened that they passed away during a period where there were no races.  Both funerals were on Saturdays and I would have definitely missed that race.
[Leah] At 62 years young, you are currently topping the GP leaderboard, not only for your age group, but overall for the "Senior" division. Does your focus for a championship race like the Go! Mile turn more towards winning your division? Or is the main goal to maintain Iron status?
[Joe] It's a little of both.  I would love to win my division in the Go! Mile, but to be honest I am just not fast enough!  The reason I am currently topping the GP leaderboard for age group and Senor Division is because I have run more races than anyone else (it does have its perks).   At any one time there may be a dozen or more runners in my age division that can beat me on any given day.  But since they don't usually all show up at the same time, I have a chance.  So, just running in all the Grand Prix races gives me an advantage at the end of the year.
[Leah] In all your years of running every race in the Grand Prix, what makes a race memorable for you? What events stand out in your mind and why?
[Joe] The answer to that question is complicated for me.  One of the most memorable races for me is the 2004 Capitol City 10K simply because it was my very first Grand Prix race.   It's a long story to tell you exactly why, but I still remember everything about that particular race.  What makes a memorable race to me has nothing to do with where I finished or how good I felt, but the circumstances that surround the race.  Each race is kind of like a mini adventure.  The Chili Pepper 10K is very memorable to me not only because it was my 100th consecutive Grand Prix race, but also because it was the starting point for my streak, it's a 10k and a cross country race. My wife and I use this weekend for a mini vacation each year.  Also, in what other race can you get post-race tacos at 9:00 in the morning! 
[Leah] What do you look forward to most with this year's Go! Mile?
[Joe] I really like this race.  It's a good break from all the 5 and 10K's.  Even if it wasn't a Grand Prix race I would make a point to run in it every year.  It is very well organized, and Erin and Gary do a great job with it.  The first Go! Mile I ran in was the first mile race that I've run since high school.  It brought back old memories.  One of the things I enjoy about it is that you don't have to run 4 laps on a track.  I hated that last lap!
[Leah] Do you have any family who will be competing in the other heats?
[Joe] Yes I do and thanks for asking!  My son Greg started running with me last year and this year has made it his goal to run in all the Grand Prix races.   Greg ran with me in my first marathon, which was in 2004.  He did it without any training.  Now we train and run together, which really makes it more enjoyable.
[Leah] How does it feel to be looked up to as The Infamous Iron Man?
[Joe] I didn't know I was the "Infamous Iron Man"!  And I definitely didn't know anyone looked up to me (unless they are shorter than me, LOL).   I'm just another runner who is doing what I love.
[Leah] How many more Iron seasons do you think you will do?
[Joe] I really don't know.  I have always looked forward to the next Grand Prix race and consider each one of them an adventure.  There is not one of them that I have dreaded running.  There is so much variety in the distances and the locations that even running the same races year after year is not boring to me.  There may come a time what I may not be able to run in the next Grand Prix race and I may have an injury or something worse may happen that will end the streak, but I do know that it will be a sad day for me.  I know I can't keep the streak going forever, but I don't dwell on it.  When it ends, it ends.
[Leah] You finished last year's Go! Mile in just a hair over 7:00 flat. Do you plan to try to dip under 7 this year?
[Joe] Yes I do!  The year before last I finished under 7 minutes and I have increased my speed workouts to hopefully do that again this year.  I have found that my speed (whatever I did have) is not what it used to be a few years ago.  It may have something to do with my age, but I would like to contribute it to not doing any real speed workouts. So this year I have planned some hill work and sprint repeats that will hopefully give me more speed.  We will see if it helps.
[Leah] With a streak like yours, you have been very fortunate not only to maintain a mental balance that has kept running fun, but also to maintain physical balance and avoid injury. Do you have any advice/tips to share on how you have stayed healthy? 
[Joe] Leah, you are right in that I have been very fortunate to have not experienced any major injury. I have had some minor injuries such as shin splints, plantar fasciitis, swelling from a knee surgery I had almost 45 years ago, and intermittent sciatic back pain which required an epidural steroid injection. The best preventive measures I have found are simple, a thorough warm up and cool down. Also, I never run the day after a race or long training run. I feel this gives my body a chance to fully recover and thus avoid a possible injury. Another thing I find to be key to keeping running fun and staying healthy is to have a supportive spouse. My wife is the most important reason that running is fun for me, and she definitely helps with keeping me healthy by ensuring I eat the right foods. Nothing I have accomplished would have been possible without her love and support.
(Watch for another interview every Wednesday this month and while you're waiting, go ahead and get registered for the Go! Mile.Also enjoy an evening of running with friends every Thursday night at the Go! Running Shop.)