"Recycle Bikes For Kids was started in 2008 to provide bikes to kids who would not otherwise have one. We began by buying used bikes but quickly discovered that people will give you their old bikes when they know you'll repair them and give them to kids. Everyone remembers their first bike and they want to share that experience. We have received over 3,500 bikes and have repaired and delivered over 3,000 of them. We always need more bikes. Just call and we'll come pick yours up." ~Ron King, Recycle Bikes for Kids
There is never a shortage of people in need. One could hope that would also mean that there is never a shortage of people willing to help, but that may not always be the case. During this time of year we are reminded of so many needs: those with little food, those with little shelter, those living in fear of neglect or abuse, and those without some of the simple joys in life.
Nothing compares to the simple pleasure of a bike ride.  ~John F. Kennedy
Ron King of Recycle Bikes for Kids knows how to provide that simple pleasure to people in need and he does so in abundance. The dry erase board in his entryway read 831 on a recent weekend. That's the number of bikes he's given away just this year through charity organizations, churches, non-profits and individuals who come to him. On the Saturday we visited the shop Ron told us he had 300 more ready to go since this is the time of year when he gets the most requests.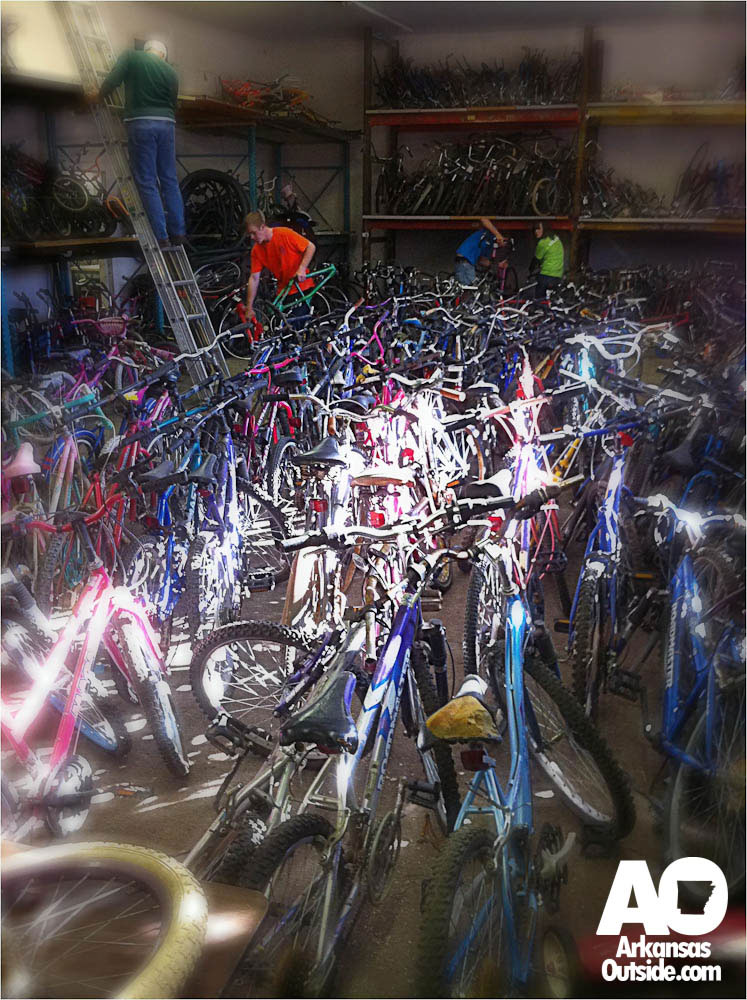 I have to admit that I've known about Ron's program for some time now. We have friends and acquaintances who are regular volunteers in the shop. The first time we hosted a Take a Kid Mountain Biking Day, Ron helped us out by donating a few bikes that we gave away to kids who needed them. I had yet to volunteer myself, thinking I might not have much to offer.
I don't have many skills as a bike mechanic. Actually I have almost none. I know how to fix a flat tire, at some point I learned to use a chain breaker and put one back together, I can clean and lube my chain. That's where my skills end so you can imagine my feeling of inadequacy when Joe asked me to go with him to work on bikes. My fear was for naught. Many of the bikes need minor repair like finding a new seat, changing the worn or dry rotted tires out or cleaning and lubing the rusty chain.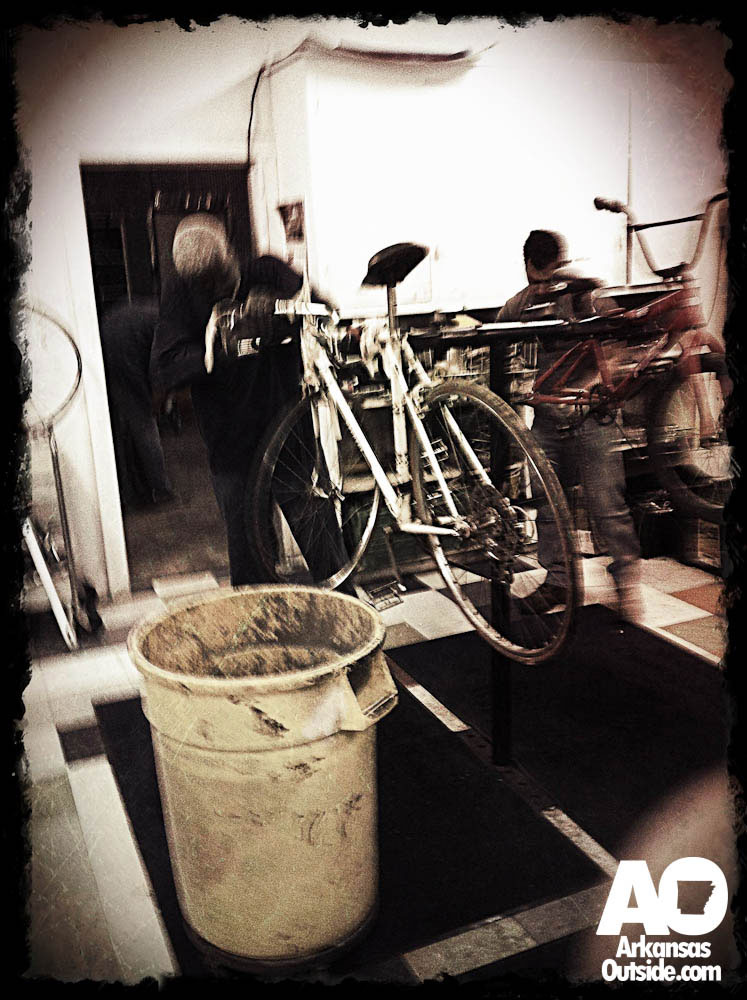 When Joe and I arrived we were given a fix it station to share and while Joe diagnosed problem areas, I got the degreaser, brushes and scrub pads and a big bottle of WD40 and went to work cleaning  the bike. If a kid is going to get a bike that I tried to fix up, at least it's going to be clean and shiny and as clear of rust as I can make it. Also, I petitioned to be the test rider. That is definitely a job I can do.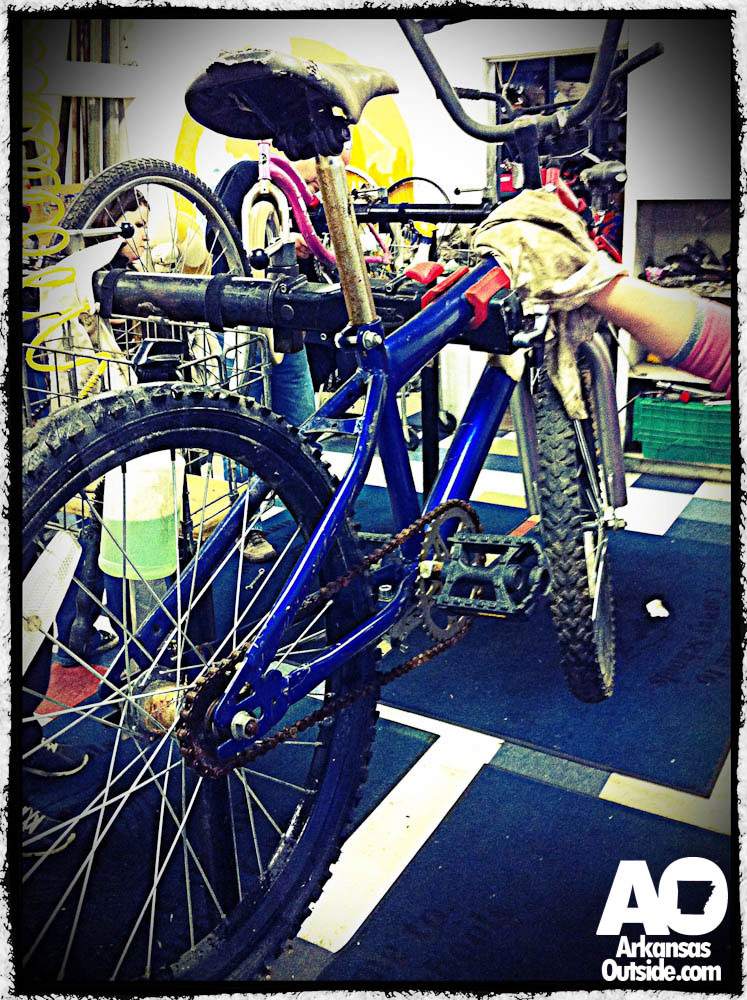 The shop was full with the 4 stations in the back having 6 workers and more volunteers were in the big room up front. Spray bottles of grease and degreaser were passed around, clean up towels were getting very dirty and conversation was plentiful. I highly recommend a morning spent getting some grease under your fingernails for a good cause regardless of your abilities as a bike mechanic. Maybe next time I'll get a lesson on how to use a spoke wrench. And know that however big or small the job, when you are finished with a bike, Ron will say "I like that one." And he'll mean it.
The best way to find out what's going on at Recycle Bike for Kids or when the work sessions happen is to follow them on Facebook. Not on Facebook? Give them a call at (501) 952-4581 or email at recyclebikesforkids@gmail.com , I'm sure they'd be happy to answer any questions you have.