When people think of a beautiful, fall bicycle ride through rolling hills and spectacular color, they might not envision themselves in the Mississippi River Delta. I know this was my thinking before I had the opportunity to spend a few days on delta gravel. The idea of gravel grinding from Jonesboro, Arkansas to Clarksdale, Mississippi made me think of long, straight, flat rides past fields of cotton and soybeans, where the biggest obstacle would be a strong headwind and a sunburn. I was wrong.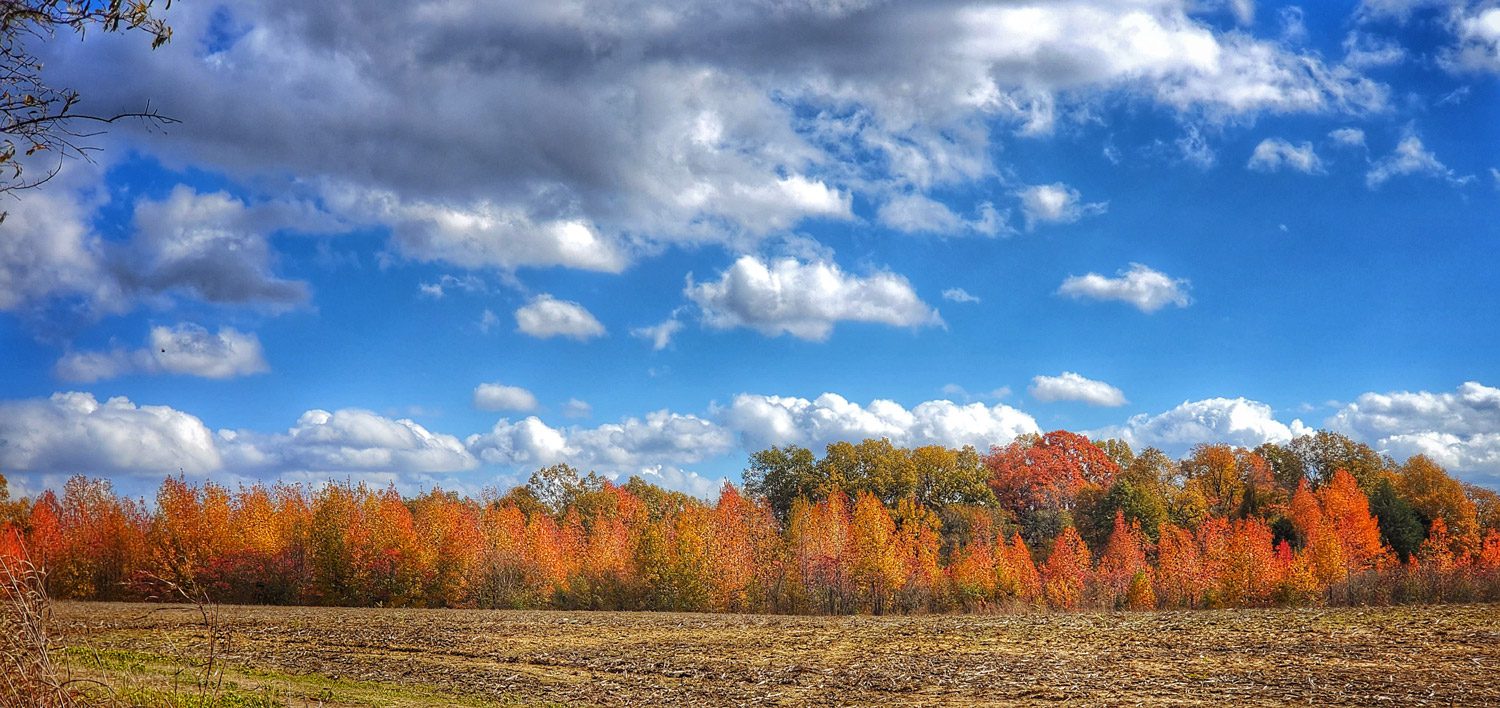 A couple of months ago a friend asked if I wanted to join a group of travelers on a gravel road ride from Jonesboro to Clarksdale following Crowley's Ridge. Knowing I would be in good company, and looking to expand my gravel riding experience, I said "yes".
What is Gravel Grinding?
Gravel grinding, the act of riding bicycles on gravel roads has been growing across the country in recent years. There is a lot of speculation on why the sudden growth in this activity. Outside Magazine published an article on it in 2018 saying,
"A convergence of factors has fueled gravel's growing popularity. For one, interest in road riding is waning, some say partly because of disillusionment after the drug scandals of the Armstrong era, but also because paved roads are becoming increasingly dangerous for cycling. "I think there's this growing feeling that riding on highways is not worth the risk…"
The second point above regarding safety is possibly the main reason for the increase in gravel grinding.
Another great thing about gravel grinding is the bikepacking aspect. In Arkansas, we have a lot of US Forest Service land that allows dispersed camping. A gravel bike becomes the perfect vehicle for overnight adventures. In addition to opportunities for camping in the forest, the state also hosts the Arkansas High Country Route, an Adventure Cycling Association mapped route that covers over 1000 miles and is 50% gravel. It attracts athletes from all over the country. The route is also home to the longest distance bicycle race in the state, the Arkansaw High Country Race. There are many other shorter races and rides across the state including the Slobberknocker, Big Sugar Gravel Grinder, and the Little Rock Dirty Fondo, among others.
To illustrate the topography, traveling west or north out of Little Rock, there are the Ouachita and Ozark Mountains, respectively. These include very steep gravel roads and a lot of National Forest areas. If traveling south from Little Rock there are more rolling hills and a lot of lands owned/managed by timber companies. Going east on Interstate 40 it seems rather flat with lots of farmland all the way to Memphis except at Forrest City. At Forrest City, the interstate goes up and over a bit of relief before heading to Memphis. This is Crowley's Ridge.
What is Crowley's Ridge?
A good source of information on Crowley's Ridge is available in the Encyclopedia of Arkansas, here is an excerpt:
"Crowley's Ridge is a small yet distinctive natural region. It ranges in width from one to twelve miles and extends from southern Missouri across eastern Arkansas to Helena-West Helena (Phillips County). It is made up of a continuous series of rolling hills except for a slight break at Marianna (Lee County); this break or gap was created by the L'Anguille River as it flowed across the ridge. The ridge received its name from Benjamin Crowley, the first white settler to reach the area near present-day Paragould (Greene County), sometime around 1820…"

"Crowley's Ridge is an unusual geological formation that rises above the Alluvial Plain of the Mississippi Embayment (Mississippi Alluvial Plain, or Delta). The ridge contrasts sharply with the surrounding flat table land of the Delta. In terms of formation, the ridge is generally thought to have once been an island between the Mississippi River and the Ohio River. It became a long and narrow hilly ridge after the rivers changed course millions of years ago. Prior to the change in course, the Mississippi River flowed along the west side of what is now Crowley's Ridge, with the Ohio River meandering along the east side. The work of these major rivers and their subsequent shifting in course resulted in the formation of an erosional remnant that is now Crowley's Ridge."
I thought the ride would consist of riding back and forth across the ridge to get some elevation, and again, I was wrong. Although I've driven the Crowley's Ridge Scenic Byway many times, I had no idea of the wonderful gravel roads that were hidden behind the treelines.
---
The Trip
(Gravel Grinding from Jonesboro to Clarksdale)
Day One – Jonesboro to Birdeye
I met our party at 9 am on a Monday at Jonesboro Airport. It was a little cool, but I had proper attire. Our group consisted of landscape architects, public servants, non-profit managers, business owners, and other bicycle enthusiasts. We headed south, the goal for the day being to reach Birdeye, Arkansas, a small farming community on Crowley's Ridge and the home of the group's host. Utilizing some of the paved trails and a few roads on the east side of Jonesboro to get out of town, we were greeted with the type of gravel roads I expected and about 10 miles of straight windy road. But that soon changed when we took a right (turned west) and hit a paved road that climbed to the top of the ridge.  At the top, we headed south on a gravel road that wound its way around hilly farm property with short climbs and fun downhill rides. After about 25 miles of riding, we rolled into Harrisburg, Arkansas. It was lunchtime and Ricks Diner was open for business so we settled in for a good southern meal to reward the morning's efforts.
After lunch, we climbed back up to the gravel road and continued south. (This is a good point to mention the importance of a good SAG (Support And Gear) vehicle. Our SAG carried all of our overnight bags keeping our bikes light. Not only did the SAG save us from carrying more weight than absolutely necessary on the bike, but they also showed up one time at an intersection where we were transitioning from pavement to gravel with bags full of warm fried pies for a late afternoon snack, like a bikepacking Trail Angel.) Refueled, we attacked the last 10 miles into Birdeye. (Day One, 47.54 miles, 2103 feet elevation gain)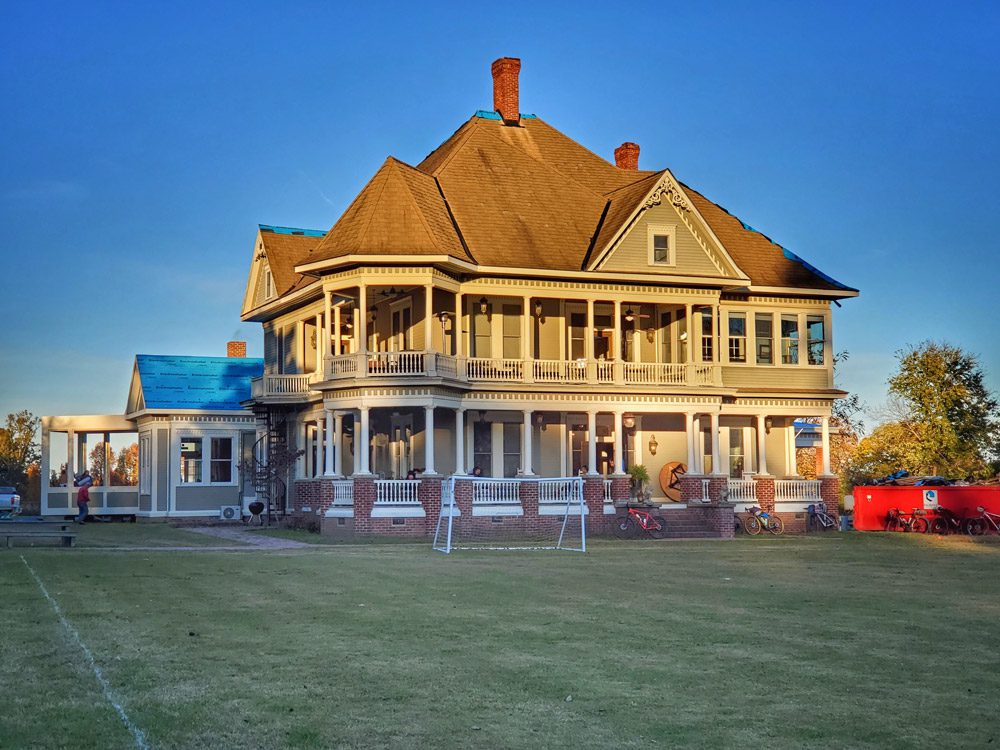 That night we had the opportunity to get a shower, make and eat pizzas and enjoy cold beverages while getting to know each other better. Our hosts rolled out the southern hospitality. We wanted for nothing that evening.
Day Two – Birdeye to Village Creek State Park
Day two would be our shortest ride day: Birdeye to Village Creek State Park. Early on, we hit the most technical gravel of the trip. There was an audible groan from the group as we passed a grader and were greeted with a freshly graded road. Much like riding in sand, we were lucky that we were heading downhill at this point, but keeping the bikes upright, particularly those of us with skinny tires was a challenge. We were thrilled when that section ended and we found some good hardpack gravel.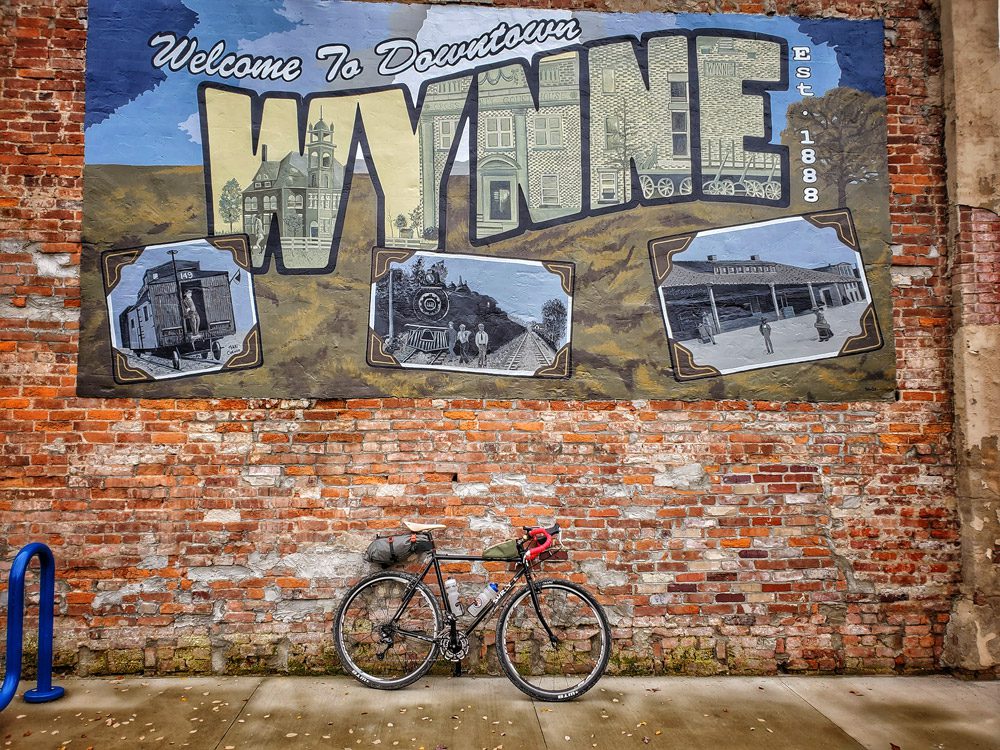 We rode on to Wynne, Arkansas coming into town on the east side riding through a beautiful historic district and to the town square where our SAG met us with sandwiches and drinks. After a short ride on some flat gravel, we made our way back up the ridge and headed into Village Creek State Park where we would spend the night in the fully modern cabins, grilling dinner outside and enjoying each other's company until we all headed off to bed. The next day would prove to be the toughest of all four days. (Day Two, 32.78 miles, 1434 feet elevation gain)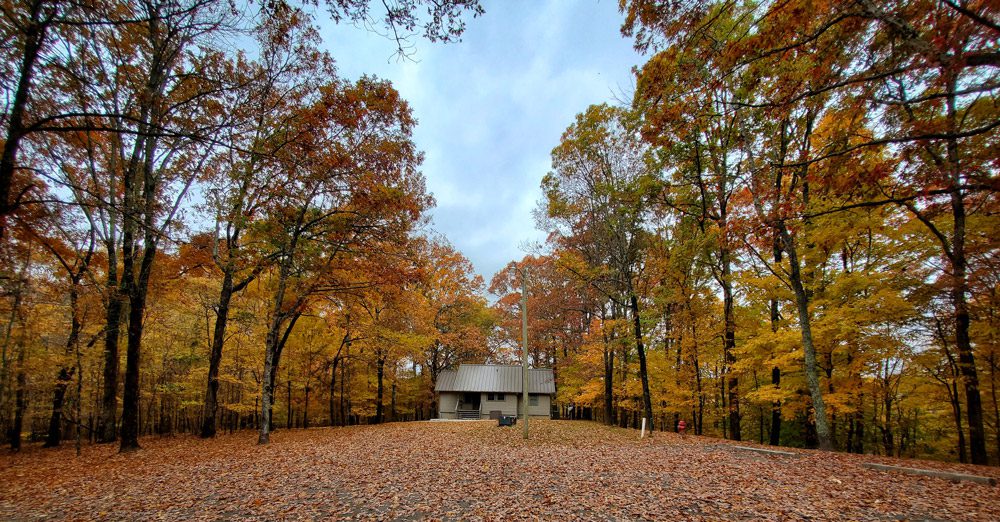 Day Three – Village Creek State Park to Marianna
I was a little worried about day three. Watching the weather, we knew that there would be some wide-open headwinds. To leave the park we used the mountain bike/hiking/equestrian trails to cut through the park for quicker access to more gravel roads. Although there were a few hike-a-bike sections, the trails were in pretty good shape, the leaf litter protecting it from standing water. After a bit of an off-trail scramble, we were back on the gravel. This section provided views off the top of the ridge, followed by a quick road ride that got us under Interstate 40 and on through Forrest City. Once we cut through town we were back on gravel and had some protection from the wind by thick forests on each side. This was one of the most beautiful sections of the entire ride. Steep-walled dirt roads topped off with bright fall color. We stopped for lunch on the side of a dirt road, our SAG arriving with some world-famous Jones BBQ from Marianna, Arkansas. This is a first-rate way to ride.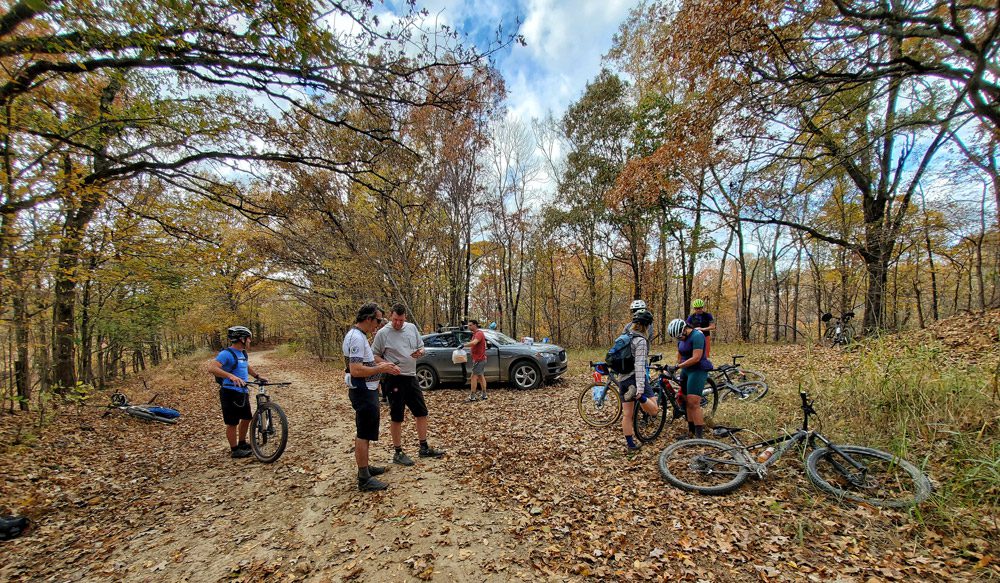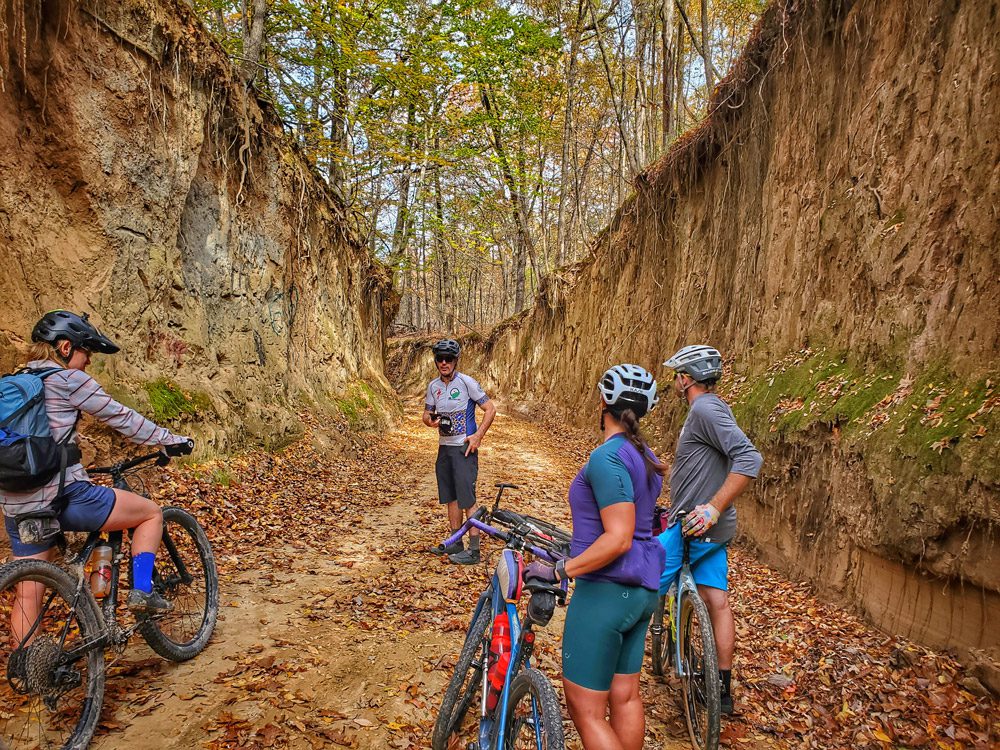 We came out of the forest into a gap in Crowley's Ridge with in-your-face southern winds. We had about 20 miles to cross on both paved roads and gravel levees. It was a tough push, but eventually, we came into Marianna and rode by Jones BBQ to give a nod to the epic restaurant. They were closed for the day, but you could smell the fire burning for the next day's entree. Once through Marianna, we dropped down to the "low road" in the Saint Francis National Forest to the evening's destination, a remote lodge in this beautiful forest. That night we were entertained by music and stories by the legendary Greg Spradlin (who assisted with SAG for this trip) There were also some of the best tenderloins I've ever had. (Day Three, 53.63 miles, 1886 feet of elevation gain)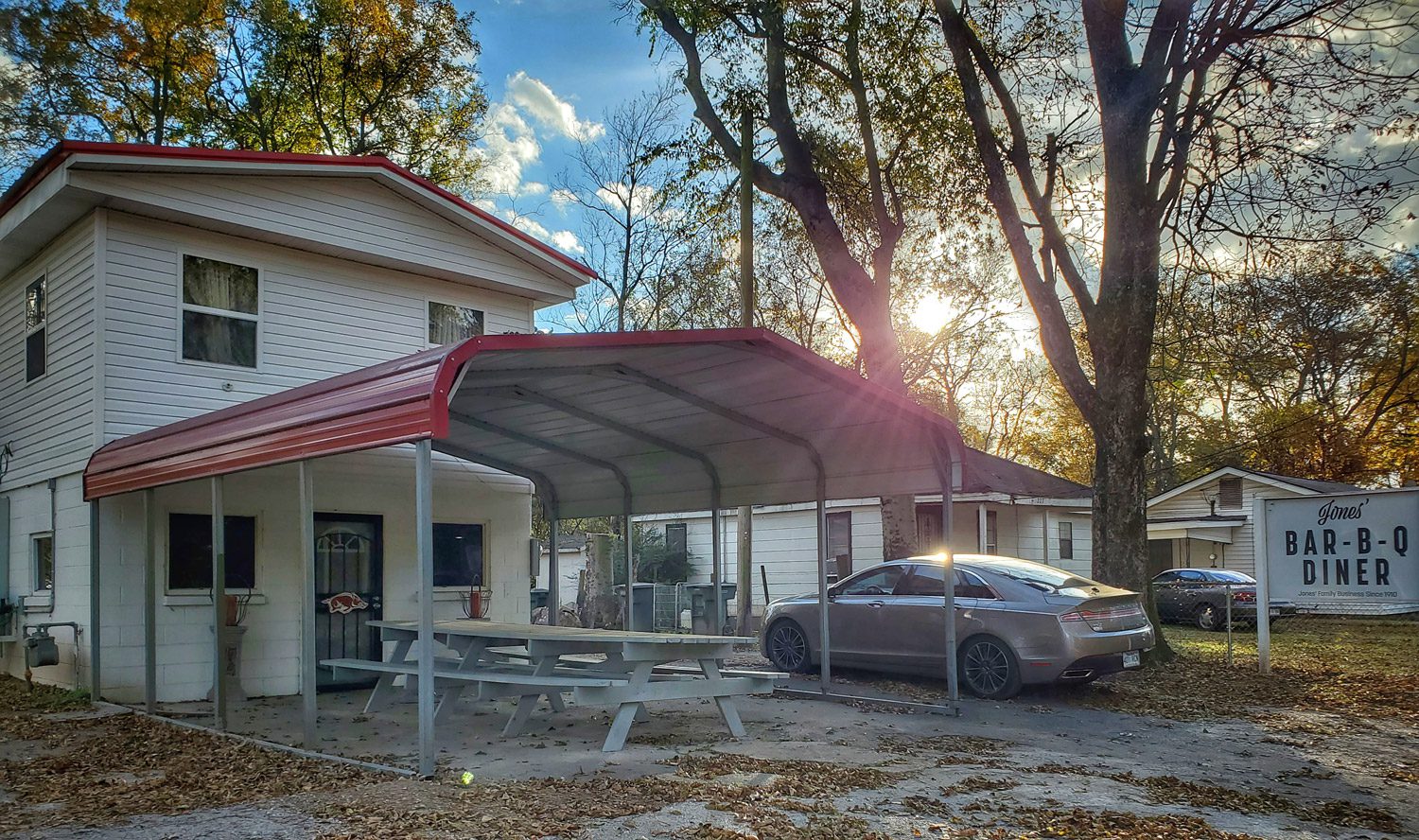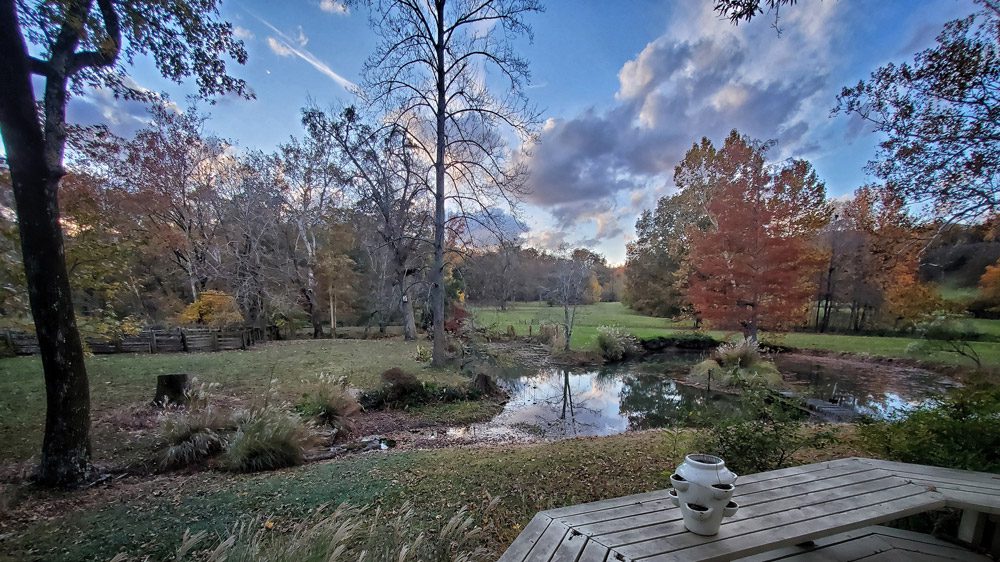 Day Four – Marianna to Clarksdale
Day four would bring a whole new challenge. It rained pretty hard the night before and being on the "low road" meant we would be encountering mud. It was also pretty chilly. We bundled up and headed out. After a couple of miles, we took a short climb to the "high road" which is newly paved and one of the best-paved road rides I have ever been on. There was little to no traffic, the woods were on fire with color and the road just rolled along with steep drops off the ridge. It was just perfect. We soon came to the Storm Creek Campground, a newly redeveloped campground that is part of Mississippi River State Park. This campground includes camper cabins and full feature campsites including bikepacking specific sites. We had the opportunity to meet with the park superintendent for a tour. This campground is expected to open to the public in the beginning of 2022.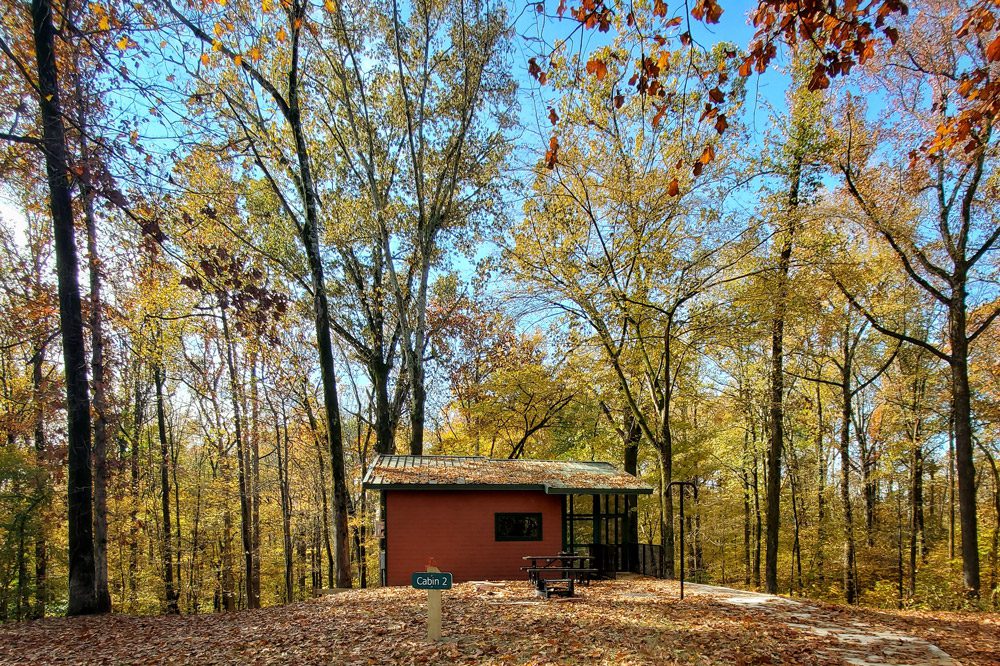 Back to the gravel road and a ride along the Mississippi River levee into downtown Helena-West Helena. We were treated with a stop at Delta Dirt, a local distillery that specializes in vodka made from sweet potatoes. We enjoyed incredible hospitality in the luxurious tasting room. The next section of our route would take us over the Mississippi River into Mississippi. The bridge at Helena is narrow with two lanes, no shoulder, and a long slow uphill to get up and over. There is no way to do it without fully taking the lane and slowing a lot of traffic. Our host arranged for a police escort for the group, which is certainly not the norm. If you plan to do this route and cross the bridge, my recommendation is to set up an Uber/Lyft or find a way to have a vehicle carry you and your bike across the bridge.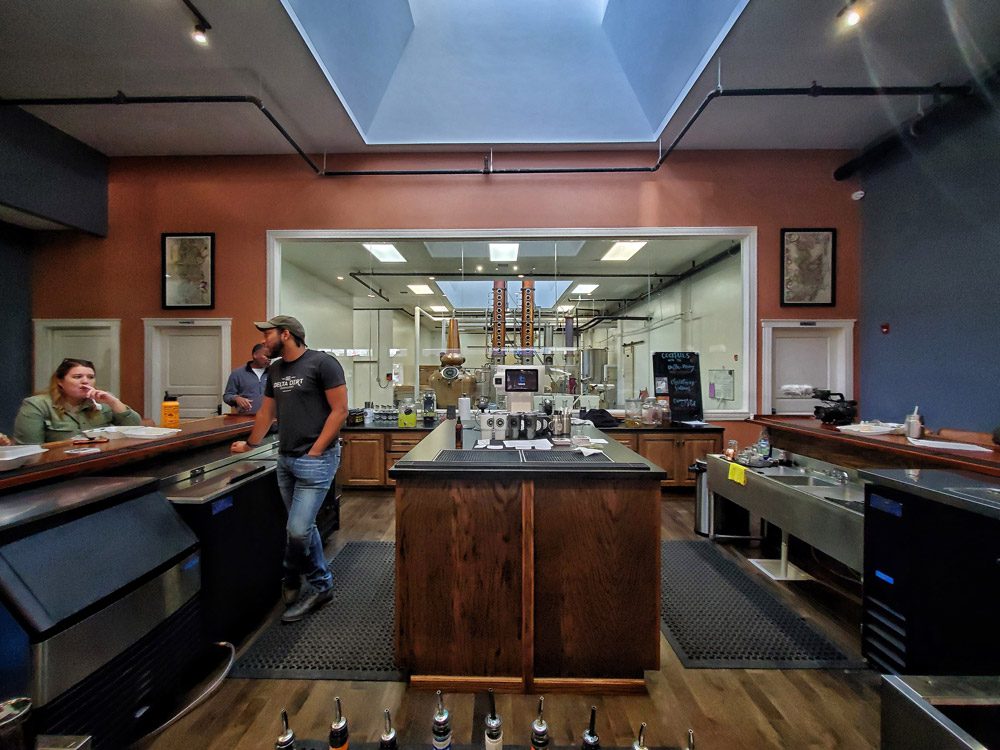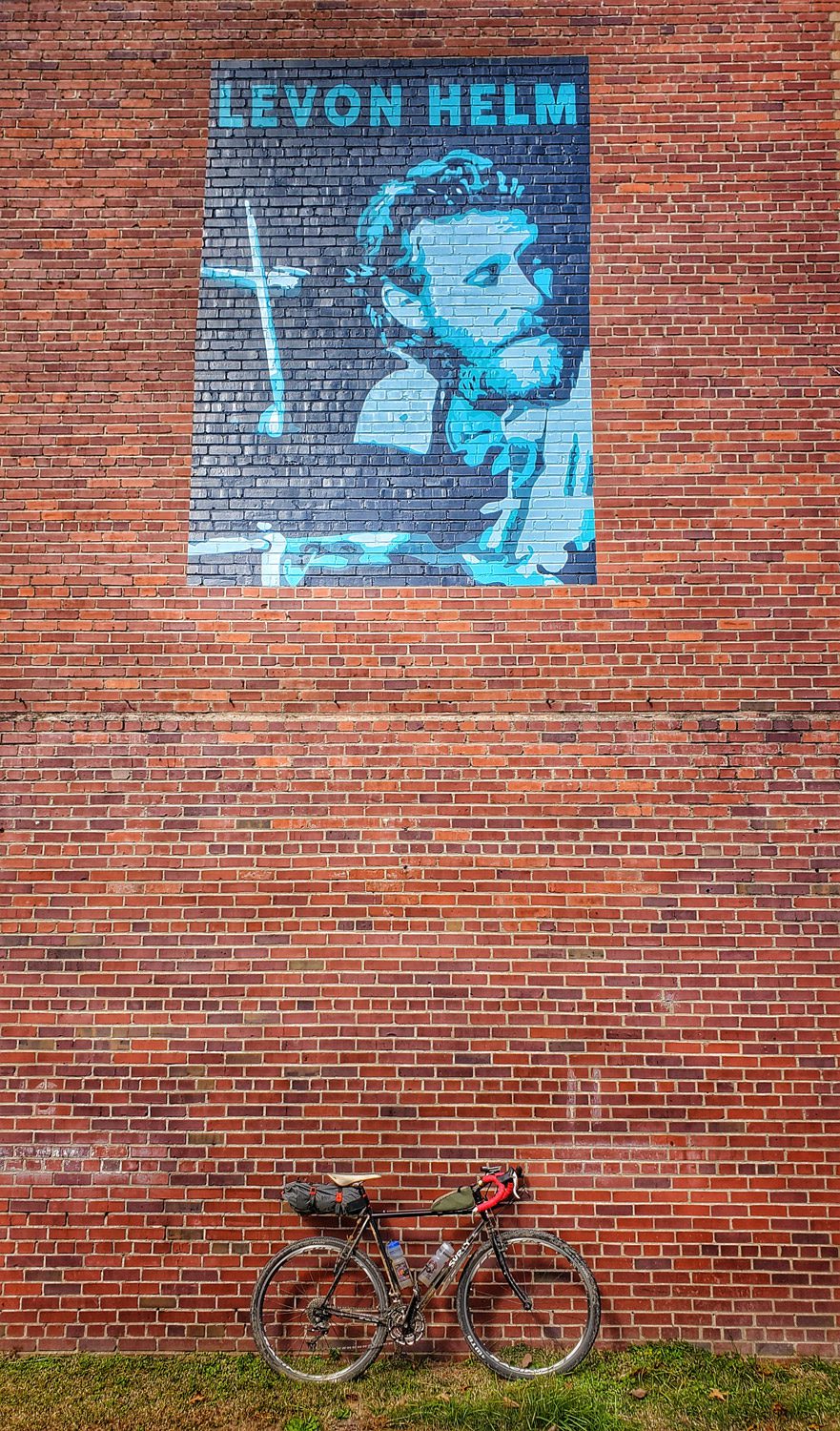 Once in Mississippi, we quickly got on the levee heading south. The tailwind was fortunate and we made quick work of this section. Soon, we were off the levee and on the pavement heading into Clarksdale. Our final night was spent downtown at the Hooker Grocery and Eatery and Ground Zero a blues bar owned by Morgan Freeman where we were treated to a musical set featuring Luscious Spiller and our own Greg Spradlin. It was a magical night. I was exhausted by the time my head hit the pillow at Travelers Hotel. Clarksdale has a lot going on. (Day Four, 53.79 miles, 1243 feet of elevation gain)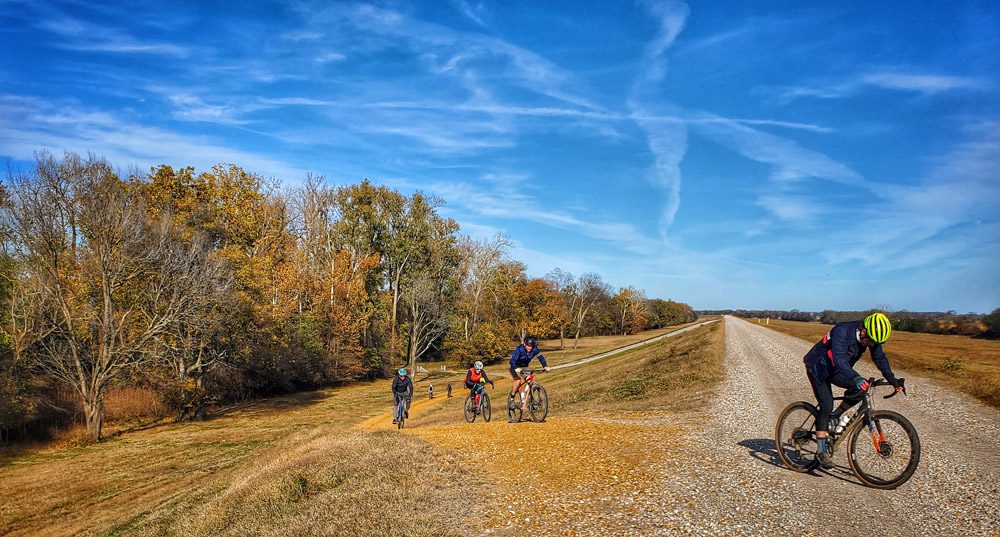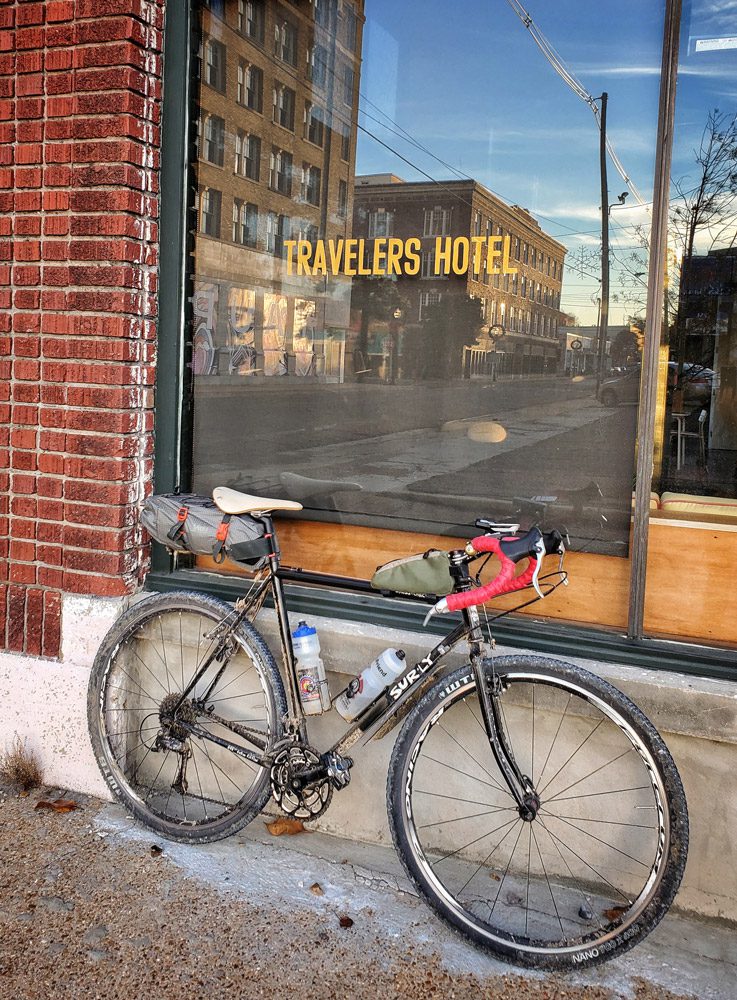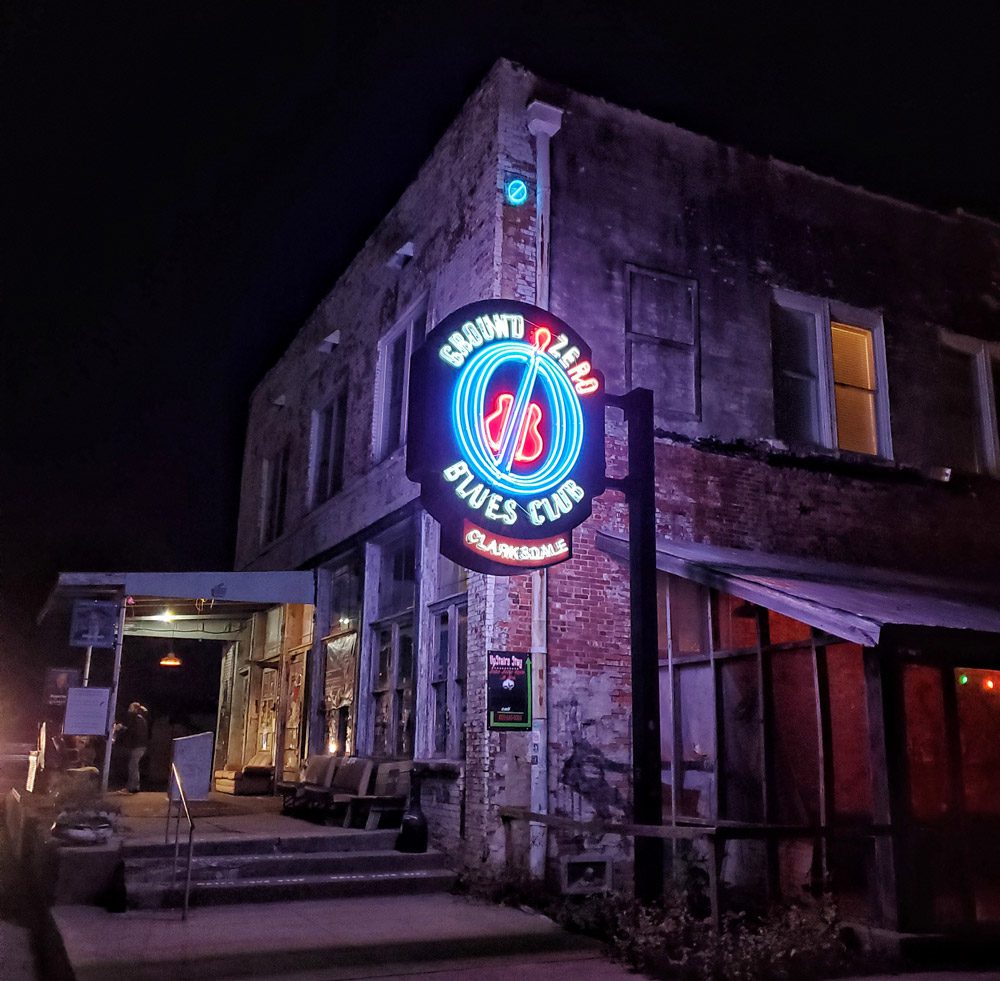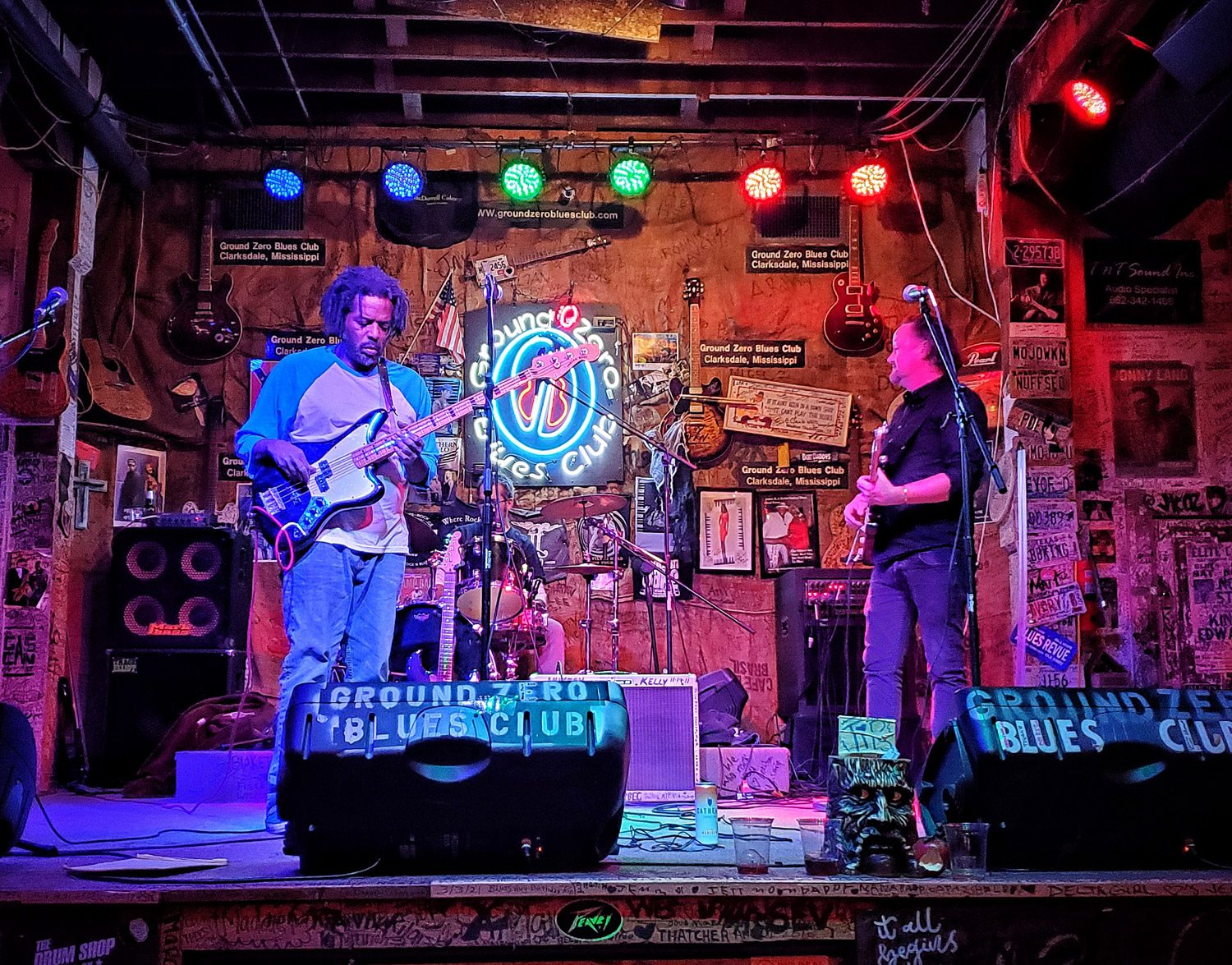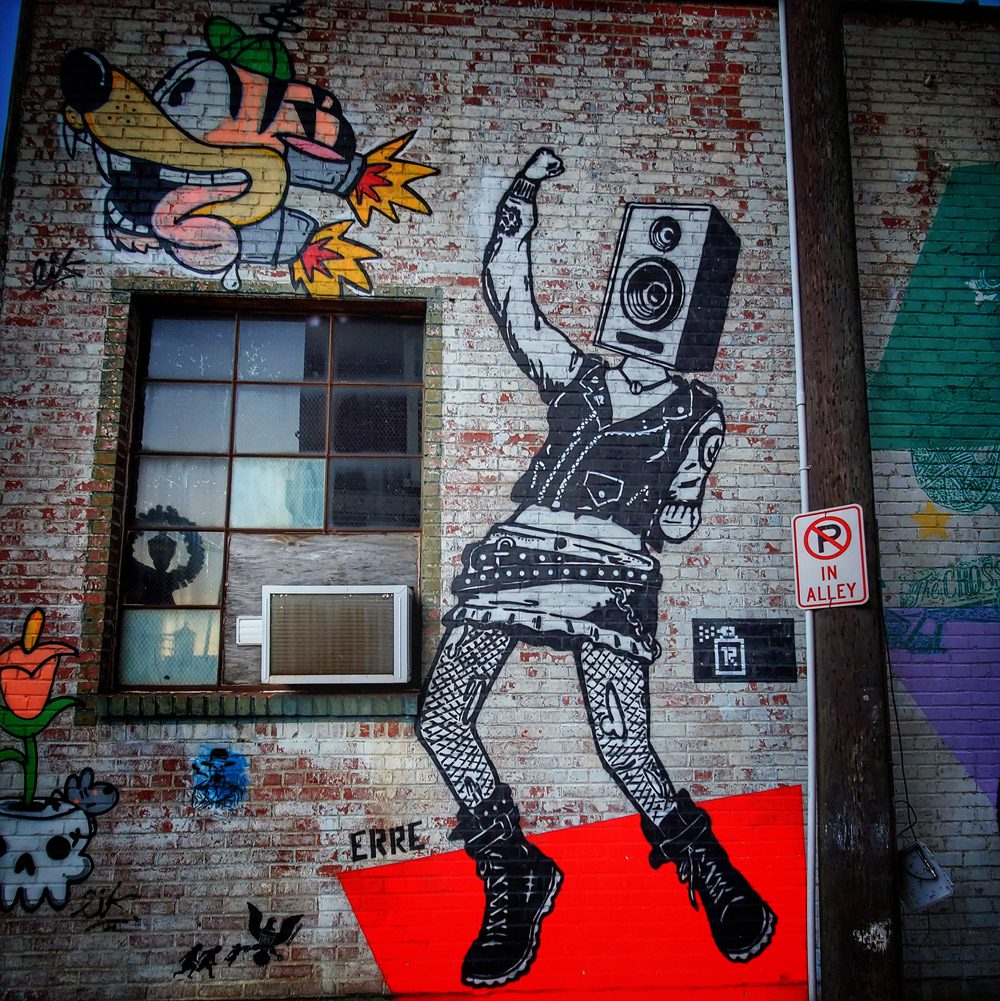 The Vision
Our host for the ride has a vision that is much more than a four-day gravel ride. The route described here is more like the backbone of outdoor recreation experiences across the Arkansas Delta. A backbone that will reach out to the west and to Little Rock, to the south along the Delta Heritage Trail, to Memphis in the east, and all the way up to the Ozarks and Missouri. Imagine small towns ready to host bicycle travelers (and other travelers) on beautiful routes across east Arkansas. Restaurants, hotels, music venues, and dirt roads. Larger towns and cities with infrastructure, that is designed to connect these wonderful places. A showcase for the southern hospitality that already exists throughout the region.
The execution of this vision will attract people from all over, not just as visitors, but as residents who stay for the unique quality of life that can be found here. We expect to have more information on these plans in the coming weeks and months.
To view more of this vision, visit https://www.ecologicaldg.com/post/martin-smiths-vision-to-revitalize-the-delta