It's been a long wait since the last cyclocross race in these parts. But they are back this weekend with the CX equivalent of a double-header. Both races are very spectator friendly so come out and enjoy the insanity. Saturday night you'll have the opportunity to kick off the Arkansas Super-Prestige Cylocross Series with a night race at Kanis Park (I-630 and Rodney Parham Rd). Experience racing under the lights.
4:30 p.m. Registration opens, course open for practice
6:30 p.m. Kid's race
7:00 p.m. Women, Masters (40+), Juniors (18-), Fours
8:10 p.m. Open
The next morning we all meet again at Reservoir Park off Cantrell Rd. You can sleep in a little, the first race is at 11 a.m. but registration starts at 9:30 a.m. All races take place rain or shine or snow or mud. If you'd like to try it out you don't need anything other than a mountain bike to give it a whirl.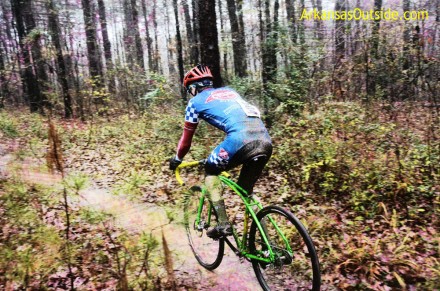 FREE COWBELLS!
You will need a cowbell and we can help. For each event this weekend, Arkansas Outside will be giving away a cowbell to the first 25 people who come up to our tent/canopy/banner and say the secret phrase. We will announce the phrase sometime this week on our Facebook and Twitter pages. Your first hint is in this video.
Cyclocross Cowbell from ArkansasOutside on Vimeo.
Also, to see what a spectator friendly sport this is, check out this video from last season.
Good Luck!