The weather today in much of the Natural State is not sunny. In fact, most of us are seeing some kind of frozen or freezing precipitation. But within 4 days, the forecast has temperatures reaching the 60s once again. According to NOAA, Arkansas has enjoyed the 18th warmest January on record since 1895. This is probably great news for the LR Marathon Training Group. How tough is it to get out of a warm toasty bed at the crack of dawn on a Saturday and go out for a long run in sub freezing temps? I dare say that anyone who does the majority of their training outdoors has appreciated the mild winter we're having. Runners have had less treadmill time, cyclists are staying off the trainers and hikers have had some of the best hiking weather…cool and mainly dry days.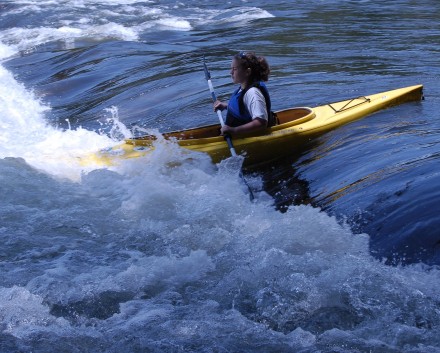 But what about those sports that require sun and warmer temps like paddling or swimming? It's a requirement if you loathe the indoor lap pool, or don't have an indoor pool that allows you to have roll classes.  I am a recreational paddler but don't paddle as often as I'd like. We have a tandem kayak and a Loon that was purchased several years ago right after our then 10 year old fell in love with paddling at Cane Creek State Park  and Bull Shoals White River State Park. The last time the boats got wet was a late summer camping trip at DeGray Lake State Park when I spent a morning out enjoying the early sun on a quiet lake, before the ski boats started up. We just don't get on the water much despite there being ample opportunities in Arkansas for everything from long distance flat water to whitewater paddling.
Spring is coming soon, and the Arkansas Outside family has already made a commitment to floating and camping the Upper Buffalo. What free time we have away from our day jobs (my 10 hour days aren't great for recreational sporting) is often divided between a multitude of interests and commitments.  Paddling is often a part of a bigger event like a camping trip rather than being the main intent of the outing.
But for all those who find that paddling is what is drawing them back outside in the spring thaw, there's plenty to do in Arkansas. The folks in the  Arkansas Canoe Club will have their annual School of Whitewater Paddling the first weekend of May at Turner Bend on the Mulberry River. And the date has been set for this year's Arkansas Kayak and Canoe Race, June 2, 2012. So come on spring sunshine! Here comes the sun and I say, it's alright.