What happens when a whole bunch of people who love to run trail get together for a morning of fun? Cats get smacked. No actual cats were harmed in the running of the annual Catsmacker 22-ish mile (I think I overheard a Garmin discussion that had it at 24.4 miles) fun run or the optional 12 mile Kitty Run, but a few human knees and shins may have been.
Lovely Lake Winona and the surrounding forest roads make up the setting for this highly anticipated end of the Arkansas Ultra Running season event: a no fee, keep your own time, come on out and have some fun kind of run. For those who have been competing in the series, the awards ceremony is held once all the Cats have been good and properly smacked.
Both courses begin and end at the Lake Winona Day Park and take FSR 179 out into the walk in turkey hunting area where the Kitties are separated from the Cats.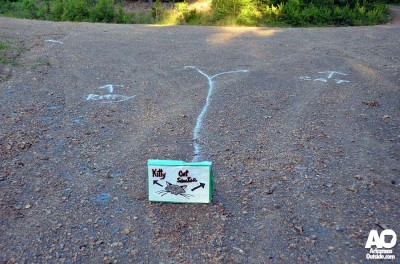 The Catsmackers continue toward Lake Sylvia with a stretch on the Ouachita Trail and North Fork Pinnacle and FSR 132 to rejoin the Kitty route for the long sweet downhill  on FSR 135 to the home stretch to the finish on FSR 114.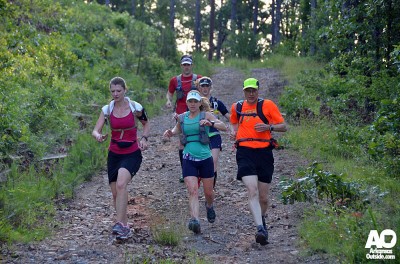 On my Kitty route, I stopped to take a quick photo of bear tracks. My buddy Scott, always encouraging, said I must have been running way too slowly if I had time to notice tracks. Dan Balenger made a great observation while we looked at the tracks, "at least they aren't fresh tracks".  True Dan, perhaps the bear and her cub were long gone, but we are the intruders in a national forest and wildlife area, wildlife sightings should be expected and appreciated whenever possible.  A couple of the Catsmackers, Jake and Chris, happened upon the mama bear and her cub out there and had a few tense moments before she took off with her baby, back into the woods and all was well again. Or maybe that's just Trail Tale, trail runners do love to finish a run, sit around replenishing the store and telling tales.
Part of the fun of finishing the Catsmacker is picking out your finisher medal from the assortment of goodies that this year included everything from pink kitty cat baby bibs to a flashing Halloween Cat necklace. Another part of the fun is hanging out at the finish, cheering in runners, enjoying good company and possibly a good recovery beverage.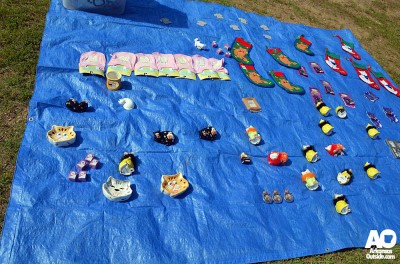 If you want in on the fun, the new year series begins with the Full mOOn 50k (or 25K) on July 20th. The  Arkansas Ultra Running  site has information about local races, fun runs and the series races. Pick a race, sign up, train and join the fun.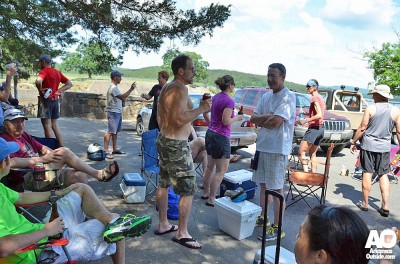 We have plenty of photos from the event on our Facebook Page, feel free to tag, share, download, etc.