"You're better than you think you are.  You can do more than you think you can!"– Ken Chlouber, founder of the Leadville Race series an imminent coach to all participants
For most of us when we hear someone yell "Hey, coach" it takes us back to our early school days, a time when "Coach" was a title of respect and when our ideas and concepts of what a coach is were formed.  Coach told you what to do in gym class, (s)he told you to do more laps, (s)he waited patiently on the sidelines often looking bored while you and your class/team mates trudged one way or another, sometimes yelling helpful instruction and sometimes just yelling or standing there with his/her arms crossed with "the look".  Well, those are my memories anyway.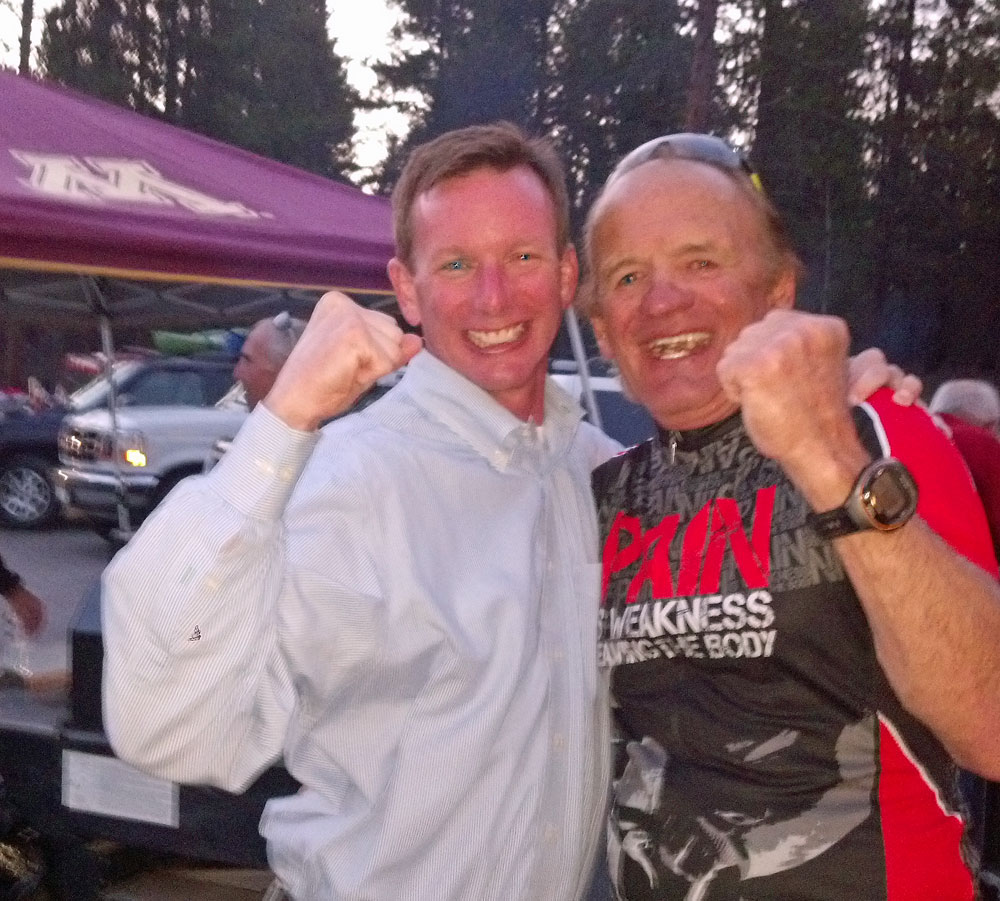 Ken Chlouber
Now-a-days lots of athletes have personal coaches….coaches that specialize in a particular sport and provide detailed training advice and one-on-one motivation and personalized workouts.  I hired a coach for my first attempt at the Leadville 100 mountain bike race in 2012.  He worked for a large personalized training company (an oxymoron, right) whose name I will withhold.  While Jason, my assigned coach, had the personality of a rock and similar enthusiasm, he did talk with me on a weekly basis, provide a detailed structured training program, pace me aggressively through it, and on occasion encouraged my eager aspirations.  It was expensive, very personalized and overall successful.  I happily thanked and parted ways with coach Jason post-race.
For 2013 I had a close friend "coach" me.  This had its plusses and minuses as you can imagine.  It got the job done, but it also was a burden and distraction on our friendship.  It some ways it made us closer, but it is rare that you have someone close to you that is willing to spend a significant amount of time on your training and goals.  It can be joyous to celebrate victories and accomplishments with a friend, but failures seem to hurt even more and ultimately you have to take responsibility for yourself and your training.
There are lots of options for coaching.  Just google your sport and "coaching" and you will see many calling cards.  Some of the approaches, in order from least to more sophisticated, include…
Winging it….a longtime favorite
Training plans in the form of books, schedules, white papers, graphics, magazine articles, etc…
Virtual coaches and resources from websites, blogs and online forums (Stava.com, Connect.Garmin.com and TrainingPeaks.com are good starts)
Real coaches via phone, chat, Skype, Twitter, and other online media channels
Real coaches in person (flesh and blood) that stand there in a wind breaker and give you "the look"
If you are thinking about a big event or have a big goal, you know there will be a big investment on your part to reach that goal.  In the end that investment is going to add up to much more than just money ($) and will include more valuable offerings such as piles of physical effort, mental brain cells, and lots of tic-toc.
For the record, at first I tried to approach and plan my 2014 Leadman training on my own.  My Google calendar was a mess of workouts and schedules that ultimately I did not have confidence in.  With so many running and MTB'ing events with different training peaks, tapering, power building, skills development….I just got confused on how to best schedule it all to work in a harmonious way.  I felt I needed a coach to bring some expertise into play and ensure I could focus on doing what was on the training plan instead of fiddling and second guessing the training plan.
I asked around, found a local program that has a lot of positive energy, was not too big, and interviewed some candidates.  You should definitely interview several coaches and ask them some specific questions before you hire them.  Consider also if you think a male or female coach might work best for you.  Here are some of the questions I asked during my interview…
What is your coaching experience with my areas of interest (running and mountain biking)?
Have you ever coached someone doing my event(s) before?
How many athletes do you coach at once, and what is your workload?  References?
How do you like to engage and work with your athletes?…phone, email, text messages
How responsive are you?
What are some examples of training plans and direction you typically give?
What else does your package include?
How much does it cost and what are the terms?
Those are a good start…open ended questions are best.  Be honest and let the interviewee know your goals and intentions…that you are looking for the best fit for your personality and goals.  If they don't respect that, then they are probably not a good fit for you.
A coach can help ensure your success and keep you focused.  For me it creates accountability and gives me confidence in my training, and ultimately in my success.
Good luck out there.
James
Editors note – Check out the entire "Road to Leadman" Series: