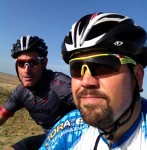 Before I started cycling I was exposed to stories of a bike ride in Texas unlike any other in the region: the Hotter'n Hell Hundred, a ride that hosts roughly 15,000 participants each year. In 2012 I did the ride for my first time and decided to sign up with the 'Pace Group' run by a coaching group out of Dallas. The premise behind the pace group is that they provide paid 'pacers' that pull the ride along with on the bike support, followed by mechanical support, etc. in an effort to get as many of the participants as possible across the finish line of the 100 mile ride in less than 5 hours! I completed the ride that year in 4 hours and 56 minutes with the pacers and came back to Little Rock with a vision for cycling at a higher level. I enlisted the services of Ernie and Scottie at Leborne, started racing in 2013 and never looked back. Later that year I applied to be a pacer for the group and was accepted. In 2013 we had historically easy conditions and the ride concluded at the 100 mile mark with very little drama… heck very little flavor for that matter. After the ride was over, I was taken aback by the stories of gratitude from the participants. Stories of goals that had eluded some for years, and the sharing of the accomplishment of those goals made a real impact on me.
2014's ride showed promise of something a little more. Not only was I returning as a pacer for the pace group, but my wife's group was also attempting the ride for the first time. They are the 'LOC', the Ladies of CARVE, a group that has come to call me 'Coach'. Honestly I was conflicted from the start. I had a standing commitment to the pace group, but felt like I was abandoning my flock. I chose to invest the three weekends before the ride on training rides with the ladies. On the last ride they were able to ride a hundred miles at a 18+ MPH pace with a mixed bag of friends and others that were riding with me in the pace group. They were ready for their adventure and I was free to enjoy my own.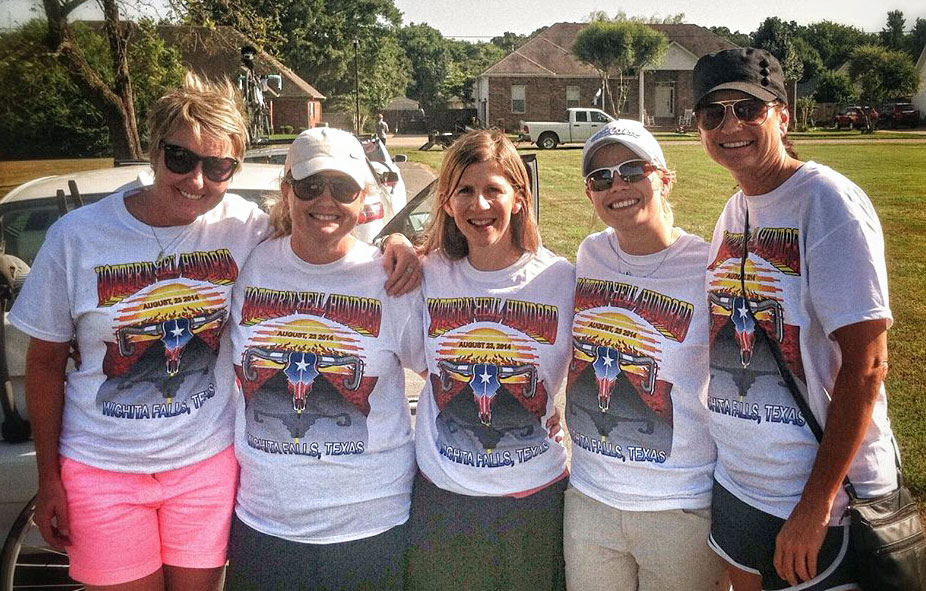 The pace group rolled out of the starting corral at 6:45 AM. Lead out by a team car, 5 motorcycles, a follow car, a support van, a media jeep taking pictures and video along with 92 paid participants and 17 staff on bikes. It may not be a pro tour peloton, but it's not far off! Shortly after leaving the starting corral the race raido cued up informing us that we were are also accompanied by a number of VIP's, namely retired professional cyclist George Hincapie, Edward Wimmer owner of Road ID,  manufacturer reps from Colorado, and one of the staff with the Hotter 'N Hell organization. Now it's a party!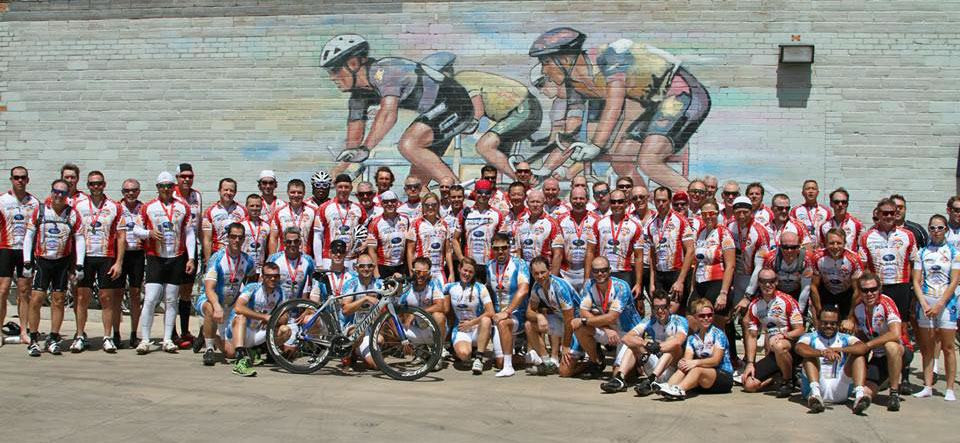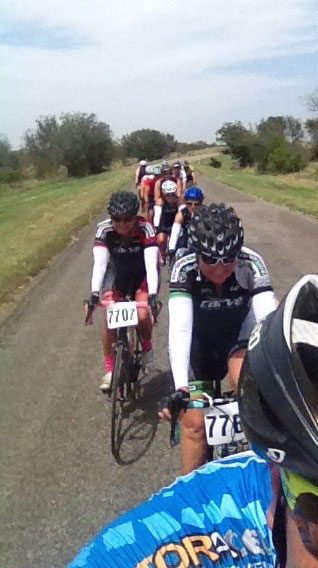 The ride went smoothly (ignoring the mis-marked course) and we crossed the 100 mile mark at 4 hours and 52 minuets. We headed back to the finish line lounge to take a group photo, enjoy a post ride beverages, and eat our share of freshly delivered pizzas. Life is good. Just then my phone alerts me that I have a new text. It's my wife and it doesn't sound good. Due to a number of set backs: bad starting position, delayed starting, multiple flats, etc., they are only at mile 70! It's nearly 1:00 PM and well over 100 degrees. Having just finished the course, and knowing that the course offers a headwind for the last 20 miles, I decide to head back out. With the use of a vehicle I'm able to intersect the group at their 83 mile mark around 2:00 PM. We hit the rest stop to re-fill bottles and top off some calories in the shade before we knock out the last 17 miles.
Leaving the rest stop, reality started to sink in. There were countless people still on the road. Thousands of folks were still out there suffering in the conditions. Some were miles from the finish, some were simply finished. Having come from a place in life 5 years ago where I found myself weighing 360 pounds and determined to find a life worth of living, I will empathize with these people more than they will ever know. It was heart breaking. Some were being attended to by ambulance, local fire departments, or SAG support. I cried a number of times at the information relayed to my brain via my eyes. When I spoke about it, I head a solemn voice behind me say "You just can't look". I wanted so badly to pull them all in. I took a selfie of the line of riders forming behind us. I tried to encourage as many as I could to "pedal pedal pedal and jump on" but our blistering pace of  11-12 MPH was shelling them out the back as if they were attempting to hang on to a pro race. Road temperatures at this point are peaking at 113 degrees according to the same Garmin that read 79 earlier in the day. Even at this speed, I decided I better take care of myself via hydration, nutrition, salt tabs, and electrolyte drops. I wasn't taking any chances. It would take us over 30 minutes to cover the next 7 miles.  When we pulled into the rest stop at mile 90, there was a cattle trough filled with ice water. Being challenged to the ALS ice bucket challenge the day before, it was meant to be.
Back on the road at mile 90 the scenery was more of the same. I saw a grown man in the fetal position seeking shelter in the shadow of a speed limit sign. The next 5 miles were as brutal and unforgettable as any ride I've done. My Garmin temperature reading peaked at 129* that day. Our group stopped for the 3rd time, in a 17 mile ride, at the 95 mile mark. Rumors circulated of an approaching downhill. We choose not to get our hopes up, kept on the game face and re-hydrated, slathered on sun screen head to toe, ate what we could and got back out there. There was a downhill, in fact it was followed by a false flat that took our group nearly 3 miles in just over 10 minutes. We were home, and we knew it. My day in the saddle started at 6:45 AM and concluded at 4:11 PM on the same finish line I had crossed earlier.
I logged nearly 130 miles that day, but the true treasure of my experience was the reminder where I came from, who I am, and where I'm heading. That day I challenged myself to renew my investment in others. I challenge you to plug in as well, you may find that the experience means more to you than any personal pursuit.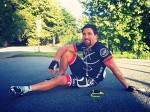 I'm 41 years old, I have been cycling for 5 years. My claim to fame is that I lost 1/2 my body weight from 2009 to 2013 (360 to 179.9 LBS). In 2013 I took the position of road captain and head of CARVE's road racing team. I have worked for a local company – IK Electric for over 19 years in the telecommunications field. I have been happily married for over 20 years with two sons, Jacob 14 and Trace 16. We live in Bryant, AR. My hobbies include – Bicycles, period.