I like beer. Let me rephrase, I like a good beer, or better yet, I like good local beer and that's how this bit of craziness started. The story of how Arkansas Outside Amber came about is fraught with dreams; the mysterious appearance of friends; strangers coming to the aid of brew-deprived adventure writers; magic penmanship and the onslaught of cool October evenings. It all started back in the dog days of August…(this is the part of a television show when the screen gets foggy and fades)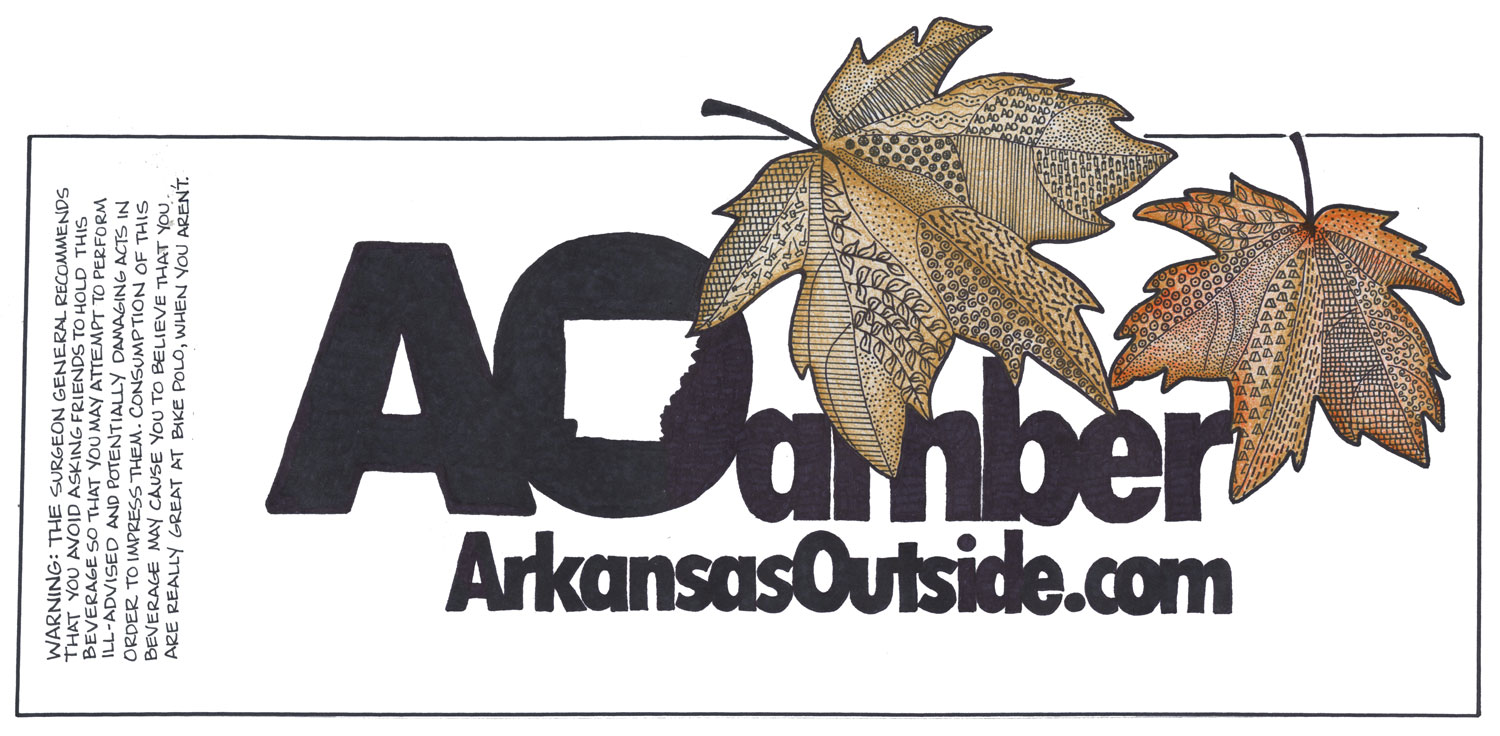 August in Arkansas can be pretty hot. For me, outdoor recreation slows down to the point of floating in the water, only my head above the surface. Well, my head and the hand holding my beer. In the office one day I allowed myself to dream about drinking refreshing beverages to alleviate the oppressive summer heat. Almost without realizing it, I had posed the question on the Arkansas Outside Facebook page, "Wouldn't it be great if there was such a thing as Arkansas Outside Amber." And with that, magic happened.
Liz Philpot, of Keep Arkansas Beautiful, read this as a cry for help and the wheels started turning. Liz is a well-connected person, probably because she is so likable. I'm not sure how anyone could not like Liz. With cat-like stealthy moves, Liz went behind my back and contacted a friend of hers in the brewing business, Josiah Moody, the brewer at Vino's Pizza and Pub. He's a wizard with grains and fermentation, a man with a passion for fine beers. This connection makes sense as Vino's was the first place I tasted a locally crafted beer in Arkansas.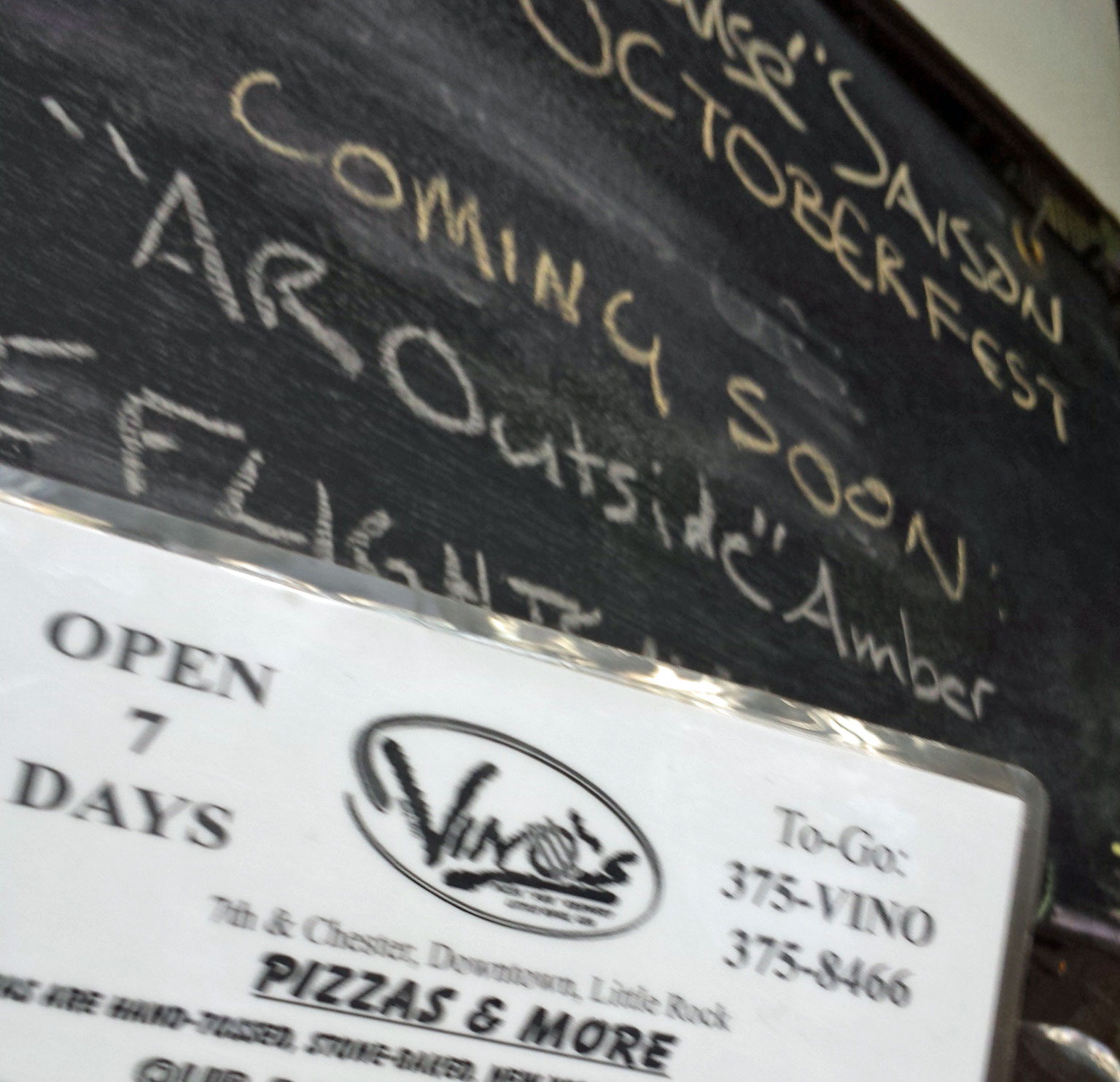 Josiah responded almost instantly. Via email, he excitedly laid out a plan for making his first amber beer and having it ready in time for various Octoberfest celebrations. A limited run that would appease the Arkansas Outside crowd. Josiah started working and I waited impatiently (this is why I'm not a brewer).
As we got closer to October, Josiah asked me about a label for the limited edition libation. Knowing that the beer would not be bottled but available for carryout via the traditional Vino's growlers, which is the best way to pick up beer on a Sunday in Little Rock, I didn't concern myself about a label.  But then something else happened. You may remember a few weeks back when we attended the Arkansas Canoe Club Rendezvous. There was a hand-drawn map of the event location made with Sharpie pens by Arkansas Outside friend and contributor, Aly Signorelli. Aly is one of those awesome people who make things happen and besides being a really cool person, she is an incredible magic marker artist.
I sent Aly an email letting her know that Josiah had requested a label. I was thinking we could use it for the promotion of a party as well as the beverage. I crossed my fingers hoping that she wouldn't be too busy to help out. Having spent my life around artists, I know that there are few things they enjoy more than a casual distraction, they'll say otherwise but it's really what makes the creative mind tick. Luckily, Aly said yes to my proposal of creative distraction. I sent her nothing but a copy of the logo and the font we use for Arkansas Outside, everything else was pure Aly and I could not have dreamed of a better representation of both the beer and Arkansas Outside. Look closely at the texture of the leaves for hidden outdoor stuff. We collaborated on the warning label that reads:

October Arrived
Last Saturday was a busy day for Lisa and me, taking photos at the Fighting Red 5K, managing the Take A Kid Mountain Biking Day in a downpour, and then out to the Arkansas Traveller 100 to the race point that is farthest away from Little Rock so Lisa could pace a friend for 20 miles. No problem, busy weekends are our thing. Our nonchalant attitude toward the busy day caused a huge rift in the space-time continuum and some primates threw a wrench into the works. Little Rocktoberfest was also scheduled for Saturday night and Arkansas Outside Amber would be making its public debut. I hadn't even had the chance to try it yet.
Lisa, being the sport she is, told me to drop her off at the aid station where she would be meeting her friend and I would be free to head back to town for the beer festival. Back in Little Rock I arrived at the Little Rocktoberfest in Dickey-Stephen's Ballpark and was greeted with a small tasting glass. I set off to find Josiah and the Vino's booth. I would allow no other beer to contaminate my palate until I tried the long-awaited amber. When Josiah saw me he immediately grabbed my glass and filled it with the beer inspired by Arkansas Outside's motto: If you're not dirty and sweaty, you're not playing hard enough. Ahhhhhh…… The taste is best described by Josiah:
"The initial few sips suggest a smooth, floral hoppiness, followed by a caramel, malt taste balancing out the hops. A perfect follow up to any outdoor activity in The Natural State." – Josiah Moody, Brewer.
"Perfect" is an accurate description but maybe it was just me wishing for it to be so. I watched as others took a pull from the keg and satisfied smiles were the result. I tasted a couple of other beers at the festival but came back again and again for the amber. And no, I didn't forget to go get Lisa. It turned out I would be spending several hours of the late evening driving the gravel roads of the Ouachita Mountains, sometimes in the rain. We were safe back at the house sometime around 3:30 in the morning. Good thing there were no big races to cover on Sunday.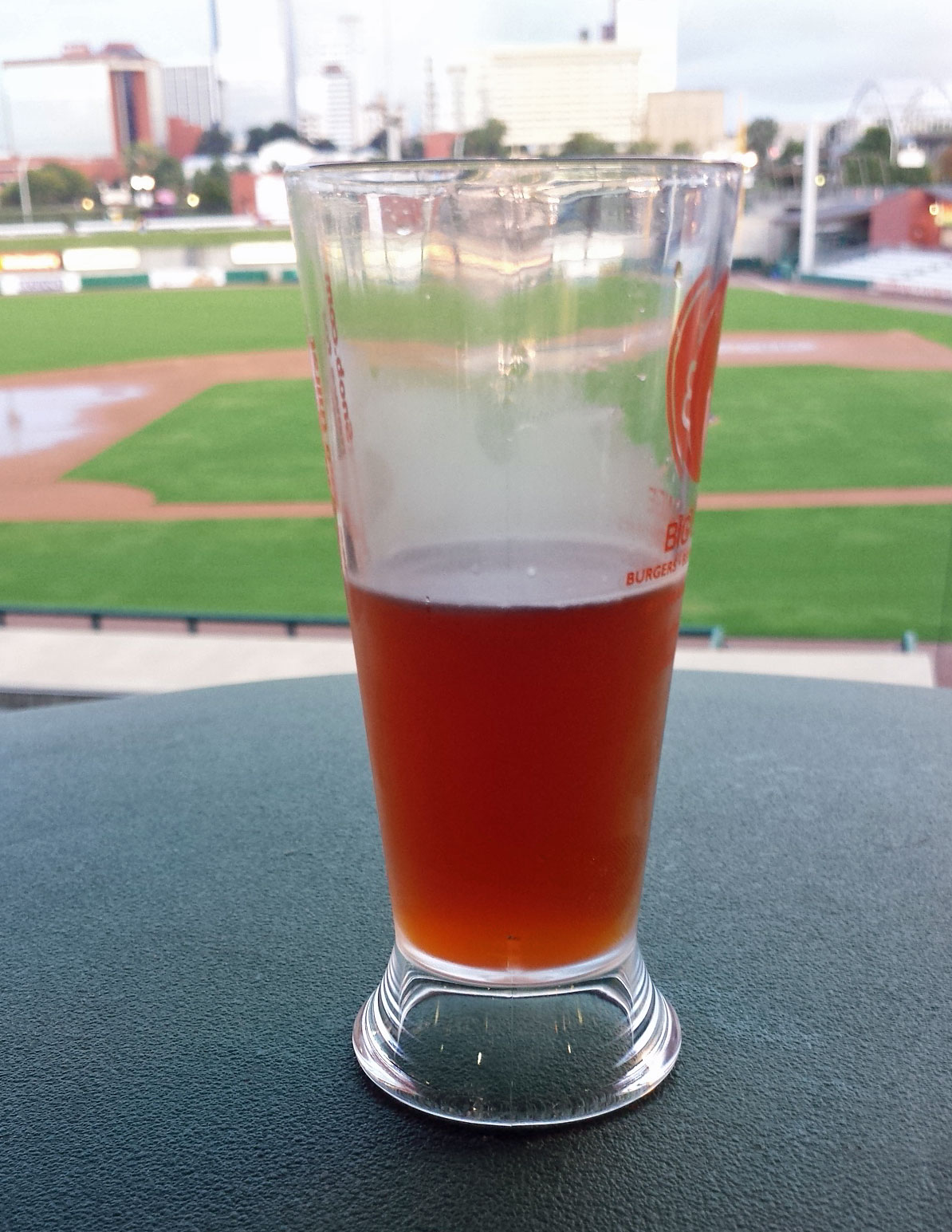 Now to share this rare brew. I thought a party at Vino's would be the best way to share the bounty and to show Vino's and Josiah our appreciation. At first, I wanted to buy a keg and then just serve it up to friends but found that local laws won't allow me to "giveaway" beer on the premise. So we have reserved the back room at Vino's,  they will tap a keg of Arkansas Outside Amber for us there. They will charge happy hour prices for the beer and Arkansas Outside will buy a few pizzas. We'll bring some AO Recovery Beverage Insulators to hand out and also buy a few pitchers of root beer for any underage or non-beer drinkers that attend. Also, if you've ever written an article for Arkansas Outside, see me and I'll get you a beer. Find out more about the party on our Facebook Event Page.
Thanks to all those who made this happen, Liz, Josiah, Aly, Lisa, and all of our writers and readers for supporting Arkansas Outside. Hope to see you on Monday the 21st at Vino's.